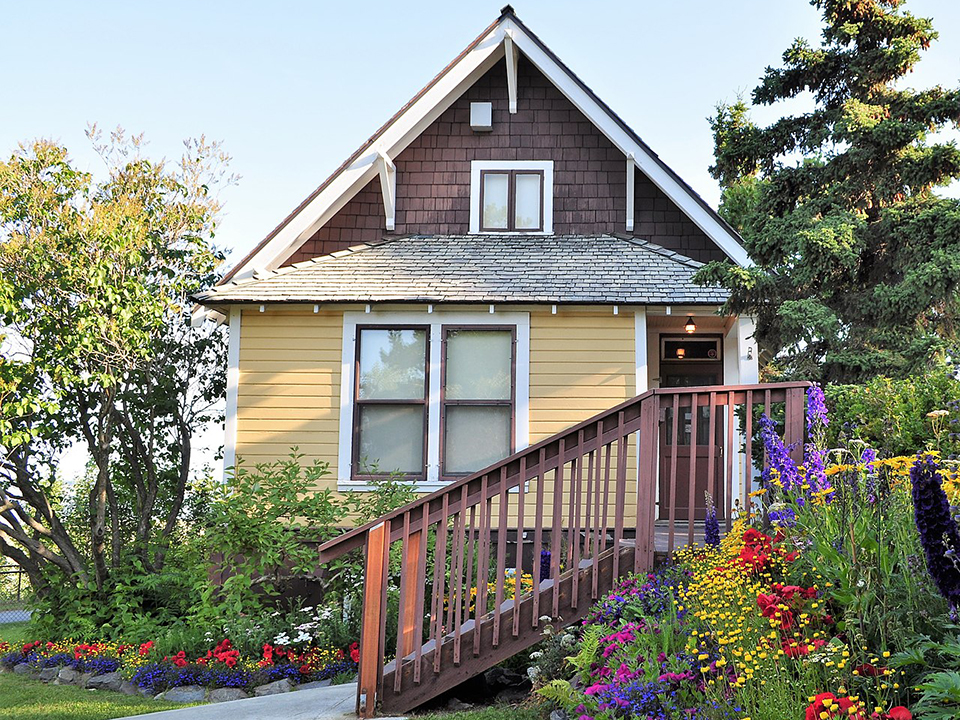 Photo: Oskar Anderson House, circa 1915, 4located at 20 M Street, Anchorage. It was listed on the National Register of Historic Places in 1978. Photographed by username: 61north, 2012, (own work) [cc-by-4.0], via Wikimedia Commons, accessed September, 2021.
---
Capitol: Juneau
Largest City: Anchorage
Nickname: The Last Frontier
State Bird: Willow Ptarmigan
State Tree: Sitkaspruce
State Flower: Forget Me Not
Land Area: 268,600 square miles
Motto: North to the Future
Named from native Aleuts word meaning mainland ... that which can be seen from the sea
Alaska was purchased by the United States from Russia in 1867. The cost was approximately 2-cents per acre. The purchase was negotiated by President Lincoln's Secretary of State, William H. Seward and finalized under Andrew Johnson's presidency. Until the discovery of gold in the 1880s, Alaska was frequently referred to as Seward's folly or Seward's icebox. From 1867 to 1912 Alaska was officially a district of the United States. It became an organized territory in 1912. It became the 49th state in 1959. [History of Alaska, www.fairbanks-alaska.com, accessed September, 2012]
Alaska Boroughs & Bourough Seats
Alaska Boroughs are roughly equivalent to "counties" in other States.
Aleutians East • Sand Point
Bristol Bay • Naknek
Denali • Healy
Fairbanks North Star • Fairbanks
Haines • Haines
Kenai Peninsula • Soldotna
Ketchikan Gateway • Ketchikan
Kodiak Island • Kodiak
Lake and Peninsula • King Salmon
Matanuska-Susitna • Palmer
Skagway • Skagway
Unorganized • Boston
Wrangell • Wrangell
Yakutat • Yakutat City
---