Warning: include(/Library/kw/livingplaces.com/menu.html): failed to open stream: No such file or directory in /Library/WebServer/livingplaces.com/CA/Riverside_County/Palm_Springs_City.html on line 34

Warning: include(): Failed opening '/Library/kw/livingplaces.com/menu.html' for inclusion (include_path='.:') in /Library/WebServer/livingplaces.com/CA/Riverside_County/Palm_Springs_City.html on line 34

Palm Springs City
Palm Springs City Hall is located at 3200 East Tahquitz Canyon Way, Palm Springs, CA 92262.
Phone: 760-323-8299.
---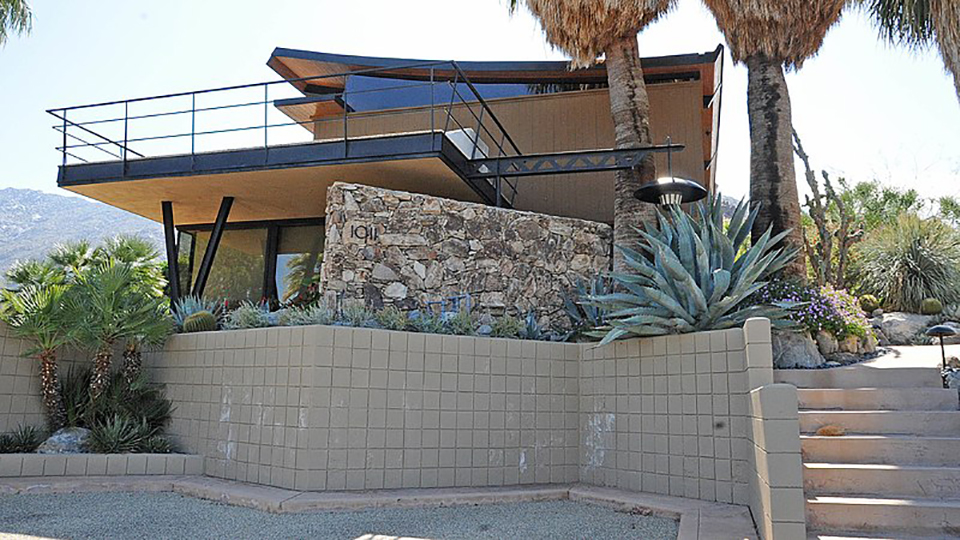 Dr. Franz Alexander House, ca. 1956, located in West Cielo Drive; designed by architect Walter S. White. Listed on the National Register of Historic Places in 2018. Photo by user:Jerrye and Roy Klotz, MD, 2020, (own work) creative commons [cc-4.0], via wikipedia commons, accessed June, 2021.
---
Palm Springs [1] has representative examples of architectural styles from each period of development. Although the city has a particularly strong collection of Modern architecture constructed after World War II, there is a rich collection of prewar buildings, representing both high style and more rustic, vernacular examples.
Neighborhoods
Alta
Andreas Hills
Andreas Palms
Araby Commons
Araby Cove
Baristo
Bella MOnte
Biltmore
Cahuilla Hills
Canyon Corridor
Canyon Sands
Central Palm Springs
Chino Canyon
Colony El Mirador
Deepwell
Demuth Park
Desert Gateway Highlands
Desert Palisades
Desert Park Estates
Desert Park Estates
El Mirador
El Rancho Estates
Enclave at Sunrise
Escena
Estancias at South Canyon
Flora Vista
Four Seasons
Gene Autry
Indian Canyons
Las Palmas Heights
Little Beverly Hills
Little Tuscany
Los Compadres
Luminare
Miralon
Monte Soreno
Mountain Gate
Movie Colony
Murano
Oasis Resort
Old Las Palmas
Parc Andreas
Park Escoba
Park San Rafael
PS Colony
Quail Point
Ranch Club Estates
Raquet Club Eastates
Raquet Club West
Ridgeview
Ruth Hardy Park
Seven Lakes Country Club
Smoke Tree Ranch
Sonora Sunrise
Southridge
Sun Villas
Sundance Resort
Sunmor
Sunrise Palms
Sunrise Park
Tahquitz Canyon
Tahquitz Golf Resort
Tahquitz River Estates
Tennis Club
The Mesa
Tuscany Heights
Twin Palms
Victoria Park/Vista Norte
Vintage Palms
Vista Las Palmas
Warm Sands
Waverly
Palm Springs [2] is known for its recreational amenities such as developed parks, extensive trails system, golf courses, and recreational programs, which inspire the City's relaxed lifestyle and distinction as a "recreational oasis." The towering San Jacinto and Santa Rosa Mountains and vast desert floor provide various habitats for a brilliant display of plants and wildlife. Few cities have the same opportunities to provide a full range of recreational facilities while providing for the preservation of the precious open spaces defined by the steep geological features of the mountain and the gentle sloping yet dynamic land in the flood plains.
Palm Springs' popularity has caused it to become increasingly urban, and with urbanization come pressures on the environmental elements that make the City attractive. These ongoing pressures emphasize the need to carefully manage and preserve the City's environmental resources for future generations These resources are not only related to parks and recreation, but also the City's energy, water, habitat and historic and cultural resources.
Palm Springs' natural environment also provides the setting for its rich history and culture. Taken together, the City's park, recreation, and open space amenities beckon many to Palm Springs and define Palm Springs as an extraordinary place in the Coachella Valley.
City of Palm Springs, Citywide Historic Context Statement & Survey Findings, 2018, www.palmspringsca.gov, accessed June, 2021.
City of Palm Springs, General Plan, 2007, www.palmspringsca.gov, accessed June, 2021.

---


Warning: include(/Library/kw/livingplaces.com/footer.html): failed to open stream: No such file or directory in /Library/WebServer/livingplaces.com/CA/Riverside_County/Palm_Springs_City.html on line 158

Warning: include(): Failed opening '/Library/kw/livingplaces.com/footer.html' for inclusion (include_path='.:') in /Library/WebServer/livingplaces.com/CA/Riverside_County/Palm_Springs_City.html on line 158