San Jose City
San Jose City Hall is located at 200 East Santa Clara Street, San Jose, CA 95113.
Phone: 408‑535‑3400.
---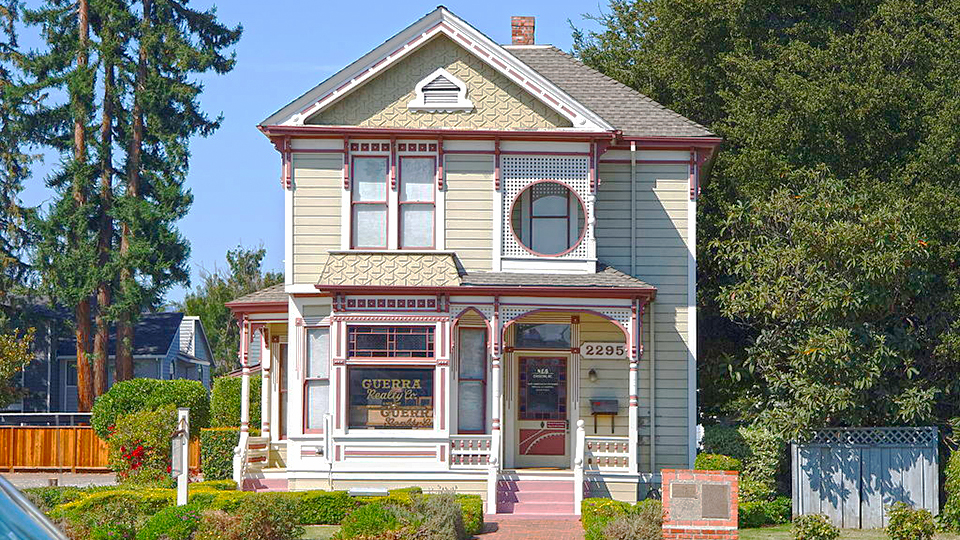 Photo: Captain James A. Hamilton House, circa 1882, located at 2295 S. Bascom Avenue. Listed on the National Register of Historic Places in 1980. Photographed by User:Elan5 (own work), 2012, [cc-3.0], via Wikimedia Commons, accessed July, 2021.
---
Situated between the Diablo and Santa Cruz mountain ranges, San Jose [†] encompasses approximately 181 square miles at the southern tip of the San Francisco Bay. San Jose's central location between San Francisco to the north and Monterey/Carmel to the south makes the "Capital of Silicon Valley" a gateway to adventures throughout California.
Neighborhoods
Alderbrook
Alexian Gardens
Alexian Square Condos
Allegro at Basking Ridge
Allenwood
Almaden
Almaden Lake
Almaden Meadows
Almaden Valley
Almaden Village
Almaden Vineyards
Almaden Walk
Altura
Amber Grove
Amber Meadows
Anderson
Arbor Glen
Arbor Point
Arbor Vista
Ashbridge
Augusta
Avenida Espana
Baroni Green
Bascom Forest
Basking Ridge
Baton Rouge
Belagio
Bella Rosa
Bella Villagio
Bella Vista
Bella Vista Gardens
Bellhurst
Bernal Grove
Bernal Park
Berryessa Creek
Berryessa Villas
Blackford
Blackford Villas
Blossom Crest
Blossom Hill Estates
Blossom Hill Homes
Blossom Park
Blossom Tree
Blossom Valley
Blossom Village
Bluewater
Bonita Town Homes
Bonita Villas
Bonnet
Boulder
Branham
Brickyard
Brigadoon
Brooktree
Brookwood Terrace
Brush Glen
Bucknail
Buena Park
Burbank
Burning Tree
Cabernet Vineyards
Cadillac East
Cadillac West
Cadwallader
Cahalan
Cahill Park
Calabazas North
Calabazas South
Calderwood
Calero
California Grove
California Hawaian
California Maison
California Renaissance
California Ridge
Calvert
Cambrian Gateway Center
Camden Village
Camino Verde Estates
Canberra Place
Candlestick
Cannery Square
Canoas East
Canoas West
Capewood
Capistrano
Capitol Estates
Capitol Hill
Capitol-Goss
Carbari
Caremore Plaza
Caribees Park
Carlton
Carmine
Carnegie
Carol Drive
Carrara
Carson
Casa Alondra
Casa De Monterey
Casa Del Lago
Casabella
Castlemont
Castro
Cataldi
Cedar Creek
Cedar Gables
Cedar Terrace
Cedarwood
Centerwood
Central Park
Chantilley
Chateau La Salle
Checkers
Cherry Glen
Cherry Plaza
Cherry Village
Cherrydale
Cherrywood
Chesbro Square
Cielo Gardens
Cimmarron
City Heights
Claitor
Classics at The Rosegarden
Clayton North
Coldwater
College Park Lofts
College Park Townhomes
Colonial
Colonial Manor
Colonial Park
Colony Green
Comanche
Communications Hill
Copperwood
Cornwall
Country Club
Country Club Heights
Country Fair
Country Lane
Country View Estates
Countrybrook
County Fair Mobile Estates
Courtyard at Lundy
Courtyard Berryessa
Courtyards at Willow Glen Place
Coyote Creek Mobile Homes
Coyote Park
Creekland
Creekside
Creekside Station
Creekside Village
Creekview
Creekwood
Crescendo
Cresent Parc
Cribari Village
Crimson
Crossgate
Crosspointe
Croydon
Cupertino Creeks
Curtner Village
Dartmouth
De Voss-Leigh
Deer Park
Deer Run
Deerfield
Deforest Condomiums
Del Lago Village
Del Monte
Del Robies
Delante Villas
Delmas Park
Dentwood-Southbridge
Diamante
Doncaster
Dove Hill
Downer Estates
Downtown Historic District
Dry Creek
Dry Creek Heights
Dry Creek Village
Eagle Rock
East Campus
East Dobern
East Foothills
East Northside
East Valley
Eastridge
Eden
Edenvale
Elkridge Estates
Erikson
Evans
Everdale-Neimen
Evergreen
Evergreen Terrace
Fairwood Park
Faiway Green
Fenton
Five Wounds
Flickinger North
Flickinger South
Florence-Nancy
Forest Glen
Forest-Pruneridge
Foxborough Crossing
Franciscan Gardens
Frontier Village
Galleria
Garden Park
Garden Villa
Gateway East
Gawain
Georgetown
Gilder
Glen Arden
Glen Crest
Glenview Serenity
Gold Creek
Golden West
Golden Wheel
Good Samaritan
Gordy
Graylands
Graystone
Great Oaks
Greater Gardner
Guadalupe-Oak grove
Hamann Park
Hamilton Corners
Hamilton Cottages
Hamilton Place
Hammer
Hampton Park
Hampton Place
Hathaway
Haverton
Heritage
Heritage Park
Hermitage
Hermosa
Hidden Glen
Highlands
Hillsdale
Hillview
Hoffman
Holland
Holly Oaks
Homes at Almaden Lake
Hyde Park
Imperial Estates
Imperial Gardens
Imperial Mobile Estates
Inverness Village
Ipper Sierra
Jackson Gardens
Jackson Park
Jackson-Taylor
Jasmine Heights
Jefferson Square
Joseph
Jubilee
Judro Manor
Junipero Serra
Kenbrook
Kenland
Kenwood
Kettman-Pomeroy
Keystone
King Ocala
Knights Bridge
La Colina
La Paia South
La Strada
Lake Terrace
Lakeside Commons
Lakeview Terrace
Lamplighter
Lancaster Gate
Leyva
Lincoln Glen
Lincoln Village
Lindenwood
Little Portugal North
Little Rock
Lochrdge-Luby
Lofts on The Alameda
Loma Linda
Loma Verde
Lombard
Longview Homes
Los Arboles
Los Encinos
Los Gatos
Los Paseos
Ludlow
Luz
Madison at Willow Glen
Madison Place
Magic Sands
Majestic
Makati
Malabar-Nordyke
Mansion Park
Marburg Place
Margo
Mariani Square
Markethouse Lofts
Markingdon
Martinvale-Vineyard
Mayberry Manor
Mayfair
Mayglen
McCollan
McKaya-Ringwood
McKuen
Meadowlands
Meadowlands
Melody
Meridian Woods
Merrivale West
Midtown Plaza
Millbrook
Millpond
Miner
Mission Grove
Mitty
Montanas De Los Gatos
Monte Verano
Monte Vista
Montecito
Montego
Monterey Oaks
Montgomery Village
Monticello
Moorpark Meadows
Moorpark Village
Morrill
Moss Creek
Moss Hollow
Mount Pleasant
Mount Pleasant North
Mount Pleasant South
Mountain Shadows
Mountain Spring
Mountain Springs
Muir
Muirfield Estates
Murillo
Murphy Villas
Myrtle Place
New Brighton
New Horizons
Nob Hill
Noble
Noddin
Norita Court
Northbrook
Northpoint Square
Northwood
Norwood
Notting Hill
Oak Grove
Oak Grove Garden
Oak Ridge
Oakbridge
Oakcrest
Oakcrest Estates
Oaktree Gardens
Ohione
Old Orchard
Old Piedmont
Old Port
Orchard Creek
Orchard Farms
Oster
Overfelt
Pacheco
Pacific Rim Garden Villas
Palmwood Terrace
Palo Verde
Palomar Condos
Pamlar-Borello
Park Almaden
Park Mckee
Park Row
Park Townsend
Park Villas
Park West
Parker
Parkivew Green
Parkmont
Parkside at River Oaks
Parkview Greens
Parkwood
Paseo Plaza
Paseo Villas
Payne
Penitencia
Peppertree
Peppertree Estates
Percivale
Permata Park
Pfieffer
Piedmont
Piedmont Manor
Pierce Ranch
Pine Forest
Pine Hollow
Pinnacle
Playa Del Rey
Pleasant Knoll
Ponderosa
Ponderosa Woods
Quail Hollow
Quimby
Rainbow
Rainbow Creek
Ramblewood
Rancho Santa Fe
Rancho Santa Teresa
Rancho Verde
Redwoods Condos
Regency Park
Renaissance
Richmond Ranch
River Bend
River Glen
River Oaks
Riverview
Riviera
Roberts Place
Robertsville
Rock Canyon
Rock Creek
Rodgers
Rollingwood
Rose Garden
Rose Villas
Rose-Sartorett
Rosemary Gardens
Rosewood
Ross Creek
Ross Villiage
Royal Crest
Ruskin
Ryland Mews
Ryland Park
Saint James Square Historic District
Saint Victor
Sakamoto
Samaritan
San Antonio Place
San Tomas Aquino
Santana Row
Santee
Saratoga Creek
Saratoga Place
Senter
Serenade
Seven Trees
Seven Trees Village
Shadow Pines
Shadowcrest
Shadowwood
Shawnee
Shea
Sienna Court
Sierra Crest
Sierra Village
Sierramont
Silver Creek
Silver Creek Estates
Silverado Greens
Singletree
Somerset Park
Sonata
Sonora
South Bay
South Campus
Spanish Cove
Spartan Keyes
Springbrook
Spyglass Hill
Srawberry Park
Starbird
Stonecrest
Stonegate
Stonegate East
Stonegate West
Strawberry Park
Strawberry Square
Summer Creek
Summerdale
Summerset
Summerside
Summerton
Sun Shadow
Sunbonnet
Sunburst
Sunrise of Almaden
Sunshadow
Sunshadow
Sunwood Meadows
Sweigert
Tamara Court
Tanglewood
Tatra
Terrace Hills
Terraces at Willow Glen Place
The Almaden Villas
The Villages
Thirteenth Street
Thousand Oaks
Tiffany Place
Townsend
Toyon
Tradan Springs
Trade Winds
Tradewinds
Tradewinds Terrace
Tropican
Tulare Hill
Tully
Tuscany Hills
University
University Gardens
Valle Vista
Valley View_Reed
Verano
Via Monte
Villa Cortina
Villa Teresa
Villa Cornet
Villa Cortina
Villa Cortona
Villa De Santa Teresa
Villa Fontanas
Villa Grandiosas
Villa Teresa
Villa Valencia
Village Court
Village Del Lago
Village Glen Arden
Village Hermosa
Village Montgomery
Village of Four Seasons
Village Olivos
Village Sonata
Village Square
Village Verano
Villas at Lundy
Villas at Willow Glen
Vinci North
Vinci South
Vineyard Park
Viridian at Bernal
Vista De Saratoga
Vista Park
Vizcaya
Walnut Blossom
Warmsprings
Warrington
Washington
Weeping Creek
West Evergreen
West Winds
Westmont
Westmont Oaks
Westside Manor
Whispering Hills
Wilbur
Williams Commons
Williams Park
Willow Brace
Willow Brook
Willow Garden
Willow Glen
Willow Glen Creek
Willow Glen Gardens
Willow Glen Pines
Willow Glen Place
Willow Glen South
Willow Glen Villas
Willowbrook
Willowood
Willows
Wilshire Park
Winchester
Winchester Ranch
Winchester Villas
Windmill Springs
Windsong
Woodbridge
Woodlands
Woodleaf Commons
Woodside Commons
Woodside of Almaden
Woodside Park
Wyndham Oaks
With a population of one million, San Jose is the 10th largest city in the nation.1 Over 1 million people reside in Santa Clara County, of which San Jose is the county seat. In November 1777, El Pueblo San Jose de Guadalupe became the first civil settlement in California. The settlement was mostly occupied by the Ohlone Indians along the Guadalupe River and Spanish settlers. At that time, San Jose was a farming community cultivating a number of different crops, which served the military communities in San Francisco and Monterey. In 1850, San Jose became the first capital of California, but this honor remained for only two years due to flooding in downtown and the lack of hotel capacity. Furthering San Jose's difficulties, the city was plagued with floods, earthquakes, and fires in the early 1900s. However, over the next century, San Jose experienced one of the most significant economic changes in California history, transforming from an agricultural community to what is known today as the "Capital of Silicon Valley."
† Capital Budget 2018-2019, City of San Jose, www.sanjoseca.gov, accessed July, 2021.
Nearby Towns: Campbell City • Santa Clara City •
---