County Names and Origins, 0000, www.accf.org, accessed June, 2021.
---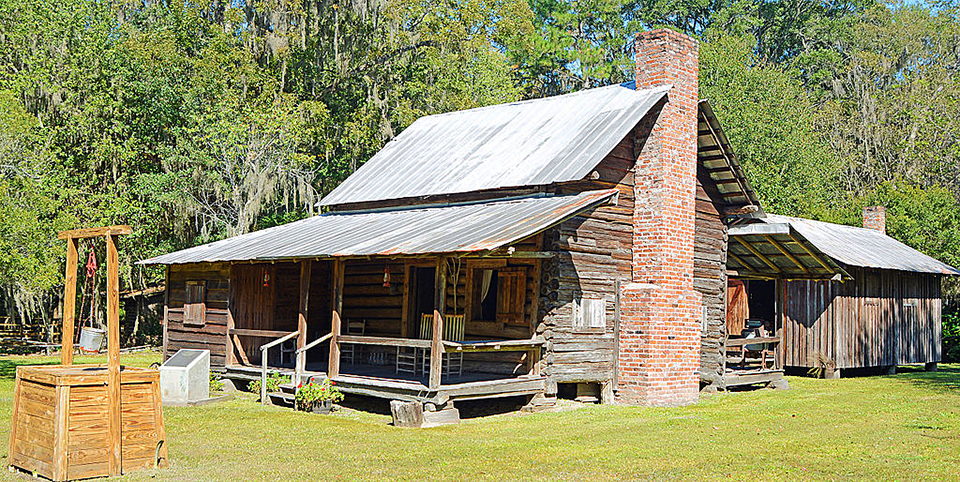 Photo: Obediah Barber Homestead, circa 1870, Waycross. Listed on the National Register of Historic Places in 1995. Photographed by user:Bubba73 (Jud McCranie), own work, 2015, [cc-3.0], via Wikimedia Commons, accessed June, 2023.
---
TOWNS
Bickley
Deenwood
Dixie Union
Jamestown
Millwood
Ruskin
Sunnyside
Wanesboro
Ware County administrative offices are located at 305 Oak Street, Waycross, GA 31501; phone: 912-287-4300.
Ware County [†] was formed from Appling County on December 15, 1824. Early settlers came to live in Waresboro, Ware County's first village and county seat, which was located seven miles northwest of the area that came to be Waycross. Another settlement in the county six miles east began circa 1857 with the extension of the first rail line from >Savannah towards the Gulf of Mexico. This was where the earliest trains made a refueling stop. In the beginning it was simply called Number Nine (for the ninth refueling stop), and later Tebeauville. When the second rail line came through from Brunswick to Albany circa 1858-1859, it joined the first rail line about a mile southeast of Tebeauville. The rail line had been extended through the junction to the eastern edge of Waresboro by 1861, but the rails were taken up for other uses during the Civil War. Tebeauville became a refuge for many families from the Georgia coast during the war, but afterwards most of them returned to their homes, and only four families remained there by 1868.
† Lynn Speno, Survey and Register Specialist, Historic Preservation Division, Georgia Department of Natural Resources, nomination document, 2008, National Register of Historic Places, Washington, D.C.
HISTORIC SITES
Barber, Obediah, Homestead
Downtown Waycross Historic District
First African Baptist Church and Parsonage
Waycross Historic District
---