Coeur dAlene City
Coeur d'Alene City Hall is located at 710 E Mullan Ave, Coeur D'Alene ID 83814.
Phone: 208‑666‑5740.
---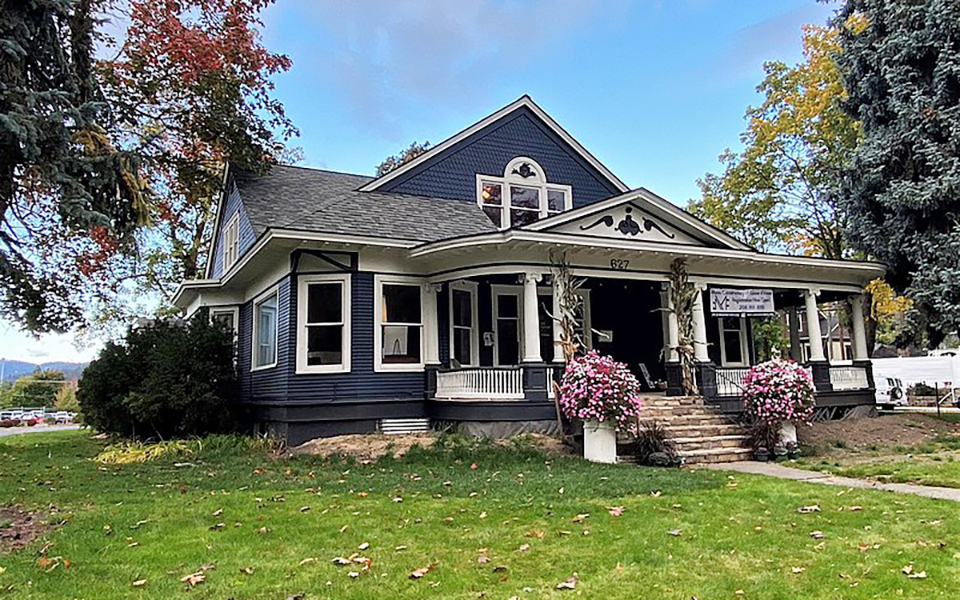 Photo: Boyd and Alta Hamilton House, circa 1908, located at 627 North Government Way, Coeur d'Alene. Listed on the National Register of Historic Places in 2021. Photographed by User: Jon Roanhaus own work), 2021, [cc-4.0], via Wikimedia Commons, accessed January, 2022.
---
"CDA" is the shorthand name used by locals when referring to the city.
Beginnings [1]
What is now the state of Idaho was part of the Louisiana Purchase in 1803 and was explored by Lewis & Clark in 1805-06. In April 1878, Colonel Henry Clay Merriam with a detachment of Calvary, arrived at the mouth of the Spokane River. Colonel Merriam built and operated the first sawmill in the area. This mill was used to cut the lumber for the 80 buildings of Fort Coeur d'Alene plus the timbers needed to build "Amelia Wheaton", the first steamboat on Lake Coeur d'Alene. This steamer was used for many years to transport firewood and hay for the Fort. Later, steamers named "The Coeur d'Alene", the "General Sherman" and most famous the "Georgie Oakes" hauled ore from the Coeur d'Alene mining district to Coeur d'Alene. The silver, lead, and zinc ores were loaded onto the steamers near the Cataldo Mission and transported to railcars in Coeur d'Alene.
In 1887, Fort Coeur d'Alene's name was changed to Fort Sherman, in honor of General William T. Sherman. North Idaho College and the historic Fort Grounds neighborhood now occupy the former Fort Sherman grounds. By 1888, 1,000 people lived in Coeur d'Alene City, and by 1910, the population reached 8,000. In what is perhaps the first recorded city code enforcement action following the "long and hard" winter of 1896-97, the citizens found the stench of pig pens, cow barns, and other out buildings to be unbearable. Public wrath was directed to the City Council, forcing them to take drastic measures to abate the problem.
In 1892, the Coeur d'Alene Press was established by Joseph T. Scott. It was published as a weekly newspaper until 1910 and has since been published daily.
2007-2027 – Coeur d'Alene Comprehensive Plan, Public Draft Presentation, April, 2007
Neighborhoods
Abbott Dells
Armstrong Park
Ashbrook
Aspen Creek
Atlas Center
Barber
Beauty Bay
Bella Ridge
Bellerive
Bentwood Park
Best Hills Meadows
Best Hills Ranch
Birch Park
Birchwood
Black Rock
Blackstone Estates
Bonanza Ranch
Boothe
Bratton Garden
Canfield Commons
Canfield Park
Centennial
Coeur dAlene Vilalge
Columbus Park
Commerce Park
Condos at Mill River
Copper Ridge
Costellos
Cottage Grove
Cougar Bay
Cougar Ridge Estates
Courtyard Homes
Cumberland Meadows
Daboll Estates
Davis Park
Des Jardins Gardens
East Lacrosse
Echo Glenn
Edgewater at Mill River
Fairway Estates
Fairway Forest
Fairway Hills
Fairway Meadows
Fernan
Fernan Lake Estates
Fernan Lake Terrace
Finchs
Foothills
Forest Heights
Forest Park
Forest Vista
Frankie Acres
Ft Sherman Aban'd Mil
Gardendale
Gateway Ranch
Glenmore
Glory Mountain
Gotham Meadows
Graystone
Green Ferry
Harbor Island
Harbor View
Hawks Nest
Hayden View
Heartland
Hidden Falls
Highwood Park
Hill View Estates
Hoffman
Howard
Indian Meadows
Indiana Arms
Kaesmeyer
Kathleen Court
Kellys Point
Kidd Island Bay
Kildare Heights
Kildow
Kings
Krotzers Addition
Krotzers Park
Lagoon
Lake Forest
Lakeshore
Les James
Loffs Bay
Marcott
McEuen Condos
Mica View
Mill River
Mill Street Addition
Monte Vista
Morgan Estates
Mountain Shadows
Mundt Estates
Nevins
Nob Hill
Norlyn
North Cape
Northgate Mall
Northshire
Northwest Townsite
Northwood
O Briens
Oakcrest
Omega
Paisleys
Palisades
Parkside Condos
Parsons
Perrenouds Tracts
Pheasant Run
Pine Hills
Pinegrove Park
Princetown at Waterford
Prospector Ridge
Quaking Aspen
Ramsey Meadows
Reids
Ridge at Cougar Bay
Ridge Line
Ridgepointe
Riverfront House Condos
Rivers Inlet
Riverstone
Royal Crown Condos
Royer Estates
Sanders
Shady Lane
Shanrochelle
Silver Beach Park
Simms
Sky Blue Acres
Sorbonne
Spring Addition
Springwater
Stanley Hill
Stetler
Stevens Point
Summerset Ridge
Sundown Ridge
Sunrise Terrace
Sunshine Meadows
Syringa Grove
Syringa Heights
The Cottages
The Landings at Waterford
The Ridge at SunUp
Theis
Thomas Garden
Thomas Park
Thorntons
Timber Lane Condos
Toyama
Varnums
Village at Riverstone
Village II Condos
Vista Heights
Waterford Estates
Wellers Black Rock Park
Westridge Estates
Whispering Pines
White Tail Run
William's Park
Willow
Windwood
Woodard Tracts
Woodland Heights
Woodland Shores
Woodlawn Park
Woodside
Woolsey
Wysk
Nearby Towns: Hayden City •
---