City of Baltimore
Baltimore City Hall is located at 100 North Holliday Street, Baltimore, Maryland 21202.
Phone: 410‑396‑3835.
---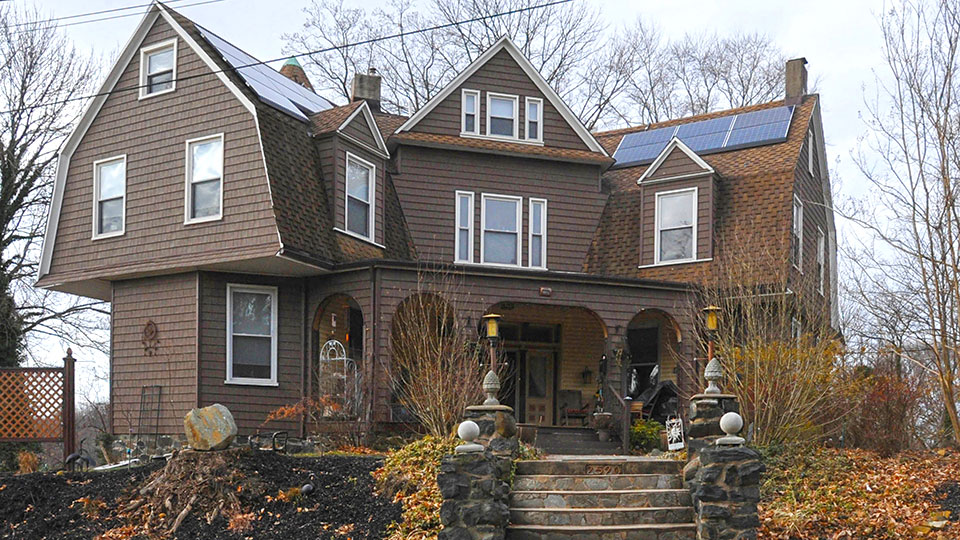 Home known as "The Cliffs" located on Talbot Road in the Windsor Hills Historic District, listed on the National Register of Historic Places in 2002. Photo by user:Jerrye and Roy Klotz, MD, 2008, (own work) creative commons [cc-4.0], via wikipedia commons, accessed May, 2021.
---
In 1797 Baltimore town, together with areas known as Jonestown and Fells Point, were incorporated as the City of Baltimore and remained part of Baltimore County until 1851 at which time it became the largest independent city in the U.S.
The city (and county) are named for Cecilius Calvert, the 2nd Baron Baltimore who was the first proprietor of Maryland. It was originally meant that the land grant be made to George Calvert, father of Cecilius and the 1st Lord Baltimore. George died before the grant was official, therefore, title passed to his son. George had petitioned for the grant to be made into a colony for English Catholics seeking refuge. Cecilius, who governed for more than 40 years, perpetuated his father's ideals of religious freedom and separation of church and state.
Neighborhoods
Abell
Albemarle Square
Allendale
Anchorage Towers
Anneslie
Arbutus
Arlington
Arlington Park Condominiums
Armagh
Armagh Village
Armistead Gardens
Arts And Entertainment District
Ashburton Historic District
Ashland Mews
Ashland Mews Park
Ashmans Hope
Ashton Woods
Athena Square
Auchentoroly Terrace
Auchentoroly Terrace Historic District
Bakers View
Baltimore Highlands
Bancroft Park Historic District
Barclay-Greenmount
Bare Hills
Bartonwood
Bauernschmidt Manor
Bayview
Beacon
Beechfield
Bel Air
Belevedere Square
Belgravia
Belmar
Belts Landing
Belvedere
Belvedere Court
Belvedere Square
Benhurst Park
Bentalou
Berea
Berkshire
Better Waverly Historic District
Beverly Hills
Biddle
Biddle Street
Blackthorn
Blythewood
Bon Secours
Bonnie View
Boston Courts
Braeside
Breco
Brewers Hill Historic District
Bright Leaf
Bright Light Shores
Brighton
Brighton Manor
Broadway
Broadway East
Broening Manor
Broklyn
Brookfalls
Brooklyn
Brooklyn Park
Brooklyn View
Brookstone
Burgundy Estates
Business and Government Historic District
Butcher's Hill Area
Butchers Hill Historic District
Calverton Heights
Camden Crossing
Camden Yards
Cameron Village
Canton Crossing
Canton Historic District
Canton Mills
Carlynn Heights
Carroll Park
Carrollton
Carrollton Condominium
Carrollton Ridge
Cathedral Hill Historic District
Catonsville
Catonsville Manor
Cedar Crest
Cedar Lane Farms
Cedmont
Cedonia
Central Park Heights
Charles North
Charles Village-Abell Historic District
Charlesmont
Chatham
Cherry Hill
Chesterfield Estates
Chestnut Hill Cove
Chinquapin Park
Christopher
Cliffwood
Clifton
Clifton Park
Clipper Mill
Clipper Park
Clyburn
Clyburn House and Park District
Clyburn Meadows
Cold Spring
Cold Spring Newtown
Coldstream
Coldstream Homestead Montebello Historic District
Colonial Village
Coppin
Coppin Heights
Courthouse Square
Cross Country
Cross Keys
Cub Hill
Cub Hill Estates
Curtis Bay
Curtis Heights
Cylburn
Cylburn
Dalewood
Darley Park
Daybreak Estates
Dembeigh Hill
Denmore Park
Devon Hill
Devonshire
Diamond Point
Dickeyville Historic District
Diplomat
Dolfield
Donnelly Manor
Dorchester
Dorchester Heights
Downtown
Druid Heights
Druid Hill Park
Druid Hill Park Historic District
East Arlington
East Baltimore
East Monument Historic District
East Side
East View
East Wood
Eastern Heights
Easterwood
Easterwood Park
Eastwood
Eastwood Heights
Edgemere
Edgewood
Edmondson
Edmondson Avenue Historic District
Edmondson Heights
Edmondson Village
Ednor Gardens Historic District
Elkridge Estates
Ellwood Park
Elm Ridge
Elmwood
Erdman
Essex
Esterwood
Eutaw Place-Madison Avenue Historic District
Everall Avenue
Evergreen
Evergreen Lawn
Fairmont
Fairmount Park
Fallstaff
Farring Heights
Federal Hill Historic District
Federal Hill South Historic District
Federal Place
Fells Landing
Fells Point Historic District
Fordham
Forest Green
Forest Park
Fort Armistead
Four By Four
Frankford
Frankford Estates
Franklin Area
Franklin Square Historic District
Franklintown Historic District
Franklintown Road
Frederick Heights
Gables at Summit Chase
Gardenville
Garrison
Garwyn Oaks
Gay Street
Gay Street Historic District
Gilmore
Glen
Glen Oaks
Glendale
Glenmont
Glenmore Park
Graceland Park
Gray Manor
Greektown
Greenberry Woods
Greengate
Greenmount West
Greenspring
Greenspring Quarry
Grove Park
Guilford Historic District
Gwynn Oak
Gwynn Park
Gwynns Falls
Hamiltion
Hamilton Heights
Hamilton Hills
Hamilton Meadows
Hampden Historic District
Hanlon
Hanlon Park
Harbor Court
Harbor East
Harbor Edge
Harborcourt
Harborview
Harlem Park
Harwood
Hazelwood
Hazelwood Acres
Heather Ridge
Hendersons Wharf
Heritage Crossing
Herring Run Park
Highlandtown
Highpointe
Hillen
Hillendale Farms
Hillsdale Estates
Hilltop
Hilton
Hoes Heights
Holabird
Holland Hill
Hollins Market
Hollins-Roundhouse Historic District
Home Sweet Home
Homeland Historic District
Homestead
Homewood
Hopins
Hopkins
Howard Park
Hull Street Mews
Hunting Ridge Historic District
Idlewood
Idlewylde
Imperial
Inner Harbor
Irvington
Jackson Station
Johns Hopkins
Johnston Square
Jones Valley
Jonestown Historic District
Joseph Lee
Kemper Green
Ken Knoll
Kenilworth
Kenilworth Park
Kensington
Kenwood Park
Kernewood
Keswick
Kings Court
Kresson
La Chateau Vert
Labyrinth
Lafayette Square
Lake Ashburton
Lake Clifton
Lake Evesham Historic District
Lake Falls
Lake Montabello
Lake Roland
Lake Roland Historic District
Lake Walker
Lakeland
Langston Hughes
Larchmont
Lauraville Historic District
Levindale
Liberty Heights
Liberty Mobile Home Park
Liberty Square
Lighthouse Landing
Lighthouse Point East
Linwood
Little Flower
Little Italy
Little Montgomery Street Historic District
Loch Hill
Loch Raven
Lochearn
Locust Point
Locust Point Historic District
Loft District
Loft District North
Loft District South
Lombard Court
Loudoun Park
Lower Charles Village
Lucille Park
Madison East End
Madison Park Historic District
Marble Hill
Market Center Historic District
Mayfield
Mayfield Historic District
McDonogh Place Historic District
McElderry Park
McHenry Pointe
Meadowood
Medfield
Medford
Medwick
Meridale Little Farms
Middle Branch
Middle East
Midtown Edmondson
Milbrook
Milford
Mill Hill
Mill Hill Deck of Cards Block Historic District
Millbrook
Millrace
Milton-Montford
Mondawmin
Montebello
Montebello Lake
Montpelier
Moores Run
Moorings
Moravia Park
Morell Park
Morgan Park
Morovia
Morrell Park
Mosher
Mount Clare
Mount Holly
Mount Royal Terrace
Mount Vernon Place Historic District
Mount Washington
Mount Washington Historic District
Mount Winans
Murray Hill
New Eastside
New Monroe Street Development
New Northwood
New Southwest
New Washington Village
North Central Historic District
North Hamilton
North Harford
North Highlandtown
North Homeland
North Patterson Park
North Point
North Roland Park
North Shore
Northbend
Northbrook
Northeast
Northwood
Northwood Historic District
O Donnel Heights
O Donnell
Oak Spring
Oaklee
Old East Baltimore Historic District
Old Goucher
Old Harford Ridge
Old Homeland
Old West Baltimore Historic District
Olde Northwood
Oldtown
Oliver
Oliver
Orangeville
Orchard Ridge
Original Northwood
Otterbein
Overlea
Overlea City
Overlea Hills
Overlea Manor
Overlea Park
Overlook at Greenspring Quarry
Park Circle Historic District
Park Heights
Park Towers East
Park Towers West
Parklane
Parkside
Parkview
Parkville
Patterson Park
Patterson Park-Highlandtown Historic District
Patterson Place
Penn Lucy
Penn North
Penn Station
Penn-North
Penrose
Perlman Place Historic District
Perring Loch
Perry Hall
Pickwick
Pierside at Harborview
Pigtown Historic District
Pimlico
Pinehurst
Pinnacle at Harborview
Pleasant Hill
Pleasant View Gardens
Popland
Poplar Grove
Poplar Hill
Poppleton
Presbury
Preston Place
Prospect Point
Purnell
Quarry Lake
Radnor Winston
Radnor-Winston Historic District
Railroad Historic District
Ranchleigh
Raspeburg
Regency Condos
Reisterstown Station
Remington Historic District
Richnor Springs
Ridgelys Delight Historic District
Ridgewood
Ritz Carlton Residences
Riverside
Riverside Historic District
Rockland Ridge
Rockland Run
Rodgers Forge
Rognel Heights
Roland Gate
Roland Park North
Roland Springs
Rosebank
Rosedale
Rosemont
Rosemont East
Saint Agnes
Saint Helena
Saint Josephs
Saint Paul Street Historic District
Sand Town
Sandtown
Seton Hill Historic District
Seven Mile
Sharp-Leadenhall
Shelburne
Shelburne Court
Shipley Hill
Silo Point
Slade Village
South Baltimore
South Central Avenue Historic District
South Clifton Park
Southwest
Southwest Baltimore
Spinnaker Bay
Spring Hills
St Helena
Station North
Stewart Hill
Stirling Street Historic District
Stoneleigh
Stoneoaks
Strathmore Park
Streamwood
Summer Fields
Summit Chase
Summit Farms
Summit Park
Summit Ridge
Taylor Heights
Ten Hills
Ten Hills Historic District
The Beacon
The Cloisters
The Colonnade
The Crescent
The Diplomat
The Elmont
The Falls Garden
The Imperial
The Moorings
The Orchards
The Parke at Mt Washington
The Shipyard
The Summitt at Brewer's Hill
The Terraces
The Towers
The Vue Condominium
The Warrington
The Woodlands
Towanda
Towanda Park
Towanda-Grantley
Towne at the Terrace
Townes at Harborview
Travertine
Tremont
Tudor Arms
Turn Key Rental
Tuscany-Canterbury Historic District
Twin Ridge Apartments
Union Square
Union Square Historic District
Union Square-Hollins Market Historic District
Uplands
Upper Canton
Upper Fells Point
Upper Fells Point Historic District
Upper Hamilton
Upper Park Heights
Upper Rosemont
Upper Waverly
Upton
Uptons Marble Hill Historic District
Valerie Manor
Valley Stream
Van Dyke Manor
Villages of Homeland
Wakefield
Walbrook
Walbrook Community
Walther
Waltherson
Warrington
Washington Hill Historic District
Washington Village
Waverly Main Street Historic District
Wedgewood
Wellwood
West Arlington
West Baltimore
West Belvedere
West Edmondale
West Forest
West Hills
Western Run
Westfield
Westgate
Westport
Weyburn Park
White Marsh
Wilhelm Park
Wilkens Area
Wilkens Terrace
Willowdale
Wilson Heights
Wilson Park
Winchester
Windsor Mill Co-Op
Windsor Terrace
Woodberry Historic District
Woodbourne Heights
Woodbrook
Woodlands at Coldspring
Woodlawn
Woodlawn Terrace
Woodley
Woodmere
Woodring
Wyman Park
Wyndhurst Historic District
Yale Heights
Baltimore is located along the Patapsco River which is part of the Chesapeake Bay.
Inner Harbor [1]
The Inner Harbor, located at the heart of Baltimore, provided the foundation for the city's maritime economy in the late 18th and early 19th century. In 1730 the original 60 acre town of Baltimore was platted above the harbor, which was originally located at Water Street, approximately 2 blocks north of the present harbor. Baltimore developed slowly after the American Revolution but by 1800 it had become the largest city in Maryland and a major port for Chesapeake Bay and eastern seaboard trade.
While Baltimore's location at the head of the Chesapeake Bay spurred its early growth as a center of regional commerce, political and technological factors enabled it to emerge as a major port. Beginning in the mid-18th century, mills fueled by the falls around Baltimore transformed the port into a major point for flour export. The blockade of Annapolis during the American Revolution, coupled with the decline of Annapolis after the Revolution, further fueled Baltimore's growth, an expansion accelerated by the French Revolution and Napoleonic Wars. The schooner-rigged Baltimore Clippers, which could sail within five points of the wind, were among the fastest ships afloat, ideal for the hazardous wartime contraband trade. The relationship Baltimore established as a transfer point between Europe and Latin America and the West Indies during this period continued through the early 19th century. Local trade gained renewed emphasis when Baltimore was blockaded during the War of 1812.
Baltimore Inner Harbor, Historic American Engineering Record [HAER MD-86], memory.loc.gov, accessed March, 2011.
---