Holmes County, Ohio
---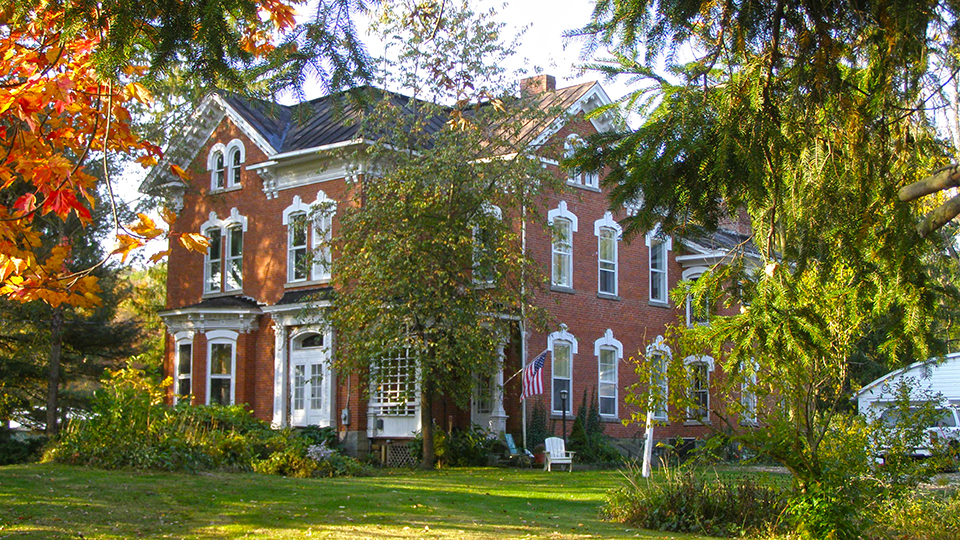 Photo: Joseph L. DeYarmon House, circa 1878, Southwestern corner of County Road 179 and Township Road, Washington Township. Listed on the National Register of Historic Places in 1982. Photographed by User:Chris Light (own work), 2010, [cc 3.0], via Wikimedia Commons, accessed July, 2023.
---
TOWNS
Berlin Twp
Clark Twp
Glenmont Vlg
Hardy Twp
Holmesville Vlg
Killbuck Vlg
Mechanic Twp
Nashville Vlg
Walnut Creek Twp
The Holmes County Courthouse is located at 1 East Jackson Street, Millersburg, OH 44654; phone: 330-674-1876.
The county is believed to have the highest concentration of Amish population in the U.S. Amish comprise approximately half of the county population.
Beginnings [1]
Established in 1824, Holmes County was predominantly agricultural throughout the 19th century. The 1880 census revealed over 95% of its 267,000 acres as part of active farms. Railroads in the county developed rather late and industry never really developed in the 19th century. Around the turn of the century a large oil boom interrupted the county's agricultural orientation.
Steven McQuillan and David A. Simmons, Ohio Historic Preservation office, Historic and Architectural Resources of Holmes County, OH, nomination document, 1981 & 1984, National Park Service, National Register of Historic Places, Washington, D.C.
HISTORIC SITES
Adams, G., House
Armstrong, Joseph, Farm
Brightman House
Cary, G.W., House
Cary, Hiram W., House
Croco House
DeYarmon, Joseph L. House
Holmes County Courthouse And Jail
Koch, John E., Jr., House
Millersburg Historic District
Pomerene House
Shull-Lugenbuhl Farm
Wise, Peter, House
---