Preble County, Ohio
---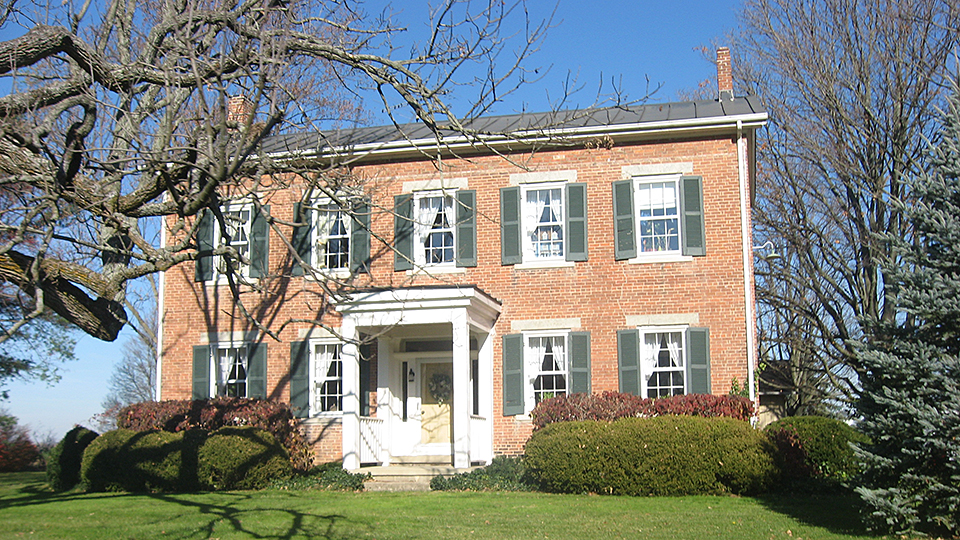 Photo: Daniel Christman Homestead, circa 1850s, 2179 U.S. Route 35, Washington Township. Listed on the National Register of Historic Places in 1982. Photographed by User:Nyttend (own work), 2010, [cc-by-1.0 (creative commons), accessed October, 2020.
---
TOWNS
Camden Vlg
College Corner Vlg
Dixon Twp
Eldorado Vlg
Gasper Twp
Gratis Vlg
Israel Twp
Lanier Twp
Lewisburg Vlg
New Paris Vlg
Somers Twp
Verona Vlg
West Alexandria Vlg
West Elkton Vlg
West Manchester Vlg
The Preble County Courthouse is ocated at 101 E Main St # 203, Eaton, OH 45320; phone: (937) 456-8160.
Preble County was founded on March 1, 1808, from parts of Butler and Miami Counties. All of Preble County's townships (Dixon, Gasper, Gratis, Harrison, Israel, Jackson, Jefferson, Lanier, Monroe, Somers, Twin and Washington) were designated between 1808 and 1824. The State legislature granted Eaton's incorporation in 1836.
HISTORIC SITES
Acton House
Brubaker Covered Bridge
Bunker Hill House
Camden City Hall and Opera House
Camden Public School
Christman Covered Bridge
Christman, Daniel, Homestead
Fort St. Clair Site
Geeting Covered Bridge
George B. Unger House
Harshman Covered Bridge
Hueston Woods Park Mound
Lange Hotel
Roberts Covered Bridge
St. Clair Street Bridge
Warnke Covered Bridge
West Alexandria Depot
---