Warning: include(/Library/kw/livingplaces.com/menu.html): failed to open stream: No such file or directory in /Library/WebServer/livingplaces.com/SC/Beaufort_County/Bluffton_Town.html on line 36

Warning: include(): Failed opening '/Library/kw/livingplaces.com/menu.html' for inclusion (include_path='.:') in /Library/WebServer/livingplaces.com/SC/Beaufort_County/Bluffton_Town.html on line 36

Bluffton Town
Bluffton Town Hall is located at 20 Bridge Street, Bluffton, SC 29910.
Phone: 843‑706‑4500.
---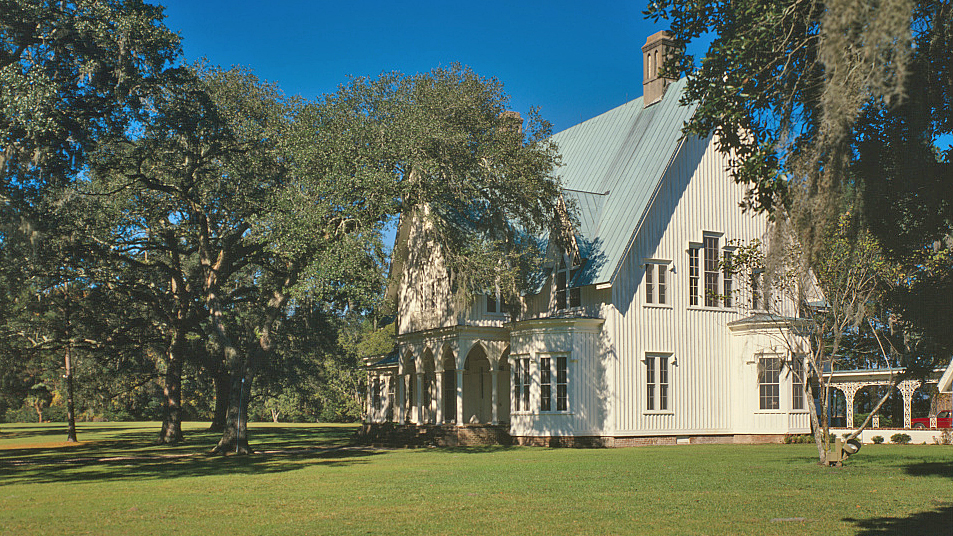 Photo: Gothic Revival style Rose Hill Plantation House; construction began ca. 1858-1860 but remained unfinished until 1946, Bluffton vicinity. Jack Boucher, photographer, 1986, Historic American Buildings Survey [HABS SC‑592], accessed October, 2020.
---
The Town of Bluffton is located in Beaufort County, the southernmost coastal county in South Carolina. It is situated on a high bluff overlooking the May River, a pristine waterway that has strongly contributed to the Town's history and continued success. Bluffton is located just twelve miles west of Hilton Head Island, SC, and approximately twenty miles northeast of Savannah, GA. In 1852, the Town of Bluffton, comprised of approximately one square mile, was officially incorporated by an act of the South Carolina General Assembly. This original one square mile of Bluffton is referred to as Old Town.
Neighborhoods
Alston Park
Arborwood
Bartons Run
Baynard Park
Baywood
Belfair Plantation
Berkeley Hall
Bluffton Historic District
Brighton Beach
Brighton Oaks
Brighton Woods
Buckingham Landing
Cypress Ridge
Eagles Point
Edgefield
Fern Lakes
Gasccoigne Bluff
Grande Oaks
Hampton Hall
Hampton Lake
Heritage Lakes
Hidden Lakes
Johns Farm
Lawton Station
Martins Place
May River Plantation
Meadowbrook
Midway Farm
Moss Creek Plantation
Myrtle Island
Olde Town
Palmetto Bluff
Pinckney Colony
Pine Forest Vilalge
Pine Ridge
Pinecrest
Pritchard Farm
Riverbend
Rose Hill
Sandy Pointe
Sawmill Forest
Shell Hall
Sorrelwood Lane
South Pointe
Sun City Hilton Head
Swan Lake
The Crescent
The Farm at Buckwalter
The Gatherings
The Haven
The Townes at Buckwalter
The Traditions
University Park
Verdier View
Victoria Bluff
Vista View
Westbury Park
Windtree
Windy Lake
Woodbridge
Wyngate
Beginnings [1]
During the sixteenth and seventeenth centuries, the area comprising southern Beaufort County was known as Granville County of St. Luke's Parish. As the Yemassee Indians had established ten towns with over 1,200 inhabitants in that area, it was considered "Indian Lands." In 1715, the Yemassee War broke out and after several years of fighting, the Yemassee tribe migrated to Florida, opening the lands to European settlement. In 1718, the Lords Proprietors carved the area into several new baronies, including the Devil's Elbow Barony that contained the future Town of Bluffton.
Bluffton was eventually built on two adjoining parcels in the Devil's Elbow Barony purchased by Benjamin Walls and James Kirk. The first homes were constructed during the early 1800s by area plantation owners seeking high ground and cool river breezes as an escape from the unhealthy conditions present on Lowcountry rice and cotton plantations. Easy access by water provided more incentives for expansion and the many tidal coves afforded excellent locations for residences. The first streets were formally laid out during the mid-1800s, and the name of Bluffton was decided upon during the same period.
In 1852, Bluffton was officially incorporated by an act of the South Carolina General Assembly and comprised approximately one square mile, which is currently referred to as Old Town. A steamboat landing was constructed at the end of Calhoun Street during this period, which allowed Bluffton to be a stopover for travelers between Savannah and Beaufort or Charleston.
Within one year of the capture of Fort Sumter, Bluffton became a safe haven for residents fleeing Union occupation of the South Carolina barrier islands. Bluffton was a headquarters for Confederate forces until Union forces on Hilton Head Island ordered its destruction in 1863. While approximately 60 structures stood in Bluffton prior to the attack; only two churches and fifteen residences remained standing after.
Rebuilding came slowly, as few local landowners could afford the luxury of a summer home and Bluffton did not experience a true rebuilding until the 1880s, when it emerged as a commercial center for Beaufort County. Bluffton remained a commercial center until the Coastal Highway (US 17) and the bridge at Port Wentworth over the Savannah River were completed, making riverboat trade and travel less attractive. The Great Depression, beginning shortly thereafter, brought the finality to Bluffton's prosperity and commercial importance; however its popularity as a vacation spot remained even after the loss of its commercial stature. The growth of Hilton Head Island, nearby Sun City, and related development has resulted in a resurgence of commercial activity.
Due to recent large-scale annexations, Bluffton has experienced tremendous growth and prosperity, having expanded its territory from one square mile to approximately fifty-four square miles. However, its heart and historic center has always been the Old Town. This area is also recognized as a National Register District by the National Parks Service. Old Town is characterized by a variety of building styles and scales and is home to many residents, artists, and merchants.
Planning and Growth Management Department, Bluffton, SC, Town of Bluffton, South Carolina Comprehensive Plan, 2007, 222.townofblufftonsc.gov, accessed April, 2016.
---

Warning: include(/Library/kw/livingplaces.com/footer.html): failed to open stream: No such file or directory in /Library/WebServer/livingplaces.com/SC/Beaufort_County/Bluffton_Town.html on line 158

Warning: include(): Failed opening '/Library/kw/livingplaces.com/footer.html' for inclusion (include_path='.:') in /Library/WebServer/livingplaces.com/SC/Beaufort_County/Bluffton_Town.html on line 158