Warning: include(/Library/kw/livingplaces.com/menu.html): failed to open stream: No such file or directory in /Library/WebServer/livingplaces.com/SC/Beaufort_County/Hilton_Head_Island_Town.html on line 36

Warning: include(): Failed opening '/Library/kw/livingplaces.com/menu.html' for inclusion (include_path='.:') in /Library/WebServer/livingplaces.com/SC/Beaufort_County/Hilton_Head_Island_Town.html on line 36

Hilton Head Island Town
Administrative offices are located at 1 Town Center Court, Hilton Head Island, SC 29928.
Phone: (843) 341-4600.
---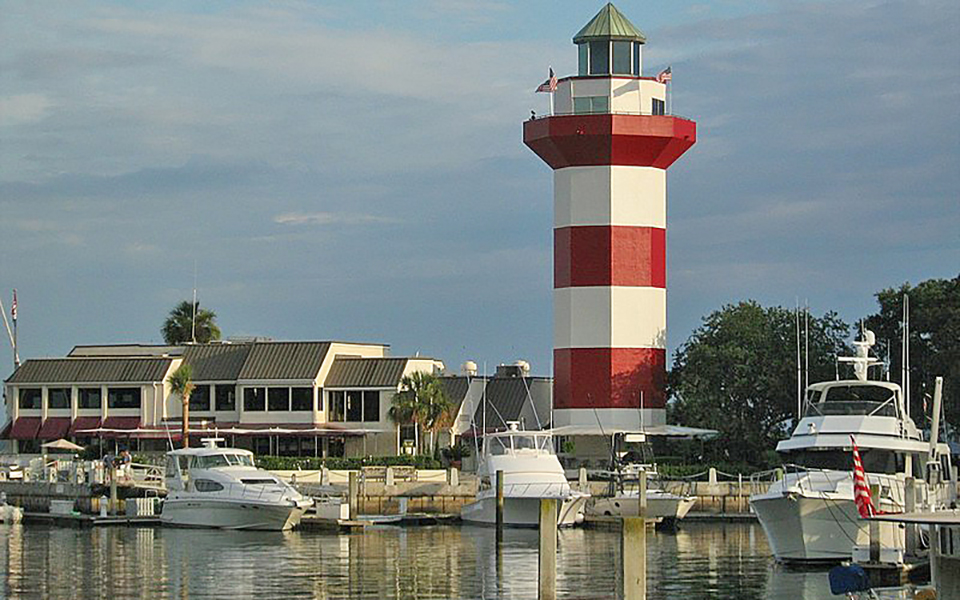 Photo: Harbour Town Marina in Sea Pines Resort with the Harbour Town Lighthouse, photograped by wikipedia username: MoodyGroove, own work, 2007, accessed August, 2022.
---
Hilton Head Island is the second largest barrier island on the east coast. It is roughly 12 by 5 miles (or 29,000 acres). Due to its location near Port Royal Sound, Charleston, and Savannah, the Island played an important role in early Indian settlement, plantation agriculture, the American Revolutionary War, and the War Between the States (Civil War).
In 1663, Captain William Hilton sailed on the Adventure from Barbados to explore lands granted by King Charles II of England to the eight Lords Proprietors. In his travels, he identified a headland near the entrance to Port Royal Sound and named it "Hilton's Head". He stayed for several days, making note of the trees, crops, "sweet water" and "clear sweet air".>/p>
In 1698, the Island was granted as part of a barony to John Bayley of Ballingclough, County of Tipperary, Kingdom of Ireland. Another John Bayley, son of the first, appointed Alexander Trench as the Island's first retail agent and for a time, the Island was known as Trench's Island. In 1729, Trench sold land to John Gascoine which Gascoine named "John's Island", which later came to be known as Jenkin's Island after another owner.
In 1862, the Island's name was changed to Port Royal and lastly in 1872, the Island's official name was changed to Hilton Head Island.
Neighborhoods
Baygail
Big Hill
Big Stoney
Chaplin
Gardner
Grassland
Hilton Head Plantation
Indigo Run
Jarvis Creek
Jonesville
Leamington
LeamingtonLong Cove Club
Little Stoney
Marshland
Mitchelville
Palmetto Dunes
Palmetto Dunes Resort
Port Royal Plantation
Sea Pines Resort
Spanish Wells
Squire Pope
Wexford Plantaion
Windmill Harbour
---

Warning: include(/Library/kw/livingplaces.com/footer.html): failed to open stream: No such file or directory in /Library/WebServer/livingplaces.com/SC/Beaufort_County/Hilton_Head_Island_Town.html on line 106

Warning: include(): Failed opening '/Library/kw/livingplaces.com/footer.html' for inclusion (include_path='.:') in /Library/WebServer/livingplaces.com/SC/Beaufort_County/Hilton_Head_Island_Town.html on line 106