Warning: include(/Library/kw/livingplaces.com/menu.html): failed to open stream: No such file or directory in /Library/WebServer/livingplaces.com/SC/Richland_County/Columbia_City.html on line 34

Warning: include(): Failed opening '/Library/kw/livingplaces.com/menu.html' for inclusion (include_path='.:') in /Library/WebServer/livingplaces.com/SC/Richland_County/Columbia_City.html on line 34

Columbia City
Columbia City Hall is located at 1737 Main Street, Columbia SC 29201.
Phone: 803‑545‑3000.
---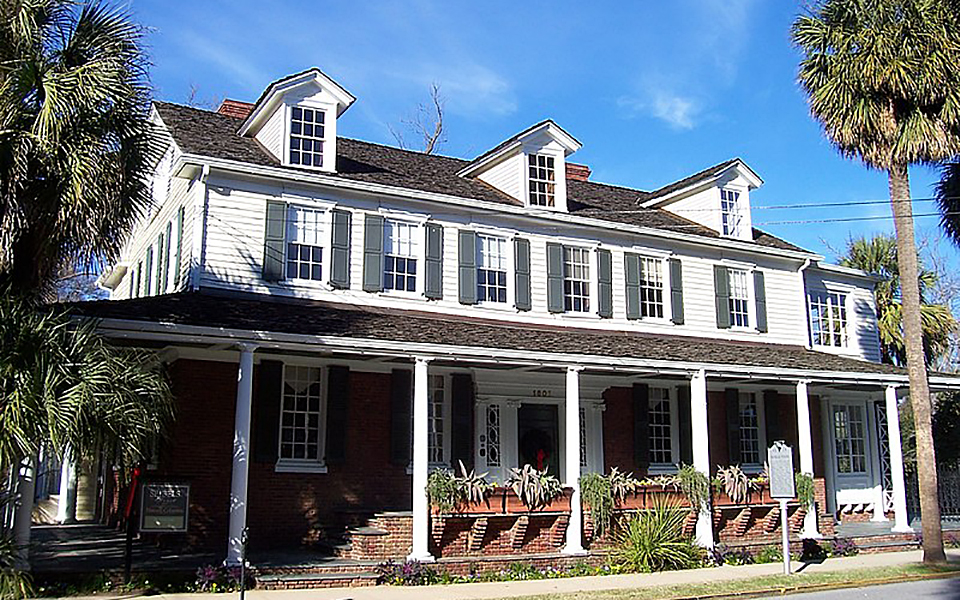 Photo: The Hale-Elmore-Seibels House, circa 1796, located at 1601 Richland Street, Columbia, SC. Most historians believe this is the oldest extant house in Columbia. Listed on the National Register of Historic Places in 1971. Photographed by User:Abductive (own work), 2010, [cc0, public domain], via Wikimedia Commons, accessed November, 2021.
---
Neighborhoods
Abington
Adesso
Alexander Pointe
Allans Mill
Alta Vista
Amberly
Amelia Forest
Ames Manor
Andrew Park
Apple Valley
Arbor Hills
Arborwood
Arcadia Cove
Arcadia Lakes
Archers Courts
Arrowwood
Arsenal Hill
Arthurtown
Ashewood Commons
Ashewood Lake
Ashland Place
Ashley Hall
Ashley Place
Ashley Ridge
Ashworth Place
Atrium Park
Autumn Glen
Autumn Hill
Autumn Run
Avalon
Avebury
Barhamville
Barnwell Colony
Barony Place
Beatty Downs
Beaver Dam Park
Beleview Place
Belmont
Belmont Estates
Belmont Green
Belvedere
Berkeley Forest
Berkshire Place
Bluff Estates
Bonnie Forest
Booker Washington Heights
Bradford Park
Bradley
Braewick
Brandon Acres
Brandon Hall
Brennen Place
Briargate
Briarwood
Brittany
Broad River Corridor
Broad River Estates
Brockington Heights
Brookfield
Brookfield Heights
Brookhaven
Brookstone
Burton Heights
Bush Gardens
Byrneswood
Cabb Island
Cambridge Oaks
Cameron Court
Canal Place
Candlewood
Canterbury Park
Capital Heights
Capital View
Capitol Places
Carnaby Square
Carolina Walk
Carriage Hill
Carriage Lane
Carriage Oaks
Carriage Place
Caughman Place
Caughman Ridge
Cedar Glen
Cedar Grove
Cedar Hills
Cedar Terrace
Challedon
Chandler Hall
Charlestowne
Charleswood
Chartwell
Chateau Deville
Chestnut Hill Plantation
Chestnut Hills
Clairview Terrace
Claremont
Clear Springs
Clearwater
Cloisters of Whitehall
Coatesworth
Cobblestone Park
Coldstream
College Place
College Place
College View
Colonial Brook
Colonial Commons
Colonial Hieghts
Colonial Park
Colonial West
Colony
Colony Park
Columbia College Drive
Columbiana Ridge
Commons at Winchester
Concord Oaks
Copperfield
Cottontown
Cottonwood
Country Place
Courts of Arcadia
Courtyard
Courtyard Homes
Courtyards at Ridgemont
Crane Creek
Crane Forest
Creekside at Huntington
Crestland Place
Crestwell
Crosscreek
Daleview
Deer Lake
Deerwood Knoll
Denby Place
Denny Terrace
Devon Green
Dove Park
Drexel Lake
Drexel Lake Hills
Druid Hills
Dunston Hills
Dutch Brook
Eagle Park
Earlewood
Earlwood
East Lake
East Lake Hills
Eastmont Annex
Eastway Park
Eau Claire
Edgewood
Edisto Court
Elders Pond
Ellens Glen
Elm Abode
Elmwood
Emerald Valley
Enclave
Eva P Trezevant
Fairwold
Fairwold Acres
Falls Mill
Farrow Hills
Farrow Pointe
Farrow Terrace
Farrowood Estates
Finsbury Place
Fishers Pond
Fishers Wood
Flora Springs Park
Forest Acres
Forest Glen
Forest Green
Forest Hills
Forest Hills Historic District
Forest Hills North
Forest Lake Estates
Forest Lake Place
Forest Trace
Forestwood Estates
Fox Chase
Fox Run
Foxhall
Galaxy
Garden Springs
Garden Valley
Gardendale
Gates of Wildewood
Gatewood
Gibbes Green
Gillcreek
Glen Meadow
Glenridge
Godbold Place
Golden Acres
Governors Hill
Granby Hill
Grandevine
Graymont
Greenbriar
Greenbrook
Greengate
Greensprings
Greenview
Gregg Park
Grenadier
Grove Park
Hallbrook
Hallmark
Hamilton Place
Hamlet Park
Hampton Crest Estates
Hampton Forest
Hampton Hills
Hampton Leas
Hampton Place
Hampton Ridge
Hampton Terrace
Hampton Trace
Hampton Woods
Hamptons Grant
Hamptonwood East
Harbison
Harrington
Hartford Heights
Haskell Heights
Hastings Point
Hazelwood Acres
Heather Green
Heather Springs
Heatherstone
Heathwood
Heritage Hills
Heritage Place
Heritage Village
Hermitage
Hester Woods
Heyward Park
Hickory Ridge
Hidden Pines
Highland Forest
Highland Hills
Highlands
Hillcreek
Hillridge
Holly Ridge
Hollywood Hills
Homestead
Honeytree Glenn
Horseshoe Acres
Huffman Heights
Huntcliff
Hunters Pond
Hyatt Park
Indigo Springs
Ivy Square
Jackson Heights
Jacobs Creek
Jasmine Place
Justice Square
Keenan Terrace
Kelsney Ridge
Kilbourne Heights
Kilbourne Park
Killian Green
Killian Station
Kings Grant
Kingston Ridge
Kingswood
Knollwood
Lake Carolina
Lake Carolina - Willow Pointe
Lake Elizabeth Estates
Lake Katherine
Lake Pointe East
Lakeshore at the Grove
Lakewood Village
Lamplighter Village
Landon Place
Lansdowne
Laurel Hill
Laurel Hill Heights
Laurel Springs
Lee Hills
Legend Oaks
Legion Lake
Lexington Green
Lincoln Park
Lincolnshire
Lionsgate
Lofts at Bower Commons
Lofts at Printers Square
Londonberry
Longcreek Plantation
Longtown Place
Lost Creek
Lost Tree
Lower Waverley
Magnolia Bluff
Magnolia Glen
Magnolia Hall
Magnolia Park
Magnolia Point
Mallard Landing
Mandel Park
Maywood Place
McCants Townhomes
Meadowfield
Meadowlake
Middleborough
Midland Terrace
Miles Park
Mill Creek Estates
Millbank
Misty Glen
Monticello Terrace
Moores Creek
Mosley Hills
Mossbrook Plantation
Mountainbrook
Murray Landing
Murraywood
Newcastle
North College Place
North Columbia
North Crossing
North Highlands
North Springs
North Trace
Northlake
Northwood Hills
Nursery Hill
Nursery Ridge
Oakbrook Village
Old Mill
Olde Park
Olde Woodlands
Oleander Mill
Olympia
Oxford Commons
Palmetto Place
Park Circle
Park Ridge at Polo
Parkside
Parliament Lakes
Parsons Mill
Patriot Park
Pennington Place
Pennington Square
Pepper Knoll
Persimmon Hill
Pickwick Place
Pine Brook
Pine Forest
Pine Glen
Pine Knoll
Pine Lakes
Pine Valley
Pinehurst
Pinewood Knoll
Pinewood Park
Point Arcadia
Polo Ridge
Pontiac
Prescott Terrace
Preston Green
Providence Plantation
Quail Pointe
Quail Valley
Quarters
Quinine Hill
Rabons Farm
Rainsborough
Rawlinson Place
Reflections
Regatta Point
Regency Park
Renaissance Plaza
Rice Creek Farms
Ridgemont
Rivendale
Riverhill Condos
Rivers Station
Riverside Forest
Riverside Park
Riverview Terrace
Robert Mills Historic District
Rochelle Heights
Rockbridge
Rolling Pines
Roosevelt Village
Rose Creek
Rose Hill
Rosewood
Rosewood Commons
Rosewood Hills
Royal Pines Estates
Ryan Street
Sageland Place
Sandhurst
Sandwood Hills
Sassafras Springs
Satchelford
Selwood Trace
Seminary Ridge
Senate Plaza
Sesqui Place
Shadowfield
Shandon Square
Sheffield
Sherwood Forest
Sherwood Forest
Sherwood Park
Shiloh
Silver Lake
Skyland Drive
Skyland Estates
Skyview Terrace
Smith Lake
South Kilbourne
South Waccamaw
Southwell
Southwood
Spears Creek Village
Spring Valley
Springfield Acres
Springhaven
Springhill Condos
Springhurst
Springwood Lakes
St Andrews Acres
St Andrews Place
St Andrews Woods
St Marks Woods
Stadium Village Lofts
Starks Terrace
Steeplechase
Sterling Hills
Stone Chapel
Strathaven Forest
Summer Chase
Summer Valley
Summer Vista
Summerhill
Summerplace
Summerset
Summit Hills
Summit Place
Summit Ridge
Summit Townes
Sunview Lake
Sweetgrass Courtyards
Sweetwater at Smallwood
Teague Park
The Battery at Arsenal Hill
The Cloister
The Commons at Winchester
The Coop
The Fairways
The Gates of Wildewood
The Homestead
The Manors of Belleclave
The Palms at Rocky Point
The Promenade at Sandhill
The Village at Lake Murray
The Villages at Lakeshore
Thomaston
Thorn Tree
Timber Ridge
Timberlake
Timbervale
Timothy Station
Traditions
Trenholm Acres
Trenholm Hills
Trenholm Terrace
Turtle Creek
Twin Eagles
Twin Lakes Hills
University Hill
Victory Gardens
Village Creek
Village Pond
Vineyards Crossing
Walden
Wales Garden
Washington Heights
Washington Park
Watch Hill
Waterbury
Waterford Place
Watermark
Waverly
Wedgwood
Wellesley Place
Wellington
Westshire
Wexford Commons
Wexford on the Lake
Wexhurst
Whaley Row
Wheeler Hill
Whisper Trace
Whitehall
Wildewood
Williamsburg East
Williamsburg Square
Williamsburg West
Willow Tree
Willow Winds
Willowbrook
Winchester
WIndemere
Windemere Springs
Windmill Orchard
Windsong Point
Windsor Estates
Windsor Lake
Windsor Lake Park
Windsor Square
Windsor Village
Windstone
Winslow
Winsor Hills
Winterberry Place
Wood Moor Estates
Woodcreek Farms
Woodfield Park
Woodgreene
Woodhaven
Woodhill Crest
Woodhill Estates
Woodlake
Woodland Green
Woodland Hills
Woodland Terrace
Woodlands Glen
Woodlands Links
Woodlands Ridge
Woodleigh Park
Woodridge Hills
Wynfield Gables
Yacht Cove
Yorkshire
Yorkshire
Beginnings [1]
On March 22, 1786 the General Assembly of South Carolina passed an act establishing a new state capital called Columbia to be located on a plateau on the Congaree River just below the confluence of the Broad and Saluda Rivers. Located directly in the center of the state, Columbia was created in an effort to resolve the rivalry between the small farmers and the traders of the upcountry and the large planters and merchant class of the low country. By 1787 a careful street plan for the new town had been laid out. It consisted of a two-mile square grid of broad avenues with a centrally located state house. In 1790, with the new state house ready for use, the official public records for the state were transferred to Columbia. The town's central location soon made it a logical trading point to exchange furs and agricultural produce from the upcountry for sale, manufactured goods and imported products from the Charleston area.
By 1805 Columbia had grown to the point that it was officially incorporated as a town, with a local government independent of the legislature. With the invention of the cotton gin and the development of upcountry as a rich cotton farming area, the town became an important cotton retailing center.
During Columbia's early history, it was primarily accessible by land. In 1824 the completion of the Columbia Canal made the Congaree River navigable and permitted large-scale economic shipment of goods to and from the frontier country of Piedmont South Carolina by water. This greatly encouraged the growth of Columbia as the trade center of central South Carolina. With the coming of the railroad during the decade 1840-1850, all earlier forms of transportation became obsolete as Columbia also became a central location for railroad lines.
National Park Service, National Register of Historic Places, Columbia Multiple Resource Area, 1987, Washington DC, prepared by Profession John M. Bryan, University of South Carolina Department of Art History.
Nearby Towns: West Columbia City •
---

Warning: include(/Library/kw/livingplaces.com/footer.html): failed to open stream: No such file or directory in /Library/WebServer/livingplaces.com/SC/Richland_County/Columbia_City.html on line 639

Warning: include(): Failed opening '/Library/kw/livingplaces.com/footer.html' for inclusion (include_path='.:') in /Library/WebServer/livingplaces.com/SC/Richland_County/Columbia_City.html on line 639