Warning: include(/Library/kw/livingplaces.com/menu.html): failed to open stream: No such file or directory in /Library/WebServer/livingplaces.com/AL/Colbert_County/Sheffield_City.html on line 34

Warning: include(): Failed opening '/Library/kw/livingplaces.com/menu.html' for inclusion (include_path='.:') in /Library/WebServer/livingplaces.com/AL/Colbert_County/Sheffield_City.html on line 34

Sheffield City
Sheffield administrative offices are located at 600 North Montgomery Avenue, Sheffield, Alabama 35660.
Phone: 256-383-0250.
---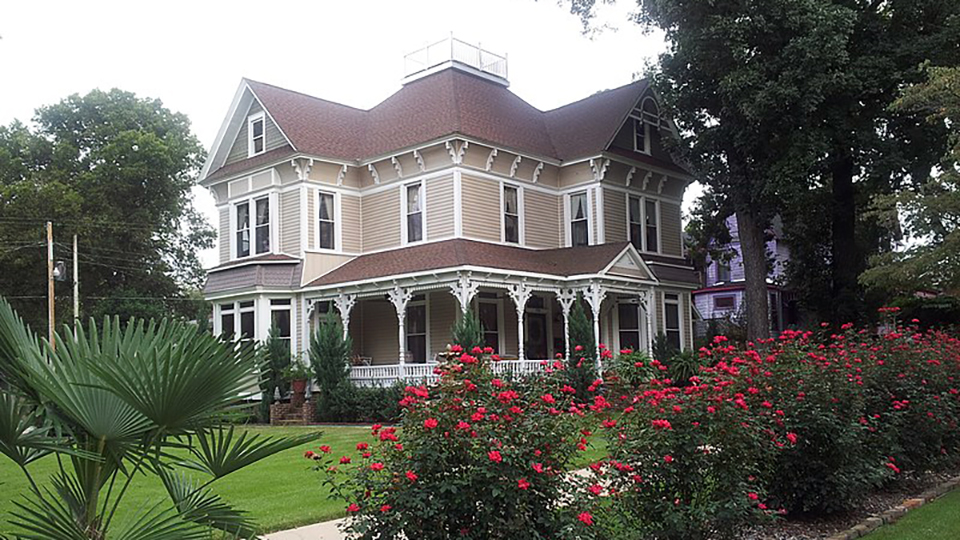 Photo: Chambers-Robinson House, circa 1890, located at 910 Montgomery Avenue, Sheffield. Listed on the National Register of Historic Places in 1993. Photographed by User:Themidnite (own work), 2012, [cc-3.0], via Wikimedia Commons, accessed November, 2021.
---
Sheffield [†] is located in Colbert County, in the northwestern corner of Alabama on the Mississippi border and along the Tennessee River. It was incorporated in 1885 and has a mayor/council form of government. Fred Thompson, former U.S. senator from Tennessee, actor, and 2008 presidential candidate, was born in Sheffield, as was author and poet Wayne Greenhaw.
Some accounts mention the presence of a French trading post as the first European settlement in area in the 1780s, but most note that Sheffield was built on a site along the route taken by Gen. Andrew Jackson and his men during the Creek War of 1813-14. In 1816, Jackson and fellow officer John Coffee purchased land in the area through their Cypress Land Company. In 1820, the federal government completed a military road named for Jackson through the area. A town called York Bluff arose there, but it was short lived.
Sheffield is known as the home of the now-defunct Muscle Shoals Sound Studio (founded by members of the Muscle Shoals Rhythm Section), where numerous hit records were recorded and produced beginning in 1969 at 3614 Jackson Highway. In 1978, the studio moved to a new facility at 1000 Alabama Avenue, and the original building is now owned by the film studio Cypress Moon Productions.
† Sheffield, Encyclopedia of Alabama, www.encyclopediaofalabama.org, accessed November, 2021.
Nearby Towns: Muscle Shoals City • Tuscumbia City •
---

Warning: include(/Library/kw/livingplaces.com/footer.html): failed to open stream: No such file or directory in /Library/WebServer/livingplaces.com/AL/Colbert_County/Sheffield_City.html on line 84

Warning: include(): Failed opening '/Library/kw/livingplaces.com/footer.html' for inclusion (include_path='.:') in /Library/WebServer/livingplaces.com/AL/Colbert_County/Sheffield_City.html on line 84