Warning: include(/Library/kw/livingplaces.com/menu.html): failed to open stream: No such file or directory in /Library/WebServer/livingplaces.com/AL/Madison_County/Huntsville_City.html on line 34

Warning: include(): Failed opening '/Library/kw/livingplaces.com/menu.html' for inclusion (include_path='.:') in /Library/WebServer/livingplaces.com/AL/Madison_County/Huntsville_City.html on line 34

Huntsville City
Huntsville City Hall is located at 308 Fountain Circle, Huntsville AL 35801.
Phone: 256‑427‑5088
---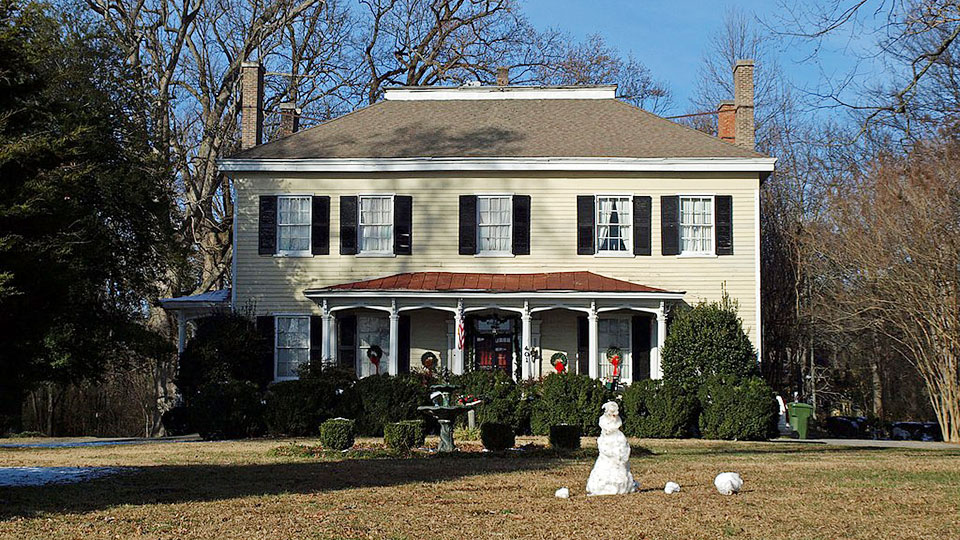 Photo: Mrs. William Robinson House, circa 1854, located 401 Quietdale Drive, NE, Huntsville. Listed on the National Register of Historic Places in 1982. Photographed by user: Chris Pruitt (own work), 2010, [cc-3.0], via Wikimedia Commons, accessed November, 2021.
---
Huntsville is on the move. Long a desirable place for people and businesses to call home, Huntsville is continuing to invest in its future so that it can continue to attract new talent and new business from across the country and around the world, and create a culture that cultivates startups and entrepreneurism. As was true when the rocket engineers first established homes in Huntsville in the 1950s, the arts are a crucial component to creating this environment. [City of Huntsville, Public Arts Master Plan, accessed May, 2021].
Neighborhoods
Alderbrook
Alynedale
Ambers Crossing
Amberwood Condo
Anslee Farms
Ardmore Estates
Ashland
Ashley Acres
Ashtynn Manor
Autumn Ridge
Avondale Acres
Bailey Cove Acres
Bailey Cove Estates
Bailey Estates
Baltimore Hill
Bankhead Estates
Bel Air
Bell Chase
Bell Grove Manor
Bell Tower
Belle Meade
Bellglade
Belmont Estates
Belrose
Big Cove
Bishop Farms
Bishop Hills
Blevins Cove
Blossomwood
Blue Haven
Blue Spring Gardens
Bluewood Estates
Bon Air Estates
Bradford Place
Brandon Estates
Brasfield
Breezy Knolls
Breezy Pointe
Brenton Ridge
Brentwood Place
Briarcliff
Briarfork
Briarwood Estates
Brier Fork Crossing
Brookes Landing
Brookfield
Brookhill Meadows
Brookside
Bucks Canyon
Buena Vista Estates
California Village
Callington Estates
Cambridge
Camelot
Canebrake
Cannstatt North
Canterbury
Carlton Cove
Carrington Hills
Cedar Cove
Cedar Gap Estates
Cedar Gate Estates
Cedar Glen at Maysville
Cedar Hollow
Cedar Point
Cedarhurst
Cedarwood Place Condo
Central Estates
Chaney Cove
Chaney Place
Chaney Village
Chapman Acres
Chapman Heights
Chapman Mountain Estates
Chase Creek at Springhill
Chase Estates
Chase Shadow
Chase Springs
Cherokee Hills
Chimney Springs
Chippendale
Churchill Place
Cliffs Edge
Clinton
Cloverdale
Cobblestone Condo
Colemont
College Hill
Colonial Hill
Cooper Estates
Cotton Row Estates
Countess Estates
Country Club Estates
Country Club Gardens
Country Club Heights
Covemont Estates
Creekside Landing
Crestview Estates
Cypress Gardens
Dallas Mill Village Historic District
Darwin Downs
Darylewood Estates
Davis Hills
Dell Brook Meadows
Double Tree
Down South Condo
Dry Creek Subdivision
Eagles Nest
East Huntsville
Eastbrook Meadows
Eastridge Condos
Edenshire
Edmonton Heights Historic District
Elm Tree Trace Townhomes
Endlsey Acres
English Terrace
English Village
Essex Square
Executive Hills
Fagan Springs Estates
Fairview
Fairway Hills
Falcon Ridge Estates
Farmington
Five Points Historic District
Fleer Estates
Fleming Hills
Fleming Meadows
Flint River Downs
Forest Ridge
Four Pines
Fox Run
Garvin Ridge
Genesis
Gentily Forest
Gilbert
Glade
Gladstone Place
Glen Park
Glendale
Gourdneck
Governors Bend
Grand Lake
Great Bend at Butler Basin
Green Hills
Green Mountain
Greenbriar Estates
Greendale Meadows
Greenwycke Heights
Greenwycke Village
Greystone
Grove View Acres
Gurley
Gwyn Homesites
Hamilton Heights
Harding Place
Harrison Hills
Havenwood Estates
Hawks Ridge Estates
Haysland Estates
Heartland of Monrovia
Heatherwood
Henson Hills
Heritage Estates
Hermitage
Hidden Creek
Hidden Point
High Mountain Estates
High Mountain Reserve
Highland Village
Highlands
Hillendale
Hillview Acres
Hillwood Estates
Hillwood Manor
Holiday Homes
Holly Acres
Horace Heights
Hudson Hills
Hunters Ridge
Huntington Place
Hunts Cove
Huntsville Commercial Historic District
Huntsville Commons
Huntsville Hills
Huntsville Park
Independence Square
Indian Creek
Indian Creek Cove
Indian Ridge
Inglewood Estates
Inspiration Pointe
Jacobs Cove
Jacobs Pointe
Jones Meadows
Jones Valley Estates
Jones Valley Gardens
Jordan Park
Katherine Acres
Kelly Springs
Ken Car Estates
Kildare Estates
Kingsbury Estates
Kirkwood Heights
Knoll Ridge Condos
Ladd Place
Lake Forest
Lakewood Homes
Lakewood Manor
Lane Park
Ledges of Huntsville Mountain
Lee High Homes
Legacy of Monrovia
Leiman Acres
Lily Flagg Acres
Lily Flagg Trace Condos
Lincoln Mill Village Historic District
Lincoln Park
Lincoln Square Condos
Lincoya
Longwood
Lost Tree Pointe
Love
Lowe Mill Village Historic District
Lynns Crossing
Lynsky
Madison Heights
Magnolia Terrace
Magnolia Village
Marina Park
Marinawoods Condos
Marymont Acres
Mathis Chase Estates
Matthews
Maxwell Place
Mayfair
Maysville Estates
McThornmor Acres Subdivision Historic District
Meadow Hills
Meadow Park
Meadow Ridge
Meadow Winds
Meadowridge Acres
Meridian Drive
Merrimack Mill Village Historic District
Midtowne on the Park
Mill Race at Indian Creek
Mimosa Park
Monrovia Hills
Monrovia Junction
Monrovia Pointe
Montclair Heights
Montdale
Monte Sano Farms
Monte Sano Manor
Monte Vedra
Monte Vista
Morland Shores
Morningside
Mount Carmel
Mount Charron Estates
Mount Vernon Heights
Mountain Brook Village
Mountain Heights
Mountain Slopes
Mountain Springs
Mountain View
Mountain Woods
Natures Pointe
Newson
Nichols Bend
Nob Hill
Noble Heights
Normal Historic District
Normandale
Northgate
Oak Grove
Oak Leaf
Oak Park
Oakcrest
Oakdale
Oakhurst Place
Oakmont
Oglesby
Old Town Historic District
Orleans Place
Overland Cove
Overland Trace
Park Lane
Park Plaza
Parker Ridge Estates
Parkview Estates
Parkway Estates
Parkway Hills
Parkwood Estates
Patterson
Patton Estates
Pearsall
Pecan Grove
Persimmon Pointe
Phillips Creek
Piedmont
Pine Grove
Pinecrest Manor
Pinehaven
Pleasant Acres
Quail Ridge
Raleigh Springs
Randolph Heights
Reaches Condos
Redstone
Remington Place
Renaissance
Ridgecrest Estates
River Canyon
River Mill Crossing
Riverside Landing
Riverton Estates
Riverwoods
Rolling Hills
Rolling Meadows
Rosenblum
Russell Hill Estates
Rutledge Heights
Saddletree
Sandhurst Park
Scenic Heights
Scenic View Hills
Schrimsher Estates
Settlers Ridge
Shadow Creek
Shadow Springs
Shadow Wood
Shady Lane
Sherwood Park
Smithey Woods
Somerset Lake
South Highlands
Southpark Estates
Sparks
Split Oaks
Springdale Farms
Springhill Farm
Squaw Valley
Steeplechase
Stephens Way Estates
Stepping Stone Condos
Stillwater Cove
Stone Hill Estates
Stone Valley
Stonemark
Sugar Mill
Sunrise Cove
Sunrise Terrace
Sunrise Valley
Sunset Cove
Sunset Meadows
Sutton Place
Tall Timbers
Taylor Bend
Terry Heights
The Gardens
The Ledges
The Meadows
The Reserve
Thistledowne
Thornblade
Thornton Acres
Tiffany Pointe
Timber Ridge
Timberbrook
Toll Gate Square
Trail Bend
Trailwood Estates
Triana Estates
Triana Village
Tucker Estates
Turner Farm
Turtle Creek
Twickenham Heights
University Park Estates
Vallejo Estates
Valley Bend
Valley Park
Valley View
Valleybrook
Vestavia Estates
Village of Providence
Village of The Hills
Villas at Jones Valley
Wade Mountain Estates
Wakefield
Walker Woods
Waltons Mountain
Weatherly Heights
Wellington Heights
Wesleys Place
West Huntsville
West Lawn
West Ridge
Westbury Estates
Westfield
Westlawn
Westview
Westwood Estates
Wheeler Bend
Whitehall
Whitesburg Estates
Williamsburg Village
Willow Bend
Willow Cove
Willow Hills Estates
Willow Park Estates
Willow Point Condos
Willow Springs
Willowbrook
Wilmington Acres
Winchester Estates
Winchester Meadows
Winding Brook
Windsor Manor
Windy Hill
Woodall
Woodcrest
Woodlands
Woodridge South
Woodridge West
Woodvale Estates
Worley Acres
Wrightland
Yarbrough Estates
Beginnings [1]
Huntsville was settled in 1805 by John Hunt, who found the "Big Spring" (Tennessee River) and lived there until 1808. During his temporary absence in Tennessee, to bring his family to Madison County, the Government land in the vicinity was sold. Martin Beatty purchased 1,000 acres including the big spring for $1,000. Freeman Jones bought 450 acres, William Campbell 640 acres, Gideon Harrison 200 acres, Daniel Harrison 200 acres, and Henry L. Sheffey 10,000 acres. Huntsville and Madison County were the first organized white settlement in Alabama, north of the Tennessee River. The Huntsville meridian was established in 1809, from the State line to the river. In 1809 William Dickson, Edward Ward, Louis Winston, Alexander Gilbreath and Peter Perkins, were appointed commissioners to select a site for the county seat. At this time Martin Beatty relinquished his title to the 1,000 acres of land at Huntsville, exchanging it for lands elsewhere. The land was thereupon resold and Leroy Pope bought it for $23 an acre. He set aside a plot just above the big spring for the courthouse square. At the suggestion of Leroy Pope, the new town was named Twickenham after the English home of Alexander Pope. The name was changed to Huntsville in honor of its first settler, November 25, 1811. As first laid out, the town contained about 60 acres, in blocks of 2 acres each subdivided into 4 lots. It was first surveyed by John W. Leake, and later by Hunter Peel, who also built the waterworks in 1823. The big spring furnishes both the water and the power to lift and circulate it.
Among the earliest settlers were the Acklen, Stephen Neal, William McBroom, Wm. Winston, the Harrison, Elisha B. Clarke, Alexander Campbell, Wm. Harris, Francis Newman, Fleming Ward, Daniel and Jere Murphy, Nicholas Sheflield, Adam Cross, Thornton Cook, and Wm. Steilman families. The old settlers' log cabins were scattered irregularly from Pope's Hill, down to Madison Street. John Brown erected the first two stores on the square. James Crump built the next house. Dr. David Moore came in 1809 and built a gristmill and cotton gin, the first in the town. The convention to organize the State of Alabama, met in Huntsville in July, 1819, and the first legislature of the new State also met there In November of the same year.
Owen, Thomas McAdory, LL.D., History of Alabama and Dictionary of Alabama Biography, S. J. Clarke Publishing Company, Chicago, 1921
---

Warning: include(/Library/kw/livingplaces.com/footer.html): failed to open stream: No such file or directory in /Library/WebServer/livingplaces.com/AL/Madison_County/Huntsville_City.html on line 521

Warning: include(): Failed opening '/Library/kw/livingplaces.com/footer.html' for inclusion (include_path='.:') in /Library/WebServer/livingplaces.com/AL/Madison_County/Huntsville_City.html on line 521