Aladdin Redi-Cut Homes
---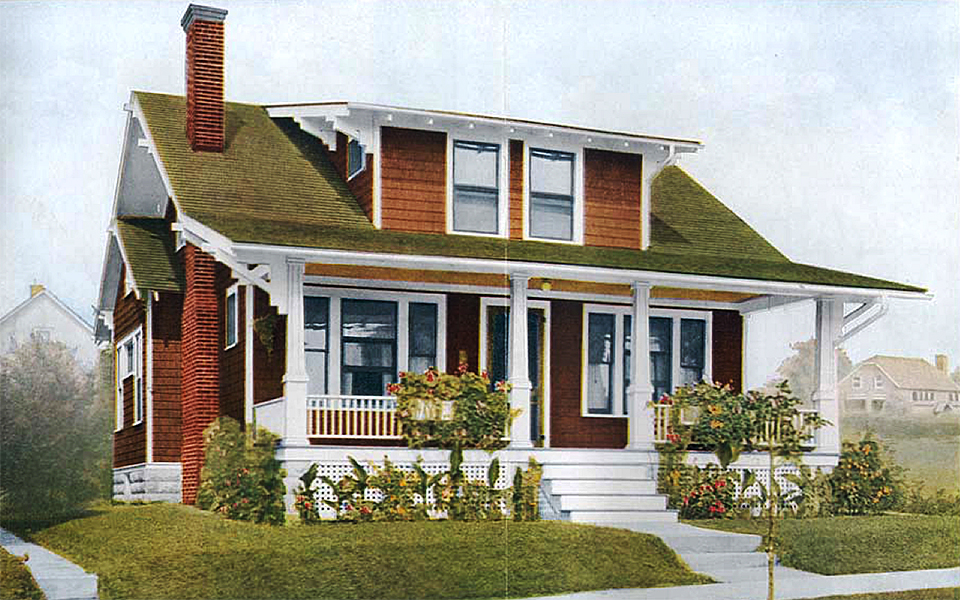 Photo: Madison Model from 1912 Aladdin Redi-Cut Homes catalog.
---
Some places where Aladdin Homes were erected:
Alamance Village Hist. Dist.,
Alamance, NC
Endee Manor Hist. Dist.,
Bristol, CT
Hill-Grainger Hist. Dist.,
Kinston, NC
Roanoke Rapids Hist. Dist.,
Roanoke Rapids, NC
Sunset Park Hist. Dist.,
Wilmington, NC
The Oaks Hist. Dist.,
Hattiesburg, MS
Eat Campus Neighborhood Hist. Dist.
Columbia, MO
Although Sears Roebuck and Company is often credited with inventing the mail-order kit house, it was in reality two brothers in the lumber town of Bay City, Michigan who engineered the concept in 1906, offering a house design with pre-cut, numbered pieces. The Aladdin Readi-Cut Homes Company [1] was established in 1906 by William J. Sovereign, a lawyer, and his brother Otto E. Sovereign, a former newspaper reporter, editor, and advertising businessman. Their father, who had been in the lumber industry since 1870, had passed his business on to the sons. Their new company, originally named the North American Construction Company and later Aladdin, was one of three kit-house companies located in northern Michigan. Initially, the brothers were not so much interested in building houses as they were in manufacturing precut boat kits. Eventually, they applied the concept to house construction. Starting with a small flyer in 1906, the company soon offered full color catalogues by 1916, recognized for their distinctive graphic designs and illustrations. Like Sears, the company offered close to 450 different models including bungalows as well as larger Craftsman, Foursquare, and Colonial Revival. [1]
An advertisement in The American Magazine, March 1915, p. 68, reads:
5 Room Alladin House, $298
You can own this pretty little five-room, year round home for just $298. The Aladdin system enables you to buy all the material for a complete home direct from the original producer. You save four prices on the lumber, millwork, hardware and labor. You keep the middlemen's profit in your own pocket.
Dwellings, Summer Cottages, Garages
Aladdin Readi-Cut Houses are shipped everywhere. Every piece of material comes to you cut and fitted and ready to nail in place. Permanent, attractive, warm and lasting. Not portable. Clear siding, clear flooring, clear interior finish and clear shingles furnished for every house. Price includes all lumber cut to fit, shingles, doors, windows, glass, patent plaster board, or lath and plaster, interior trim and finish, stairways, paints, nails, locks, hardware and complete instructions. Immediate shipment. Houses from 2 to 12 rooms. Shipment made direct from our mills in five States. Send today for catalog 190. Ask about the Aladdin Dollar-a-knot guarantee.
North American Construction Co., 197 Aladdin Ave., Bay City, Mich. Canadian Branch, C.P.R. Bldg., Toronto, Ont.
William and Mary Center for Archaeological Research for Virginia Department of Historic Resources, The Kit House in Southeastern Virginia, 2006, www.dhr.virginia.gov, accessed April, 2014.
---