Anaheim City
Anaheim City Hall is located at 200 South Anaheim Boulevard, Anaheim, CA 92805.
Phone: 714‑765‑4311.
---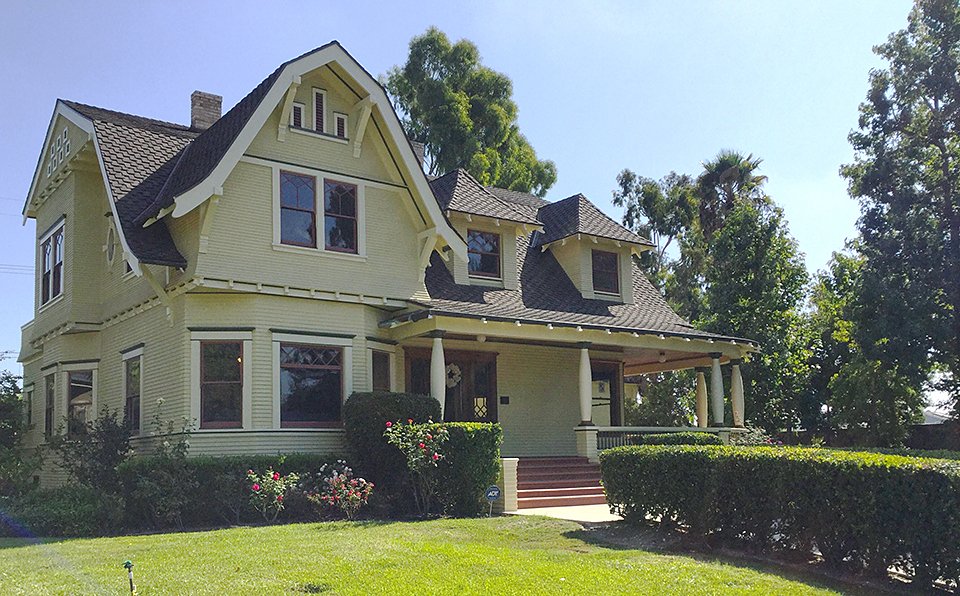 Photo: Frederick A. Backs House, circa 1902, located at 215 North Claudina Street, Anaheim. Listed on the National Register of Historic Places in 1980. Photographed by User:AnaliliaP (own work), 2020, [cc-4.0], via Wikimedia Commons, accessed December, 2021.
---
Anaheim was incorporated as a City in 1876.
Since its founding in 1857, the City of Anaheim has grown from its original 1.8 square-mile townsite west of the Santa Ana River to its current boundary of approximately 50 square miles—the 10 largest city in the State. Originally a small farming community of German immigrants, Anaheim has always been a community that embraced immigrants from around the world in pursuit of "The American Dream."
Neighborhoods
Amber Lane
Anaheim Colony Multiple Resource Area
Anaheim Foothills
Anaheim Ridge Estates
Bauer Ranch
Belsomet
Camino Grande Villas
Canyon Heights
Canyon Hills
Canyon Pointe
Canyon Rim/Sunset Ridge
Canyon Terrace
Canyon Terrace Estates
Canyon Terrace Townhomes
Canyon View Estates
Canyon View Estates
Canyon View Terrace
Cape Cod Village
Carriage Hills
Carriage Hills
Copa De Oro
Crown Pointe
East Hills
Eastridge Estates
Embassy Pointe
Feather Hill
Firenze
Haven Hill
Hidden Canyon Estates
Horizons
Hunters Pointe
Kings Meadow
Kroger-Melrose District
Lake Summit
Melrose-Backs Neighborhood Houses
Mohler Loop
Morningview
Mountain Park
Nohl Crest
Oak Hills
Old Bridge
Peralta Hills
Pointe Quissett
Prado Ridge Estates
Prado Woods
Quail Ridge
Quail Ridge
Quail Vista
Renaissance
Ridgeview
Rim Crest Villas
Robin Hill
Royal Circle Village
Scout Trail
Silverbrook Estates
Singingwood Hills
Skygate
Stonegate Hills
Summer Creek Lane
Summit Pointe
Summit Renaissance
Summit Terrace
Sycamore Canyon
The Gallery
The Highlands
The Palms
The Summit
View Pointe
Villa Palatino
Village at Fiesole
Vista Del Sol
Westridge
Window Hill
Windsor Terrace
Windsor Terrace
Yorba Woods
Anaheim as described in 1939 [1]
Anaheim is the second oldest California town founded as an experiment in communal living. German settlers arrived in 1857. The name is a union of "Ana," from Santa Ana River, with the German word for home. In the City Park, bounded by Lemon, Palm, Cypress and Sycamore Streets, is a Greek theater.
Federal Writers' Project, Works Progress Administration, California: A Guide to the Golden State, American Guide Series, Hastings House, Publishers, New York, 1939.
Nearby Towns: Garden Grove City • Orange City • Santa Ana City •
---