Orange County administrative offices are located at 333 West Santa Ana Boulevard, Santa Ana, CA 92701; phone: 714‑834‑5400.
The movement to break-away from Los Angeles County began as early as 1870, but it was not until 1889 that the California Legislature created Orange County. The new county corporation became official on August 1st of that year at which time Santa Ana was selected as the county seat.
---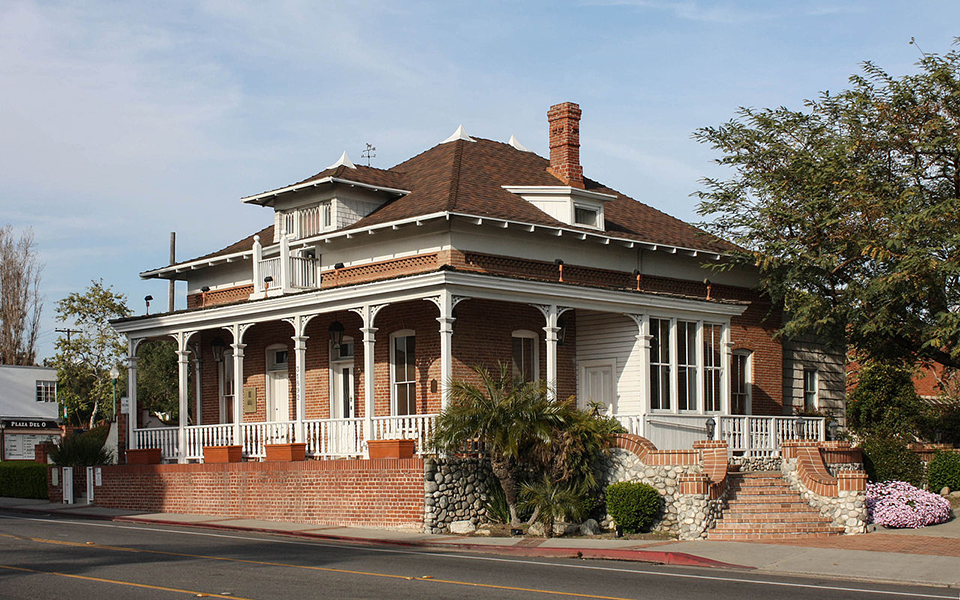 Photo: Judge Richard Eagan House, circa late 1880s, located at 31829 Camino Capistrano, San Juan Capistrano. Listed on the National Register of Historic Places in 2017. Photographed by User:Bernard Gagnon (own work), 2013, via Wikimedia Commons, [cc-3.0], accessed January, 2022.
---
TOWNS
Aliso Viejo City
Brea City
Buena Park City
Costa Mesa City
Cypress City
Dana Point City
Fountain Valley City
Huntington Beach City
Irvine City
La Habra City
La Palma City
Laguna Beach City
Laguna Hills City
Laguna Niguel City
Laguna Woods City
Lake Forest City
Los Alamitos City
Newport Beach City
Orange City
Placentia City
Rancho Santa Margarita City
San Juan Capistrano City
Seal Beach City
Stanton City
Tustin City
Villa Park City
Westminster City
Yorba Linda City
HISTORIC SITES
Ainsworth, Lewis, House
Anaheim Colony Multiple Resource Area
Bixby-Bryant Ranch House
Bradford, A. S., House
Casa Romantica
Casa de Esperanza
Clark, Dr. George C., House
Congdon, Joel R., House
Crystal Cove Historic District
Culver, C. Z., House
Downtown Santa Ana Historic Districts and South, Retail)
Easley, Oscar, Block
Elephant Packing House
Ferdinand, House Backs
Forster, Frank A., House
Frances Packing House
French Park Historic District
Goldschmidt House
Harmon-McNeil House
Harrison House
Helme-Worthy Store and Residence
Hetebrink House
Howe-Waffle House and Carriage House
Key, George, Ranch
Kroger-Melrose District
Los Rios Street Historic District
Lovell Beach House
Mariona
Melrose-Backs Neighborhood Houses
Minter, George W., House
Modjeska House
Montanez Adobe
Muckenthaler House
Newland House
Nixon, Richard, Birthplace
Old Backs House
Old Towne Orange Historic District
Orange County Courthouse
Parker House
Parra, Miguel, Adobe
Phillip Ackley Stanton House
Pierotti, Attlio and Jane, House
Plaza Historic District
Plaza, The
Porter-French House
Serrano, Jose, Adobe
Smith and Clark Brothers Ranch and Grounds
Spurgeon Block
Stevens, Sherman, House
Truxaw-Gervais House
Weir Canyon Archeological District
West Home
Williams, Roger Y., House
Wright, George L., House
Yorba, Domingo Adobe and Casa Manuel Garcia
---