San Francisco City
San Francisco City Hall is located at 1 Dr. Carlton B. Goodlett Place, San Francisco, CA 94102.
Phone: 415‑701‑2311.
---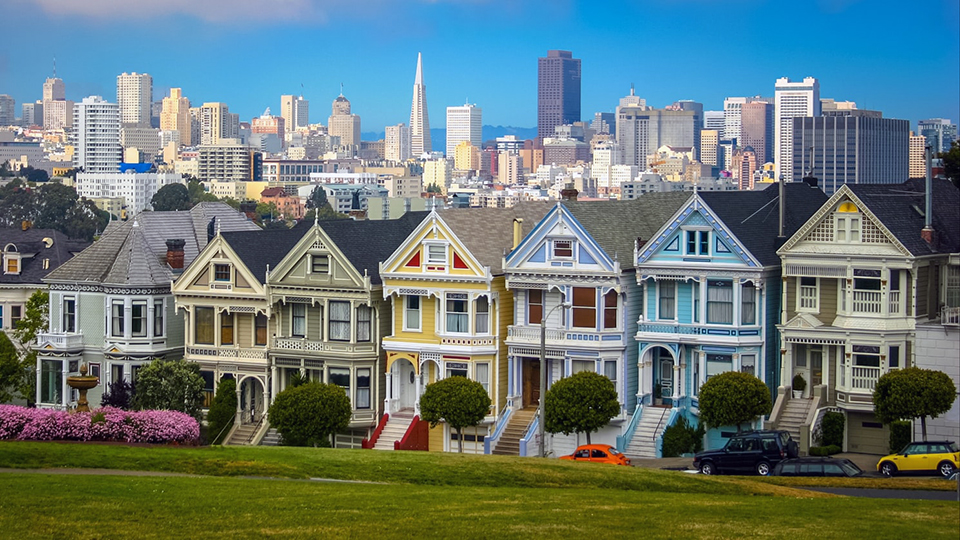 Photo: Iconic "Alamo Square," public domain; phototographer: Photoholgic, via unsplash.com; accessed June, 2021.
---
San Francisco as Described in 1939 [1]
San Francisco, born of the meeting of sea captains and gold seekers, spills over its many hills—three times Rome's seven— at the tip of a peninsula that walls the narrow channel of the Golden Gate through which the tides of the Pacific pour into San Francisco Bay.
Neighborhoods
Alamo Square
Anza Vista
Ashbury Heights
Ashford Place
Balboa Hollow
Balboa Terrace
Beacon
Belden Place
Bella Vista Lofts
Bernal Heights
Broadway Towers
Buena Vista
Butchertown
Cathedral Hill
China Basin
Chinatown
Clarendon Heights
Cole Valley
Cornoa Heights
Cow Hollow
Crocker-Amazon
Design District
Diamond Heights
Divisadero Heights
Dogpatch
Dolores Heights
Duboce Triangle
Eureka Valley
Fishermans Wharf
Forest Hill
Forest Knolls
Glen Park
Golden Gate Heights
Hawthorne Place
Hayes Valley
Hunters Point
Indian Basin
Ingelside Heights
Ingleside
Ingleside Terraces
Inner Mission
Irish Hill
Islais Creek
Jackson Square
Japantown
Jordan Park
Laguna Honda
Lake Merced Hills
Lakeshore
Lakeside
Laurel Heights
Lincoln Manor
Little Hollywood
Little Russia
Little Saigon
Marina
Merced Heights
Merced Manor
Miraloma Park
Mission Bay
Mission Dolores
Mission Terrace
Monterey Heights
Nob Hill
Noe Valley
North Beach
Ocean View
Oceanview Terrace
Oceanview Villiage
Opera Plaza
Pacific Heights
Pamassus
Petrini Place
Portola
Portola District
Portside
Potrero Hill
Presidio Heights
Richmond District
Rincon Hill
Russian Hill
Saint Francis Wood
Sea Cliff
Sherwood Forest
Silver Terrace
Soma
South Beach
South Park
Southern Hills
St Francis Square Cooperative
St Pauls Common
Sunnydale
Sunnysize
Sutterfield
Telegraph Hill
The Arterra
The Bayview
The Catro
The Embarcadaro
The Excelsior
The Excelsior
THe Fillmore
THe Haight
The Heritage On Fillmore
THe Marina
The Tenderloin
Tiffany Gardens
Union Square
University Mound
Visitacion Valley
West Portal
West Portal
Westborough
Western Addition
Westwood Park
Yerba Buena
Once a barren stretch of sand dunes and rocky hills, covered with brush, broken here and there by wooded valleys, dotted with swamps and lagoons, the site of the present city is in large part man-made. Smaller hills have been leveled; valleys, tidal marshes, and lagoons have been filled in. Mission Swamp was drained to provide industrial sites. Only the line of cliffs along the Pacific, frequented by sea gulls and sea lions, remains almost as it was.
The first men known to have visited the site of San Francisco were Tamal Indians from present Marin County, north of the Gate, who braved treacherous bay tides in frail canoes to obtain salt in the marshes here. For several years the Spanish sought to find a good harbor in this region to serve as a stop on the long voyage from Mexico to the Philippines, but three expeditions between 1542 and 1602 failed of their purpose. A century and a half passed before the great harbor here was discovered, quite by accident, and not by sea but by land, when in 1769 an expedition was led northward from San Diego by Don Gaspar de Portola. A reconnoitering party was detached under the command of Sergeant Jose Ortega, who with his handful of men reached the shores of San Francisco Bay in November, 1769.
Settlement began seven years later when Don Juan Bautista de Anza, with his "army" of 30 soldiers and their families, marched some 200 colonists overland to the tip of the peninsula, where they began erecting shelters in 1776. A presidio and a mission were immediately laid out; the latter was established by Father Junipero Serra and named San Francisco de Asis, later known as Mission Dolores.
For 70 years the new colony of Yerba Buena was no more than an isolated outpost, occupied largely by military. Its few civilians and priests carried on sporadic trade in tallow and hides, sea otter and seal pelts. For the most part they lived in tents and adobe huts. The first house, it appears, was erected in 1835 by an Englishman, Captain William A. Richardson, for whom Richardson's Bay was named. Jacob Primer Leese, an American, opened the first store in the following year; Jean Vioget, a Swiss, made the first attempt to lay out streets in the straggling settlement, which had been named Yerba Buena (good herb), for a grass that grew thickly on the sand dunes.
By 1840 the Spanish-Americans of Yerba Buena were threatened with foreign invasion by Angle-Americans from the East. In July, 1846, within 3 months of the outbreak of the Mexican War, Captain John B. Montgomery landed marines from the Portsmouth on the plaza, hoisted the Stars and Stripes, and took possession of the town Square; the street passing along it was rechristened in honor of Captain Montgomery; and Yerba Buena became San Francisco.
Some 20 nationalities and races were represented in the population of the settlement when, in 1846, a group of thrifty and energetic Mormon artisans arrived under the leadership of Samuel Brannan, who had tried unsuccessfully to induce Brigham Young to abandon Utah and settle in California. For 20 years Brannan was a powerful figure in San Francisco; in January 1847, he established its firs newspaper, the California Star, and later was the principal organizer of the first vigilantes. Brannan and Brigham Young continually bickered over the disposition of tithes collected by Brannan from the Mormons in California; on several occasions Young sent his Destroying Angels to seize them by force, but they were never successful. Although he amassed a fortune, Brannan became a drunkard and died in poverty.
When news reached San Francisco that on January 24, 1848, James W. Marshall had picked up a gold nugget on the South Fork of the American River, its first effect was to depopulate the town. Almost every able-bodied man hurried off to the diggings. Ships lay abandoned in the harbor as crews and, in some cases, their officers turned from the sea to dig feverishly for gold. Communications were slow, and it was autumn before the East had first account of the discovery. The news trickled north, south and into the Middle West, setting thousands of fortune-seekers in motion toward the Golden Gate, augmented by throngs from Central and South American countries. By 1850 the city had a more or less settled population of almost 25,000, of every race, creed and color. Those that remained in San Francisco probably profited more than miners at the diggings. Lodgings were scarce; rooms rented from $200 to $3000 a month; washing cost $20 for a dozen pieces; an apple brought $5, an egg $1, a loaf of bread 75-cents. Many huge fortunes had their inception in San Francisco during this era of profiteering. In the last nine months of 1849, 548 vessels dropped anchor.
Federal Writers' Project, Works Progress Administration, California: A Guide to the Golden State, American Guide Series, Hastings House, Publishers, New York, 1939.
---