Boulder City
Boulder City Hall is located at 1777 Broadway, Boulder, CO 80302.
Phone: 303‑441‑3388.
---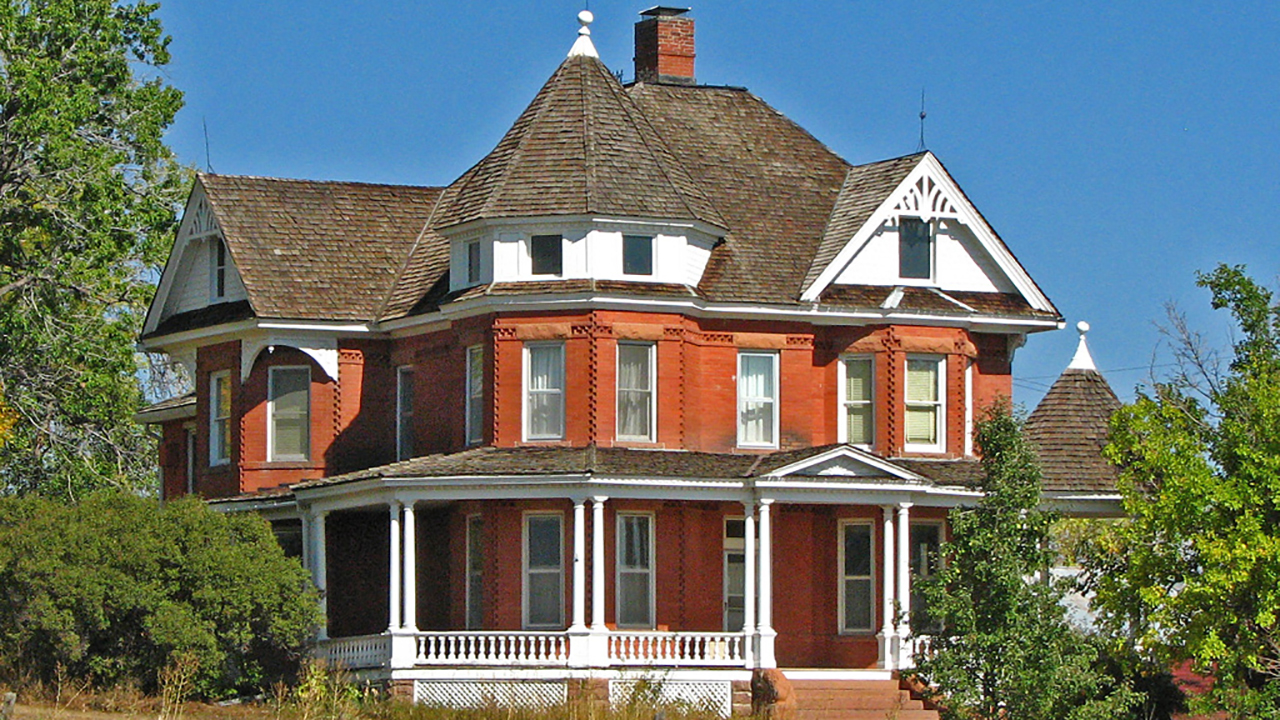 Photo: Boulder County Poor Farm, circa 1902, located at Jay Road and 63rd Street. Listed on the National Register of Historic Places in 2001. Photo by wikipedia username: dok1 Don O'Brien, 2010, (own work) [cc-3.0], via Wikimedia Commons, accessed July, 2021.
---
Beginnings [1]
Gold seekers established the first non-native settlement in Boulder County on October 17, 1858 at Red Rocks near the entrance to Boulder Canyon. Less than a year later, on February 10, 1859, the Boulder City Town Company was organized by A. A. Brookfield, the first president, and 56 shareholders. 4,044 lots were laid out at a purchase price of $1,000 each, a price that was later lowered in order to attract more residents.
Neighborhoods
Alpine Place Condos
Amberwood
Appleridge Park
Applewood
Arapahoe Court
Arapahoe Ridge
Arapahoe Ridge
Arapahoe Run
Arapahoe West
Arastoga Condos
Arete Condos
Aspen Grove
Aurora Terrace
Bari-Don Knolls
Baseline
Baseline Towers
Bear Creek
Beckers
Bellevue Heights
Bellevue Hills
Bellevue Park
Bellview Hills
Benson
Betty Boop
Birchwood Drive Condos
Blacksmith Condos
Boulder East
Boulder Heights
Bouler Old Town
Bow Mountain
Bramford Condos
Brandon Creek
Briarwood Condos
Bridgford Place Condos
Brierley Orchard Condos
Broad Acres
Brookfield
Brynwyck
Buckingham Green
Buckingham Hills
Buckingham Ridge
Buena Vista Heights
Canterbury Acres
Canyon Center
Capitol Hill Addition
Carlson Court
Carolyn Heights
Carr
Carriage Hills Estates
Carrie
Carsons
Casa Eldorado Condos
Cedar Creek
Centennial Meadows
Centennial Trails
Center Green Heights
Chateau Montagne
Chateau Village
Chautauqua Heights
Cherry Hills
Cheyenne Village
Clarks
Clay Commons
Clemens Estate Condos
Cottages at Wonderland Lake
Country Club Estates
Country Club Greens
Country Club Park
Country Estates
Country Meadows
Crescent Condos
Crestmoor
Crestview Estates
Crown Court Condos
Culver
Cunningham Farm
Dakota Ridge
Dawn
Deer Ridge Park
Del Mar
Del Rosa
Devils Thumb
Eagle View Estates
East End Condos
East Ridge
Eden East Condos
Edgewood
Edwards
Eldorado Springs
Ertl Farm
Evergreen
Fairview Acres
Fairview Estates
Fairview Ridge
Fairway Court Condos
Finchwood
Flatirons Park
Flatirons Vista
Flintlock
Floral Park
Foothills
Foothills Ranch
Forest Glen
Fountain Greens
Four Maple Condos
Four Mile Canyon
Four Mile Creek
Four Mile Ranch
Frasier Meadows
Freedom
Gapter
Garden Homes
Geneva Park
Githens Acres
Glen Cove Condos
Glenwood Gardens
Gold Hill
Gold Run Condos
Goose Creek Condos
Goss Grove
Gould
Grandview Heights
Grapewood
Green Meadows
Greenbelt Meadows
Greenstones
Greenwich
Gregory Creek Condos
Grove Creek Condos
Gunbarrel Greens
Gunbarrel North
Gunbarrel Ridge
Gunbarrel Square
Gwen
Harvard
Hawthorne Park
Hawthorne Village
Hayden
Heatherwood
Heritage Manor Condos
High Meadows
High Street Lofts
Highland Lawn
Highland Park
Hillcrest
Hilltop Park Condos
Historic Broadland Condos
Holiday
Holmes Place
Homestead
Horizon Way
Horizon West Condos
Hudson
Hunsinger
Hunter Creek Condos
Huntington Point Condos
Hyview
Indian Hills
Indian Hills Replat A
Interurban Park
Iris Hollow Condos
Iron Flats
Ironwood Condos
Island Greens
Kalmia Court Condos
Kalmia Meadows
Kalmia Terrace
Keewaydin Meadows
Keeywaydin Cottages
Keller Farm
Kings Ridge Condos
Kiwi
Knollwood Greens
Knollwood Village
Lafayette
Lake of The Pines
Lakeshore Estates
Lakeshore Park
Landmark Lofts
Lark Meadows
Lee Hill
Lhasa Lane
Linden Court Condos
Linden Meadow
Linden Park
Lofts at One Boulder Plaza
Logan Mill
Lookout Ridge
Lumry Estates
Macarthur Park
Majestic Heights
Manhattan Condos
Mapleton Court Condos
Mapleton Hill
Mapleton Park
Mapleton Place Condos
Mapleton Terrace
Martin Acres
Martin Acres
Martin Homesteads
Maxwell Park Condos
Maxwell Place Condos
Mcnair Meadows
Mcsorleys
Meadow Glen
Meadow Trail
Meadows on the Parkway Condos
Melody Heights
Meredith Park Condos
Montclair Court Condos
Moores
Moss Rock Ridge
Mountain Heights
Mountain Park
Mountain Ridge
Mountain Shadows
Mountain Terrace
Mountain Terrace
Mtunzini
Newland Court Condos
Noble Park Commons
Noble Park Village
North Point Condos
Northbriar Estates
Northbrook
Northcreek
Northern Lights Condos
Northfield Commons
Northfield Village
Northgate Condos
Northstar Place Condos
Northwoods
Norwood Park
Olde Stage Settlement
Olde Victorian Condos
One Boulder Plaza
One Penn Place
Onyx Condos
Orange Orchard
Orchard Creek
Orchard Home
Painted Ladies Condos
Palo Park
Panorama Heights
Panorama Park
Paragon Estates
Park East
Park East Square
Park Gables
Parkside
Parsons Park
Patterman
Paul Nor Estates
Pawnee Meadow
Pearl Street Condos
Pearl Street Cove
Pearl Street Lofts
Peloton
Pendleton Square Condos
Peppertree
Peppertree Condos
Perkins Place
Phillips
Pine Brook Hills
Pine Needle Notch
Pine Street
Pine Street
Pinewood Condos
Pinon Glen Condos
Pleasant Ridge
Pleasant View Knoll
Pleasure Terrace
Plum Creek
Point of Pines
Ponderosa Addition
Poplar Place
Poppys
Portal Village
Portland Place Condos
Powderhorn Condos
Promontory North
Quince Garden
Razzleberry Hill
Red Fox Hills
Red Rocks Park Condos
Redwood Nine
Redwood Terrace Condos
Remington Post Condos
Residences at The Flatirons
Ridglea Hills
Rittenhouse Condos
Robinsons
Rolling Hills
Rose Hill
Roxwood Court
Rustic Knolls
Saddle Club Acres
Saddle Club Estates
Sagecrest
Salina
San Marco South
Sanitas Terrace
Seasons Condominiums
Seasons Condos
Seven Hills
Shady Creek Condos
Shambhala
Shanahan Ridge
Shanahan Trail
Shannon Estates
Sierra Antigua
Silver Maple
Silver Springs
Snug Harbor
Solar Six Condos
Sombrero Ranch
South Creek
South Light Condos
Spackmans
Spanish Hills
Spanish Towers
Spring Creek Place
Spring Valley Estates
Spruce Street Plaza
Squires Addition
Steel Yards Condos
Stonegate
Stonewall Place Condos
Stratford Park
Studio Mews Condos
Sugarloaf Acres
Sundance
Sunnypoint Condos
Sunridge
Sunrise Court
Sunset Hills
Sunshine Canyon
Tabriz Flats
Talisman
Tall Timbers
Tantra Lake Condos
Teller Grove
The Arete
The Downtowner Condos
Trout Farms
Twin Lakes
University Place
Vistoso Condos
Wagoner Manor
Walker Ranch
Walnut Creek
Walnut Grove Condos
Walnut Street Condos
Walpole
Washington Village
Waterstone
Wellington Gardens
Wellman Creek
West Marine Street Condos
West Quince
West Rose Hill
Westwood
Westwood Condos
White Hawk Ranch
Whittier Place Condos
Whittier Square Condos
Wild Plum Valley
Wildflower Ranch
Wildwood
William Martin Homestead
Willow Brook Condos
Willow Glen
Willow Green
Willow Park
Willow Springs
Willowbrook Condos
Willowridge Park
Wilson Heights
Wimbledon Condos
Windham Park
Winding Trail
Winding Trail Village
Winds Condos
Wineglass
Wolff House Condos
Wonderland Creek
Wonderland Gardens
Wonderland Hill
Wonderland Hills
Wonderland Meadows
Woodland Court
Yarmouth Park
Competition among Boulder County settlements for new residents and businesses was intense. As a mining supply town, Boulder residents were more settled than in the mining camps. Economic stability was a necessity and residents encouraged the establishment of railroad service, hospital and school buildings, and a stable town government.
Boulder's first schoolhouse was built in 1860 at the southwest corner of Walnut and 15th Street, the first in the territory. Also in 1860 a group of Boulder residents began lobbying to have the University of Colorado located in Boulder. By 1874 Boulder had won the designation, secured a donated 44.9 acre site and raised $15,000 to match a similar grant by the state legislature.
The first Post Office was established in 1860; the telegraph became available in 1874; a hospital was built in 1873; a water system was installed in 1874; and the first bank was built in 1874.
City government was formalized on November 4, 1871 when the town of Boulder was incorporated. The first mayor, Jacob Ellison, was elected for a two month term in 1878.
The initial residential area was located in what is now downtown and in some parts of Goss/Grove, Whittier and Mapleton Hill neighborhoods.
By 1905 the economy was faltering and Boulder counted heavily on tourism to boost its fortunes; however, Boulder had no first class hotel to attract summer visitors and group meetings. By 1906 a subscription drive had raised money to begin construction. The first event at the new hotel was a reception for Boulderites, held on December 30, 1908, and the Hotel Boulderado opened to the public for business on January 1, 1909.
City of Boulder, Colorado, History of Boulder, www.bouldercolorado.gov, accessed August, 2011.
---