---
Pitkin County Courthouse is located at 530 East Main Street, Aspen CO 81611; phone: 970-920-5180.
---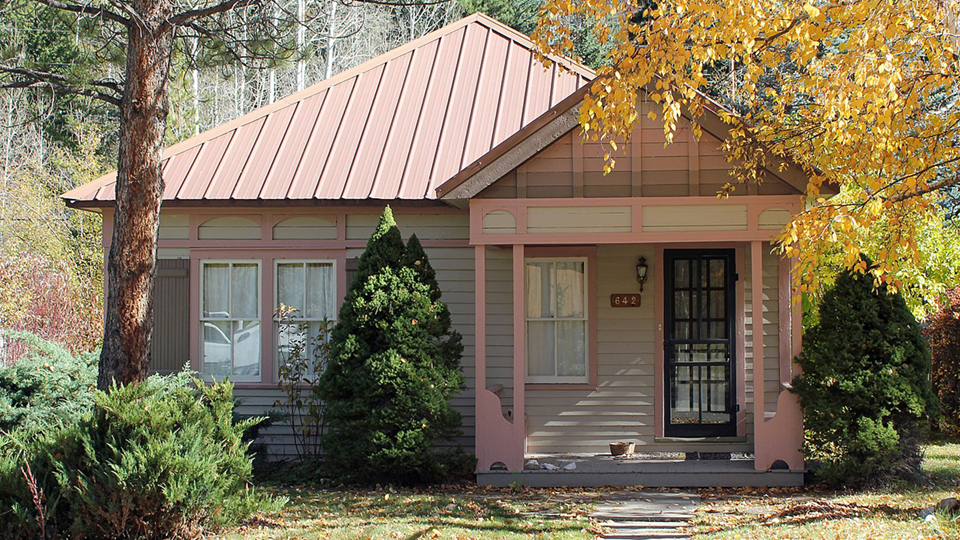 Photo The Osgood-Kuhnhausen House, located on Redstone Boulevard in Redstone, Colorado. Listed on the National Register of Historic Places ib 1983. Image by wikipedia username:Jeffrey Beall, 2011, creative commons [cc 3.0], accessed March, 2021.
---
TOWNS
Ashcroft
Buttermilk
Meredith
Redstone Town
Snowmass Vlg
Woody Creek Town
The County is named for Frederick W. Pitkin [1837-1886] who served as governor of Colorado from 1879-1883.
Covering 975 square miles, Pitkin County is located in the heart of the White River National Forest, surrounded by the spectacular peaks of the central Rocky Mountains. Pitkin County includes the communities of Aspen, Snowmass, Woody Creek, Old Snowmass, Meredith, Thomasville, Redstone and portions of the town of Basalt. With the county seat in Aspen, Colorado, Pitkin County was established in 1881 and became a home rule county in 1978. That means Pitkin County has the authority to establish the organization and structure of the county government via a document known as the Pitkin County Home Rule Charter. A five-member board of county commissioners and the staff are empowered to run the county operations in accordance with the charte
HISTORIC SITES
Aspen Block
Bowles-Cooley House
Collins Block--Aspen Lumber and Supply
Cowenhoven Block
D. E. Frantz House
Davis Waite House
Dixon-Markle House
Henry Webber House--Pioneer Park
La Fave Block
Matthew Callahan Log Cabin
Newberry House
Osgood Castle
Osgood Gamekeeper's Lodge
Osgood-Kuhnhausen House
Pitkin County Courthouse
Redstone Historic District
Samuel I. Hallett House
Shilling-Lamb House
Smith--lisha House
Thomas Hynes House
Webber Block
Wheeler Opera House
Wheeler-Stallard House
---