Warning: include(/Library/kw/livingplaces.com/menu.html): failed to open stream: No such file or directory in /Library/WebServer/livingplaces.com/FL/Palm_Beach_County/Delray_Beach_City.html on line 36

Warning: include(): Failed opening '/Library/kw/livingplaces.com/menu.html' for inclusion (include_path='.:') in /Library/WebServer/livingplaces.com/FL/Palm_Beach_County/Delray_Beach_City.html on line 36

Delray Beach City
Delray Beach City Hall is located at 100 NW 1st Avenue, Delray Beach, FL 33444.
Phone: 561‑243‑7010.
---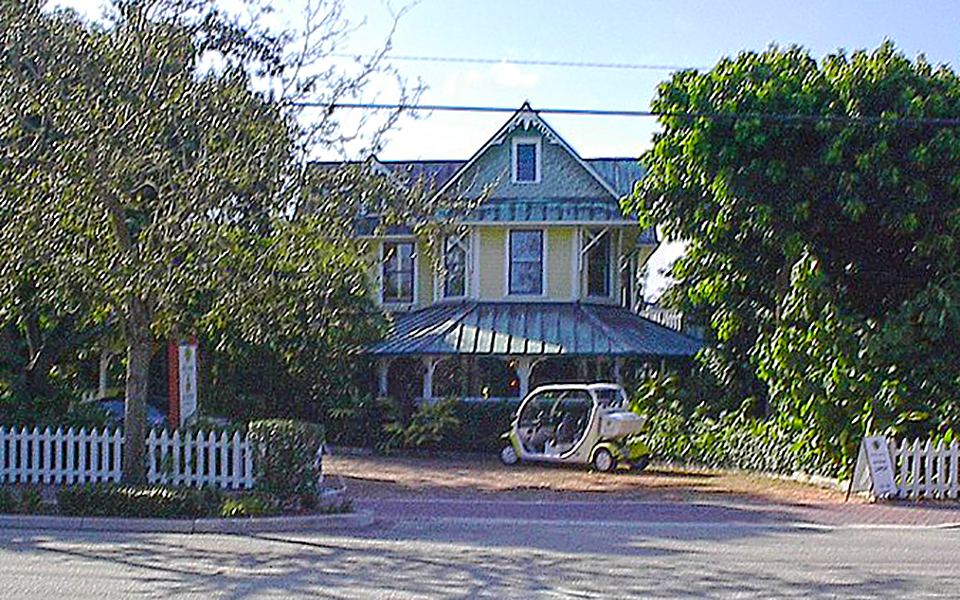 Photo: John and Elizabeth Shaw Sundy House, circa 1902, located at 106 South Swinton Avenue, Delray Beach, FL. Listed on the National Register of Historic Places in 1992. Photographed by User:Donal Albury (own work), 2007, [cc-3.0], via Wikimedia Commons, accessed October, 2021.
---
Delray Beach as described in 1939 [1]
Delray Beach, settled in 1901, is a tourist resort and the center of an area producing beans, peppers, tomatoes, sugar cane and citrus fruit. Many Michigan farmers of German ancestry have bought farms in the vicinity.
On Atlantic Avenue is Delray Country Club and Golf Course. City Park provides picnic and recreation grounds. Municipal Beach, at the foot of Atlantic Avenue, offers surf bathing and fishing.
Neighborhoods
Addison Reserve
Addison Trace
American Heritage Homes
Andover
Antilles
Ashland
Aspen Ridge
Astor Condosminiums
Atlantic Center Condos
Atlantic Gardens
Atlantic Grove
Atlantic Park Gardens
Atlantic Pines
Atlantic Square
Bahama House
Bahia
Bahia of Delray
Ballantrae
Balmoral
Banyan House
Banyan Tree Village
Bar Harbour
Beechwood Estates
Beekman Condos
Bel Aire
Bellamar House
Bermuda High South
Bermuda High West
Bexley Park
Boca Delray
Boca Isle Condos
Bonniecrest
Breezy Acres
Bridgeview
Bristol Pointe
Brookfield Estates
Byrd Beach
Cambria Crest
Camelot Village
Cannery Row
Captains Walk
Carver Park
Casa Bella
Casa Del Rey
Casa Playa
Chateau Woods
Chatelaine
Chevy Chase
Churchill Condos
City Walk at Pineapple Grove
Claridge House
Clearbrook
Coastal House Condos
Coco Wood Lakes
Coconut Key
Colony Palms
Congress Park
Coral Cove Condos
Coral Trace
Coralina Village
Costa Del Rey
Country Club Acres
Country Lane Estates
Country Manors
Court Yards at Martel Arms
Crestwood
Crosswinds
Cypress Isle at Polo Club
Deauville
Del Harbour
Del Ida Park
Del-Ida Park Historic District
Delaire
Delaire Country Club
Dell Park
Delray Beach
Delray Beach Estates
Delray Beach Highlands
Delray Beach Shores
Delray Beach Yacht Club Condos
Delray Garden Estates
Delray Grande
Delray Harbor Club
Delray Isle
Delray Lakes
Delray Lakes Estates
Delray Manor
Delray Oaks Condos
Delray Oaks West
Delray Ocean Estates
Delray Shores
Delray Villas
Diamond at Delray Condos
Dodge House Condos
Domaine Delray
Domaine Delray Condos
Downtown Lofts Condos
Drexel Park
Duvall Place
Eagle Point
Eastview
Eastwinds at Crosswinds
Emerald Pointe
Estaes of Tuscany
Evergreene
Faircrest Heights
Fairways of Delray
Falls Ridge
Floral Lakes
Fountain House
Four Seasons
Four Seasons at Delray Beach
Foxe Chase
Franwood Pines
Gleneagles
Golf Club Estates
Golfview Colony Condos
Goodison Park Estates
Gramercy Square
Grand Bahamas
Grand Haven at Linton Blvd
Grande Orchid
Greensward Village
Griffin Gate
Gulfstream Apts
Gulfstream Estates
Gulfstream Shores
Hamilton House
Hamilton Place
Hammock Reserve
Hammond
Hancock
Harbour Pointe
Harbourside
Heritage Club
High Acres
High Point
High Point of Delray West
Highland Park
Hofman Village
Hollows
Homewood Lakes
Homewood Park
Huntington Lakes
Huntington Pointe
Huntington Towers
Imperial Villas
Inlet Cove Condos
Isle of Capri
Jefferson Manor
Kenmont
Kings Point
Kings Point Saxony
Kingsland
Kokomo Key
La Hacienda
La Sedona
Lago Del Rey
Lake Eden
Lake Forest South
Lake Ida
Lake Ida Gardens
Lake Ida Manor
Lake Ida Shores
Lake Shore Estates
Lakes of Delray
Lakeside
Lakeview Greens
Landings of Delray
Las Palmas
Las Verdes
Lavers
Lavers Delray Racquet Club
Le Village De Provence
Legacy at Sherwood Forest
Lexington Club
Lincoln Park
Linton Ridge Condos
Linton Woods Condos
Lone Pine
Lowery Park Estates
Mallory Square
Manor House Condos
Marina Bay
Marinello Estates
Martel Arms
Meridian
Metcalfs
Miramar Garden Apts Condos
Mizner Country Club
Mizner Grande Estates
Mizners Preserve
Monaco E
Monterey Estates
Monteverde
Morningstar
Murano
Narberth Condos
Nassau Park Historic District
Nassau Park Historic District
New Monmouth Condos
Newport Cove
Normandy
North Beach
Northridge
Oakmont
Ocean Apple Estates
Ocean Breeze Estates
Ocean City Lofts
Ocean Estates
Ocean Isles
Ocean Place
Ocean Terraces
Ocean Villas
Old Palm Grove
Old School Square Historic District
Osceola Park
Palm Beach Farms
Palm Greens
Palm Trail Place Condos
Palm Trail Yacht Club
Palm Villas
Patio Beach Condos
Pelican Harbor
Pembridge A-I Condos
Penthouse Delray Condos
Pine Ridge
Pine Ridge at Delray Beach
Pine Trail
Pine Trail South
Pineapple Grove
Pines of Delray
Pines of Delray
Pines of Delray North
Pines of Delray West
Pinewood Cove
Platts Acres
Playa Rienta
Plumosa Park
Point at Delray Condos
Polo Club
Polo Cove
Polo Oaks
Polo Ridge Condos
Polo Trace
Portofino
Rainberry Bay
Rainberry Bay Estates
Rainberry Lakes
Rainberry Woods
Ridgewood Heights
Rio Del Rey Shores
Rio Poco
Rockland Park
Rosemont Villas
Royal Hidden Cove
Runnymede
Sabal Lakes
Sabal Pine Condos
Sabal Pine Condos East
Sabal Pine Condos South
San Sebastian
Saturnia Isles
Saxony
Sea Fields
Seacrest
Seacrest Park
Seagate
Seagate Manor
Seagate Towers
Seaspray Estates
Seastone Apts Condos
Seestedt Stevens
Seger Add
Sellers Add
Serena Vista Condos
Shadywoods
Sherwood Forest
Sherwood Gardens
Sherwood Park
Shorewalker Place
Sierra Palms
Silver Terrace
Snow Hill
Southridge
Southwinds at Crosswinds
Spanish Trail Apts Condos
Spanish Wells
St Andrews Fairways Condos
St Tropez
Stone Creek Ranch
Strickland
Sunflower
Sunny Acres
Sunset Pines Condos
Swinton Square
Tahiti Cove Condos
Talavera
Talavera Place
Terraces at Delray
The Churchill
The Colony
The Courtyards at Martel Arms
The Estuary
The Hamlet at Greensward Village
The Heritage Club
The Seagate Residences
Tierra Del Rel
Tierra Delray South
Tierra Verde
Tierra Verde Delray
Totterdale Add
Tradewind Estates
Trieste
Tropic Bay
Tropic Harbor
Tropic Isle
Tropic Palms
Tropic View
Trowbridge
Valencia Court
Valencia Falls
Valencia Palms
Ventura
Verano
Victorian Gardens
Villa Borghese
Villa D Este
Villa Vizcaya
Village at Swinton Square
Village Grande
Villages of Oriole
Villas of Ocean Crest
Vintage Oaks
Vista Del Mar
Vista Lago
Vizcaya
Watersedge
Watersedge Lakes of Delray
Waterview Apts Condos
Waterway Condos
Waterway East Condos
Waterway North Condos
Wheatleys
Whispering Oaks
Windemere
Windspirit Preserve
Windycreek
Winterplace
Woodlake
Woodvue
Federal Works Agency, Works Progress Administration, Federal Writers' Program, Florida: A Guide to the Southernmost State. American Guide Series, Florida Department of Public Instruction, 1939.
Nearby Towns: Boca Raton City • Boynton Beach City •
---

Warning: include(/Library/kw/livingplaces.com/footer.html): failed to open stream: No such file or directory in /Library/WebServer/livingplaces.com/FL/Palm_Beach_County/Delray_Beach_City.html on line 440

Warning: include(): Failed opening '/Library/kw/livingplaces.com/footer.html' for inclusion (include_path='.:') in /Library/WebServer/livingplaces.com/FL/Palm_Beach_County/Delray_Beach_City.html on line 440