Warning: include(/Library/kw/livingplaces.com/menu.html): failed to open stream: No such file or directory in /Library/WebServer/livingplaces.com/GA/Fulton_County/Atlanta_City.html on line 34

Warning: include(): Failed opening '/Library/kw/livingplaces.com/menu.html' for inclusion (include_path='.:') in /Library/WebServer/livingplaces.com/GA/Fulton_County/Atlanta_City.html on line 34

Atlanta City
Atlanta City Hall is located at 55 Trinity Avenue, Atlanta GA 30303.
Phone: 404‑330‑6000.
---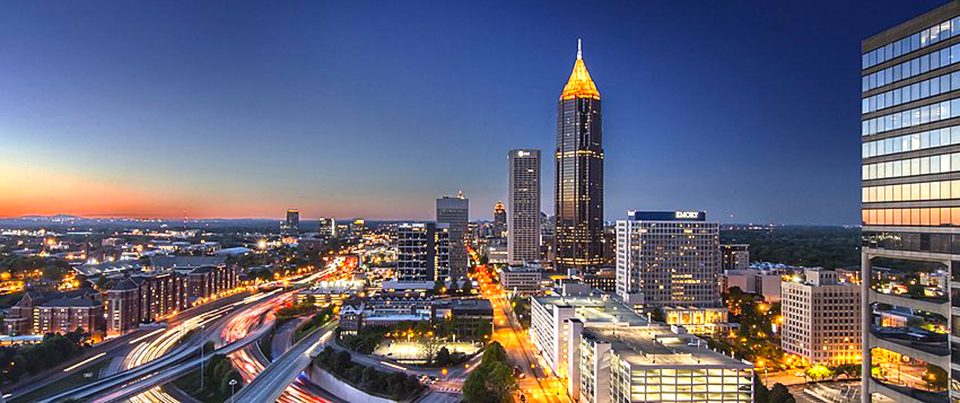 Photo: Midtown Atlana. Photographed by User:ericstokley (own work), 2016, via Wikimedia Commons, [public domain, cc-1.0], accessed January, 2022.
---
The City of Atlanta [1] has a story like no other city in America. From its beginnings, as a small railroad junction, to its rise as a hub for transportation and business, to its central role in redeeming the promises made during our country's founding, Atlanta is a place of opportunity, struggle, progress, and hard work. It is a place to learn, a place to work, a place to create, and a place to call home. Atlanta can only be the place that we love and care about if we—all of us—remember the people and events that shaped it into such a special place. The authentic Atlanta is rooted in history and lives on in our stories and our communities.
The stories, communities, and culture of Atlanta are not abstract notions—they can be seen, felt, and experienced all around the city, every day. They live in the smiles of our residents, the art on our walls, and the historic structures all around us. We must not erase our own stories by allowing our historic places and spaces to go by the wayside. We must take action to keep our city vibrant now and, in the future, so everyone can enjoy, learn from, and shape Atlanta in their own way. We must take action so that we can know and respect those who came before us, those who created opportunity and success through struggle and hard work.
Beginnings [2]
The City of Atlanta originated in 1837 as a railroad terminus on the Western and Atlantic Railroad, and was called simply Terminus. As the city's population grew, it was decided the area needed a new name. First, in 1843, it was renamed Marthasville after Gov. Wilson Lumpkin's daughter Martha. Two years later it was renamed Atlanta, the origin either being Martha's middle name "Atalanta," or the feminized version of Atlantic, as in the railroad company.
Neighborhoods
26th Street
A and P Lofts
Aberdeen Forest
Accolades
Adair Estates
Adair Park
Adams Crossing
Adams Park
Adamsville
Al Jennah Village
Alden House
Alexandria
Alhambra Condos
Allenwood
Allied Factory Lofts
Almond Park
Alston Place
Amal Heights
Amanda Woods
Amber Cove
Amberglades
Amberwood
Amhurst Estates
Ansley Park
Ansley Park Collier Wo
Ansley Terrace
Ansley Walk
Antoine Graves
Appling Heights
Arbor Creek
Arborgate
Arbors at Brookhaven
Arbors at City Heights
Arbors at Sandy Spring
Arden
Ardmore
Ardmore Park
Argonne Condos
Argonne Forest
Arizona Lofts
Arlington
Arlington Estates
Art Foundry
Ashby Grove
Ashford Creek
Ashford Forest
Ashford Lake
Ashford Park
Ashford Park Area
Ashford Place
Ashford Village
Ashley Downs
Ashlyn Pointe
Ashton Bluff
Ashview Heights
Ashwood
Aspen Forest
Astor Terrace
Atkins Park
Atlanta University Center
Atlantic Station
Atlofts
Audubon Estates
Audubon Forest
Audubon Forest West
Audubon Park
Autumn Park
Avery Park
Avondale Estates
B A Martin
B.W.Marsh
Bakers Hill
Bankhead
Bankhead Courts
Barksdale
Barnett
Barrington Hills
Barrington Trace
Baywood
Beachland Forest
Beacon Hills
Beatrice Gardens
Beaver Creek
Bedford Pine
Bee Line Lofts
Beecher Hills
Belleau Woods
Bellewood
Bellwood
Belmonte Hills
Ben Hill
Ben Hill Acres
Ben Hill Forest
Ben Hill Heights
Ben Hill Highlands
Ben Hill Manor
Ben Hill Pines
Ben Hill Terrace
Benchmark
Benteen
Benteen Heights
Benteen Park
Bentley Palce
Bentley Ridge
Benton Woods
Berean Condominium
Berkeley Oaks
Berkeley Park
Berkeley Square
Berkley Park
Betmar LaVilla
Beverly Hills
Biltmore Estates
Biltmore House
Bisbee Heights
Bishops Row
Bixby Terrace
Blair Villa
Blandtown
Block Lofts
Bloomfield
Blue Sky Condos
Blue Stone Lofts
Bluffs at Marsh Creek
Bluffs of Nancy Creek
Bolfair Hills
Bolton
Bolton
Bolton Hills
Bonnybrook Estates
Bottleworks
Boulder Park
Boulder Walk
Bouldercrest
Bouldercrest Acres
Bouldercrest Estates
Boulevard Heights
Bowen Apartments
Bowen Homes
Bradford On Peachtree
Bradford Square
Bradley
Bradley House
Braeburn Heights
Braemore Townhomes
Brafferton Square
Brandon
Brandon Mill Farms
Brandon Mill Woods
Brantley Walk
Breakwater
Breckenridge
Brentwood
Briar Glen
Briar Hills
Briar Ridge
Briar Vista Terrace
Briarcliff Commons
Briarcliff Heights
Briarcliff Pines
Briarcliff Place
Briarcliff Woods
Briarcrest
Briarcrest Townhomes
Briarlake Heights
Briarlake Manor
Briarmoor Manor
Briaroaks
Briars of Dunwoody
Briarwood Trace
Brickell
Brickstone Heights
Brickton Place
Brickworks
Brighton Village
Brittany Park
Broadstone
Brook View
Brookdale
Brooke Ridge
Brookhaven
Brookhaven Chase
Brookhaven Commons
Brookhaven Estates
Brookhaven Fields
Brookhaven Gardens
Brookhaven Glen
Brookhaven Heights
Brookhaven Lakes
Brookhaven Manor
Brookhaven Oaks
Brookhaven Place
Brookhaven Renaissance
Brookhaven Springs
Brookhaven Studios
Brookhaven View
Brooklawn Manor
Brookvalley
Brookwood Ardmore
Brookwood Condos
Brookwood Forest
Brookwood Hills
Brookwood Park
Brookwood Place
Brown Mill Park
Browns Mill Park
Browns Mill Walk
Brushworks Lofts
Bryanview Manor
Buckhead
Buckhead Forest
Buckhead North
Buckhead Place
Buckhead Preserve
Buckhead Square
Buckhead Valley
Buckhead Village Lofts
Buena Vista Heights
Burdette
Burdette Place
Burroughs
Burton Estates
Bush Mountain
Butler Street
Butner
Byrnwyck
Cabbagetown
Cacades
Cambridge
Camelot Club
Cameron Glen
Cameron Hall
Cameron Manor
Camp Creek Village
Campbellton Road
Campground
Canaan Glen
Canaan Ridge
Canaan Walk
Candlelight Village
Candler Walk
Canterbury Forest
Canterbury Park
Capital City Square
Capitol Gateway
Capitol View
Carey Park
Carlo Woods
Carlton Ridge
Carlyle Heights
Carlyle Park
Carlyle Ridge
Carlyle Square
Carlyle Woods
Caroline Street Lofts
Carriage Gate
Carrington
Carrington Place
Carroll Heights
Carver Hills
Cascade Commons
Cascade Cove
Cascade Falls
Cascade Green
Cascade Heights
Cascade Hills
Cascade Knolls
Cascade Manor
Cascade Oaks
Cascade Parc
Cascade Place
Cascade Road
Cascading Creek
Castle Cove
Castleberry Hill
Castleberry Point Lofts
Castleberry Square
Castlewood
Castlewood Estates
Centennial House
Centennial Park West
Centennial Place
Centennial Station
Centennial Walk
Center Heights
Center Hill
Center Park
Central Park Lofts
Cg Hannah
Chalet Woods
Champions Park Estates
Channing Valley
Chaparral Estates
Charleston Pointe
Charleston Square
Chastain Cove
Chastain North
Chastain Park
Chastain Reserve
Chastain Walk
Chateau at Dunwoody
Chatham Hill
Chattahoochee Bluffs
Chattahoochee Chase
Chattahoochee North
Chattahoochee Run
Chattahoochee Terrace
Chattahoochee Trail
Cheeko Manor
Chelsea Heights
Cherokee Forest
Cherokee Park
Cherry Hills
Cherry Valley
Chesapeake
Cheshire Place
Chestnut Knoll
Chestnut Landing
Chicamauga Heights
Childerlee
Childers Estates
Chosewood Park
Chrysler Manor
City Heights
City Homes of Kirkwood
City Park Townhomes
City Scape Condos
City View Lofts
City View Park
Cityscape Condos
Cityside Lofts
Clairmont North
Clairmont Terrace
Clement Stone Estates
Clifton Heights
Cliftondale
Coldstream
Coldwater Creek
College Park Estates
Collier Commons
Collier Forest
Collier Green
Collier Heights
Collier Hills
Collier Hills North
Collier Place
Collier Pointe
Colonial Hills
Colonial Homes
Colonnade
Colony Park
Colony Square
Compton Heights
Concord Manor
Concorde
Conley Hills
Continental Colony
Cooks Landing
Copenhill Lofts
Cornerstone
Coronada Heights
Corridor View
Cortez Woods
Cosmopolitan
Cottages at Cascade
Cotting Court
Country Club Estates
Courtyards of Glenridge
Courtyards of Vinings
Covington Place
Creekside
Crenshaw Park
Crescendo Valley
Crescent Park
Crest Valley Manor
Crestvale Place
Crestwicke
Crestwood
Crestwood Forest
Crosby Hills
Cross Creek
Cross Roads Manor
Crosswycke Forest
Crystal Lake
Cty Vw at Frdm Pkwy
Cumberland Forest
Custer
Daniels Acres
Davis Summit
Davis Woods
Dean Overlook
Dearborn Park
Deep Creek Acres
Deer Lofts
Deerborn Park
Deerfield
Deerfield East
Deerfield North
Deerwood
Deerwood Reserve
Defoors Glen
Defoors Landing
Defoors Mill
Defoors Place
Defoors Walk
Delmar Park
Delowe Pines
Demooney Estates
Derby Hills
Dering Place
Derrick Creek
Deson Valley
Devereux
Devonshire
Dickey Estates
Dixie Hills
Dixie Pines
Donnelly Estates
Dorby Park
Douglas Hill
Dove Hill
Downtown
Dresden Creek
Dresden Manor
Dresden Square
Drew Valley
Druid Forest
Druid Hills
Druid Hills East
Druid Hills Heights
Druid Hills Manor
Druid Knoll
Druid Walk
Drummond Point
Dunhill Acres
Dunnington
Dunwoody Club
Dunwoody Court
Dunwoody Forest
Dunwoody Hills
Dunwoody Lakes
Dunwoody North
Dunwoody Ridge
Dunwoody Row
Dunwoody Springs
Dunwoody Trails
Dunwoody Village
Duo
Dupont Commons
Durand Mill
Dutch Valley Place
Dynamic Metals Lofts
East Ardley Road
East Atlanta
East Chastain Park
East Lake
East Point
East Stubbs
East Woodsdale
Eastlake
Eastland Gates
Eastland Village
Eastman Park
Eastside Walk
Eastwood
Echo Hills
Echo Lake
Echo Woods
Eclipse Condominiums
Edgar Norris
Edgewater
Edgewood
Edmund Park
Egan Park
Elizabeth Heights
Elizabeth Sprink
Ellis Property
Elm Street Towne Homes
Elmco Estates
Embry Crossing
Embry Hills
Emerald Forest
Emerald Lake
Emerald Ridge
Emory Grove
Emory Morningside
Emory Place
Enclave at Briarcliff
Enclave at Eastlake
Enclave at Renaissance
Enclave at Riverside
Enclave at Valley View
Englewood Manor
English Avenue
Enon Forest
Essex House
Estates at Stonewall
Etheridge Dejarnette
Evergreen Hills
Evian
Ezell Townhomes
Ezra Church Heights
Fair And Walker Lofts
Fairburn
Fairburn Forest
Fairburn Heights
Fairburn Landing
Fairburn Landing South
Fairburn Road
Fairburn Woods
Fairfax
Fairfield
Fairfield Heights
Fairhaven
Fairlane Heights
Fairmont Forest
Fairview Terrace
Fairway Acres
Fairway Estates
Fairway Gardens
Fairway Terrace
Falls at Cascade
Fama Heights
Farmington Estates
Feldwood Pines
Fellsridge
Ferncliff Commons
Fernleaf
Fernleaf Park
Fernwood
Fernwood Park
Feyton Forest
Finch Forest
Flair Forest
Flats at Riverwalk
Fleetwood Hills
Florida Heights
Flowers Park
Forest Acres
Forest Grove
Forest Heights
Forest Hills
Forest Park
Forestwood
Forrest Place
Fort McPherson
Fort Valley
Four Oaks
Four Seasons
Foxcroft
Frederica Condominiums
Freedom Heights
Frog Hollow
Frontier Woods
Gainsborough
Gainsborough West
Garden Brook
Garden Hills
Garden Park
Garmon Woods
Gasket City Lofts
Gates at Bouldercrest
Gates at Glenridge
Gates of Dunwoody
Georgetown
Georgia Tech
Georgian Hills
Georgian Village
Gilbert Woods
Glen Cove
Glen Iris Lofts
Glen Meadows
Glen Vernon
Glenaire
Glenridge Creek
Glenridge Forest
Glenridge Park
Glenridge Place
Glenridge Pointe
Glenridge Woods
Glenrose
Glenrose Heights
Glenview
Glenwood Green
Glenwood Park
Golden Acres
Gordon Cliff Condos
Grady
Gramercy Park
Grandeview Estates
Grant Estates
Grant Park
Granville
Grasmere
Green Acres Valley
Green Forest Acres
Greenbriar
Greenbriar Acres
Greenbriar Townhomes
Greenbriar Village
Greenland Manor Estates
Greenlea Commons
Greenmont
Greenwood
Greenwood Gardens
Greenwood Lofts
Gresham Park
Greystone at Vinings
Greystone North
Greystone Oaks
Greystone Park
Grinnell Lofts
Grogans Bluff
Grove Park
Guilford Forest
H.B.Lee
Habersham
Habersham Estates
Habersham Hall
Habersham Oaks
Habersham Place
Habersham Valley
Halcyon Valley
Hammond Heights
Hammond Hills
Hammond Park
Hampshire Park
Hampton Green
Hampton Hall
Hampton Park
Hanover House
Hanover West
Happy Valley
Hardee Station
Harland Terrace
Harris Chiles
Harts Place
Harvel Homes Community
Harwell Heights
Haverhill
Hawthorn Park
Haynes Manor
Heards Ferry Road
Heards Forest
Heather Ridge
Heatherbrooke
Heights at Grant Park
Heights Manor
Helmer Heights
Henderson Commons
Henderson Estates
Henderson Hills
Henderson Mill
Henderson Park
Henderson Reserve
Heritage Oaks
Heritage Park
Heritage Place
Heritage Valley
Herndon Apartments
Herron Creek
Hidden Acres
Hidden Lakes
High Grove
High Haven
High Point
High Point Estates
High Point Forest
High Point Manor
Highgrove
Highland City View
Highland Hall
Highland Heights
Highland Lake
Highland Park
Highland Place
Highland School Lofts
Highland South
Highland Terrace
Highlands
Highlands of Vinings
Highlands On Rosedale
Highpoint
Hightower
Highwood Park
Hill Park
Hillcrest
Hills Park
Hillsdale
Hillside at Lenox
Hivue Hills
Holly Downs
Hollywood
Hollywood Court
Home Park
Horizon
Howell Estates
Howell Mill Plantation
Howell Place
Howell Station
Huntcliff
Hunter Hills
Huntingdon Park
Huntington Arms
Huntington Chase
Huntington Park
Huntley Hills
Inman Green
Inman Hills
Inman Mews
Inman Motor Works
Inman Station
Irwin Place
Irwin Street Townhomes
Isleworth
Ivan Hill
Ivey Gate
Ivey Place on the Park
Ivey Woods
Ivy Knoll
Ivys Landing
J W Thompson
Jackson Square
Jackson Trace
Jades Estates
Jailette Trace
Jamaica Estates
James Creek
Jefferson Estates
Jefferson Heights
Jett Place
Jett Ridge Forest
Jewel Pointe
John Hope Homes
Johnson Estates
Jonesboro North
Jonesboro South
Joyland
Joyland Park
Juniper Place Condos
Kalmia View
Kenmare Hall
Kennesaw
Kensington Woods
Kessler City Lofts
Keswick Village
Kevin Heights
Keys Crossing
Keys Lake
Kimberly Courts
Kimberly Crossing
Kimberly Place
Kings Forest
Kings Garden
Kingslake
Kingston Gate
Kingswood
Kirkwood
Kirkwood Estates
Kirkwood Parkview
Kirkwood School Lofts
Kirkwood Station
Knight Park
Knolls of Nancy Creek
Knollwood
La France Street Lofts
Lachona Place
Lafayette Park
Lake Carol Estates
Lake Forest
Lake Island Estates
Lake Jan Estates
Lakemoore Colony
Lakemoore Heights
Lakemoore Hills
Lakeside Preserve
Lakewood
Lakewood Park
Lakewood Pointe
Lamar Heights
Lamar Park
Lancaster
Lancaster Manor
Larchwood
Laurel Grove
Laurel Woods
Laurens Valley
Laventure Forest
Lavista Acres
Lavista Park
Lavista Walk Townhomes
Le Chateau
Le Grande
Legend Oaks
Leighton
Leila Valley
Lenox Bluff
Lenox Green
Lenox Heights
Lenox Oaks
Lenox Park
Lenox Superblock
Lenox Villas
Leonx Bluff
Light at Brookhaven
Lincoln Hills
Lincoln Homes
Lincoln Park
Lindbergh
Lindridge
Lindsey on the Park
Lions Gate
Lively Manor
Livsey Trail
Loch Lomond Estates
Lockridge Forest
Loftman Lofts
Loghaven Heights
London Estates
Londonberry
Long Island Estates
Long Island Hills
Long Island Walk
Longleaf
Lookout View
Loridan Chase
Loridan Woods
Loring Heights
Lost Forest
Lynhaven
Lynhurst Acres
Lynwood Park
M West Ii
Mabry Oaks
Mabry Place
Machine Shop Lofts
Maddox Park
Madeline Manor
Madison Place
Madison Square
Madison Trace
Magnolia Estates
Magnolia Park
Magnolia Place
Mallory Walk
Mangum Manor
Manor Oaks
Manor Park
Marble Lofts
Marchman Estates
Marion Park
Market Lofts
Marlborough Estates
Marshall Townhomes
Marshalls Landing
Martin Manor
Martins Lakes
Martins Park
Mason Woods
Masons Creek
Mathewson Place
Mayfair Park
Mayfair Renaissance
Mayfair Tower
Mays Manor
McDaniel Glenn
Mcgill Park
Mcgill Place
Mckinley View
Mcpherson Homes
Meadow Gate
Meadowbrook
Meadowbrook Forest
Meadowcliff
Meadowlark Estates
Meadowood
Mechanicsville
Melanie Woods
Meldrum Street Condos
Mellwood
Melrose Park
Memorial Park
Mendenhall
Meridian
Meridian Buckhead
Merry Hills
Merrywood Estates
Metal Works Townhomes
Miami Heights
Midcity Lofts
Midtown
Milar
Mill Creek Estates
Mill Creek Manor
Mill Glen
Mill Ridge
Millbrook
Milltown Lofts
Misty Creek Farms
Monroe Heights
Montclaire Estates
Monticello Park
Mooregate Square
Moreland Hrights
Moreland Lofts
Morgans Glen
Morning Falls
Morningside
Morningside Place
Morningside Terrace
Morningside Woods
Morningside-Lenox Park
Morosgo
Morris Brandon Estates
Mosley Park
Mount Brian Woods
Mount Paran Forest
Mount Paran Northside
Mount Vernon Estates
Mount Vernon Plantation
Mount Vernon Village
Mount Vernon Woods
Mountain Manor Estates
Mozley Park
Mt Gilead Woods
Mt Paran
Mt Vernon Estates
Mueller Lofts
Museum Tower
Nacoochee Place
Nancy Creek Heights
Nelms Estates
Nesbit Downs
Nether Wallop Mews
New Center Hill
Niskey Cove
Niskey Lake Cove
Niskey Lake Falls
Normandy
North Avenue Condos
North Buckhead
North Harbor
North Island Estates
North Ormewood Park
North Powers Ferry
North Ridge Forest
North Skyland
North Springs
North Stratford Walk
North Tuxedo
North Wesley Court
Northcrest
Northcutt
Northfield
Northlake Condominiums
Northland Hills
Northland Place
Northland Ridge
Northridge Crossing
Northridge Forest
Northside
Northside
Northumberland
Northway Oaks
Northwoods
Norwood Manor
Nottaway
Notting Hill
Oak Cliff Park
Oak Forest
Oak Forest Hills
Oak Grove
Oak Grove Acres
Oak Grove Estates
Oak Grove Preserve
Oak Hill Heights
Oak Knoll
Oak Manor
Oakcliff
Oakcliff Estates
Oakhurst
Oakland
Oakland City
Oakland Heights
Oakland Park
Oakmont Estates
Oaks at Buckhead
Oaks at Defoor
Oaks of Dunwoody
Oakwoods
Oglethorpe Estates
Old Fourth Ward
Old Humphries
Old Ivy Square
Old Paces Place
Old Powers Ridge
Old Ridgewood
Old Stratton Chase
Old Wesley Place
Olde Dekalb Village
Olde Ivy Square
Olmsted
Olympian Hills
Omer Dev
One Riverside
One Vinings Mountain
Orchard Knob
Orchards of Dunwoody
Ormewood
Ormewood Park
Ovation
Overlook at East Lake
Overlook at Lenox
Overlook Manor
Oxford Chase
Oxford Place
Oxmoore Estates
Paces
Paces Forest
Paces Green
Paces Lake
Paces Mill
Paces Place
Paces Run
Paces Valley
Paces West
Paddocks North
Pamond Park
Paran Place
Paran Pointe
Parc Vue
Park at Brookhaven
Park at Oglethorpe
Park Avenue
Park Avenue Condos
Park Gate
Park North
Park Overlook
Park Place
Park Place South
Park Regency
Park Row
Park Towers
Parker Ranch
Parklane
Parkside
Parkside Walk
Parkview
Parkview Estates
Parkview Heights
Parkview Homesites
Parkwood
Parkwood Place
Payton Forest
Payton Oaks
Peach Valley
Peachtree Battle
Peachtree Battle Condos
Peachtree Commons
Peachtree Heights
Peachtree Heights East
Peachtree Heights West
Peachtree Hills
Peachtree House
Peachtree Lofts
Peachtree Malone
Peachtree Oaks
Peachtree Park
Peachtree Place
Peachtree Residences
Peachtree Towers
Peachtree Walk
Pebblebrook Shores
Pennington Park
Pent Manor
Peoplestown
Perkerson
Perkerson Park
Peyton Forest
Peyton Springs
Peyton Woods
Pharr Manor
Phipps Gate
Piedmont Arbors
Piedmont Ave
Piedmont Crescent
Piedmont Hall
Piedmont Heights
Piedmont Park West
Piedmont Villas
Pine Acres
Pine Bark Acres
Pine Crest Hills
Pine Forest
Pine Hills
Pine Shoals
Pinetree
Piney Grove
Piney Wood Hills
Pinnacle Heights
Pioneer Neon Lofts
Pittman Park
Pittsburgh
Plantation at Lenox
Plaza Towers
Pleasant Hill
Pleasant Valley
Pointer Ridge
Polar Rock
Polo Place
Poncey-Highland
Poole Creek
Poole Estates
Powers Ferry Trace
Powers Lake
Powers Place
Prairie Heights
Prescott at Park Place
Preston Hills
Prestons Vineyard
Princeton Falls
Princeton Lakes
Princeton Lakes Estates
Princeton Lakes Glen
Princeton Lakes Park
Princeton Lakes Regency
Princeton Square
Promenade Oaks
Prospect Park
Providence Place
Pryor Street Lofts
Putters Village
Ragsdale
Raleigh Square
Randall Mill
Randolph Estates
Realm Condos
Rebel Forest
Rebel Valley Forest
Regency Estates
Regency Hills
Regency Oaks
Regency Park
Regency Pointe
Regents Park
Renaissance Lofts
Renaissance Park
Reserve at City Park
Reserve at Morning Creek
Retreat at Jones Mill
Reynoldstown
Reynoldstown
Richland Hills
Richland Park
Ridgecrest Forest
Ridgedale Park
Ridgewood
Ridgewood Estates
Ridgewood Heights
Ridgewood Heights
Riley Place
Ritz Residences
River Bluff
River Chase
River Oaks
River Pointe
River Shore Estates
River Springs Forest
River West
Rivergate
Riverly Place
Rivers Edge at Peachtree Creek
Rivers Ledge
Rivers Station
Rivershore Estates
Riverside
Riverside Estates
Riverstone at Wildwood
Riverwalk at Wildwood
Riverwood
Rockdale
Rockridge Place
Rolling Ridge
Rose Arbor
ROSECREST PLACE
Rosedale Heights
Rosegood
Rosehill
Rosewood at Southbend
Rosewood Plantation
Roslan Heights
Round Hill
Roxboro Place
Rue Royal
Rue Royal
Rux Road
S. Charles
Sable Chase
Sable Glen
Sagamore Briarcliff Woods
Sagamore Hills
Saint Anddrews
Sand Pipers Cove
Sandlewood Estates
Sandpipers Cove
Sandtown Falls
Sandtown The Estates
Sandy Springs
Savannah Square
Savannah Walk
Scarborough Park
Scotts Crossing
Semmes Park
Sentinel Ferry
Serrano
Sexton Woods
Shallowford Heights
Shallowford Woods
Shandra Estates
Shannonlore
Sheffield Forest
Shenandoah Valley
Sherbrooke Forest
Sheridan Manor
Sheridan Place
Sherwood Forest
Siena at Renaissance
Sky Hill Townhomes
Skyland
Skylofts
Slaton Manor
Somerset
Somervale
South Atlanta
South Fork
South Park Lofts
South River Gardens
South Tuxedo Park
Southern Pine Estates
Southoaks at Cascade Condod
Southwest
Sovereign
Spain Manor
Spalding Estates
Spalding Ferry
Spalding Hills
Spalding Lakes
Spalding Mill
Spalding Woods
Spindlewick
Spire Residential
Spring Harbor
Spring Park
Springdale Gardens
Springlake
Springlake Park
Springside Park
St Charles
ST MARTINS LANDINGS
STABLE CHASE
Stanford Court
Starlight Hills
Starr-Edwards
State Street School
Sterling Creek
Sterling of Dunwoody
Steverwald
Stewart Hills
Stillhouse at Vinings
Stone Manor
Stonecrest
Stonegate
Stonepark
Stoneridge
Stonewall
STONEWALL MANOR
Stoney Pointe
Stonington
Storehouse Lofts
Stratford Manor
Studioplex
Suffolk Forest
SUGAR CREEK Falls
Sugar Mill Creek
Summer Brook
Summer Creek Park
Summerhill
Summit at Stonelake
Summit at Stonewall
Summit Glen
Sunrise Estates
Surrey Place
Sutherland Place
Sutters Point
Suttles Landing
Swallow Circle
Swan Creek
Sweet Auburn
Swift Company Lofts
Swift Creek
Sylvan Brook
Sylvan Hills
Sylvan Ridge
Sylvan Terrace
Syreeta Cove
Tampa Park
Telfair
Tell
Terraces at Peachtree
Terraces of Dunwoody
Terry Hills
Terry Mill
Thaxton Reserve
The Aramore
The Astoria
The Atlantic
The Barclay
The Bluffs of Nancy Creek
The Borghese
The Bradford
The Cascades
The Clifton
The Cloisters
The Concorde
The Dakota
The Elliott
The Enclave at Briarcliff
The Enclave Old Fourth Ward
The Enclave On Peachtree
The Estates at Enon
The Frederica
The Gallery
The Gates at Stone Lake
The Gatsby
The Giant Lofts
The Glens at Sandtown Center
The Grandview
The Haberhsam Estates
The Hasty
The Healey
The High Point
The Highlands at Acres Mill
The Highlands at Rosedale
The Honours
The Ivys
The Landings
The Lofts at 5300
The Manhattan
The Manor House
The Massellton
The Meadows
The Oaks at Buckhead
The Park at Ashford
The Park at Browns Mill
The Park at East Paces
The Park at Oglethorpe
The Park at Vinings
The Parks at Cascade
The Peachtree Residences
The Phoenix On Peachtree
The Plantation at Lenox
The Ponce
The Preserve at East Atlanta City
The Regency
The Reynolds
The Richmond
The Stacks
THE SUMMIT at SANDTOWN CENTER
The Tuscany
The Variations
The View at Chastain
The Villas at Grant Park
The Vineyards
The Virginian
The Wakefield
The Washington
The West Paces
The Wiltshire
The Wingfield
The Winston
Thomasville
Thomasville Heights
Thompson Heights
Thompsons Estates
Thornwood Park
Three Lakes
Tiller Walk
Timbers of Vinings
Townegate
Townhomes at Candler Park
Townhomes of Sandy Springs
Towns of Crescent Park
Tribute Lofts
Tuscany
Tuskegee Heights
Tuskegee Heights Park
Tuxedo Forest
Tuxedo Park
Twelve Atlantic Station
Twelve Centennial Park
Twin Oaks
Tynecastle
U-Rescue Villa
Underwood Hills
Union Crossing
Unison
Vanderbilt
Veltre Estates
Venetian Hills
Versailles
Victoria Estates
Victoria Heights
Victoria Square
Viewpoint
Villa Sonoma at Perimeter Summit
Village at East Atlanta City
Village at Kirkwood
Village Park at Brookhaven
Village Walk
Villages at Carver
Villages at East Lake
Villages at East Point
Villages at Oakshire
Villages at Sandtown Center
Villas at Buckhead
Vine City
Vinings Chase
Vinings on the Chattahoochee
Vinings Overlook
Vinings Ridge
Vinings View
Vinings Vineyard
Virginia Hall
Virginia Highland
Wakefield Forest
Walden Park
Washington Heights
Washington Park
Washington Square
Waterford
Waterford Commons
Waterside at Peachtree
Waterworks
Watts Road
Waverly Crest
Weathers Creek
Weatherstone
Wedgewood Chase
Wellesley Estates
Wellpointe
Wembley Forest
Wembley Hall
Wembley Ridge
Wescott
Wesley Battle
Wesley Court
Wesley Heights
Wesley Place
Wesley Walk
West End
West End Heights
West End Park
West Highlands
West Hunter Park
West Lake
West Manor
West Paces Ferry
West Side Park
West View
Westbrooke Place
Westbury Square
Westchase Glen
Western Estates
Western Heights
Westfair
Westfield Park
Westhaven
Westland Estates
Westminster
Westmont Estates
Weston Place
Westover Plantation
Westridge
Westview
Westwood
Westwood Terrace
Wexford
Wexford Glen
Whispering Hills
White Oak Hills
Whitehall
Whitestone
Whitestone Walk
Whitewater Creek
Whitewater River Park
Whitley Heights
Whitner Estates
Whittier Mills
Whittier Village
Wieuca
Wieuca at Roswell
Wieuca Hills
Wilburn House
Wildcliff Estates
Wildwood
Wildwood Forest
Wildwood Lake Estates
William Oliver
Willow Glen
Willowbrook Estates
Wilson Mill Meadows
Winding River
Winding River Village
Windsor at Peachtree
Windsor Bluff
Windsor Court
Windsor Forest
Windsor Hills
Windsor Park
Windsor Place
Windwood
Windwood Forest
Wingfield
Winterchase
Wintercrest
Winterhaven
Winterhill
Winterthur
Wishing Well
Wisteria Gardens
Wisteria Lane
Wolf Creek
Wolf Creek Forest
Wood Valley
Woodall Place
Woodchase
Woodcliff
Woodfield
Woodland Estates
Woodland Forest
Woodland Hills
Woodlawn Estates
Woodmore
Woods of Briarlake
Woods of Henderson
Woods of Northlake
Woodward Estates
Wyncreek Estates
Wyndham Hills
Wyngate
Wynns Way at King Lare
Yorktowne Place
Department of City Planning, City of Atlanta 2021 Comprehensive Development Plan: Plan A, 2021, www.atlcitydesign.com, accessed January, 2022.
Atlanta Regional Commission, www.atlantaregional.com, accessed 01/02/2008.
Nearby Towns: Decatur City • East Point City •
---

Warning: include(/Library/kw/livingplaces.com/footer.html): failed to open stream: No such file or directory in /Library/WebServer/livingplaces.com/GA/Fulton_County/Atlanta_City.html on line 1649

Warning: include(): Failed opening '/Library/kw/livingplaces.com/footer.html' for inclusion (include_path='.:') in /Library/WebServer/livingplaces.com/GA/Fulton_County/Atlanta_City.html on line 1649