Warning: include(/Library/kw/livingplaces.com/menu.html): failed to open stream: No such file or directory in /Library/WebServer/livingplaces.com/GA/Fulton_County.html on line 34

Warning: include(): Failed opening '/Library/kw/livingplaces.com/menu.html' for inclusion (include_path='.:') in /Library/WebServer/livingplaces.com/GA/Fulton_County.html on line 34

Fulton County, Georgia
---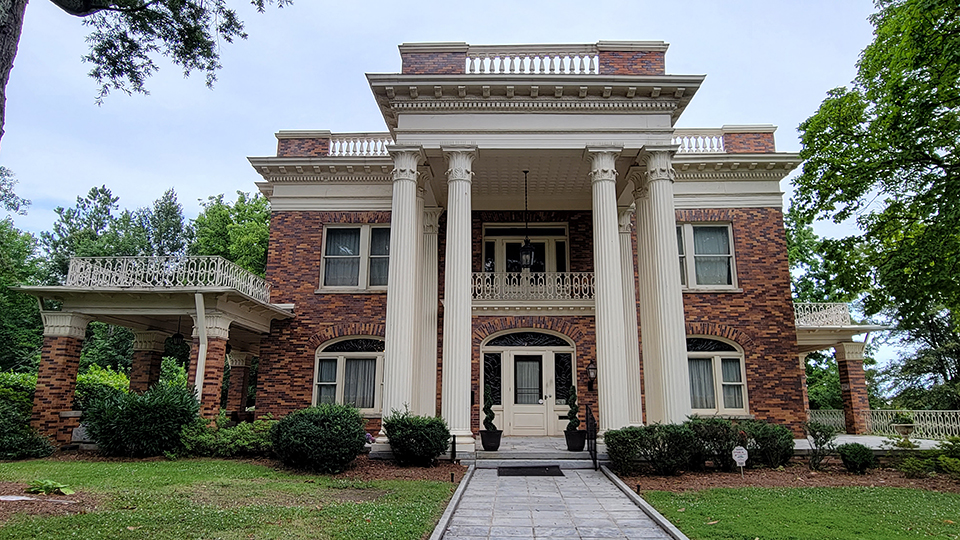 Photo: Herndon Home, circa 1910, located at 587 University Place, Northwest, Atlanta. Listed on the National Register of Historic Placesin 2000. Photographer: wikipedia username: GreaterPonce665, own work, 2021, [cc-4.0]; accessed November, 2022.
---
TOWNS
Chattahoochee Hills City
Fairburn City
Hapeville City
Milton City
Mountain Park City
Plametto City
Union City
The Fulton County Courthouse is located at 141 Pryor Street, Atlanta GA 30301; phone: 404-730-8200.
Beginnings
Fulton County was created from DeKalb County in 1853. While conflicting accounts of its name exist, most believe that the county was named for Robert Fulton who built a steamboat ca. 1807. During the Great Depression, ca. 1932, Milton and Campbell counties and the city of Roswell from Cobb county. Seventy miles of Fulton borders the Chatahoochee River. The Fulton County Seat was originally incorporated with the name Terminus, with subsequent name changes to Marthasville, and, finally, Atlanta. Atlanta was made the State Capital in 1868. Because of its odd shape, the result of annexations, Fulton is bordered by 10 other Georgia counties: Carroll, Cherokee, Clayton, Cobb, Coweta, DeKalb, Douglas, Fayette, Forsyth, and Gwinnett.
HISTORIC SITES
705 Piedmont Avenue Apartments
Adair Park Historic District
Adams, Jack and Helen, Lustron House
Ansley Park Historic District
Arden
Arnold, Thomas P., House
Atkins Park District
Atlanta Biltmore Hotel and Biltmore Apartments
Atlanta University Center District
Ballard, Levi, House
Baltimore Block
Beavers, John F., House
Berkeley Park Historic District
Brawner, Dr. James N., House
Brazeal, Dr. Brailsford R., House
Brittain, Dr. Marion Luther, Sr., House
Broadlands
Brookwood Hills Historic District
Burns Cottage
Cabbagetown District
Candler Park Historic District
Canton Apartments
Capitol View Historic District
Capitol View Manor Historic District
Castleberry Hill Historic District
College Park Historic District
Craigellachie
Crescent Apartments
East Point Industrial District
English-Chambers House
Epting, Thomas and Rae, Lustron House
Fairlie-Poplar Historic District
Farlinger
Fox Theatre Historic District
Fulton County Courthouse
Garden Hills Historic District
Garrison Apartments
Gately-Loridans House
Georgia Institute of Technology Historic District
Georgia State Capitol
Gilbert, Jeremiah S., House
Grant Park Historic District
Harris, Joel Chandler, House
Haynes Manor Historic District
Hearst-Seydel House
Herndon Home
Hotel Row Historic District
Howell Interlocking Historic District
Howell Station Historic District
Howell, Mrs. George Arthur, Jr., House
Howell-Kilpatrick House
Inman Park Historic District
Inman Park-Moreland Historic District
Jackson-Alsop-Arnold House
Jones, Bolling, House
Jones, Willis, House
King, Martin Luther, Jr., National Historic Site and Preservation District
Knight, William and Ruth, Lustron House
Knox Apartments, Cauthorn House and Peachtree Road Apartments Historic District
Kriegshaber, Victor H., House
Lakewood Heights Historic District
Martin Luther King, Jr., Historic District
Means Street Historic District
Midtown Historic District
Mozley Park Historic District
Nicolson, William P., House
Nunnally-Hodgson House
Oakland City Historic District
Palmer House and Phelan House Apartments
Peachtree Highlands Historic District
Peters, Edward C., House
Piedmont Park Apartments
Pitts, Thomas H., House and Dairy
Pittsburgh Historic District
Proctor, A. Lee, House
Randall, Luther, House
Raoul, William G., House
Reynoldstown Historic District
Richardson-Howell House
Rose, Rufus M., House
Roswell Historic District
Rucker, Simeon and Jane, Log House
Sciple, Charles E., House
Smith, Archibald, House
Smith, Tullie, House
Southern Railway North Avenue Yards Historic District
St. Andrews Apartments
Staff Row and Old Post Area-Fort McPherson
Swan House
Sweet Auburn Historic District
Techwood Homes Historic District
Temple, The
Texas, The
Thornton, Albert E., House
Tompkins, Henry B., House
Trygveson
Tuxedo Park
Tyler, Mary Elizabeth, House
Underground Atlanta Historic District
Villa Lamar
Virginia-Highland Historic District
Washington Park Historic District
West Andrews Historic District
West End Historic District
Whittier Mills Historic District
Wilson, Judge William, House
Winship, George, Jr., and Emily, House
Witham, Stuart, House

Warning: include(/Library/kw/livingplaces.com/footer.html): failed to open stream: No such file or directory in /Library/WebServer/livingplaces.com/GA/Fulton_County.html on line 192

Warning: include(): Failed opening '/Library/kw/livingplaces.com/footer.html' for inclusion (include_path='.:') in /Library/WebServer/livingplaces.com/GA/Fulton_County.html on line 192