Warning: include(/Library/kw/livingplaces.com/menu.html): failed to open stream: No such file or directory in /Library/WebServer/livingplaces.com/GA/Fulton_County/College_Park_City.html on line 36

Warning: include(): Failed opening '/Library/kw/livingplaces.com/menu.html' for inclusion (include_path='.:') in /Library/WebServer/livingplaces.com/GA/Fulton_County/College_Park_City.html on line 36

College Park City
College Park City Hall is located at 3667 Main Street, College Park, GA 30337.
Phone: 404‑669‑3754.
---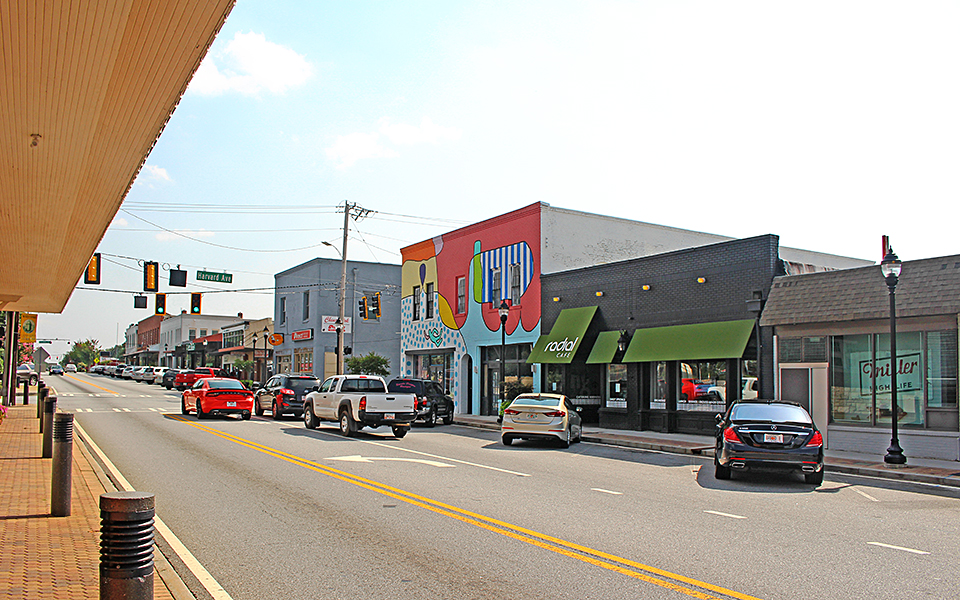 Downtown College Park, Georgia. Taken from the College Park Train Depot, looking down Main St toward Harvard Avenue. Photographer, wikipedia username: Tn8r8r, own work, 2018, [cc-4.0], accessed July 2022.
---
Portions of College Park [1] are located in both Clayton an Fulton counties.
Neighborhoods
Amhurst
Amhurst Cove
Amhurst Park
Beaver Creek
Benchmark
Boston Commons
Brookwood
Bruce C Bridges
Buffington Park
Burdette Place
Burdette Ridge
Butner Meadows
Cambridge Court
Camelot
Castile Cove
Champions Park Estates
Cherry Hills
Christine Creek
Clayton Woods
Cliftondale
Coldwater Creek
College Heights
College Park Estates
Cooks Landing
Cottages of Red Oak
Creekside
Crenshaw Park
Crystal Lake
Eagles Grove
Elmwood
Emerald Pointe
Fairfield Square
Falcon Forest
Feldwood
Forest Creek
Forest Downs
Glens at Creekside
Granada
Hallie Hills
Heritage Circle
Heritage Park
Hillandale
Isleworth
Jailette Estates
Jamaica Estates
Jamestown Colony
Kensington Heights
Kimberly
Lakeshore
Lakeside Estates
Madison Place
Magnolia Estates
Magnolia Pointe
Magnolia Walk
Mallory Walk
Meadows of Pinetree
Melanie Manor
Melanie Woods
Merrywood Estates
Morning Creek Estates
Normandy
Norwood
Old National East
Oxford Walk
Parkside
Picardy Circle
Pine Glen
Pine Shoals
Pinetree
Pittman Park
Pointer Ridge
Ponderosa
Princeton Village
Providence Place
Rivers Station
Sable Chase
Sandpipers Cove
Scarborough Park Townhomes
Sherbrook Court
South Fork
Southern Pines
Stonewall Manor
Stonewycke
Summer Brook
Summerglen
The Meadows
Thornton Woods
Thornwood Park
Three Lakes
Union Crossing
Villages at Fairway
Virginia Manor
Walden Park
Waterford Edge
Waverly Park
Wexford
Williams Bluff
Williamsburg Park
Windsor Forest
Windwood Forest
Wood Knoll
Woodland Estates
Woodward Estates
Woodward Hills
Wynneswood
Yorktown
Yorktowne Condos
Yorktowne Place
College Park is home to Georgia's College Park Historic District. Listed on the National Register of Historic Places in 1996, it is the fourth largest urban Historic District in the State of Georgia.
This totally planned community was originally established in 1890 as the city of Manchester, a manufacturing town. In 1895, Cox College and Conservatory, also known as Southern Female College, moved to Manchester from La Grange in Troup County Georgia. A year later in 1896, the town was renamed College Park since it was not only the home of Cox College, but also Southern Military Academy. The new name was actually a result of contest held by city officials. Lula Roper not only had her submitted name chosen, but also received a choice lot. [1]
Historic College Park Neighborhood Association, About College Park, Georgia, www.hcpna.org, accessed March, 2012.
Nearby Towns: East Point City • Forest Park City • Riverdale City •
---

Warning: include(/Library/kw/livingplaces.com/footer.html): failed to open stream: No such file or directory in /Library/WebServer/livingplaces.com/GA/Fulton_County/College_Park_City.html on line 198

Warning: include(): Failed opening '/Library/kw/livingplaces.com/footer.html' for inclusion (include_path='.:') in /Library/WebServer/livingplaces.com/GA/Fulton_County/College_Park_City.html on line 198