Clarksville Town
Clarksville Town Hall is located at 2000 Broadway Street, Clarksville, IN 47129.
Phone: 812-288-7155
---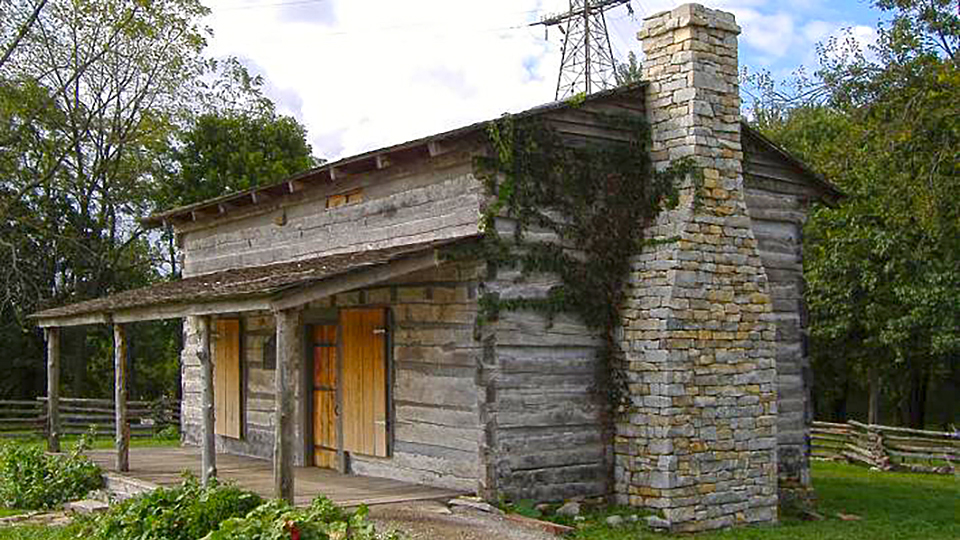 Photo: George Rogers Clark cabin along the Ohio River, Clarkstown. Photographed by User:Bedford (own work), 2006, [cc-1.0, public domain], via Wikimedia Commons, accessed June 2021.
---
The Town of Clarksville [†] includes portions of Jeffersonville City and Silver Creek Township in Clark County, Indiana.
Neighborhoods
Altra Acres
Beechwood Manor
Blackiston Garden
Blackiston Heights
Blackiston Village
Castlewood Condos
Centralia Court Historic District
Clarksview
Crandon Park
Creekside
Fairlawn
Gathright Addition
Green Acres
Gutford Station
Hallmark Heights
Howard Park
Lakeshore Condos
Lapping Park
Lawnview
Majestic Meadows Condos
Melvin Court
Midway
Parkwood
Patterson Place
Schnecks
Southgate
Sunny Acres
Temples Addition
Windemere
The Town of Clarksville is located on the north bank of the Ohio River and contributes to the Louisville, Kentucky- Indiana Metropolitan area as defined by the U.S. Office of Management and Budget. Clarksville covers 9.97 square miles in land area with a population density of 2,178 persons per square mile. Clarksville is approximately 9 miles long (north to south) and varies in width; it is one and one half miles wide (east to west) at its widest part.
Clarksville is located between two larger cities—New Albany to the west and ?Jeffersonville to the east. Clarksville also abuts the Town of Sellersburg to its north and the Ohio River to its south. Due to the surrounding municipalities and Ohio River, Clarksville is geographically and politically constrained from expanding.
† Town of Clarksville, Comprehensive Plan, 2015, www.townofclarksville.com, accessed May 2021.
Nearby Towns: Jeffersonville City • Louisville City • New Albany City •
---