Louisville City
Louisville City Hall is located at 601 West Jefferson Street, Louisville, KY 40202.
Phone: 502‑589‑9383.
---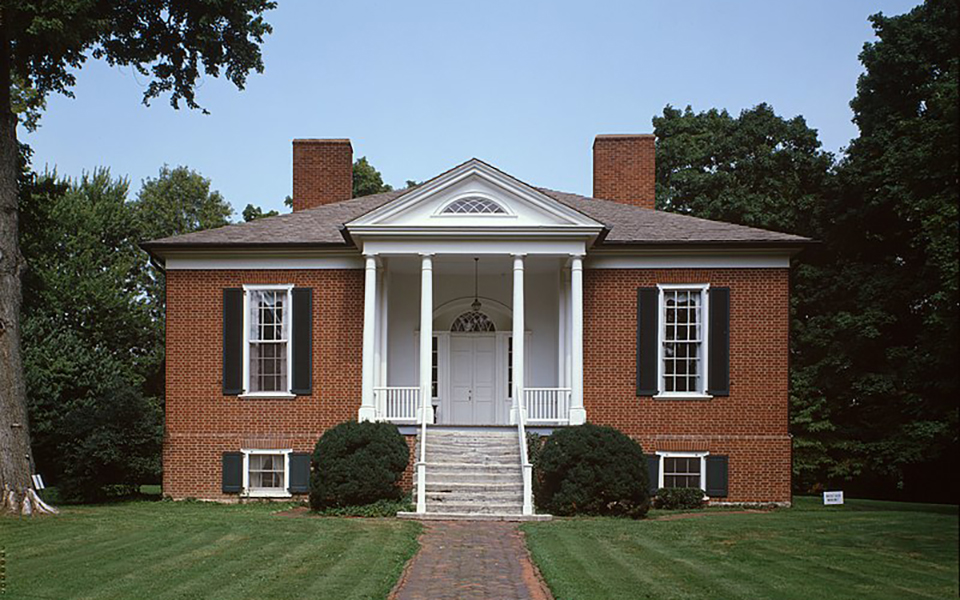 Photo: Farmington Plantation House, cira 1816, located in Louisville's Hawthorne neighborhood. Listed on the National Register of Historic Places in 1972. Photographed by Jack E. Boucher, 1972, Historic American Buildings Survey [HABS, public domain], memory.loc.gov, accessed February, 2022.
---
In 2003 the City of Louisville and Jefferson County Kentucky merged forming "Louisville-Jefferson County Metro Government."
Louisville [1] lies across the Ohio River from New Albany and Jeffersonville, Indiana, on a low, level plain that curves for 8 miles along the river. Midway in the adjoining river are the Falls of the Ohio, which determined the location of the original settlement and provided it with a name (Falls of the Ohio) until, as a gesture of gratitude for the aid given by Louis XVI and the French Nation to the American Revolution, the name was changed to Louisville.
Neighborhoods
1601 Spring Drive Condos
Aberdeen
Academy Ridge Estates
Adams Hill
Adams Run
Alfresco Place
Algonquin
Algonquin Garden
Algonquin Place
Anchorage Historic District
Anchorage Woods
Anderson Park
Apple Valley
Applegate Village
Arbor Green
Arboro Place
Arlington
Arlington Meadows
Arterburn Woods
Ashbrooke Garden
Ashby Acres
Ashley Woods
Ashmoor Woods
Ashwood Bluff
Atrium at Stonybrook
Auburn Oaks
Auburndale
Audubonvale
Austin Woods
Autumn Gardens
Autumn Ridge
Autumn Trace
Autumn Woods
Avalon
Avondale-Melbourne Heights
Bannon Crossings
Barbee Heights
Barbour Manor
Barbour Place
Barbourmeade
Bardstown Woods
Barret Terrace
Bashford Manor
Bashford Place
Baxter Loop Condominum
Bay Colony
Bay Pointe
Bay Tree
Beacon Hill
Beaumont
Beckley Creek
Beckley Crossing Estates
Beckley Woods
Beech Spring Farm
Beechmont
Beechwood Village
Belgravia
Belknap
Bellavista Woods
Bellewood
Bellewood
Benjamin Woods
Beta Gardens
Bethany Acres
Bethany Oaks
Beverly Manor
Big Springs Gardens
Billtown Farms
Birchwood
Birchwood Crossings
Birchwood Place
Bittersweet
Blue Ridge Manor
Blue Ridge Manor
Blue Rose
Bluefield
Bluegrass Estates
Bluegrass Fields
Bobolick Acres
Bolling Brook
Bon Air Estates
Bonaventure
Bonhomme
Bonniewood
Boones Grove
Boulevard Heights
Bowman Manor
Boxwood Heights
Bradford Commons
Bradford Grove Estates
Bradley
Brandywyne
Breckenridge Estates
Breckenridge Heights
Breckenridge Orchard
Breckenridge Village
Brent Park Condos
Briargate
Briarwood
Briarwood Estates
Bridgegate
Bridgemore Estates
Bridgepointe
Bridges of Razor Creek
Bridlewood Estates
Bridlewood Trails
Brighton Springs
Briscoe Manor
Briscoe Place
Bristol Oaks
Bristol Woods
Brittany Pointe
Broad Acres
Broadfern
Broadfields
Broadmoor Park
Broeck Pointe
Bronzewing Farms
Brook Place
Brookfield
Brookhaven
Brookhollow
Brookley Place
Brooks Hickory Hollow
Brookshire
Brookside
Brookwood
Brownhurst Manor
Brownsboro Farm
Brownsboro Glen
Brownsboro Meadows
Brownsboro Terrace
Brownsboro Woods
Brownsboro Zorn
Bryan Estates
Bryan Estates
Bryn Mawr
Brynwood
Buechel Manor
Buechel Terrace
Bullitt Hills
Burkshire Terrace
Bycks Lofts
Byers Manor
Cambridge
Cambridge Square
Cambridge Village
Camelot
Candlelight
Cannon Hills
Canterbrook Farm
Canterbury Place
Caple Estates
Cardinal Hill Estates
Cardinal Oaks
Carol Acres
Carol Fields
Carolina Crossing
Carrington Greene
Carrington Park
Casa Bella
Casa Bendita
Casa Granada
Casa Grande
Castlewood
Catalpa Springs
Cedar Brook
Cedar Cove
Cedar Creek Gardens
Cedar Dale
Cedar Glen
Cedar Hills Acres
Cedar Lake Park
Cedar Meadows
Cedar Street Garden
Central Park Lofts
Chamberlain Gardens
Chamberlain Place
Chamberlain Square
Charlane
Charlane Gardens
Charlane Heights
Charleswood Forest
Charleswood Village
Chateau Bohne
Chateau Square
Chatham Park
Chelsea Green
Chenoweth Hills
Chenoweth Hills Estates
Chenoweth Park Estates
Chenoweth Run
Chenoweth Run
Cheri Village
Cherokee Acres
Cherokee Gardens
Cherokee Plaza
Cherryann Village
Cherrywood Village
Chesterfield Heights
Chestnut Glen
Cheval Place
Chevy Chase
Chicasaw
Churchill
Cinderella Commons
Cinderella Estates
Claremore Acres
Clarkes
Clarkwood
Cliff View Terrace
Cliffdale
Cliffwood
Clifton
Clifton Lofts
Cloverleaf Acres
Cloverleaf Hills
Cloverleaf Terrace
Coach House
Cobblestone Estates
Cochran Hill
Coldstream
Cole Acres
Colonial Hill Manor
Colonial Park
Colonial Terrace
Colonial Village
Colonial Woods
Comanche Village
Commons at Moss Creek
Commons of Westport Gardens
Confederate Acres
Cooper Chase
Cooper Farms
Coppershire
Coronet Village
Correll Place
Cotswolds
Cottages at Meadow View
Cottages at Westport
Cottages of Arbor Creek
Country Estates
Creekside
Creekside
Creekside at Polo Fields
Creekwood Terrace
Crescent Crossing
Crescent Springs
Cresent Centre
Crimson Lake at Apple Valley
Cross Hill
Crystal Valley Estates
Crystal Waters
Curry Crossing
Cynthia Heights
Cypress Station
Dawson Hill Estates
Deepwood
Deer Creek
Deer Park
Deer Trace Estates
Dell Terrace
Derbyshire
Devereaux
Devonwoods
Diplomat Arms
Dixie Gardens
Doerhoefers
Donard Park
Dorsey Hills
Dorsey Pointe Townhomes
Dorsey Station
Dorsey Village
Dorsey Woods
Douglass Arms
Douglass Hills
Douglass Hills
Douglass Woods
Dove Creek
Dove Point
Druid Hills
Dundee Estates
Eagle Creek
Eagle Crest
Eagle Pointe
Eagles Cove
East Bay Villas
Eastgate Village Estates
Eastview
Eastwood
Edgecliff
Edgehill
Ellwanger
Elmcroft
Elysian Fields
Enclave at Lake Forest
Enclave at Polo Fields
English Station
Estates of Chenoweth
Estates of Saratoga Woods
Evergreen Manor
Fairfield Meadow
Fairlawn
Fairmeade
Fairview
Fairway Acres
Falcon Crest
Falls Creek
Farmgate Meadows
Farmgate Springs
Fawn Lakes
Fegenbush Meadow
Fegenbush Place
Fern Creek Heights
Fern Hill
Ferncreek Acres
Ferncreek Gardens
Fernhaven
Fernwood Village
Fifth Street Terraces
Filson Fields
Fincastle
Fincastle
Flat Rock Ridge
Flatrock Ridge
Fleur De Lis
Fontaine Estates
Fontaine Place
Forest Green
Forest Hills
Forest Hills
Forest Park
Forest Pointe Woods
Forest Retreat
Forest Ridge
Forest School Estates
Forest Springs
Forest Village
Forrest Hills
Four Seasons
Fox Hollow
Fox Lair
Fox Ridge
Fox Run
Foxboro Estates
Foxboro Manor
Frazee Place
Frederick Acres
Frey
Friendly Hills
Gallery Square Lofts
Garden Acres
Garden Court
Garden Heights
Garden Park
Gardens at Bay Run
Gardens at Dorsey
Gardens of Glenmary
Gardens of Monticello
Gardens of Valley View
Gardiner Circle
Gardiner Lake Condos
Gardiners Cottage
Gaslight Estates
Gaslight Estates
Gaslight Square
Gateway Towers
Germantown
Gibson Acres
Glen Lakes
Glen Meade
Glen Oaks
Glenmary Estates
Glenmary Springs
Glenmary Village
Glenview
Glenview Heights
Glenview Hills
Glenview Hills
Glenview Historic District
Glenview Landing
Glenview Manor
Glenview Springs
Goebel Crossings
Goins Manor
Golden Meadows
Goldsmith Manor
Goose Creek
Goose Creek
Grafton Place
Grand Lakes
Grandel Farms
Grandel Forest Estates
Grandview
Graymoor
Graymoor/Devondale
Graystone Manor
Green Acres
Green Cove
Green Hills
Green Lea Acres
Green Meadows
Green Ridge Estates
Green Ridge Manor
Greenbriar
Greenbriar
Greenfield
Greenhurst
Greenleaves
Greenwood Acres
Greenwood Meadows
Greer Estates
Grey Hawk
Grey Ledge
Grey Oaks Cottages
Guilford
Hallmark Estates
Hallsdale Acres
Hamilton Springs
Hampton Ridge
Hardesty Estates
Hardwood Forest
Harmony Acres
Harris
Hartlage Farm
Hartwick Village
Havalock
Haven Creek
Hawthorne Pointe
Heather Fields
Heather Hills
Heather Pointe
Heather Ridge
Heatherfield Estates
Heavenly Heights
Henry Clay Condos
Heritage at Polo Fields
Heritage Creek
Heritage Creek
Heritage Estates
Heritage Village
Hermitage Ridge
Hewitt Place
Hickory Hill
Hickory Hill
Hickory Hollow
Hidden Creek
Hidden Oaks
Highbaughs
Highfern Crossings
Highgate Manor
Highgate Springs
Highland Heights
Highland Hills
Highland Terrace
Highland Village
Highview Estates
Highview Park
Highwood
Hikes Point
Hillridge
Hills And Dales
Hillsborough
Hillside Terrace
Hillview Estates
Hillwood
Hollow Creek
Hollow Creek
Holly Hills
Holly House
Holly Pointe
Hollyvilla
Homelawn Terrace
Houston Acres
Houston Acres
Hudson Lake Estates
Hunsinger Estates
Hunt Country Estates
Hunt Country Estates
Hunters Creek
Hunters Hill
Hunters Hollow
Hunters Pointe
Hunters Terrace
Hunters Village
Hunting Creek
Hunting Hills
Hurstbourne Acres
Hurstbourne Ridge
Hurstbourne Springs
Hurstbourne Woods
Idlewood
Indian Creek
Indian Falls
Indian Forest
Indian Hills
Indian Hills
Indian Meadows
Indian Woods
Innwood
Inverness of Hurstbourne
Irish Hill
Iroquois Acres
Iroquois Estates
Iroquois Heights
Iroquois Hills
Iroquois Park
Iroquois Park Estates
Iroquois View
Iroquois Vista
Ivy Hill
Ivy Ridge
Jefferson Crossings
Jefferson Meadow
Jefferson Trace
Jeffersontown
Julie Manor
Keeneland
Kellsberry Acres
Kellwood
Kenbrook Pointe
Kenilworth Heights
Kensington Place
Kenwood Heights
Kenwood Park
Kenwood Terrace
Kingsmill
Kirby Estates
Kirkwood Glen
Klondike Acres
Klondike Manor
Korfhage Gardens
Kuntz Shotgun House
Lafayette Manor
Lafayette Park
Lake Forest Estates
Lake Forest Highlands
Lake Forest Legacy
Lakeview Acres
Lakeview Condominiums
Lancashire
Landherr Estates
Landis Lakes
Langdon Place
Langdon Place
Larkgrove Estates
Lawnview
Leas Acres
Ledgerock Cove
Leemont Acres
Lencott
Lexington Manor
Lime Kiln Manor
Limerick Historic District
Lincoln Terrace
Lincolnshire
Lincolnshire
Lindsay Heights
Little Spring Farm
Lochshire
Long Run Estates
Long Run Farms
Long Run Woods
Lorien Court
Lyndon
Lynn Lea
Lynnview
Lynnview
Lynnwood
Magnolia Place
Magnolia Place
Magnolia Ridge
Mahoney Acres
Majestic Acres
Manner Pointe
Manor Creek
Manor Creek
Mansfield Estates
Maple Crest Farm
Maple Grove
Marlowe Place
Maryland Manor
Maryman Manor
Massie Place
Maywood
Mcmahan Village
Meadow Creek
Meadow Hill
Meadow Vale
Meadow Vale
Meadowbrook Farm
Meadowbrook Farm
Meadowgate
Meadowlark Manor
Meadowview Estates
Mellwood Heights
Melody Manor
Mercantile Lofts
Merlyn Acres
Middletown
Middletown
Midland Square
Mockingbird Terrace
Mockingbird Valley
Mockingbird Valley
Montana Place
Monterey Villa
Monticello Forest
Monticello Parke
Monticello Parke
Monticello Place
Monty Villa
Moorland
Moorland
Moredale
Morris Farm
Moundview
Murray Heights
Murray Hill
Mylanta Estates
Nachand Springs
Nichols Meadow
Norbourne Estates
Norbourne Estates
Norfolk Place
North Audubon
North Dixie
Northfield
Norwood
Notting Hill
Nottingham Hills
Nutwood
Oak Haven
Oak Hill
Oak Hills Estates
Oak Lea
Oak Park
Oak Valley
Oakdale
Oakhurst
Oakland Hills
Oaklawn Estates
Oakmoor Woods Estates
Oakshire
Oakshire
Old Heady Estates
Orchard Lake at Breckenridge
Orchards of Applegate
Orchards Of Plum Creek
Orell Station
Overlook at Beech Spring Farm
Owl Cove Estates
Oxford Woods
Oxmoor Manor
Oxmoor Woods
Oxmoor Woods Estates
Paradise Acres
Paristown Place
Paristown Pointe
Park Forest
Park Place Lofts
Park Vista
Parkdale
Parkridge
Parkview Estates
Parkview Manor
Parkway Gardens
Parkway Vista
Parkwood Villas
Pavilion Park
Pebblebrook
Penn Run Estates
Persimmon Ridge
Petersburg Estates
Phoenix Lofts
Pine Hill Place
Pine Trace
Pine Valley Estates
Pinehurst Green
Pinnacle Gardens
Pioneer Village
Plainview
Plainview Terrace
Plantation
Plantation Hills
Pleasant Grove
Pleasant Valley
Pleasant View
Pleasure Manor
Pleasure Ridge Park
Pleasure Ridge Pointe
Polo Fields
Polo Fields
Poplar Hills
Prairie Village
Premier Estates
Preston Crossings
Preston Pointe
Primrose Meadows
Prospect
Quail Run
Raintree Meadows
Rangewood
Redbud
Regency Tower
Regency Woods Estates
Renaissance Lofts
Reserve at Landis Springs
Reserve at Polo Fields
Reynolds Lofts
Richlawn
Richlawn
Ridge Wood Farms
Ridge Wood Farms
Ridgehurst
Riedlonn Condos
Rileywood Estates
Ripple Creek
River Green
River Knolls
River Oaks
River Park
Rivergreen
Rivers Edge
Rivers End
Riverside Gardens
Robindale Estates
Robinswood
Rock Springs
Rockford Estates
Rockford Heights
Rolling Acres
Rolling Fields
Rolling Fields
Rolling Hills
Rolling Hills
Rolling Ridge
Rosedale
Rosemont
Rosewood Manor
Royal Oaks
Rudy Acres
Saint Andrews Landing
Saint Denis Acres
Saintt James Flats
Saintt Matthews Manor
Salem Square
Sanctuary Bluff
Saratoga Springs
Saratoga Woods Estates
Savannah Row
Savannah Springs
Scottsdale
Seaton Place
Seaton Springs
Seneca Gardens
Seneca Gardens
Seneca Village
Seven Oaks
Shacklette Acres
Shadow Creek
Shadowlawn
Shady Villa
Shakeland Farms
Shaker Farms
Shallow Creek
Shamrock Hills
Shanandoah
Shawnee Heights
Shelby Crossing
Shelby House
Shelby Pointe
Shepherds Crossing
Sherwood Forest
Shively
Signature Point
Silver Creek
Silver Heights
Silver Oaks
Six Mile Trace
Skylark Acres
Smithfield Acres
Smyrna Crossings
South Hall
South Park View
Southdale
Southdowns
Southern Acres
Southern Breeze
Southern Farms
Southern Heights
Spindlewick
Spring Arbor
Spring Falls
Spring Hill
Spring Hill Estates
Spring Lake Garden
Spring Meadows
Spring Meadows
Spring Mill
Spring Mill Farm
Spring Station
Spring Valley
Spring Valley Estates
Springbrooke
Springhurst
Springhurst Gardens
Springview
St Regis Park
Standing Oak
Stone Bluff Estates
Stone Bridge
Stone Lakes Estates
Stone Ledge Farm
Stonecrest
Stonehaven Commons
Stonehenge Condos
Stonehurst
Stoneridge Landing
Stonewood Meadows
Stony Brook Woods
Stony Farm
Strathmoor
Strathmoor Manor
Summit Ridge
Summitt Hills
Sun Valley Estates
Sunflower
Sungold Estates
Sunny Acres
Sunny Slope Crossing
Sunnydale
Sunset Estates
Sunset Gardens
Sunshine Acres
Sutherland Farms
Swan Pointe
Sycamore
Sycamore
Sycamore Creek
Sycamore Ridge Estates
Sylvania
Tanyard Springs
Tarrytowne
Teakwood Manor
Tecomah Woods
Ten Broeck
Ten Broeck
Terrace Green
Terry Manor
The Beechwood
The Castle
The Falls at Old Henry
The Farms of Lovers Lane
The Fountains
The Harbors Condos
The Landing
The Meadows at Polo Fields
The Parks at Polo Fields
The Reserve at Beckley Station
The Springs
Thornberry
Thousand Oaks
Thunderbird Manor
Timber Glen
Timbers of Farmgate
Timberwood Farms
Timothy Hills
Tower Heights
Treeline Estates
Treis Condos
Triplett Woods
Tucker Lake Estates
Twelve Oaks
University Park
Valencia
Valley Downs
Valley Farms
Valley Gardens
Valley Park
Valley Station
Valley View
Valley Village
Valley Vista
Vantage Point
Vicksburg Heights
Victoria Gardens
Viking Harbour
Village at Wildwood
Village of White Oaks
Vinecrest Woods
Warwick Village
Washington Green
Washington Heights
Washington Square
Waterfern Hills
Waterglen
Watterfern Hills
Watterson Park
Watterson Trail
Watterson Woods
Watterson Woods
Wedgewood Manor
Wellesley
Wellington
Wellington
Wendamoor
West Buechel
Westchester
Westchester Village
Westminster Place
Westport Gardens
Westport Ridge
Westport Woods
Westwood
Westwood Farms
Whispering Hills
Wiggington Estates
Wildwood
Wildwood
Wildwood Condos
Wilkie Heights
Wilkie Ridge
Williamsburg Estates
Willow Cove
Willow Creek
Willow Springs
Willow Wood
Willowdale
Willowgate
Willowlake at Anchorage
Wilsonville Heights
Winchester Acres
Winchester Place
Windgate Meadows
Windhurst Acres
Winding Brook
Winding Falls Estates
Windsor Forest
Windsor Gate
Windsor Trace
Winners Circle
Winnrose Way
Wisteria Landing
Wolfcreek Woods
Wolfpen Farms
Wood Creek
Woodbine
Woodbourne
Woodbridge Place
Woodcroft
Woodland Hills
Woodland Hills
Woodland Manor
Woodland Terrace
Woodlands Creek
Woodlawn Park
Woodlawn Park
Woodmere
Woodmont
Woodridge Crossings
Woodrow Manor
Woods of Crescent Hills
Woodspointe
Worthington Glen
Worthington Hills
Wyandotte
Wyndemere
Wynfield
Yorkshire
Yorktown
Zelma Fields
Zorn Place
Zorn Woods
The Ohio River played a vital part in the development of Louisville and the surrounding country. The French were the first to explore the river the called La Belle Riviere (the beautiful river). During the next 100 years a long line of adventurers, explorers, traders and surveyors saw the Falls of the Ohio, stopped here for a time, and passed on.
In 1773, after England had won the Ohio Valley from France, the first permanent settlement was attempted at the falls. In the summer of that year Captain Thomas Bullitt, commissioned by Lord Dunmore, Governor of Virginia, to locate land warrants granted to Virginia soldiers of the French and Indian War, camped on the Ohio River shore. He surveyed 2,000 acres for which Dr. John Connolly, a native of Pennsylvania who had served in the war, received a patent from the British Crown. Colonel John Campbell became a joint owner of the land with Dr. Connolly, and they issued proposals for the sale of lots. Before they could establish settlers here, Connolly was charged with being a Tory and his land was confiscated by Virginia.
In May 1778, young George Rogers Clark, with 150 volunteer soldiers and about 20 families, left the Redstone settlement (Brownsville, Pennsylvania) on the Monongahela River and came down the Ohio River. His purpose was to establish a military base along the lower Ohio before starting his campaign for the conquest of the Old Northwest, then held by the British. When the party reached the falls they landed on an island, long since swept away by the floods, where they built blockhouses and planted corn; Clark and his raw recruits then pushed on into the wilderness to capture the British posts at Kaskaskia, Cahokia, and Vincennes. In the fall, Clark sent some of his men back to the settlement to establish a fort on the mainland. This fort, built during the winter of 1778-1779, became the nucleus of the settlement and headquarters of General Clark until Fort Nelson was completed in 1782. The falls, which interrupted navigation except in periods of high water, determined the site of the settlement. Downstream boats had to be piloted, and upstream boats towed by men familiar with the dangerous rapids.
The first court convened here on March 7, 1781, and one of its first official acts was to fix the charges of the "necessities of life." These included whiskey, which could not be sold for more than $15 a half-pint, and shelled corn, not to sell for more than $10 a gallon. A man might object if a hotel keeper charged him more than $18 a day for board or more than $6 a night for a feather bed; the stabling of his horse was not to exceed $4 a night. These prices were computed in terms of the depreciated Continental currency.
With the westward expansion Louisville assumed the character of a commercial city. At the opening of the new century it had 600 people, and soon it had sanitary laws as well as police and fire protection.
The New Madrid earthquake of 1811-1812, which shook the greater part of the continent, and formed Reelfoot Lake, rocked Louisville. The first shock, lasting 4 minutes, was felt here on December 16, 1811 at 2 p.m. It was accompanied by thunder and was followed by "complete darkness and saturation of the atmosphere with sulphuric vapor." 87 shocks occurred during the following week and temblors continued through part of 1812. One very frightened and pertinent person rushed in on a group of card players, exclaiming, "Gentlemen, how can you be engaged in this way when the world is so near the end?" The party rushed into the street, where, from the rocking earth, the stars seemed to be falling. A member of the group was constrained to remark, "What a pity that so beautiful a world should thus be destroyed." Public morals improved noticeably during this period.
The steamboat New Orleans, first successful steamer on the Ohio and Mississippi Rivers, stopped at Louisville on its way to Natchez in October 1811. Latrobe describes the occasion in his Rambler in America:
Late at night on the 4th day after quitting Pittsburgh, they arrived in safety at Louisville, having been but 70 hours in descending upwards of 700 miles ... and it is related that on the unexpected arrival of the boat before Louisville, in the course of a fine, still, moonlit night, the extraordinary sound which filled the air, as the pent-up steam was suffered to escape from the valves on rounding to, produced a general alarm, and multitudes rose from their beds to ascertain the cause. I have heard that the general impression among the Kentuckians was that a comet had fallen into the Ohio.
This trip inaugurated the steamboat era, which vitally affected Louisville. In 1815 the Enterprise steamed upriver from New Orleans to Louisville in 12 days, less than half the time it tool broadhorns and keel-boats to make the journey downstream. Talk revived about building a canal around the falls in front of Louisville.
From 1820 to 1870 this river town's prosperity was measured by its boat traffic. During the first 3 decades of the 19th century portaging cargoes around the Falls of the Ohio was Louisville's chief concern. Shipments were unloaded, carted overland to Towhead Island above the falls, and put on boats for the upriver journey. Except in periods of high water, when the falls were navigable, the same transfer of goods took place in moving cargoes downstream.
In 1825 a private company was organized to construct the long-deferred canal project, and in December 1830, the Uncas passed through the locks of the completed Portland Canal, which ran laterally across Louisville's riverfront. The canal opened through navigation on the Ohio from Pittsburgh to its mouth. The movement of commerce picked up. Less than a decade after it was completed, 1,500 steamers and 500 flatboats and keel-boats entered the canal annually, bearing 300,000 tons of produce for Southern markets.
Louisville was incorporated in 1828 and received its first city charter. The makeshift village government was superseded by a mayor and a board of aldermen elected by the voters. The loss of the portage business following the opening of the Portland canal brought on a temporary local depression, made more acute by the cholera epidemic of 1831.
Louisville in its early years drew its population mostly from Virginia, Maryland, North Carolina and South Carolina. Louisville early became outstation in the expanding New Orleans commercial empire. Men of wealth, character and influence came up from the city, entered the Louisville scene, and left the imprint of their early training and social environment.
By way of Pittsburgh and down the Ohio came another, larger stream of men seeking their fortunes in expanding the West. Among them were New Englanders and people from the Middle Atlantic States. This group added materially to the business caution of the roaring river town and much to its diversity of opinion. Their active participation in political life explains the fact that Louisville, a Southern city, was vocally Northern during the War between the States.
During these first few decades, Louisville was influenced by a number of French emigres. Michel Lacassagne, the first postmaster, reproduced a French garden at his home on the riverfront; Tarascon built mills and utilized the water of the falls; Audubon painted birds and taught drawing; the young Duke of Orleans, afterwards Louis Philippe, King of France, was among the first musicians of the city; the Barbaroux brought mercantile and manufacturing skill; the Berthouds and Honores, like Tardiveau, were pioneers in navigation and commerce. Some traces long remained of their architectural contributions. Tradition remembers their graceful living and dancing feet.
The 1840s started off with a fire that burned a large part of the business district. It was rebuilt, and the town continued to grow. In this decade many Germans came to Louisville. They brought little of tangible wealth but much practical education and industrial skill. They founded stores and industries, and in time exercised a definite influence upon the social and commercial life of the community.
By 1850 Louisville had a population of 43,194. A new charter, granted March 24, 1851, provided for the election of all city officers.
The 1850s were years of general prosperity, and Louisville inaugurated street railways and witnessed the completion in 1851 of the Louisville, Frankfort & Lexington Railroad. The Louisville & Nashville Railroad, actively promoted by Louisville, was completed to Nashville in 1850.
The outbreak of the War between the States brought a bitter division of opinion in Louisville. The predominant Union sentiment within the city vied with the pro-Confederate temper of the adjoining rural section. Many residents with Southern sympathies were compelled to espouse the cause of the Union as a matter of self-preservation. Louisville was military headquarters and supply depot for the Armies of the North throughout the war.
The end of the conflict found the South's traditional plantation economy bankrupt. Louisville, one of the most important distributing centers for the Southern States, had to adjust to changed conditions. It pressed new merchandising methods and established railroad connections with Memphis, New Orleans, Mobile, Atlanta and other Southern cities. Louisville merchants send salesmen in two-horse rigs to all parts of the South with instructions to get orders at any cost. For two decades Louisville and Cincinnati waged an intense struggle for Southern trade. Eventually it was divided between them.
Federal Writers' Project of the Works Progress Administration for the State of Kentucky, University of Kentucky, Kentucky: A Guide to the Bluegrass State, American Guide Series, Harcourt Brace and Company, New York, 1939.
Nearby Towns: Clarksville Town • Jeffersonville City • New Albany City •
---