St Joseph County, Indiana
The St. Joseph County Courthouse is located at 101 South Main Street, South Bend, IN 46601; phone: 574-235-9635.
St. Joseph County was established in 1830 and is named for the St. Joseph River. Lathrop Taylor and Alexis Coquillard platted the town of South Bend in 1831. Most of the inhabitants of the town were tavern owners, merchants, or fur traders. The population of South Bend in 1831 was approximately 128 residents.
---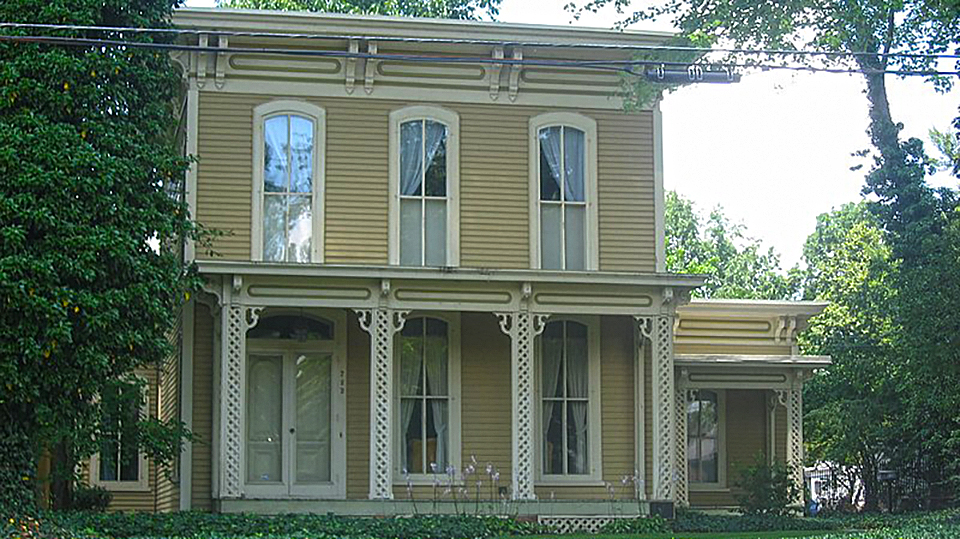 Photo: Eller-Hosford House, circa 1875, located at 722 Lincoln Way East, Mishawaka. Listed on the National Register of Historic Places in 1983. Photographed by User:Nyttend (own work), 2013, [public domain] via Wikimedia Commons, accessed November, 2022.
---
TOWNS
Centre Twp
Georgetown
Granger
Greene Twp
Gulivore Park
Harris Twp
Indian Vlg Town
Lakeville Town
New Carlisle Town
North Liberty Town
Olive Twp
Osceola Town
Penn Twp
Roseland Town
Walkerton Town
HISTORIC SITES
Battell Park Historic District
Beiger House
Chapin Park Historic District
Chapin, Horatio, House
Colonial Gardens Commercial Historic District
Dean Building
Dille-Probst House
Dodge House
East Washington Street Historic District
Egan, Maurice, House
Eller-Hosford House
Ellis-Schindler House
Evergreen Hill
Hager House
Hoban, Martin, House
Holden, Mabel, House
Howard Park Historic District
Judie, James A., House
Kelley-Fredrickson House and Office Building
Lawton, Chauncey N., House
Leeper, Samuel, Jr., House
Merrifield-Cass House
Mishawaka Reservoir Caretaker's Residence
Morey House
Morey-Lampert House
Morningside Club Residence
New Carlisle Historic District
Normain Heights Historic District
Oliver, Joseph D., House
Service, Jeremiah H., House
Singer Manufacturing-South Bend Lathe Co. Historic District
Sommerer House
South Michigan Street Historic District
St. Casimir Parish Historic District
Tippecanoe Place
Wenger, Martin, Farmhouse
Wertz-Bestle Farm
West Washington Historic District
---