Detroit City
City of Detroit executive offices are located at 2 Woodward Drive (Coleman A Young Municipal Center), Detroit MI 48226.
Phone: 313‑224‑3400.
---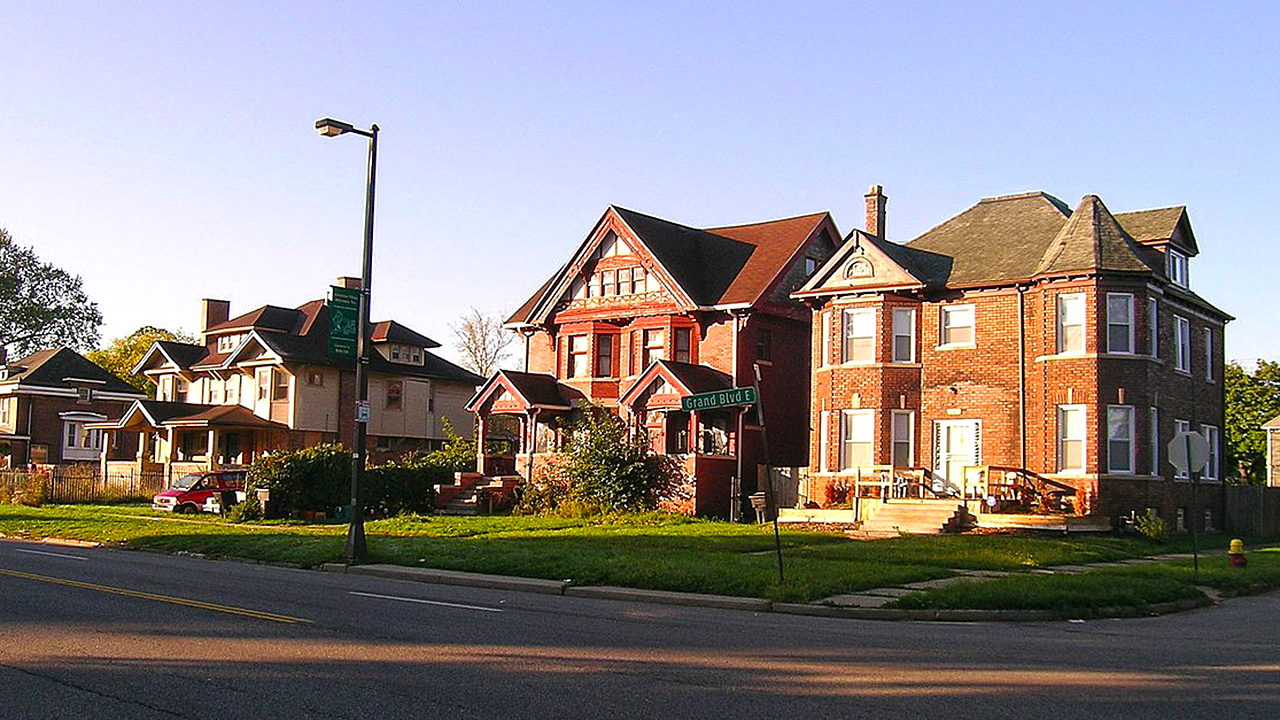 Photo: Homes in the East Grand Avenue Historic District, Detroit, MI. Listed on the National Register of Historic Places in 1999. Photographed by user:Andrew Jameson (own work), 2008, [cc-3.0] via Wikimedia Commons, accessed August, 2021.
---
Beginnings [1]
Detroit was founded by Antoine Laumet De La Mothe Cadillac. He was born March 5, 1658, at St. Nicolas de la Grave, in the Department of Tarn and Garonne, France. The old parish records show that he was baptized when five days old by Rev. Father John Boscus, under the name of Antoine Laumet, and that he was the son of "Jean Laumet, Advocate in the Court, and of Jean Pechagut, married." The date Cadillac's arrival in the New World is unknown. It is said that he had previously served in the army, and he seems to have held the rank of lieutenant when he came. In 1688 he was styled, in official documents, a Knight of the Royal and Military Order of St. Louis. Our history of him in America begins with his marriage at Quebec, on June 25, 1687, to Marie Therese Guyon, a native of that city, daughter of Denis Guyon and Elizabeth Boucher. In 1689 Governor Menneville designated him as a resident of Acadia, and said he had a habitation there; Quebec at that time was within the limits of what was styled Acadia.
Neighborhoods
Abbott
Alden Park
Allendale
Arden Park-East Boston Historic District
Ardmore
Art Center
Atkinson Avenue Historic District
Avalon Heights
Bagley
Beniteaus
Berry Subdivision Historic District
Bewicks
Birch Lawn
Black Bottom
Blackstone
Blackstone Park
Bonaparte Park
Boston-Edison Historic District
Boulevard Park
Boynton
Bradys
Brae Mar
Bricktown Historic District
Briggs
Brightmoor
Brookline
Brush Park Historic District
Burgess
Burleight Park
Cahalans
Canterbury Gardens
Carbon Works
Cass-Davenport Historic District
Castle Rouge
Castleford
Chaldean Town
Churchill Park
College Manor
College Woods
Conant Gardens
Cook Farm
Coopers
Corktown Historic District
Cultural Center Historic District
Cummiskey Park
Curtis Heights
Delameade
Delray
Detroit Towers
Division Estates
Downtown
East English Village
East Ferry Avenue Historic District
East Grand Boulevard Historic District
East Jefferson Residential Historic District
East Kirby Avenue Historic District
East Park Manor
East Pointe
Eastern Heights
Eastern Market Historic District
Eastside Historic Cemetery District
Echlins
Edison Heights
Eight Mile Wyoming
Elmwood Park
Elysia Park
Engel Grove
Farmbrook
Federal Park
Fischers
Fishkorn
Fitzgerald
Fitzpatricks Villas
Five Points
Ford Park
Ford View
Fordham
Forest Park
Foxtown
Franklin Park
Frederick Avenue Historic District
Frischkorns Estates
Frischkorns Highlands
Gallaghers
Gardner Park
Gates Manor
Gitre Park
Glynn Court Gardens
Gold Coast
Grand Circus Park Historic District
Grandmont
Grandys
Gratiot Garden
Greektown Historic District
Green Acres
Green Brier
Greenfield Acres
Greenfield Park
Greenlawn
Greenwich Park
Grixdale
Grosee Pointe
Grosse Pointe Gardens
Grosse Pointe Highlands
Grosse Pointe Manor
Hamford
Happy Homes
Herman Gardens
Howlands
Hubbard Farms Historic District
Hubbard-Richard
Huron Heights
Indian Village Historic District
Islandview
Jefferson Park
Jefferson Village
John Kelly Estates
Kenmoor
Kern Heights
Kingston Heights
Krainz Woods
Lafayette Park
LaSalle College Park
LaSalle Gardens
Laurelhurst
Linwood Heights
Linwood Park
Little Farms
Littlefield
Lodewyck
Long Acres
Longhill
Longridge
Longview
Lovetts
Lower Woodward Avenue Historic District
Madison Park
Madison-Harmonie Historic District
Mannier Park
Maples Park
Marina District
Marseillles Park
Martin Park
Mayfair Park
Mexicantown
Midtown
Mies van der Rohe Residential District
Mohican Heights
Monmoor
Morningside
National Gardens
New Center Area Historic District
North Corktown
North Detroit Homes
North End
North Rosedale Park
Norwood
Nottingham
Oakford
Oakman Boulevard Historic District
Old Redford
Outer Drive Pointe
Palmer Boulevard Estates
Palmer Grove Park
Palmer Highlands
Palmer Park
Palmer Park Apartment Buildings HIstoric District
Palmer Woods Historic District
Paradise Valley
Park Avenue Historic District
Park Manor
Park Terrace
Parkland
Pearson Heights
Peterboro-Charlotte Historic District
Petoskey-Otsego
Pilgrim Village
Pleasant Homes
Plymouth Gardens
Poletown
Presslers
Pulaski Park
Pulcher Estates
Pultes
Ravendale
Redford Gardens
Redford Heights
Regent Park
Richland Park
Ridgemont Manor
Rivard Villas
Riverdale
Riverfront Towers
Riverside Homes
Rivertown
Roland Estates
Rouge Park
Royal Gardens
Ruritan Park
Russell Woods
Santa Maria Park
Scherer Gardens
Schoolcraft Gardens
Schwochow Heights
Seven Mile Cadieux
Seven Oaks
Shady Lawn
Silverman
Southfield Gate
Southwest
Springwells Village
Stotters
Strohs
Sunnyside
Sunset Gardens
Taylors
The Eye
Thomas Park
Town Square
Twin Pines
University District
University Manor
Van Dyke Farm
Van Steuban
Vernor Junction Historic District
Virginia Park Historic District
Visger Heights
Waltham Road Manor
Warren Park
Warren-Prentis Historic District
Warrendale
Warrendale
Washington Boulevard Historic District
Waterworks
Wayne State University Historic District
Weatherby
West Canfield Historic District
West Manor
West Village Historic District
Westlawn
Westwood Park
Willis-Selden Historic District
Woodbridge Farms Historic District
Woodbridge Neighborhood Historic District
Woodward East Historic District
Woodward Park
Yorkshire Woods
In 1802 the "Northwest Territory" laws enabled the incorporation of the "Town of Detroit," vesting the government in a 5-person Board of Supervisors. In 1806 the Territorial laws provided for incorporating the City of Detroit with a Mayor to be appointed by the territorial governor, and a City Council composed of two chambers of three members each, to be publicly elected.
Farmer Silas, History of Detroit and Wayne County and Early Michigan: A Chronological Cyclopedia of the Past and Present, Silas Farmer & Co., Detroit, for Munsell & Company (New York), 1890.
Nearby Towns: Hamtramck City • Highland Park City •
---