Photo: Patterson-Hernandez House, ca. 1899, 404 Main Avenue West, Barnesville, MN. Listed on the National Register of Historic Places in 1980. Photographed by User:Elizabeth A. Armour (own work), 2012, [cc-by-3.0 (creativecommons.org/licenses/by/3.0)], via Wikimedia Commons, accessed April, 2014.
---
The Clay County Courthouse is located at 807 11th Street North, Moorhead, MN 56560; phone: 218‑299‑5002.
---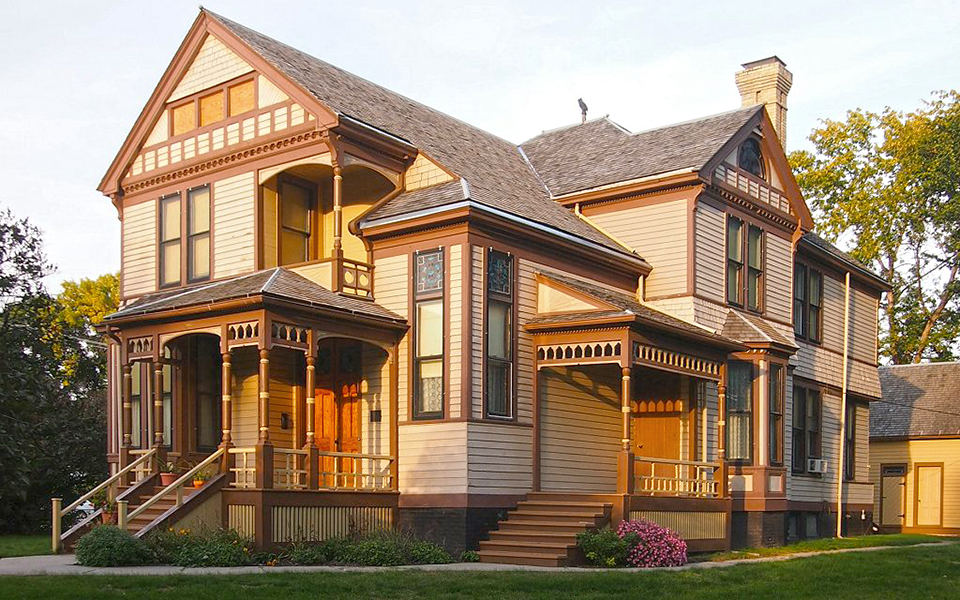 ---
TOWNS
Alliance Twp
Barnesville City
Comstock City
Dilworth City
Eglon Twp
Felton City
Flowing Twp
Georgetown City
Glyndon City
Goose Prairie Twp
Hagen Twp
Hawley City
Highland Grove Twp
Hitterdal City
Holy Cross Twp
Keene Twp
Kragnes Twp
Kurtz Twp
Moland Twp
Oakport
Parke Twp
Sabin City
Skree Twp
Spring Prairie Twp
Tansem Twp
Ulen City
Viding Twp
Established in 1858 the county was named Breckenridge in honor of John C. Breckenridge, U.S. Vice President at the time. Because the county militia joined the Confederate army during the Civil War, the Minnesota Legislature rescinded the name in 1862. The county was re-christened as Clay County in honor of Henry Clay [1777-1852].
HISTORIC SITES
Bergquist, John, House
Bernhardson, Bernard, House
Comstock, Solomon Gilman, House
Huntoon, Lew A., House
Krabbenhoft, Wulf C., Farmstead
Olness, John, House
Patterson-Hernandez House
Probstfield, Randolph M., House
Thompson, Hannah C. and Peter E., House
---