Liberty City
Liberty City administrative offices are located at 101 East Kansas Avenue, Liberty MO 64068.
Phone: 816‑792‑6033.
---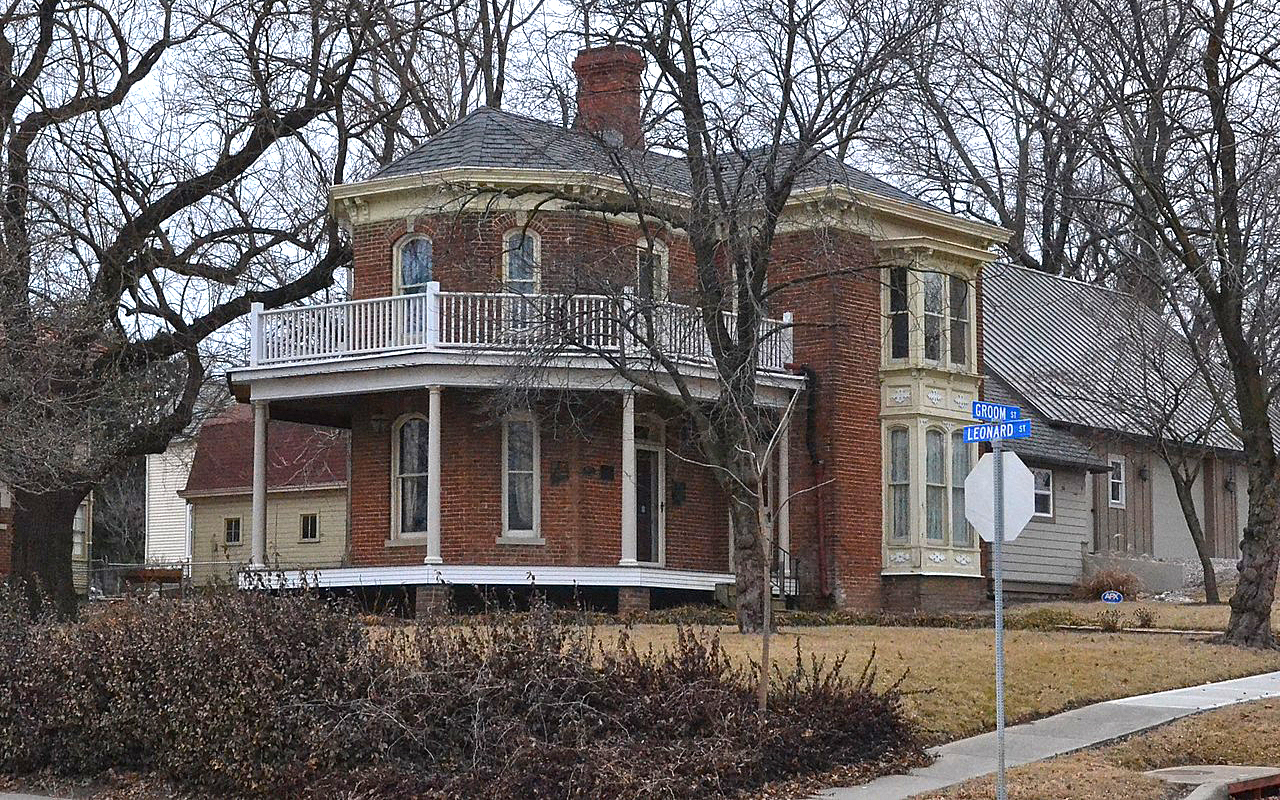 Photo: Clinton House (Belle Mansion), circa 1889, located at 404 South Leonard Street, Liberty, MO. Listed on the National Register of Historic Places in 1978. Photographed by User:25or6to4 (own work), 2018, [cc-4.0], via Wikimedia Commons, accessed September, 2021.
---
Liberty is the second oldest town incorporated (1829) west of the Mississippi. The city is home to William Jewell College, one of the oldest private colleges in the state, founded 1849. Liberty's notable dates include 2/13/1886, believed to be the site of the very first daylight bank robbery (Clay County Savings Bank); legend states the perpetrators were the James-Younger gang.
Neighborhoods
Adkins Addition
Baldwin Place
Barrington Woods
Beck Acres
Bedford Downs
Bent Oaks
Biltmore
Blueberry Hills
Brookview Gardens
Cambridge Estates
Camelot
Canterbury
Clay Brooke
Clay Meadows
Clay Ridge
Claywoods
College Park
Country Hills
Creekwood of Liberty
Dorsey
Duncan Fields
Ellis Estates
Glenaire
Grand Hills
Green Acres
Green Ridge Estates
Greene Hills
Grooms Addition
Hills of Oakwood
Holly Lake Estates
Holt Estates
Hudlemeyer
Huntington Ridge
Liberty Heights
Liberty Manor
Liberty Pointe
Liberty Run
Meadow Lake Estates
Middlemarch
Millen
Minters Addition
Morse Addition
Newton Park
Newton Ridge
North Oak Condominiums
Northpoint
Northwyck
Parkview Meadows
Peters Addition
Petty Addition
Place Liberte
Ravena Gardens
Richfield
Robertson Place
South Country Club
Southland Estates
Sunset Hill Addition
Wade Estates
Waterford Place
Wellington Park
West Liberty
Westboro
Westover Commons
Westwoods
Whispering Pines
White Tail Pond
Whitehall
Whitehall Fields
Wil Mar Estates
Willow Estates
Wilshire Estates
Wilshire Gardens
Wilshire Highlands
Wilsons Addition
Withersfield
Wyckwood Meadows
Liberty, Missouri is the county seat of Clay County, one of thirteen counties comprising the Kansas City metropolitan area. The City is located fifteen miles northeast of downtown Kansas City. Residents enjoy the rural aspects of Clay County and the proximity of cultural and recreational activities of the metropolitan Kansas City area.
For many decades, Liberty was a rural trade center surrounded by farmland and open space. The community enjoyed wide separation from its nearest neighbors and change was slow. Today, Liberty is in the midst of urban expansion in the Northland and its citizens are intent on maintaining Liberty's sense of identity and unique character. — City of Liberty, Comprehensive Plan
Liberty is home to 8 districts that are listed on the National Register of Historic Places: Arthur-Leonard, Clardy Heights, Dougherty-Prospect Heights, Garrison School, Jewell-Lightburn, Odd Fellows Home, South Liberty Courthouse, and West Liberty Courthouse. Additionally, eight individual properties are also listed.
Nearby Towns: River Bend Village •
---