Durham City
Durham City Hall is located at 101 City Hall Plaza, Durham, NC 27701.
Phone: 919‑560‑1200.
---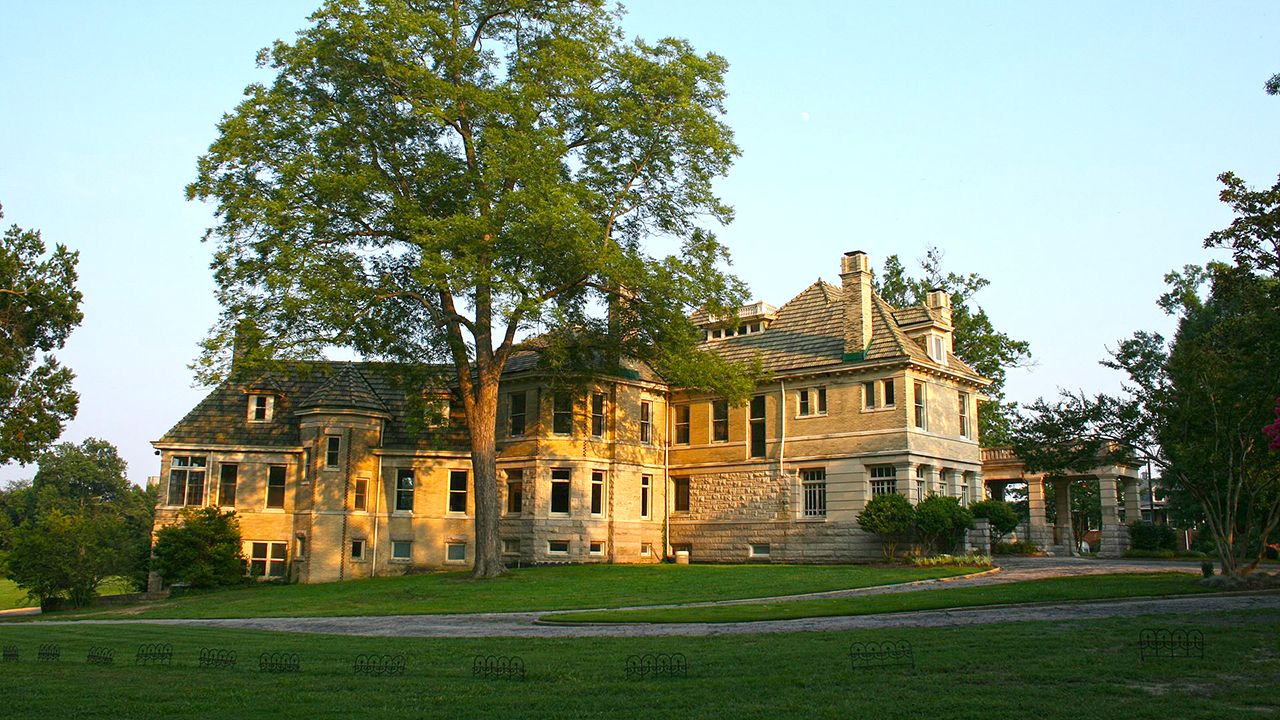 Photo: Greystone Manor, ca. 1910, located at 618 Morehead Avenue, Durham, NC. Listed on the National Register of Historic Places in 1982. Photographed by user:Ildar Sagdejev (own work), 2008, [cc-3.0], via Wikimedia Commons, accessed July, 2021.
---
Beginnings [1]
Durham began as Durhamville Station, a four-acre plot that Dr. Bartlett Snipes Durham sold to the North Carolina Railroad Company in 1852 for a depot along their Goldsboro to Charlotte line then under construction. The following year a post office opened here and in 1854, when the railroad line was completed, the immediate vicinity of the depot started to develop as a market center. By the late 1850s, Durham's collection of simple frame buildings included a two-story tobacco factory, but further development was soon stymied by the Civil War. The community first gained prominence in 1865 when homeward-bound Confederate and Union troops who had pilfered John R. Green's factory warehouse flooded the tobacconist with mail orders for more of his product. Additional factories sprang up near the railroad tracks in central Durham, and by the following decade the town had become the country's foremost tobacco manufacturing center, led by W.T. Blackwell and Company, under the direction of Julian S. Carr, and W. Duke Sons and Company, managed by Washington Duke and his sons, Benjamin Newton Duke and James Buchanan Duke. Between 1870 and 1880, Durham's population grew from 200 to 2,000.
Neighborhoods
Abercromby
Adia Hills
Albright
Alexander Crossing
Alexander Woods
Alston Heights
Amhurst
Argonne Hills
Arrowhead
Ashfield Place
Ashley Forest
Auburn Ridge
Auburn Square
Audubon Park
Autumn Ridge
Barbak Estates
Barbee Heights
Barbee Meadows
Barletts Grove
Bay Pointe
Bay Ridge
Beauregard Heights
Beech Bluff
Beech Hill
Beechwood Heights
Belcrest
Bellingham Estates
Birchwood
Bivins Bend
Black Horse Run
Blackwell Heights
Blenheim Woods
Blue Crest Townhomes
Bluestone Estates
Bonnie Hills
Breckenridge
Brightwood Trails
British Woods
Broad Acres
Brogden Heights
Brookhaven
Buckwater Creek at Fieldstone
Burch Avenue
Cabes Mill at Fieldstone
Cambridge at Wyndcross
Cameron Woods
Campus Hills
Candlewick
Canterbury Estates
Carillon Forest
Carpenter Pointe
Carpenter Woods
Carpenters Ridge
Carramore
Carriage Hill
Cedar Hills
Cedarwood Villas
Chadsford
Chancellors Ridge
Chandler-Breedlove
Chelsea Meadows
Chicopee Hills
Chicopee Trail
Clayton Crossings
Cloisters at Auburn
Cole Mill Townes
Coles Pond
College Heights
Colonial Acres
Colonial Village
Colony at American Village
Colony Hill
Colvard Farms
Copper Creek
Country Club Heights
Crawford Heights
Creeekstone
Creekside
Crest Street
Crestfield
Croasdaile Farm
Crown Point
Crystal Pines
Daniels Farms
Darby Glen
Darby Glen
Deerwood
Devonshire Manor
Dogwood Acres
Dogwood Acres
Dover Ridge
Downing Creek
Downtown
Downtown Durham Historic District
Duke Forest
Duke Homestead
Duke Park
Duke Tower Condos
Dumbarton
Eagles Pointe
East Durham Historic District
Eastern Heights
Ellerbee Creek
Elliswood
Emorywood Estates
Emorywood Orchards
Eno Commons
Eno River
Eno Trace
Fairfield
Falconbridge
Falls Lake
Farrington
Fayetteville Street Historic District
Fern Valley Estates
Fieldstone
Fisher Heights
Five Oaks
Fogleman Hills
Forest at Duke
Forest Brook
Forest Hills Historic District
Forest Oaks
Forest View Heights
Foxwood Manor
Frazier Forest
Ganyard Farm
Garrett Farms
Gatewood Forest
Glen Forest
Glenbrook
Glendale Heights
Glennstone
Golden Belt Historic District
Grandale Forest
Grande Oaks
Grande Park
Green Gardens
Green Mill
Green Ridge
Green Woods
Greenwich Oaks
Greenwood Forest
Greycliff
Greymoss
Grove Park
Hardscrabble Plantation
Harrington Grove Estates
Harrington Pines
Heather Glen
Heritage Heights
Heritage Woods
Hickory Glen
Hickory Ridge
Hidden Hollow
Hillandale Commons
Hillcrest
Hillcroft
Hillside Park
Hollymeade
Holston Meadows
Homeland Heights
Homestead Heights
Hope Creek
Hope Valley Downs
Hope Valley Farms
Hope Valley Forest
Hope Valley Green
Hope Valley Historic District
Hope Valley Townhomes
Horton Hills
Huckleberry Heights
Huntington Ridge
Huskett Acres
Jordan Lake
Keeneland Manor
Kentington Heights
Keystone Crossing
Kingsley Woods
Knollwood
Lake Ridge
Lakehurst
Lakehurst Pointe
Landon Farms
Latta Woods
Laurel Glen
Laurel Ridge
Lawndale Acres
Lebanon Acres
Lincoln Heights
Little Acres
Little River
Lochaven Hills
Lochnora
Long Meadow
Lowes Grove Heights
Lynn Hollow
Lyon Park
Lyons Farm
Madison Glen
Maplewood
Marbrey Landing
Markham Farms
Markham Terrace
Marydell
Marydell Estates
Meadows of Pagehurst
Milan Woods
Milton Forest
Misty Ridge
New Hope Bluffs Townhomes
North Hampton Hills
Northbrook
Northeast Hills
Northern Heights
Northgate Park
Northridge Trace
Northwood Forest
Nottingham Forest
Oak Haven
Oakhurst
Oakridge
Oaks Villaes
Old Farm
Old West Durham
Old West Durham
Park Place
Parkwood
Patterson Glen
Pearl Mill Village Historic District
Penrith
Picketts Crossing
Pinehaven
Pineywood
Placid Valley
Pleasant Green Woods
Popes Crossing
Preston Woods
Providence Ridge
Quail Hollow
Quail Ridge
Ravenstone
Rawdon
Red Mountain
Reveres Run
Riddle Heights
Ridges at Parkwood
River Forest
Riverbend Farm
Rivers Edge
Rockwwod
Rocky Ridge
Rollingwood
Rosebriar
Rosewood
Roxboro Square
Royal Oaks
Royal Troon
San Reba Woods
Sandlewood
Scarsdale
Scotland Manor
Scottish Hills
Settlers Mill
Settlers Point
Shaw Hills
Sherron Hills
Sherwood Forest
Southerland Heights
Southside
Southwood Forest
Spring Valley
Stephens Woods
Stirrup Creek
Stone Hill Estates
Stonehill
Stonewall Village
Stoneybrook
Stratford Glen
Summer Meadows
Summerfield
Sun Ridge
Sunridge Pointe
Surrey Green
Swanns Mill
Taylor Estates
The Hills at Southpoint
The Hills of Rosemont
The Landing at Southpoint
The Oaks at Hope Valley
The Reserve at Southpoint
Timberstone
Treyburn Forest
Treyburn Point
Trinity Heights Historic District
Trinity Lofts
Trinity Park
Trinity Ridge
Trotter Ridge
Turnage Heights
Tuscaloosa
Unity Village
University Estates
Vantage Pointe
Village of Colonial Square
Villages of Cornwallis
Walden Pond
Walltown
Warehouse Condos
Washington Terrace
Waterford
Watts-Hillandale
Wedgedale
Weldon Downs
Weldon Ridge
Wellington Forest
West Durham Historic District
West End
West Gate
West Glen
West Hills
West Point Park
Westfield Village
Weston Downs
Westover
Westwood Estates
Whispering Pines
Whitney Park
Willow Hill
Willowhaven
Windermere Ridge
Windsor Commons
Wood Hollow
Woodberry Forest
Woodbridge Villas
Woodcroft
Woodlake
Woodlake at Candlewood
Woodland Acres
Woodstream Glen
Wyndcross
Wyntercrest
Wynterfield
The city's industrial base began to diversify in the 1880s when businessmen seeking investments for their tobacco profits entered the textile manufacturing business. Carr led the way with the establishment in 1884 of the Durham Cotton Manufacturing Company in East Durham, followed by the Dukes' 1892 founding of Erwin Cotton Mills, Durham Hosiery Mills, and Golden Belt Manufacturing Company. In the meantime, James B. Duke had formed The American Tobacco Company which absorbed all competitors in a monopolistic trust. At the south edge of Durham, the black settlement of Hayti had become a thriving community in its own right, led by John Merrick and Aaron M. Moore, founders of the North Carolina Mutual Insurance Company.
Although no antebellum structures survive in central Durham, a few dwellings built between the turn of the nineteenth century and the 1850s are located in Durham's outlying areas annexed since 1950. In contrast, many notable buildings associated with the city's late nineteenth-century industrial boom remain. W.T. Blackwell & Co.'s 1874 Bull Durham factory, one of the earliest brick tobacco warehouses dating from the 1870s, and approximately one dozen of the enormous elaborately decorated brick storage warehouses and processing buildings constructed by The American Tobacco Company trust are among Durham's numerous early tobacco buildings that survive intact. The conditions of the remaining textile mills and their villages vary: some of the mills and major portions of their villages are little altered, while other complexes have been drastically changed by deterioration or the loss of all or most of their factories and/or houses. In addition to the mill villages, surviving late 19th-century residential development includes the remnants of the earliest neighborhoods just east and west of the Central Business District, and scattered houses beyond that pre-date the neighborhoods now surrounding them.
20th-century growth and prosperity are represented by an impressive collection of commercial and institutional buildings in the Central Business District and by more than a dozen streetcar and automobile suburbs whose houses range from small and plain dwellings built for laborer rental to fashionable late Queen Anne and period revival style houses, bungalows and period houses. Many of the architecturally distinctive churches built by Durham's early congregations are notably intact, including two from the late 19th-century and several from the early twentieth.
Claudia Roberts Brown, Consultant for the City of Durham, Historic Resources of Durham, nomination document, 1984, National Park Service, National Register of Historic Places, Washington, D.C.
Nearby Towns: Roswell City •
---