Monroe County administrative offices are located at 39 West Main St., Rochester NY 14614; phone: 585‑428‑5301.
---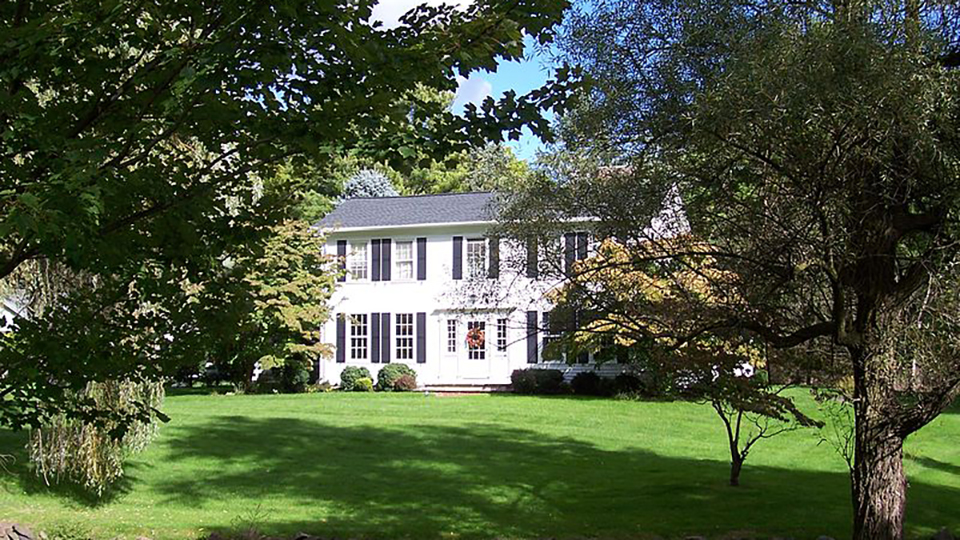 Photo: Horace and Grace Bush House, circa 1821, located at 1932 Five Mile Line Rd., Penfield, NY. Listed on the National Register of Historic Places in 1994. Photographed by User:DanielPenfield (own work), 2012, [cc-3.0], via Wikimedia Commons, accessed November, 2021.
---
TOWNS
Hilton Vlg
Irondequoit Town
Riga Town
Rush Town
Sweden Town
Beginnings [1]
After numerous petitions to the legislature covering a period of five years, the county of Monroe, comprising 14 towns taken from the counties of Ontario and Genesee, became a political subdivision of the state on February 23, 1821. Rochester was designated as the county seat and immediately plans were made for the erection of a courthouse. On March 7, 1821, James Seymour was appointed sheriff of the newly created county by Governor De Witt Clinton. At that time it was stipulated that all prisoners of record were to be confined in the Ontario County jail at Canandaigua until suitable facilities for the care of prisoners were erected in Rochester.
The first meeting of the board of supervisors was held on May 2, 1821, at which time the site of the courthouse was selected, the land donated by Rochester, Carroll, and Fitzhugh. In 1821 Colonel Nathaniel Rochester was elected to the Assembly of New York, and the representation of Monroe County was recognized as an ordained function of the state government.
The government of Monroe County followed the general trend of other New York State counties until the enactment of the Buckley Law, which became effective May 16, 1935. Under this law optional forms of county government were provided. In a referendum on November 5, 1935, the voters of Monroe County chose the county manager form, which became effective January 1, 1936.
Under this form of county government, the board of supervisors is the policy-determining body and is vested with all the powers of the county. The county manager is appointed by the board of supervisors as the administrative head of the county government; he has supervision over all its departments except as the law otherwise provides, and devotes his full time to his duties. He is accountable to the board of supervisors for collection of taxes and other revenues of the county; for the custody and accounting of all public funds; for the care of the poor and other charitable, correctional, and public welfare activities; and for any or all matters of property and business in connection with the administration of school districts and other governmental units within the county, which shall be delegated to him with the approval of the board of supervisors. In general, he handles the entire administrative details of the county government according to the law and under the direction of the board of supervisors.
Federal Writers' Project, Works Progress Administration, State of New York, Rochester and Monroe County: A History and Guide, 1937, Scrantom's, Rochester NY
HISTORIC SITES
Adams-Ryan House
Adsit Cobblestone Farmhouse
Anthony, Susan B., House
Blackwell, Antoinette Louisa Brown, Childhood Home
Bridge Square Historic District
Brown's Race Historic District
Brown, Adam, Block
Browncroft Historic District
Building at 551-555 North Goodman Street
Bush, Horace and Grace, House
Campbell-Whittlesey House
Chase Cobblestone Farmhouse
Child, Jonathan, House & Brewster-Burke House Historic District
Chili Mills Conservation Area
City Hall Historic District
Clarkson Corners Historic District
Cole Cobblestone Farmhouse
Covert, William, Cobblestone Farmhouse
Cox, Isaac, Cobblestone Farmstead
Curtis-Crumb Farm
DeLand, Henry, House
East Avenue Historic District
Eastman Historic District
Eastman, George, House
Ely, Hervey, House
Fernwood Park Historic District
Grove Place Historic District
Hagaman, David, House
Hildreth-Lord-Hawley Farm
Hinchey, Franklin, House
Hipp-Kennedy House
Honeoye Falls Village Historic District
Hopkins Farm
House at 235-237 Reynolds Street
Jayne, William C., House
Lomb, Adolph, House
Madison Square-West Main Street Historic District
Main Street Historic District
Maplewood Historic District
Mason, George G., House
McVean, David, House
Morgan-Manning House
Mt. Hope-Highland Historic District
Mud House
Nazareth House
Penfield Road Historic District
Phelps, Stephen, House
Pittsford Village Historic District
Ramona Park Historic District
Rich, Samuel, House
Rochester Street Historic District
Sheldon Cobblestone House
Shingleside
Shirts, William, House
Sibley, Hiram, Homestead
Spring House
State Street Historic District
Stewart Cobblestone Farmhouse
Stone-Tolan House
Third Ward Historic District
Tinker Cobblestone Farmstead
Vanderbeck House
Wallace, Timothy, House
Washington Street Rowhouses
Watts, Ebenezer, House
Webster Baptist Church
Whalen, Harvey, House
Whitcomb Cobblestone Farmhouse
Wilbur House
Youngs, Thomas, House
---