Franklin County, Ohio
---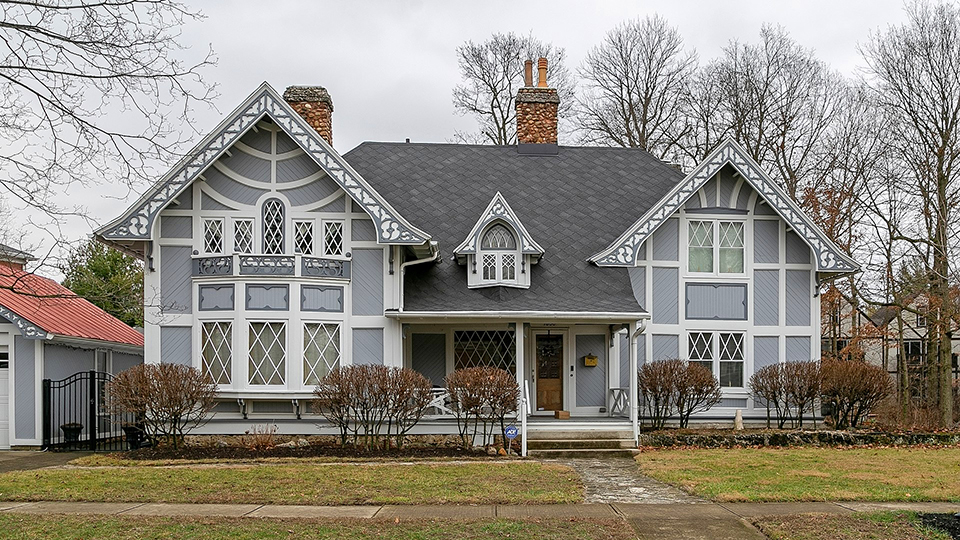 Photo: J.F. Miller House, ca. 1895, located at 1600 Roxbury Road, Marble Cliff neighborhood, Columbus. Listed on the National Register of Historic Places in 1978. Photographed by User:wikipedia - Christopher L. Riley (own work), 1984, [cc 4.0], via Wikimedia Commons, accessed March, 2023.
---
TOWNS
Bexley City
Blendon Twp
Brice Vlg
Brown Twp
Clinton Twp
Franklin Twp
Gahanna City
Groveport Vlg
Hamilton Twp
Harrisburg Vlg
Jefferson Twp
Lockbourne Vlg
Madison Twp
Marion Twp
Mifflin Twp
Minerva Park Vlg
Norwich Twp
Obetz Vlg
Perry Twp
Plain Twp
Pleasant Twp
Prairie Twp
Riverlea Vlg
Sharon Twp
Truro Twp
Upper Arlington City
Urbancrest Vlg
Valleyview Vlg
Washington Twp
Whitehall City
The Franklin County Courthouse is located at 373 South High Street, Columbus OH 43215; phone: 614-462-3322.
Franklin County, named for Benjamin Franklin, was created in 1803 from Ross County. Home to Columbus, State Capitol of Ohio and the Franklin County Seat.
HISTORIC SITES
Adams, Demas, House
Agler-La Follette House
Alkire House
Arendt-Seymour House
Artz House
Barnhardt-Bolenbaugh House
Beery, Dr. L. W., House
Berry, Richard Jr., House
Boles, E., Cottage
Brand, Asher, Residence
Brelsford-Seese House
Broad Street Apartments
Bruns-Wynkoop House
Butler, J.G., House
Buttles-Johnson House
Buttles, Aurora, House
Cambridge Arms
Capital University Historic District
Carty, J.-R. J. Tussing House
Chapman-Hutchinson House
Coe, Truman and Sylvia Bull, House
Coffman, Fletcher, House
Columbus Near East Side District
Columbus Street Historic District
Datz, Walter, House
Davis, Alexander, Cabin
Davis, Alexander, House
Davis, Anson, House
Davis, James, Farm
Davis, Samuel Henry, House
Davis, Samuel, House
Decker, Elias, Farmhouse
Deitz, Samuel, Farmhouse
Drake, Elam, House
Dublin High Street Historic District
Dun, John, Homestead
East Broad Street Historic District
East Gay Street Commercial Historic District
East Town Street Historic District
Epley, Henry J., House
Evans, Richard W., House
Fifth Avenue and North High Historic District
Foor-Alspach House
Franklinton Apartments at Broad and Hawkes
Franklinton Apartments at State and May
Frantz House
Gantz Homestead
Gardner House
Garfield-Broad Apartments
Gayman, Christian, House
Gelpi, Eleanor A., House
German Village
Gilbert House
Gilbert-Wilcox House
Glen Echo Historic District
Grant, A. G., Homestead
Griffith, James, House
Groveport Log Houses
Haffey, Parley, Farm Complex
Hamilton Park Historic District
Hamilton, Gilbert H., House
Hamilton, J. L., Residence
Hanby, Benjamin, House
Hanna House
Hart, Gideon, House
Hart, Lucy, House
Hartman Stock Farm Historic District
Helpman-Chaney House
Herr, Christian S., House
Heyne-Zimmerman House
Hickok, Frank, House
Holy Cross Church, Rectory and School
Hotel Central
House at 753 East Broad Street
Huntington, Franz, House
Iuka Ravine Historic District
Jacobs, Felix A., House
Jefferson Avenue Historic District
Jeffrey, Malcolm, House
Johnson-Campbell House
Jones, W. H., Mansion
Joseph-Cherrington House
Kahiki, The
Karrer, Henry, House
Kauffman, Linus B., House
Kaufman, Frank J., House
Kilbourn, William, House
King, William, House
Krumm House
Landes, Samuel, House
Lehman, Abraham, Farmhouse
Leppert, C., Cabin
Leppert, C., Farm
Levy, Soloman, House
Livingston, Alexander W., House
Lovejoy, Carrie, House
Marshall, David, House
Mattoon-Woodrow House
McCracken-Sells House
McDannald Homestead
McDowell, Austin, House
McKitrick, Dr., House
Merryman, Dr. James, House
Methodist Church Parsonage
Miller, Frederick A., House-Broad Gables
Miller, J.F., House
Mitchell, Charles, House
Moore, Jacob, House
Morris, C. E., House
Myer House
Nafzger-Miller House
Near Northside Historic District
New Indianola Historic District
Noble, Jonathan, House
Noble, Lewis, House
North High Street Historic District
North Market Historic District
Old Beechwold Historic District
Old Governor's Mansion
Old North End Historic District
Osborn, Charles S., House
Park, Jonathan, House
Pierce, Elijah, Properties
Pinney Road Log Cabin
Pinney, Dr. Eli, House
Prentiss-Tulford House
Prentiss, Frederick, House
Presbyterian Parsonage
Principal's Cottage
Rager, John, Farmhouse
Rickenbacker, Capt. Edward V., House
Riley, F., House
Rings, Louis, Residence
Ripley House
Rush Creek Village Historic District
Russell, Mark, House
Schlee Brewery Historic District
Schueller, Erwin W., House
Scofield-Sanor House
Second Presbyterian Church
Sells, Benjamin, House
Sells, Eliud, House
Sells, William Henry, House
Sessions Village
Sharp-Page House
Shedd-Dunn House
Shier, Carl H., House
Short North Historic District
Skeele, Capt. J. S., House
Smith, Benjamin, House
Snow, John, House
Squire's Glen Farm
Stoddart Block
Sullivant, Lucas, Building
Temperance Row Historic District
Thompson-Builder House
Thrush, Morgan, Farm Complex
Thurber, James, House
Upper Arlington Historic District
Washburn, Rev. Ebenezer, House
Weber, Peter, House
West Mound Street Historic District
Whitmer, Frieda, House
Wilcox, Jacob, Farm
Wilcox, James, House
Winterringer Building and House
Wright, Horace, House
Wright, J.E. Farm
Wright, Potter, House
Zellers-Langel House
---