Columbus City
Columbus City Hall is located at 90 West Broad Street, Columbus OH 43215.
Phone: 614‑645‑7671.
---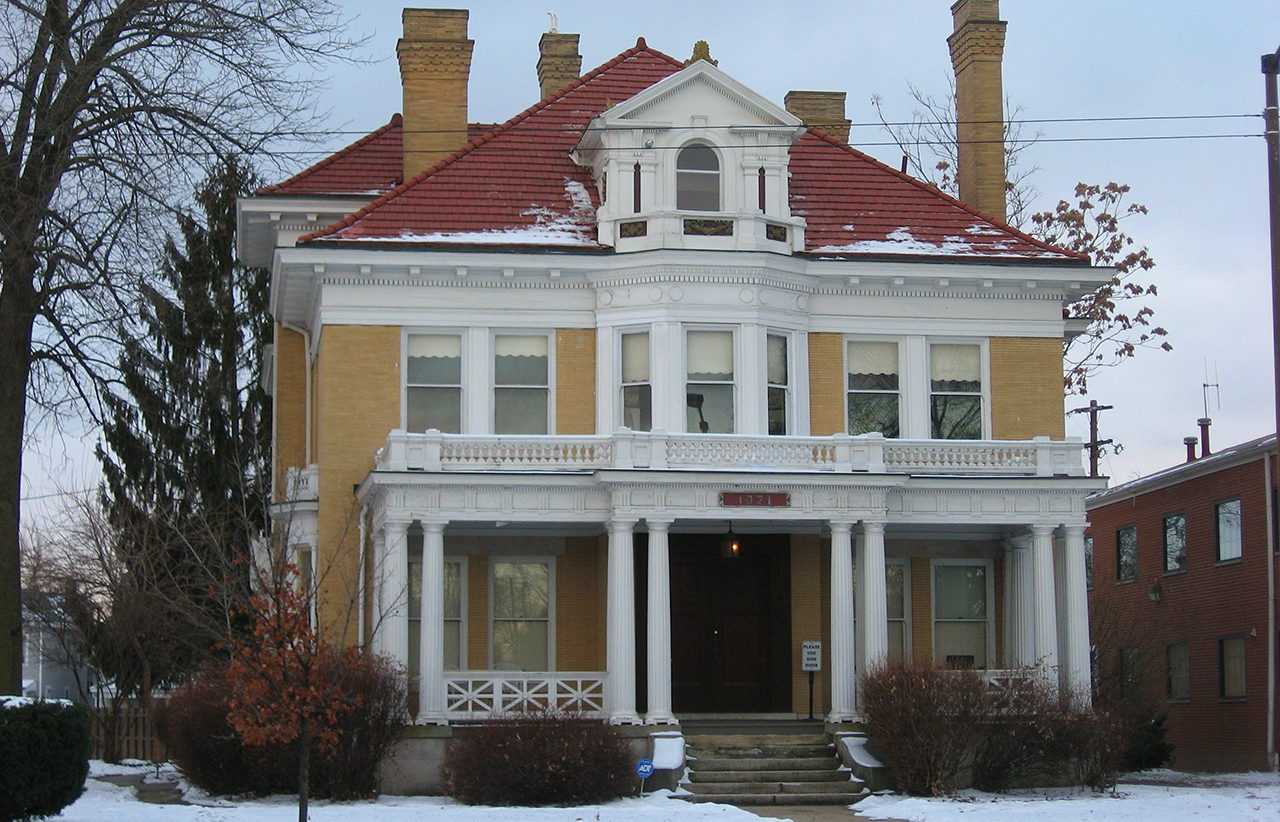 Photo: Hanna House, circa 1900, located at 1021 East Broad Street (Route 40), Columbus, OH. Listed on the National Register of Historic Places in 1973. Photographed by User:Nyttend (own work), 2010, [cc-1.0], via Wikimedia Commons, accessed August, 2021.
---
Beginnings [1]
Laid out in 1797, Franklinton was one of the first villages in the Northwest Territory and the oldest community in central Ohio. It was founded by Lucas Sullivant, a surveyor assigned by the U.S. Government to survey the northern portion of the Virginia Military District. The location of Franklinton was quite strategic. It was located at the fork of two major waterways, as well as at a major stopover point on an Indian trail to Lake Erie from the Ohio River. In fact, several Indian settlements existed as late as the early 1700s in the area that would become Columbus.
Neighborhoods
8 on the Square
Acropolis Condo
Alamda
Albany Club Condominiums
Albany Park
Amberfield
Andover
Andover Estates
Andrews
Appleway East Condos
Ardmore
Arena District
Arlington Pointe
Arlingtowne
Asbury Manor
Asbury Ridge
Asherton Woods
Asheville Commons
Ashland Manor
Ashton Point
Auburndale
Augustine Condominium
Avondale
Barnett Heights
Beaumont
Beck Place
Bedford Place
Beechcroft Condominiums
Beechwold
Bellaire
Belmont
Bernhard Addition
Berwick
Berwick Manor
Berwick Manor
Berwin
Bethel Colony
Bethel Commons
Bethel Park
Bethel Woods
Bexley Annex
Bexley Haven
Bexley View Acres
Bidlemans
Blacklick Estates
Blendon Estates
Blendon Grove
Blendon Park Condominiums
Blendon Reserve
Bolingbrook Heights
Bonnie Ridge Heights
Bradenton Meadows
Brady Commons Condominiums
Brandy Oaks
Brandywine Meadows
Brentwood Condos
Brentwood Estates
Brewers Gate
Brewery District
Briggsdale
Brittany Hills
Brittany Oaks
Brittany Place
Broadlawn
Broadleigh
Broadview Farms
Broadview Mews
Bronx
Bronzeville
Brookhollow
Brookshire
Brookside Colony
Brookside Estates
Brookside Woods
Bruck Place
Brunson Place Condos
Brunswick Estates
Bryn Mawr
Buckingham Heights
Buggyworks
Buggyworks Lofts
Burleigh Gardens
Burnham Square
Burnside Heights
Camp Chase Heights
Canterbury
Capoccio
Carlyle Estates
Carlyles Watch
Carnegie Cove
Carriage Hill Condos
Carver
Carylyle Estates
Chapel Hill
Charleston Place
Chase Condominiums
Chaseland Manor
Chateau Morse
Chatterton Commons
Chatterton Gardens
Chelsea Place
Cherry Bottom
Cherry Creek
Cherry Creek
Cherrybottom Village
Chesapeake Farms
Cheshire Commons
Chesterfield Estates
Chestnut Hill
Chillowick
Christopher Woods
Chrisview Heights
Cimmaron
Clairmont
Clarridge House
Clearview Meadows
Cleveland Heights
Clevemont
Clifton Addition
Clinton Estates
Clinton Heights
College Park
Collingwood Pointe
Colony Hill
Como Heights
Concord Village
Condominiums at Lane Woods
Cooper Bluffs
Cooperwoods Condominiums
Coppertree
Copperwoods
Cortona Woods
Cottage Place
Courthouse Condominiums
Courtyards at Harrison West
Coventry Condos
Cranford
Creek Ridge
Creekstone
Creekview
Creekwood Village
Crescent Heights
Crestview
Crestwood Estates
Crosspointe
Crown Ridge
Cumberland Ridge
Darby Pointe
Deer Creek
Deer Run
Delhi Village
Demorest
Discovery District
Dover Heights
Downtown
Dresden Manor
Driving Park
Dublin Green Condominiums
Dunbar
Dunbar Terrace
Dunsworth Village
East Bank
East Broad Street Historic District
East Cleft
East Gate
East Grove
East Hampton
East Linden
Eastgate
Easthampton
Eastland
Eastminister
Eastmoor
Eastmoor North
Eastmoor South
Eastvale
Eastview Estates
Eastwood Heights
Eastwood Villas
Echange Urban Lofts
Eclextion Lofts
Edgemont Gardens
Edgewood
Edgewood Acres
Edinborough Commons
Elaine Heights
Elmore
Enchanted Acres
Essmoor Heights
Fairday
Fairview Estates
Fairway Links
Fairway Oaks
Fall Creek Condos
Felton
Fenway Pines
Firstone Lofts at The Buggyworks
Flytown
Folkestone Condos
Forest Park East
Forest Grove
Forest Hills
Forest Park
Founders Ridge
Foxboro
Foxcroft
Foxfire
Foxwood
Framingham
Francisco Glen
Franklin Park
Franklin Park Condominiums
Franklinton
Gables East
Gables South
Gables West
Gahanna Grove
Gahanna Heights
Garden Heights
Georgesville Green
Georgian Heights
German Village
Glen View Heights
Glenbrook
Glenbrook Estates
Glenbrook Green
Glencoe
Glenford Village Condominiums
Glenola Heights
Glenwood Heights
Golfview Woods
Gramercy Place
Grandview
Granville Manor
Grasmere Gardens
Great North Woods
Greenbrier Farms
Greenfield Estates
Greenview Estates
Greystone Manor
Greystone Village
Grogan
Guilford Park
Guilford Place
Haley Hollow
Hall Ridge Estates
Halloway
Hallridge Estates
Hamilton Heights
Hamilton Highlands
Hamilton Lakes
Hamilton Park Place
Hamilton Terrace
Hampton Court
Hanford Village George Washington Carver Addition Historic District
Hardesty Heights
Hardesty Heights
Hardesty Village
Harrison West
Hartford Village
Hartman Loft Condominiums
Hartman Lofts
Haviland
Hawthorne Lakes
Hayden Falls Heights
Haydens Reserve
Hearthstone
Heatherbrook
Hedgemon Crest
Heffner Heights
Heights of Grandview
Helemon Crest
Hendereed
Hidden Acres
Hidden Acres Court Condominiums
Hidden Cove
Hidden Hollow Estates
Hidden Lake
Highland Gardens
Highland Park
Highpoint Glen
Highway Park
Hildreth
Hillcrest
Hillgate
Hilliard Green
Hilliard Meadows
Hilltonia
Hilltop
Holly Hill
Holt Run
Home Acres
Homecroft
Homestead Heights
Hudson Manor
Hungarian Village
Hunters Ridge
Hyde Park
Ibiza
Idlewild Manor
Indian Hills
Indian Hollow
Indian Springs
Indianola Forest
Indianola Terrace
Innis Crest
Innis Gardens
Ira Seeley
Irish Hills
Ironwood
Italian Village
Jaegar Manor
Jamison
Joan Heights
Kar-Mel
Karch
Karl Meadows
Katherines Wood
Kempton Run
Kendale
Kenlawn Park
Kenmore Knolls
Kensington Glen
Kensington Woods
Key Square
Kilbourne Woods
Kimberly Villas
King
Kingston Crossing
Kipling Forest
Kleins
Knolls
Lakes at Bethel Park
Lakes at Polaris
Lakewood
Langford Meadows
Laurel Canyon
Laurel Ridge
Laurelwood Condominums
Lea-Wood Gardens
Lenox
Lexington
Limestone Pointe
Lincoln
Lincoln Village
Lincolnshire
Lindale
Linden
Linden Gardens
Linden View
Lindsey Woods
Linen Place
Linke
Linmoor
Linworth Woods
Little Farms
Liv-Moor Heights
Livingston Gardens
Livmoor Heights
Louis Heights
Lowenstein
Maclaughlin Place
Maize
Maize Manor
Maize Meadows
Marble Cliff Crossing
Marburn
Margate Village
Mariemont Village
Marion Park
Marion Village
Mason Village
Mcallister Crossing
McCutcheon Crossing
McCutcheon Meadows
McCutcheon Place
McDannald Estates
McDowell Estates
Mckitrick Estates
Mcnaughten Commons
Mcnaughten Grove
Mcnaughten Place
Mcnaughten Village
Mcnaugten Glen
Mcneil Farms
Meadow Crest
Meadowdale
Meadowlands
Melrose Manor
Merion Village
Metal Works
Millcreek Commons
Millington
Milo
Minerva Park
Misty Meadows
Monterey
Morrison Park
Morse
Morse Road Manor
Mountview Place
Murphys Pond
Neff
Nelson
New Albany Park
New City
New Linden
Newtown Commons
Norlea Park
Normandy Square
North Fourth Condominiums
North Glen
North Grandview
North Lawn
North Linden
Northbridge Village
Northcrest
Northern Estates
Northgate
Northland
Northland Park
Northland Senior Village
Northmoor
Northridge Manor
Northview Estates
Northwood Park
Norton Crossing
Nottingham
Oak Creek
Oak Park
Oakland Park
Oakridge Meadows
Oakwood
Ohio Lofts
Ohio Lofts
Old Beechwold
Old North
Old Orchard
Old Woods Farm
Olde Beechwold
Olde Orchard
Olde Towne Commons
Olde Towne East
Oldstone Crossing
Olentangy
Olentangy Condominiums
Olentangy Olde Towne
Olentangy Woods
Opportunity Farms
Orchard Knoll
Orchard Park
Orchard View
Osborn Place
Park Place Condos
Park Row
Park Towers
Parkridge Commons
Parkridge Village
Parkshire Commons
Peppertree
Pine Hills
Pinecrest
Pinewood Colony
Pipers Glen
Pipers Meadow
Plantation Lakes
Plymouth Place
Polo Club Villas
Ponderosa
Pontiac Park
Prescott Place
Preserve at Albany Woods
Preserve at Winchester Crossing
Prestwick Commons
Prestwick Green
Qualstan
Qualston East
Quarry Pointe
Queenswood
Radcliff
Rainbow
Rainier Lake Condominium
Ramble Wood
Rathburn Woods
Ravenwood
Ravines at Deercreek
Ravines at Flint Park
Ravines at Mcnaughten
Ravines at Parkwick
Ravines at Strawberry Farms
Red Fox Meadows
Reeb Estates
Reedbury
Remington Ridge
Renaissance Village
Reserve at Linworth
Reserve at McNaughten
Residences at Scioto Condominiums
Rhoads Place
Rich Street Lofts
Rich Street Walk
Rittenhouse Square
River Bend
River Place
River Ridge
Riverlea
Rivers Gate
Riverside Forest
Riverview Circle
Robinwood
Rockford Hills
Rockwood
Rocky Creek
Rome Manor
Rose Run
Rosemary
Royal Manor
Saddlebrook
Salem Village
Sanctuary
Sandy Brook
Savannah Estates
Saxon Place
Schiller Park
Schlee Malt House Condo
Scholl Place
Schumacher Place
Scioto Pointe
Scioto Station
Scioto Trace
Scioto Village
Scioto Woods
Scottwood
Seagrave
Seneca Pines
Seneca Woods
Seven Oaks
Seville Condominiums
Shadow Lakes
Shady Hill Estatez\S
Shady Lane
Shady Lane Park
Shannonbrook
Sharon Heights
Sharon Hill
Sharon Woods
Shelbourne Heights
Shenandoah Commons
Sherman Oak Condominiums
Sherwood Colony
Shoemaker
Short North
Silverbrook
Sixty Spring Condominiums
Slate Run
Smith Farms
Smoky Row Manor
Smythe Farms
Somerset Square
South Berwick
South Bexley
South Campus
South Eastmoore
South End
Southern Pines
Southfield
Southside Terrace
Spangler Farms
Sprucefield Condos
Steeplechase Gardens
Sterling Lofts
Stilson Bluffs
Stilson Highlands
Stonebridge Crossing
Stonebrooke
Stonewyck Manor
Stratford Place
Strathmore Square Condos
Strawberry Farms
Strawberry Fields
Sullivant Heights
Summerlyn
Summerwood
Summit Chase
Sunbury Heights
Sunbury Lake
Sunnyside
Surrey Hills
Sutton Place
Swaynes Addition
Swaynes Corners
Sycamore Hills
Tamarack
Tanager Woods
Tarrington Woods
Teutonia
The Exchange Lofts
The Keep
The Knolls
The Landings
The Lofts at 106
The Mansions
The Metropolitan
The Millington
The Sanctuary
The York on High
Thunderbird Acres
Timberbrook Woods
Timbers Edge
Tower Estates
Townhomes at Hilliard Run
Tr-Village
Trabue Woods
Traditions at Creekview
Traditions at Highbluffs
Traditions at Walker Park
Tremont Gardens
Trotters Chase
Trouville
Truro Estates
University City
University District
University View
Upper Arlington
Valley Green Condos
Valleyview
Vassor Village
Victorian Gate
Victorian Gate Condominiums
Victorian Village
Village at Courtright Square
Village at Eastern Glen
Village at Hayden Run
Village at Haydens Crossing
Village at Hilliard Green
Village at Sterling Pines
Village at Williams Creek
Village at Willow Brook
Village at Worthington Crossing
Village Greene
Villages at Polaris Green
Villages at Worthington Crossing
Villas at Broadmere
Villas at Holt Run
Villas of Slate Run
Wakefield Forest
Waldemere
Walden Ravines
Walden Village
Wall Street Condos
Walltham Woods
Walnut Bluff
Walnut Cliffs
Walnut Creek
Walnut Green
Walnut Hill
Walnut Springs
Waltham Place
Waltham Woods
Waterford Park
Waverly Terrace Historic District
Weinland Park
Weldon Park
Wellington Glen
Wellington Woods
Weracoba-St Elmo Historic District
Westbrook
Westbury
Western Estates
Westerville Woods
Westgate
Westgate
Westland
Westmeadow
Westshire Estates
Westwood
Westwood Heights
Westworth
Wetmore
Wexford Green
Whitehall Manor
Whitney Woods
Whittier Gardens
Wicklow
Wildwood Circle Historic District
Williams Creek
Willis Park
Willowick
Willows at Preserve Crossing
Wilshire Heights
Wilson Glen
Winchester
Windgate Village
Winding Creek
Winding Hills
Windsor Place
Windward Trace
Wingate Village
Wingets
Wishing Well Acres
Woodbridge Condos
Woodbrook Village
Woodgate Condos
Woodglen
Woodland Park
Woodrun
Woods at Cumberland
Woods at Josephinum
Woods at Polaris
Woods at Shagbark
Woodside Green
Woodstream
Woodward Park
Worthington Forest
Worthington Glen
Worthington Green
Worthington Heights
Worthington Hills
Worthington Run
Worthington Woods
Worthingview
Wyndham Ridge
Wynns Hill-Overlook Historic District
Wynton Village Historic District
Yorkshire Village
Young Estates
Yukon Lofts
In 1812, a group of Franklinton businessmen subdivided 1,200 acres east of the Scioto River and offered 20 acres to the state of Ohio for construction of a statehouse and penitentiary. Joel Wright was selected as architect of the new town. With assistance from Joseph Vance of Franklin County, he laid out a town reflective of his New England background. The city was named Columbus at the suggestion of General Joseph Foos, in honor of Christopher Columbus.
After 22 years of floods, epidemics, and a dispute over the city's designation as state capital, Columbus became a city in 1834. Canals joined the city to Lake Erie and the Ohio River, while stagecoaches provided land transportation to the rest of the state. As late as 1860, Columbus was still confined to a compact area not much larger than today's downtown.
Construction of the railroads changed the shape of the city. By the 1880s, Columbus had grown from two to more than 11 square miles and housed over 50,000 people. While industry prospered downtown, working-class neighborhoods were established in German Village, Franklinton, the Near North, and the Near East. Watercourses helped shape the city's emerging form. The city's development pattern began to extend outward along north-south and east-west rail lines. Streetcar lines and inter-urban electric rail lines reinforced this pattern, by allowing people to live further from the core of the city. In 1904, an 18-member commission was created to address the need for a citywide park system. Two years later, at the urging of this commission, City Council authorized the expenditure of $5,000 for the employment of experts to study how streets, alleys, boulevards, parks, and public grounds might be extended or changed to make the city more beautiful. In 1907, a Plan Commission composed of an architect, landscape architect, and sculptor from New York City, a civic advisor from Rochester, New York, and an architect from Philadelphia, was formed. Within a year, the group had prepared the first known plan for the city.
The 1908 Plan was a response to two mounting concerns. The first was what the Plan described as "the unromantic practical necessities of a rapidly growing and prosperous manufacturing city" — water supply and wastewater collection and disposal. The second was the city's "humiliating position" relative to other cities in its consideration of parks, parkways, and playgrounds. In both cases, the underlying goal was to secure Columbus' position as one of the nation's great cities and to establish a civic environment that recognized its function as Ohio's governmental and education center.
The Plan Commission recommended that the State Capitol be surrounded by a civic center of great public buildings and open spaces. A parkway was to encircle the city three miles from its center. Diagonal streets would radiate from the parkway, breaking what the plan called the "Maltese Cross" development pattern along the railroads. The streets of Columbus would be adorned by monuments, sculpture, and street furniture, and would be rid of overhead utility poles and wires. Small parks and playgrounds were called for in the neighborhoods, while linear parks were to be developed along the Olentangy and Scioto Rivers. Some of the recommendations of that Plan have left their mark on current city form, most notably the open space system along the Olentangy River.
A 1919 River Front Plan provided more specific detail for downtown river front improvements. It is likely that this plan and its recommendations were influenced greatly by the destruction caused during the disastrous 1913 flood. Plans for the civic center were not fully realized and most of the land surrounding the capitol was developed privately. The advent of the automobile sparked such urban expansion that the perimeter parkway and diagonal boulevards were never built as intended. Years later, an auto-oriented version of the same concept would emerge, with the city encircled instead by two circumferential freeways and radial interstate highways.
City of Columbus, Columbus Comprehensive Plan, 1993.
---