Wyoming City
Wyoming City Hall is located at 800 Oak Avenue, Wyoming, OH 45215.
Phone: 513‑821‑7600.
---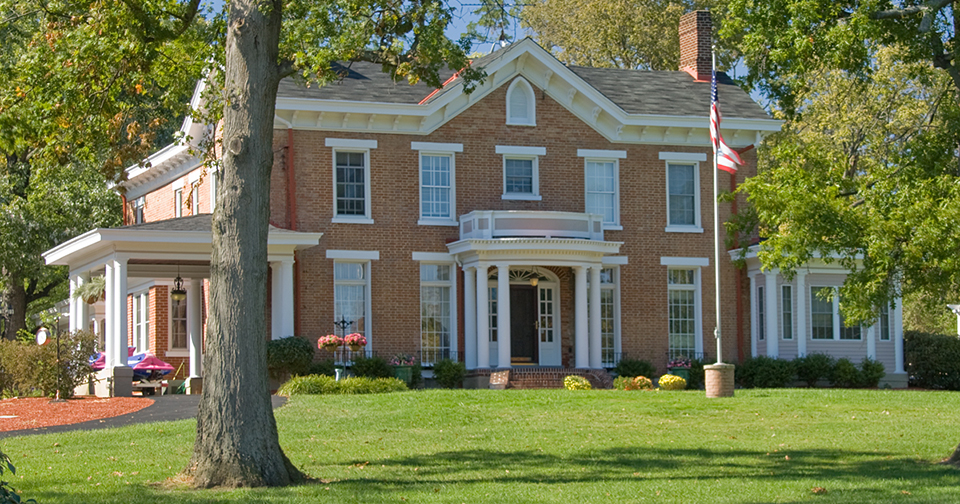 Photo: Riddle Friend house, circa 1832, located at 507 Springfield Pike, Wyoming. It was listed on the National Register of Historic Places in 1986. Photo by wikipedia username: Greg Hume, 2008, [cc-3.0]; commons.wikimedia.org, accessed October, 2022.
---
Neighborhoods
Bruzina Trail
Cheyenne Hills
Compton Knoll
Fleming House
Hidden Valley
Holman Heights
Reily Road Condominiums
Rolling Hills
Wilsons
Wyoming Glen
Wyoming Woods
The City of Wyoming was incorporated in 1874.
Beginnings [1]
Wyoming has only a few traces of early settlement before the Civil War. "The Village" was subdivided in the 19th century, farm by farm, and the old housing torn down. It filled slowly from the Civil War. There was a burst of activity in the 1880s, doubling the population, then fairly level growth to maturation around the First World War. Limited infill and peripheral examples appear in the 1920s. The Depression cut off any serious growth until after the Second World War.
Wyoming provides an exceptional visual record of metropolitan suburban development from the middle of the 19th century to the Depression. Four Miami and Erie Canal locks in the adjacent community of Lockland provided a good head of water for an early industrial center in the 1850s. The factory managers built their Victorian era homes a short distance away on attractive wooded hillsides overlooking the Mill Creek Valley. Arrival of the railroad in 1851 established a barrier between blue collar industrial Lockland and the management community that became Wyoming. The healthy, scenic location and easy rail transportation encouraged growth of Wyoming during the rapid expansion of Cincinnati industry in the "Gilded Age." Over a quarter of the properties in the historic area are Eastlake and Queen Anne styles. CHIC, a Cincinnati magazine, referred to Wyoming as "The Queen of Suburbs" in December, 1892. Arrival of the Interurban and trolley tracks along Springfield Pike at the turn of the 20th century added a component of white collar, middle class Bungalow dwellers. Wyoming remains a middle class bedroom community with an unusual degree of continuity, both social and architectural.
Jennifer McCauley, Chairman, Wyoming Historic Preservation Committee, City of Wyoming, The Historic Resources of Wyoming, Ohio, nomination document, 1985, National Park Service, National Register of Historic Places, Washington, D.C.
Nearby Towns: Cincinnati City • Deer Park City • St Bernard City •
---