Cincinnati City
Cincinnati City Hall is located at 801 Plum Street, Cincinnati, OH 45202.
Phone: 513‑352‑3243.
---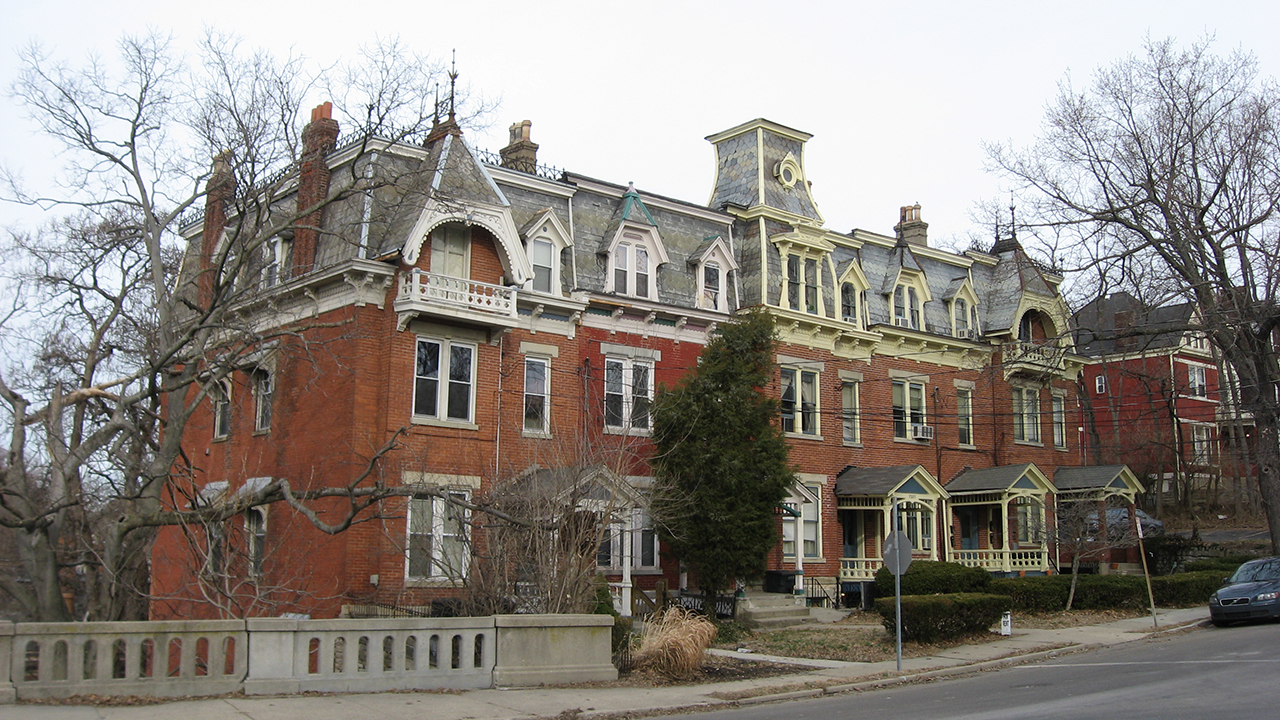 Photo: Mill's Row, 2201-2209 Park Avenue, ca. 1880.. Listed on the National Register of Historic Places in 1977. Photographed by User:Nyttend (own work), 2011, [public domain, cc-1.0], via Wikimedia Commons, accessed July, 2021.
---
Beginnings [1]
In December 1788 a fleet of craft, carrying 26 persons, some livestock, and some foodstuffs, slithered into the Ohio River's fast current and floated westward, past Marietta and Columbia, where, on the flatlands near the mouth of the Little Miami River, a blockhouse was going up. Then they saw a slim river, the Licking, going off to the south, and on the right the land ran up in terraces to a lovely valley sheltered by tall hills, plenty of water, good soil, and open space—here was the place to spend their lives. After beaching their rafts and flatboats, they tore the vessels apart and clattered together the first crude homes in Losantiville.
Neighborhoods
Adams Landing
Adams Place
Al Bar Meadows
Alameda Flats
Alcor Terrace
Almsgate
Amazon Park
Ambassadors
Amber Ridge
Anderson Meadows
Anita Estates
Ankenbauers Estates
Arborcrest
Asbury Lake
Aspen Glen
Aster
Aston Court
Auburn Avenue Historic District
Avon Hills
Avondale
Bayberry Hills
Beacon Estates
Beechview Estates
Beekley Woods
Belleair
Belvedere
Berkshire Club
Betts-Longworth Historic District
Bivouac Woods
Blachley
Blue Rock Hills
Bond Hill
Bond Hill
Boyds
Bramble Estates
Bramblewood
Brandenmore
Bremen Lofts
Bridge Point
Brittany
Brodbeck Park
Brokaw
Brookcrest
Brooks
Browns Estates
Buell West
Cahills Estates
California
California
Calumet Farm
Calvin Cliff
Camp Washington
Camp Washington
Captains Watch
Carpenter Estates
Carruthers Pond
Carthage
Carys
Cedar Grove
Cedar Hill
Chapel Ridge
Charlton Place Condos
Chestnut Station
Cheviot
Cincinnati East Manufacturing and Warehouse District
City Center
Clairmont Woods
Clearwater Crossing
Cleinview House
Cleinview-Hackberry Historic District
Clifton
Clifton Avenue Historic District
Clifton Heights
Cloisters Condos
Coldstream Park
College Hill
College Vue
Collings
Columbia
Columbia Tower
Columbia Tusculum Historic District
Commons of Eastgate
Compton Square
Coopers
Coral Park
Corbin Park
Corblys
Cornuelle
Corryville
Cortelyous
Cottage Hill
Country Club Heights
Country Hill Estates
Court Street Historic District
Courtyard at East University
Covedale
Covedale Park
Cox Jacobs Estates
Crawford Lofts
Creekwood Condos
Crookshank
Cryers
CUF
Cumminsville
Dalewood
Dayton Street Historic District
Deer Park
Deer Run Country Club
Delshire
Dickson
Dillonvale
Dills
Dodsworth
Downtown
Duebber
Duncanson Lofts
Eagles Watch
East Clifton
East Covedale Park
East End
East Fourth Street Historic District
East Hyde Park
East Kemper Estates
East Overlook
East Price Hill
East Walnut Hills
East Walnut Hills Historic District
East Westwood
Eastwood
Eastwood Historic District
Eden Park
Edgecliff Area Historic Group
Elizabeth Gardens
Evanston
Evanston Historic District
Ewald
Ewing
Excelsior Row
Fairfax
Fairmount
Fairway Acres
Fairwood Acres
Farmers College
Faxon Hills
Faywood
Federal Green
Fenton Estates
Fernell Heights
Ferris Estates
Fischer Place
Flats District
Forestglen
Fox Acres
Garrard Station
Gates of Eden Park
Gateway Quarters
Gilbert-Stinton Historic District
Golden Avenue Estates
Goldenview Condos
Goldenview Townhomes
Grand Avenue Commons
Grandin Acres
Grandin Ridge
Grasmoor Condos
Greenhills
Grove Park
H Jackson Estates
Hammond North Condos
Hanson & Fullers
Hartwell
Harvest Homes Condos
Hewitt
Hickory Knoll
Hidden View
Highview
Hillcrest
Hillendale
Hoffman Estates
Hoffner Historic District
Hollydale
Home Place
Hopkins
Humbrechts
Husman House
Husten Hills
Hyde Park
Hyde Park Observatory Historic District
Hyde Park Place
Indian Springs
Irwins
Ivy Trails
Jackson
Jackson Estates
Jamestown Village
John Agnew Estates
John Riddle Estates
Jones Estates
Juniet
Kempers
Kennedy Heights
Kennedy Park
Kenwood Hills
Kenwood Meadow
Kenwood Pointe
Kilgours
Kingsbridge
Kingston
Kiplingwood
Kirbys
Kleeman Woods
Kleins
Kuhlman
Lafayette
Landings of Anderson
Langdon Farm
Laurel Homes Historic District
Legendary Run
Lenox Park
Lenox Place
Liberty Crossing
Liberty Hill
Lincoln Court
Lincoln Heights
Lincoln-Melrose Historic District
Linwood
Little Farms
Llewellyn Park
Lockmans
Lofts at Fountain Square
Longwood
Longworth Court
Longworth Square
Lookout Acres
Losh Estates
Lower Price Hill
Lower Price Hill Historic District
Ludlow Estates
Lytle Park Historic District
Madeira
Madison and Woodburn Historic District
Madison House
Madison Place
Madison-Stewart Historic District
Madisonville
Main and Third Street Historic District
Maisons Lafayette
Mansfield
Maple Leaf Condos
Marburg Square
Marions Way
Martini Knolls
Mayridge
McDonnell Farm
McGregor
McKenzies
McMillan
McMillan East Condos
Menlo Park
Metzgers
Millbrook
Miller
Mills of Carthage
Mohawk Heights
Mohawk-Bellevue NBD Historic District
Monte Vista
Moses Lyons Estates
Mount Airy
Mount Airy Oaks
Mount Airy Village
Mt Adams
Mt Adams
Mt Adams
Mt Alverno
Mt Lookout
My Lookout
Ninth Street Historic District
Nixon
North Avondale
North Fairmount
Northbend Crossing
Northside
Northside NBD Historic District
Northview
Norwood Heights
Norwood View
Oakley
Oakley
Oakley Park
Observatory Historic Distirct
Old Bond Hill Historic District
One River Plaza
Over the Rhine
Over-the-Rhine Historic District
Overlook
Paddock Hills
Palisades Pointe
Parchmans
Park Place
Parkside Place
Peebles Corner Historic District
Pendleton
Pendleton Estates
Peters
Pierson
Pillars
Pine Grove
Plantation Acres
Pleasant Ridge
Pleasant Run Acres
Ponderosa Woods
Price Hill
Prospect Hill Historic District
Prosser
Providence Glen
Pullans
Queens Pointe Condos
Queensgate
Race Street Historic District
Rainbow
Regency Condos
Reserve at Skytop
Reserve of Turpin
Resor Park
Resor Place
Richardson
Ridgewood
River Hills
Riverfront Terrace
Riverside
Riverwalk
Robbs Farm
Rockford Woods
Rolling Acres
Rolling Knolls
Rolls Estates
Rookwood
Rose Hill
Rosecrest Condos
Roselawn
Rosemont Heights
Rossmoyne
Ruschers
Saffins
Saint Francis De Sales Church Historic District
Saint Pauls Church Historic District
Saint Peters Lick Run Historic District
Sawyer Park
Saylor Park
School House Lofts
Schwartzes
Shawnee Woodlands
Sherman Oaks
Silbert-Stinton Historic District
Soapbox District
South Cumminsville
South Fairmount
Southpointe
Spring Grove Village
Springfield Twp
Springhill Acres
Springmeyer
Springrove Village
Squires
St James Place
St Paul Tower at Gates of Eden Park
Stanberry Park
Steamboat Landing
Stetson Square
Stillmeadow Village
Summit Estates
Summit View Condos
Sunrise Acres
Sweetbriar
Swiss Garden
Sycamore-13th Street Grouping
Tall Oaks
Tanager Woods
Tanglewood
Telegraph Hill
Tempest Hill
Tennyson
Terrace Woods
The Ambassador
The Clyffside
The Courtyard at East University
The Edgecliff
The Galleries at Pendleton
The Pines
The Regency
The Village at Stetson Square
The Yacht Club
Third-Main Street Historic District
Thorobred Hills
Tidewater Creek
Torrence Estates
Treetops
Trilane Acres
Troon Village
Turpin Hills
Tusculum
Tusculum
Tuxworth Pass
Twin Fences
Uplands Historic District
Victory Lane
Villages of Daybreak
Vinedale
Vineyard Hills
Vintage Club
Volterra Condominiums
Wade
Walnut Hills
Ward Estates
Washington Heights
Wasigo Trails
Watch Hill
Waterford
Wayside View
Werk Estates
Wess Park
West End
West Price Hill
Westbrook
Western Hills
Westwood
Westwood
Westwood Town Center Historic District
Wheeler Estates
Whispering Oak Estates
Wilders
Williams Creek
Williams Estates
Williamsburg
Windsor Court
Winton Hills
Winton Place
Wittekind
Wittshire Glen
Wolfangel
Woodburn Avenue NBD Historic District
Woodburn Heights
Woodcrest Park
Woodside Homes
Woodside Place
Woodsview
Wynds of Anderson
Yacht Club
Cincinnati came to maturity with a long experience of building up and breaking down. First, a frontier town was set up and crops were sown. Next, banks were opened, minor manufactures were encouraged to become greater, and the wharves on the water from were made increasingly important to the great Ohio River traffic. By 1860 Cincinnati was on its way to becoming the nation's third largest city, and on of the leading gateways of northern commerce to the South. For another 40 years the swelling tide of commerce and industry continued to force the city's boundaries far back into the hills. At the turn of the 20th century Cincinnati dreamed of becoming a center of automotive production, but this industry was attracted to cities closer to the sources of steel and coal. In its place arose a highly complex, scientifically developed machine tool industry. The financial collapse of 1929 was only a temporary halt to this gigantic industrial growth. Cincinnati has now [1938] resumed her work, fresh with a new faith in the future years.
The Losantiville pioneers put seeds in the land and watched the crops grow. Occasionally they chased Indian snipers from the hills. Then, about 1800, they found that they were near coal, iron, wood and limestone, and they turned slowly from agriculture to manufacturing. As early as 1791 the first horse-powered grist mill was proudly built, but, because everybody needed meal, it rarely managed to grind sufficient grain. In 20 years the application of steam brought rest to horses weary of the treadmill, and a sudden surge of river commerce, emanating from pork packing, distilling, and other manufactories, began to shape Cincinnati into the "Porkopolis," "Ragtown," and "Floral City" of 1840-1900.
Works Progress Administration, Cincinnati Federal Writers' Project, They Built a City: 150 Years of Industrial Cincinnati, American Guide Series, Cincinnati Post, publisher, Wiesen-Hart Press, printers, 1939, Cincinnati.
Nearby Towns: Bellevue City • Covington City • Fort Thomas City • Ludlow City • Newport City • Park Hills City • St Bernard City • Wyoming City •
---