Warning: include(/Library/kw/livingplaces.com/menu.html): failed to open stream: No such file or directory in /Library/WebServer/livingplaces.com/PA/Adams_County/East_Berlin_Borough.html on line 36

Warning: include(): Failed opening '/Library/kw/livingplaces.com/menu.html' for inclusion (include_path='.:') in /Library/WebServer/livingplaces.com/PA/Adams_County/East_Berlin_Borough.html on line 36

East Berlin Borough
East Berlin Borough Hall is located at 128 Water Street, East Berlin PA 17316.
Phone: 717‑259‑9224.
---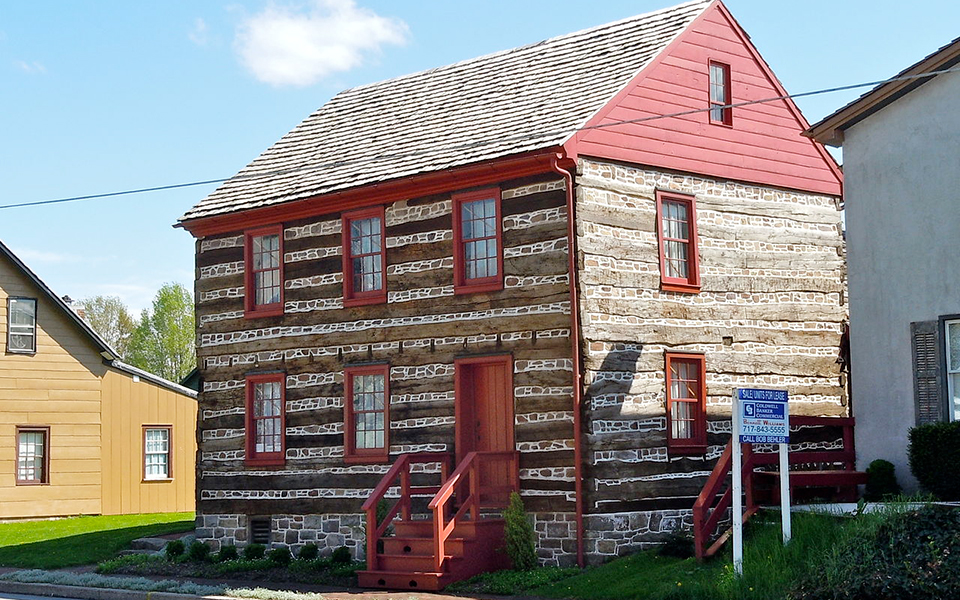 Photo: Circa 1770 log cabin, located in the East Berlin Historic District. The District was listed on the National Register of Historic Places in 1985. Photographer: wikipedia username: Smallbones, 2011, public domain; via Wikimedia Commons, accessed August, 2022.
---
Neighborhoods
Beaver Colony
Crestview
Hampton Heights
Kralltown
Lake Meade
Mount View Mobile Homes
The East Berlin Historic District [1] was listed on the National Register of Historic Places in 1985.
Description
East Berlin, a borough located in Adams County is situated in a bend of the Conewago Creek near the point where it leaves Adams County at the York County border. East Berlin was established in 1764 and contains a mix of commercial and residential buildings plus out-buildings dating from the third quarter of the 18th to the early 20th century. The district is characterized by a concentration of 18th century log and stone dwellings which retain important interior and exterior architectural features of their age. There are also a significant number of brick and frame structures of the late 19th century with Queen Anne and Italianate detailing. In East Berlin there is a distinct type of late 19th century window trim consisting of a wide architrave with an arched top and modified crossettes. The district has only a few scattered non-contributing elements, nine out of a total of 186 properties.
East Berlin presents a collection of Pennsylvania vernacular architecture. The buildings therefore should not be tightly categorized by style. However, a number of distinguishing influences are noticeable and contribute to the character of the district. The oldest residential buildings can be defined only as traditional structures influenced by the Germanic origins of their builders. Where stylistic influences are present, they appear Georgianesque and are found specifically in interior and exterior trims and moldings and with a few buildings, their formalized overall plan with symmetrical fenestration and central passage. These early buildings are almost exclusively of log or stone construction. Many have their original exterior finishes, a factor that sets East Berlin apart from other towns in Adams County. The log houses were sheathed with beaded siding as was typical in the late 18th century. Front elevations were covered with fairly uniform widths of board, while the side and near walls were covered with random widths. A substantial number of East Berlin's early log buildings retain their original or early siding. Stone construction uses uniform squared blocks laid in regular courses.
In the 19th century, brick and after 1860, balloon frame became the preferred material for construction. With many buildings "stylistic" influence remained traditional with Georgianesque or Federalesque detailing continuing in use well after the "terminus post quem" for these styles. These stylistic influences are apparent in moldings, window and door framing and trims, and interior woodwork. Flemish bonding was the preferred method of laying bricks at the facade or principal elevations until approximately 1840. Later choices included all stretcher brick work or American bond at the front elevation.
During the late 19th century, as with earlier times styles did not dominate but rather influenced traditional forms. The three, four or five bay brick or frame house with gable roof remained' typical as new construction after 1860. Italianate or Queen Anne motifs were applied as decorative elements. In East Berlin there are only a very few pure examples of any particular style. In fact, the architectural character and consequently significance of East Berlin results from its vernacular, traditional quality and the interpretation builders expressed of various styles.
One of the most prominent architectural features of East Berlin is a form of Italianate-inspired exterior window and door treatment which apparently was popular only in East Berlin. Such treatment, at least, is not seen in other nearby towns. This trim consists of wide molded architraves with arched tops and modified crossettes or "shoulders." Numerous brick and frame buildings from the late 19th century in East Berlin have this treatment. Generally, it is used in combination with bracketed eaves and a frieze with applied jig sawn decoration.
Alterations to buildings in the East Berlin Historic District generally include the application of modern sidings such as aluminum or vinyl and replacement of older roofing materials. Unfortunately a few buildings have been replaced by newer structures, although only about 5% of the buildings are considered to be non-contributing. In fact, in terms of the district as a whole, alterations are so few, or so minor that East Berlin's significant qualities derive from its ability to portray itself today largely as it appeared during the late 19th century.
Reed, Paula Stoner, East Berlin Historic District, 1984, nomination document, National Park Service, National Register of Historic Places, Washington, D.C.
---

Warning: include(/Library/kw/livingplaces.com/footer.html): failed to open stream: No such file or directory in /Library/WebServer/livingplaces.com/PA/Adams_County/East_Berlin_Borough.html on line 104

Warning: include(): Failed opening '/Library/kw/livingplaces.com/footer.html' for inclusion (include_path='.:') in /Library/WebServer/livingplaces.com/PA/Adams_County/East_Berlin_Borough.html on line 104