Lehigh County Courthouse is located at 17 South Seventeenth Street, Allentown PA 18101; phone: 610‑782‑3000.
---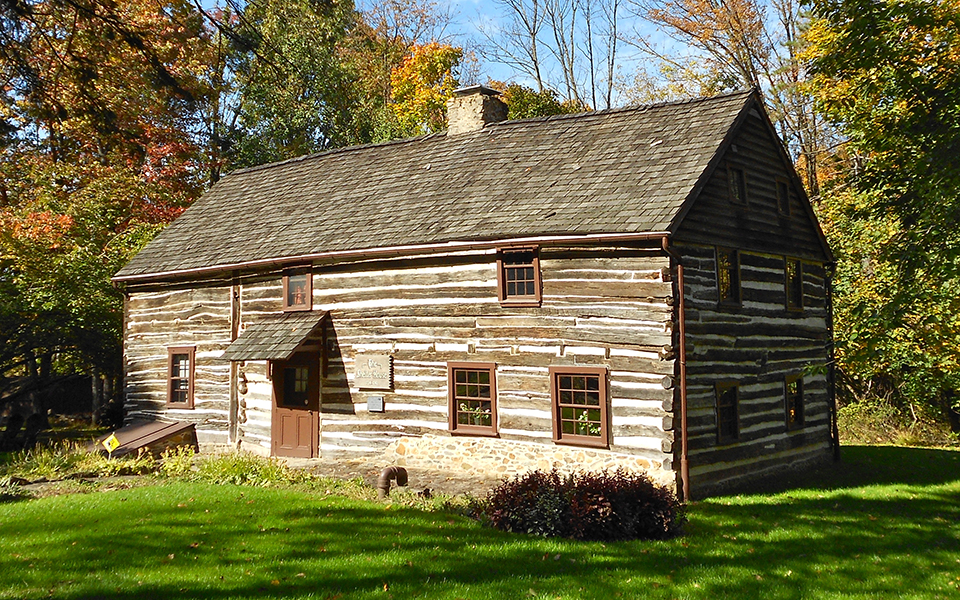 Photo: Shelter House, located in the park near the south end of South 4th Street, Emmaus. The left side is older and smaller, built in the 1730s, the right side, bigger and better constructed, built in the 1740s. Listed on the National Register of Historic Places in 1978. Photographer: wikipedia username: Smallbones, 2012, public domain; accessed December, 2023.
---
TOWNS
Heidelberg Twp
Lowhill Twp
Lynn Twp
Salisbury Twp
Beginnings [1]
Formed March 6, 1812; named for Lehigh River, from an Indian name, Lechauwekink (where there are forks); Indian trails forked in various directions below Bethlehem. The Blue Mountains are north and the Lehigh Hills south, containing large deposits of slate and cement. Chief industries, agriculture and manufacturing.
ALLENTOWN, county seat, at junction of Jordan and Little Lehigh Creeks; was settled in 1751 by Chief Justice William Allen, a friend of the Penns; is entered from the south by, it is said, the largest concrete bridge in the world, erected by a trolley company, 2650 feet long and 120 feet high; built in 1913. The city has an abundant supply of pure water, pumped direct from the spring to the residences; daily flow, 12,000,000 gallons. Courthouse, colonial, with cupola, Fifth and Hamilton Streets. First Presbyterian Church, North Fifth Street, near Hamilton, Renaissance. Jail, North Fourth Street, near Linden, feudal architecture, with tower 100 feet high, brown sandstone. Architect G. A. Aschbach.
Archambault, A. Margaretta, ed., A Guide Book of Art, Architecture, and Historic Interests in Pennsylvania, Philadelphia, The John C. Winston Company, 1924.
HISTORIC SITES
Biery's Port Historic District
Burnside Plantation
Catasauqua Residential Historic District
Central Bethlehem Historic District
Coopersburg Historic District
Dorneyville Crossroad Settlement
Ehrenhardt, Jacob Jr., House
Fountain Hill Historic District
Gauff-Roth House
Kemmerer House
Leaser, Frederick and Catherine, Farm
Lehigh Canal
Mount Airy Historic District
Nonnemaker House
Old Lehigh County Courthouse
Rodale Organic Gardening Experimental Farm
Shelter House
Slatington Historic District
Taylor, George, House
Troxell-Steckel House
Weaver, Valentine, House
---