---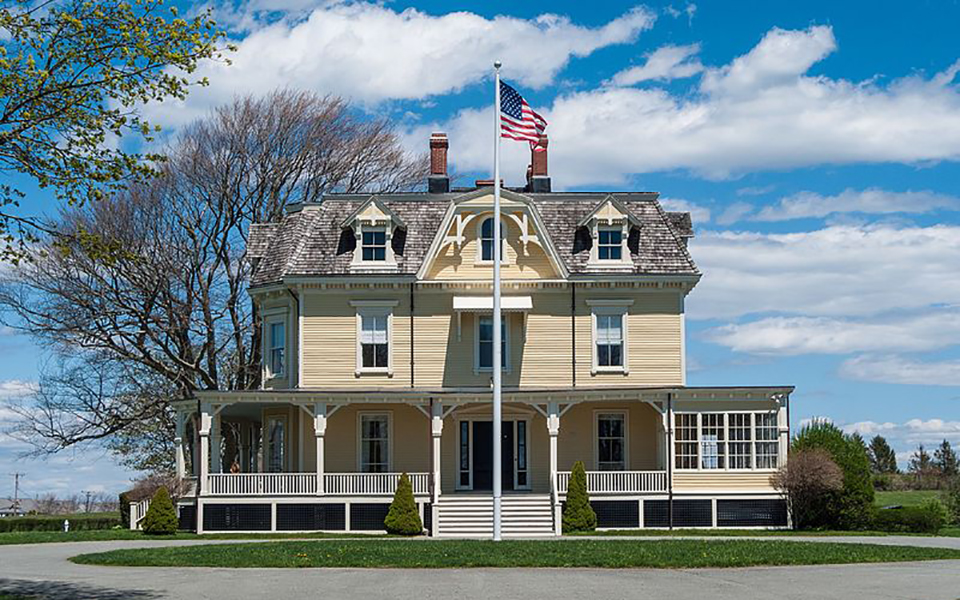 Photo: Eisenhower House (Commandant's Residence, Fort Adams), ca. 1873, located in Fort Adams, Newport, RI. Listed on the National Register of Historic Places in 1974. Photographed by user:Kenneth C. Zirkel (own work), 2017, [cc-4,0], accessed October, 2021.
---
TOWNS
The Newport County Courthouse (Murray Judicial Complex) is located at 45 Washington Square, Newport, RI 02840; phone: 401-841-8350 (district); 401-841-8340 (family); 401-841-8330 (superior).
Newport County, one of two original Rhode Island counties, was established in 1703. In 1842, county governments were dissolved in Rhode Island. Today the counties serve as historical context and administrative boundaries for the judicial system.
HISTORIC SITES
Bailey Farm
Baldwin, Charles H., House
Barker, Benjamin, House
Bell, Isaac, House
Bell, Isaac, Jr., House
Bellevue Avenue Historic District
Bellevue Avenue-Casino Historic District
Bird's Nest, The
Breakers, The
Carr, Thomas, Farmstead
Chateau-sur-Mer
Clark, Sherman, House
Commandant's Residence, Quarters Number One, Fort Adams
Cook, Clark, House
Cook-Bateman Farm
Cotton, Dr. Charles, House
Covell, William King, III, House
Elms, The
Farnham Farm
Fort Hamilton Historic District
Gale, Levi H., House
Greenvale Farm
Griswold, John, House
Hazard Farmstead
Hicks, Joseph, House
Hoppin, Hamilton, House
Horsehead-Marbella
Hunter House
Joseph, Lyman C., House
Kay Street-Catherine Street-Old Beach Road Historic District
King, Edward, House
Kingscote
Lawton-Almy-Hall Farm
Little Compton Common Historic District
Lucas-Johnston House
Malbone, Francis, House
Marble House
Mawdsley, Capt. John, House
Mott, Jacob, House
Newport Historic District
Oak Glen
Ocean Drive Historic District
Ochre Point-Cliffs Historic District
Old Colony House
Osborn-Bennett Historic District
Rogers, Joseph, House
Rosecliff
Sherman, William Watts, House
Southern Thames Historic District
Stevens, Robert, House
Stiles, Ezra, House
Taylor-Chase-Smythe House
Tillinghast, Charles, House
Tillinghast, John, House
Tiverton Four Corners Historic District
Vernon House
Wanton-Lyman-Hazard House
Whitehall
Whitehorne, Samuel, House
Windmill Hill Historic District
---