The Providence County Courthouse is located at 250 Benefit Street, Providence RI 02903; phone: 401-277-6710.
---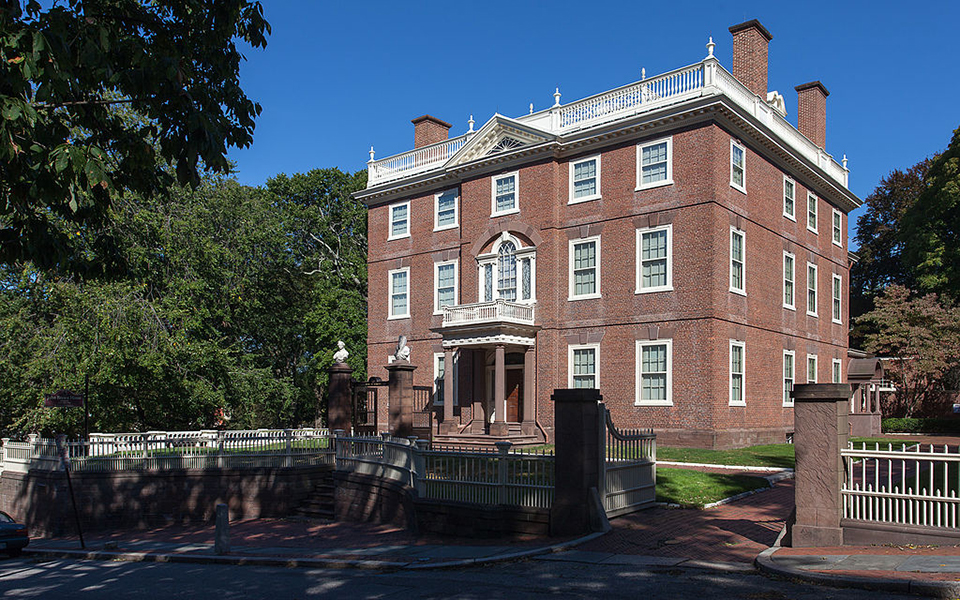 Photo: John Brown House, circa 1786-1788, located at 52 Power Street, in the Colloege Hill Historic District, Providence, RI. The District was listed on the National Register of Historic Places in 2008. Photographed by User: Kenneth C. Zirkel (own work), 2012, [cc-3.0], via Wikimedia Commons, accessed October, 2021.
---
TOWNS
Glocester Town
Johnston Town
North Providence Town
There is no form of county government in Rhode Island. This, the largest of Rhode Island counties was founded in 1703 and today covers an area of approximately 410 square miles, more than 16 times greater than Bristol County, the smallest, at 25 square miles.
Rhode Island is one of two states with no county government. (The other is Connecticut.) The role of the county is historic and, today, solely for judicial administration. The state is divided into 39 municipalities, each with its own local form of government. Fourteen of those municipalities are within Providence County, six cities, and eight towns.
HISTORIC SITES
Adams, John E., House
Albion Historic District
Aldrich, Nelson W., House
All Saints Memorial Church
Allen Street Historic District
Allen, Candace, House
Allen, Zachariah, House
Allendale Mill
Allenville Mill
American Street School
Andrew Dickhaut Cottages Historic District
Andrews-Luther Farm
Angell, Daniel, House
Angell-Ballou House
Arnold Mills Historic District
Arnold, Dexter, Farmstead
Arnold, Eleazer, House
Arnold, Israel, House
Arnold, John, House
Arnold-Palmer House
Art's Auto
Ashton Historic District
Aylesworth Apartments
Bailey, William L., House
Ballou House
Ballou-Weatherhead House
Battey-Barden House
Beaman and Smith Company Mill
Bell Street Chapel
Beneficent Congregational Church
Berkeley Mill Village
Bicknell-Armington Lightning Splitter House
Blackstone Boulevard Realty Plat Historic District
Blackstone Canal (Boundary Increase)
Blackstone Canal
Blackstone Park Historic District
Boston and Providence Railroad Bridge
Brackett, Charles, House
Bradley, George M., House
Breezy Hill Site (RI-957)
Brick Schoolhouse
Bridge Mill Power Plant
Bridgeton School
Bridgham Farm
Bridgham-Arch-Wilson Streets Historic District
Broadway-Amory Historic District
Brown Avenue Historic District
Brown and Sharpe Manufacturing Company Complex
Brown, John, House
Brown, Morris, House
Brown, Moses, School
Burlingame-Noon House
Burnham, G.A., House
Burrows Block
Butler Hospital
Calvary Baptist Church
Cappelli, A. F., Block
Carpenter, Lakeside, and Springvale Cemeteries
Carr, Dr. George W., House
Cathedral of Saints Peter and Paul
Cato Hill Historic District
Central Falls Congregational Church
Central Falls Mill Historic District
Central Street School
Chemical Building, Fields Point Sewage Treatment Plant
Chepachet Village Historic District
Cherry Valley Archeological Site, RI-279
Childs-Brown House
Christ Episcopal Church
Church Hill Industrial District
Clayville Historic District
Clemence-Irons House
Cole, John, Farm
College Hill Historic District
Collyer Monument
Columbus
Conant Thread-Coats & Clark Mill Complex District
Conant, Samuel B., House
Congdon Street Baptist Church
Cooke, Amos, House
Corliss, John, House
Corliss-Carrington House
Cornell-Randall-Bailey Roadhouse
Covell Street School
Crandall, Lorenzo, House
Crescent Park Carousel
Customhouse Historic District
Cutler Farm Complex and Tavern Site (RI-4240
Daggett, Nathaniel, House
Darling, Henry, House
Davol Rubber Company
Deming, Richard Henry, House
Dennis, James, House
Dexter, Edward, House
Dexter, Jeremiah, House
District 6 Schoolhouse
Division Street Bridge
Dorrance, Capt. George, House
Dowler, Charles, House
Downtown Pawtucket Historic District
Downtown Providence Historic District
Doyle Avenue Historic District
Dyerville Mill
Eddy Homestead
Edgewood Historic District-Shaw Plat
Edgewood Historic District-Taft Estate Plat
Edgewood Yacht Club
Elizabeth Building
Elliot-Harris-Miner House
Elm Tree Plat Historic District
Elmgrove Gardens Historic District
Elmwood Historic District
Ernest Street Sewage Pumping Station
Exchange Street Historic District
Fales, David G., House
Farnum, Edwin H., House
Federal Building
Fenner, Thomas, House
Fifth Ward Wardroom
Fire Station No. 4
First Baptist Meetinghouse
First Universalist Church
First Ward Wardroom
Fleur-de-Lis Studios
Forestdale Mill Village Historic District
Foster Center Historic District
Foster-Payne House
Freeman Plat Historic District
Fuller Houses
Furnace Carolina Site
Furnace Hill Brook Historic and Archeological District
Gaulin, Alphonse, Jr., House
Georgiaville Historic District
Gilbane's Service Center Building
Glocester Town Pound
Gloria Dei Evangelical Lutheran Church
Grace Church
Great Road Historic District
Greene, Benjamin F., House
Greystone Mill Historic District
Haile, Joseph, House
Harmony Chapel and Cemetery
Harrisville Historic District (RI)
Hay and Owen Buildings
Hearthside
Holy Trinity Church Complex
Honan's Block and 112-114 Main Street
Hope Block and Cheapside
Hope Webbing Company Mill
Hope-Power-Cooke Streets Historic District
Hopkins, Esek, House
Hopkins, Gov. Stephen, House
Hoppin, Thomas F., House
Hughes, Thomas H., House
Island Place Historic District
Ives, Thomas P., House
Jefferson Street Baptist Church
Jenckes House
Jenckes House
Jenckes Mansion
Jenks Park & Cogswell Tower
Jillson, Luke, House
Jones Warehouses
Joy Homestead
Knight, Jonathan, House
Knightsville Meetinghouse
Kotzow, Louis, House
Ladd Observatory
Leroy Theatre
Liberty Arming the Patriot
Lime Kilns
Limerock Village Historic District
Linton Block
Lippitt Hill Historic District
Lippitt, Gov. Henry, House
Little Neck Cemetery
Loew's State Theatre
Logee House
Lonsdale Historic District
Louttit Laundry
Lynch, Matthew, House
Main Street Bridge
Main Street Historic District
Manton-Hunt-Farnum Farm
Market House
Marshall Woods House (Woods-Gerry House)
Mason, Israel B., House
Mathewson Farm
Merchants Bank Building
Mitchell-Arnold House
Modern Diner
Montgomery, Nathaniel, House
Moosup Valley Historic District
Moshassuck Square
Mount Vernon Tavern
Mowry, Tyler, House
Mowry, William, House
Mt. Hygeia
National and Providence Worsted Mills
New England Butt Company
Newman Cemetery
Newman Congregational Church
Nicholson File Company Mill Complex
Nightingale-Brown House
Nopkins Mill Historic District
North Burial Ground
North End Historic District
North Freight Station
Norwood Avenue Historic District
Oak Lawn Village Historic District
Oakland Avenue Historic District
Oakland Historic District
Ochee Spring Quarry
Oddfellow's Hall
Old Ashton Historic District
Old Congregational Church
Old Slater Mill
Olney Street-Alumni Avenue Historic District
Olney, Capt. Stephen, House
Ontario Apartments
Oriental Mills
Our Lady of Lourdes Church Complex
Parkis-Comstock Historic District (Boundary Increase)
Parkis-Comstock Historic District
Pascoag Grammar School
Patterson Brothers Commercial Building and House
Pawtucket Armory
Pawtucket City Hall
Pawtucket Congregational Church
Pawtucket Elks Lodge Building
Pawtucket Post Office
Pawtucket Times Building
Pawtucket West High School
Payne, Charles, House
Pearce, Nathaniel, House
Pekin Street Historic District
Perkins Buildings
Phillips Insulated Wire Company Complex
Pine Street Historic District
Pitcher-Goff House
Plain Farm House
Poirier's Diner
Pomham Rocks Light Station
Pothier House
Potter-Collyer House
Potter-Remington House
Power Street-Cooke Street Historic District
Providence City Hall
Providence Dyeing, Bleaching, Calendring Company
Providence Fruit and Produce Warehouse Company Building
Providence Jewelry Manufacturing Historic District
Providence Lying-In Hospital
Providence Steel and Iron Company Complex
Providence Telephone Company
Providence-Biltmore Hotel
Pullen Corner School
Quality Hill Historic District
Reservoir Avenue Sewage Pumping Station
Return Sludge Pumping Station, Fields Point Sewage Treatment Plant
Rhode Island Hospital Trust Building
Rhode Island Medical Society Building
Rhode Island Statehouse
Rhode Island Tool Company
Rhodes Street Historic District
Rhodes-on-the Pawtuxet Ballroom and Gazebo
Richmond Paper Company Mill Complex
Riverside Cemetery
Rochambeau Branch-Providence Public Library
Roger Williams National Memorial
Roger Williams Park Historic District
Rose Land Plat Historic District
Rumford Chemical Works and Mill House Historic District
Rumford Historic District
Russell, Joseph and William, House
Saint Martin's Church
Saint Thomas Episcopal Church and Rectory
Sassafras Site, RI-55
Sayles, Deborah Cook, Public Library
Saylesville Historic District
Saylesville Meetinghouse
Scholze-Sayles House
Shakespeare Hall
Sheldon House
Shepard Company Building
Sixth District Courthouse
Slater Park
Slatersville Historic District
Sludge Press House, Fields Point Sewage Treatment Plant
Smith Hill Branch-Providence Public Library
Smith Hill Historic District
Smith Street Primary School
Smith, Joseph, House
Smith-Appleby House
Smith-Ballou House
Smithfield Road Historic District
Smithville-North Scituate
Sons of Jacob Synagogue
South Central Falls Historic District
South Main Street Historic District
South Providence Branch-Providence Public Library
South Street Historic District
South Street Station
Spaulding, Joseph, House
Sprague, David, House
Sprague, Gov. William, Mansion
Squantum Association
St. John the Baptist Church
St. Joseph's Church Complex
St. Joseph's Roman Catholic Church
St. Mary's Church of the Immaculate Conception Complex
St. Mary's Episcopal Church
St. Matthew's Church
St. Michael's Roman Catholic Church, Convent, Rectory, and School
St. Paul's Church
St. Stephen's Church
State Arsenal
Stimson Avenue Historic District
Summit Historic District
Swan Point Cemetery and Trolley Shelter (Boundary Increase)
Swan Point Cemetery
Temple Beth-El
The Arcade (Westminster Arcade)
Three Dog Site, RI-151
Todd Farm
Tower, Lewis, House
Tower-Flagg Barn Complex
Trinity Church
Trinity Square Historic District
Trinity Square Repertory Theatre
U.S. Customshouse
Union Station
Union Trust Company Building
Union Village Historic District
Valley Falls Mill, Office and Bath House
Valley Falls Mill
Walker, Phillip, House
Wanskuck Historic District
Waterman-Winsor Farm
Wayland Historic District
Wesleyan Avenue Historic District
Westcote
Westcott, Nathan, House
Westminster Street Historic District
Whipple-Angell-Bennett House
Whipple-Cullen House and Barn
Whipple-Jenckes House
Whitcomb Farm
White, Josephine, Block
Wilbur, Frank, House
Winsor, Stephen, House
Winsor-Swan-Whitman Farm
Wood, Arad, House
World War I Memorial
---