Warning: include(/Library/kw/livingplaces.com/menu.html): failed to open stream: No such file or directory in /Library/WebServer/livingplaces.com/RI/Providence_County/Providence_City/College_Hill.html on line 33

Warning: include(): Failed opening '/Library/kw/livingplaces.com/menu.html' for inclusion (include_path='.:') in /Library/WebServer/livingplaces.com/RI/Providence_County/Providence_City/College_Hill.html on line 33

College Hill
Post Office: Providence
Zip Code: 02906
---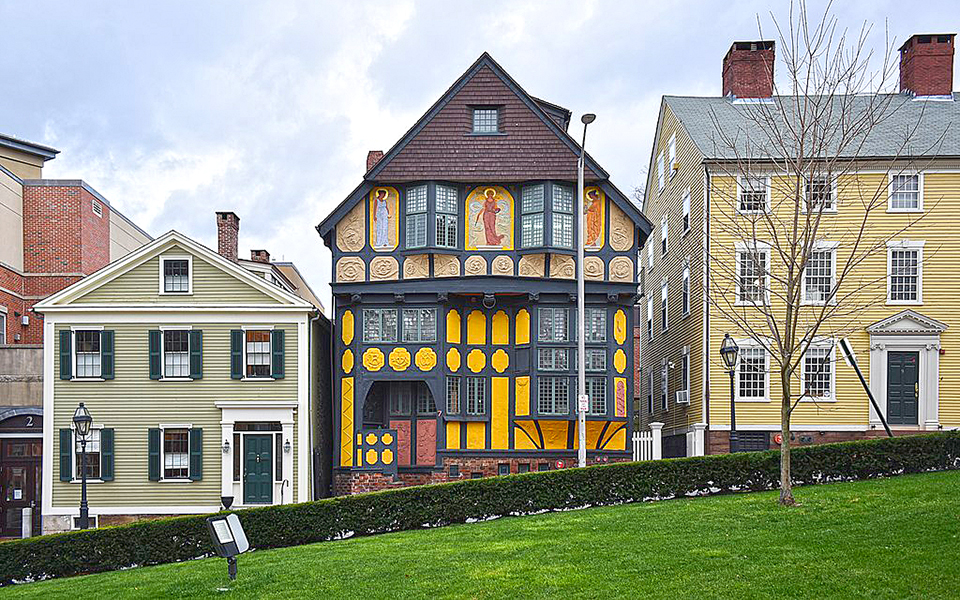 Photo: Benefit Street, College Hill, Providence, RI. Photographer, wikipedia username: Phillip Capper, own work, 2011, [cc-2.0], accessed July 2022.
---
Beginnings [1]
College Hill is the site of the first permanent colonial settlement in Rhode Island. Its history includes events of both local and national importance, and its buildings comprise the city's most distinguished body of historic architecture. Located on a steep hill which rises from the east bank of the Providence River, the neighborhood is primarily residential. Institutions have played an important role in College Hill, and an east-west corridor of institutional buildings developed in the center of College Hill during the twentieth century. Commercial use has historically lined the western edge of College Hill, along the river and North and South Main Streets, and remains generally limited to this area.
From its founding in 1636 until the late eighteenth century, almost the entire settled area of Providence occupied land in College Hill along the Providence River. Here, Roger Williams and others built houses, planted gardens, and farmed surrounding lands. Later generations pursued maritime commerce and made Providence into an international seaport.
By the time of the American Revolution, the narrow band of land at the eastern shore of the river at the foot of the hill was densely built with wharves, warehouses, shops, public buildings, and houses mixed together. Benefit Street, established in 1756, was still sparsely settled, and University Hall at Brown (1770) stood in isolation atop College Hill at the intersection of College and Prospect Streets. Several other key public buildings — all still standing — date from this period: the Old State House (1762), the Brick School House (1767), the Market House (1773), and the First Baptist Meeting House (1775).
Post-war expansion of Providence resulted in a surge of building activity on both sides of the river. On College Hill, dwellings were built farther up the hillside along Benefit Street to house merchants, artisans, and professionals. Many of these two-and-a-half-story, clapboard houses still line northern Benefit Street and side streets such as George and Thomas. Similar dwellings were also built at the southern end of Benefit and along Williams, John, Arnold, and Transit Streets. A number of the town's wealthiest merchants built large, elaborate dwellings during the 1790s and early 1800s, and several remain today on College Hill. The earliest of these, John Brown's House (1786), was described by John Quincy Adams as "the most magnificent and elegant private mansion that I have ever seen on this continent." Brown was joined by others along or just off Benefit Street — including Joseph Nightingale (1792) and Sullivan Dorr (1809) — while others such as George Benson (1796) and Thomas Lloyd Halsey (circa 1800) built even farther up the hill on or near Prospect Street. New churches from these years included two designed by John Holden Greene: St. John's Episcopal Church (now the cathedral) and the First Unitarian Church.
During the first half of the nineteenth century, College Hill continued to grow, but in a far less dramatic manner than the Weybosset Side, as the area west of the river was called. During the 1820s, the Weybosset Side surpassed College Hill in population and expanded rapidly. The new houses on College Hill during this period were often ample and sophisticated, maintaining the scale, materials, and character of earlier dwellings. Housing development continued up the hill from North and South Main and Benefit Streets, extending by mid-century about as far east as the Brown campus. The only significant concentration of buildings east of Brown on College Hill was a group of large, expensive houses along Cooke and Hope Streets. Institutional growth included the construction of several new churches; the Athenaeum (1839), a private library; the Rhode Island Historical Society Cabinet (1844); and the Friends' School (1819) and Dexter Asylum (1822)) both located on open tracts just east of Hope Street. The area around Market Square remained an important business center, but had already begun to lose its preeminence. The North Main Street area became a center for jewelry and other metal trades. Seril and Nehemiah Dodge had developed a precious-metal plating process on Thomas Street in the 1790s, and by 1830 thirty manufacturers operated shops along North Main, including the Gorham Manufacturing Company. Base-metal operations included Congdon & Carpenter (1791) on Steeple Street and Brown & Sharpe (1833) on South Main Street.
During and after the Civil War, the land north and east of Brown University was gradually developed. Areas closer to the city's center had already been settled, and significant late nineteenth-century residential development occurred along Prospect and Hope Streets and the east-west streets connecting them. The Hope Reservoir (on the site of Hope High School) was completed in 1875 as part of the city's water- supply system, and it undoubtedly provided pleasant views for the houses built around its perimeter. During the 1880s and 1890s, a fine group of dwellings was built just south of the Dexter Asylum on Stimson Avenue and Diman Place. Along with the Cooke Street area just to the south, this is one of the finest, most intact, late nineteenth-century residential areas in Providence. By the turn of the century, College Hill was filling with middle- and upper-income housing to be- come one of the city's most culturally homogenous neighborhoods. While foreign immigration inundated other neighborhoods during these years, College Hill remained a predominantly Yankee bastion save for a small black community long centered on Meeting Street.
During the twentieth century, College Hill has struggled to accommodate continued physical growth and to reverse the decay of its oldest section. New residential construction was largely limited to spot development for most of the first half of the century, and many of the older houses were divided into flats. Commercial strips have developed in several pockets throughout the neighborhood. Institutions have continued to grow, often increasing rapidly. Brown University had grown slowly but steadily through the nineteenth century, filling its campus bounded by Prospect, Waterman, Thayer, and George Streets. In the 1890s, development of Pembroke College, a women's companion school to Brown, began a second campus, bounded by Bowen, Thayer, Meeting, and Brown Streets. During the twentieth century — and particularly after World War II — Brown expansion penetrated surrounding residential areas. In the early 1950s, nearly a hundred houses were moved or demolished to make way for the construction of two residential quadrangles. The creation of a medical program at Brown has further increased the need for large, new facilities. Rhode Island School of Design first occupied its Waterman Street building in 1892 and steadily enlarged its campus to cover three large blocks in addition to scattered individual buildings.
Equally as dramatic as the growth of College Hill institutions has been the decline and rediscovery of historic houses along Benefit Street. Often subdivided into tenements and lacking adequate facilities, these dilapidated houses were targeted for urban renewal. A demonstration study of historic-area renewal, College Hill, was published in 1959 by the City Plan Commission in cooperation with the Providence Preservation Society and the Federal Urban Renewal Administration. This landmark study provided planning recommendations for preserving this historic area, and since then, nearly every building on or near Benefit Street has been thoroughly renovated, as have historic commercial buildings along the waterfront.
College Hill today is an attractive, dynamic area. The extraordinary revitalization of historic College Hill has brought national attention both for the importance of the area's history and architecture and for its historic preservation success.
Woodward, Wm. McKenzie and Sanderson, Edward F., Providence: A Citywide Survey of Historic Resources, 1986, Rhode Island Historical Preservation Commission, Providence
Nearby Neighborhoods
Street Names
Angell Street • Arlington Avenue • Barnes Street • Benefit Street • Benevolent Street • Bowen Street • Brook Street • Brown Street • Charlesfield Street • Clarke Lane • Congdon Street • Cooke Street • Creighton Street • Cushing Street • Defoe Place • Diman Place • George Street • Governor Street • Halsey Street • Hidden Street • Hope Street • Jenickes Street • Keene Street • Lloyd Avenue • Manning Street • Meeting Street • Olive Street • Prospect Street • Stimson Avenue • Thayer Street • Waterman Street • Williams Street
---

Warning: include(/Library/kw/livingplaces.com/footer.html): failed to open stream: No such file or directory in /Library/WebServer/livingplaces.com/RI/Providence_County/Providence_City/College_Hill.html on line 110

Warning: include(): Failed opening '/Library/kw/livingplaces.com/footer.html' for inclusion (include_path='.:') in /Library/WebServer/livingplaces.com/RI/Providence_County/Providence_City/College_Hill.html on line 110