---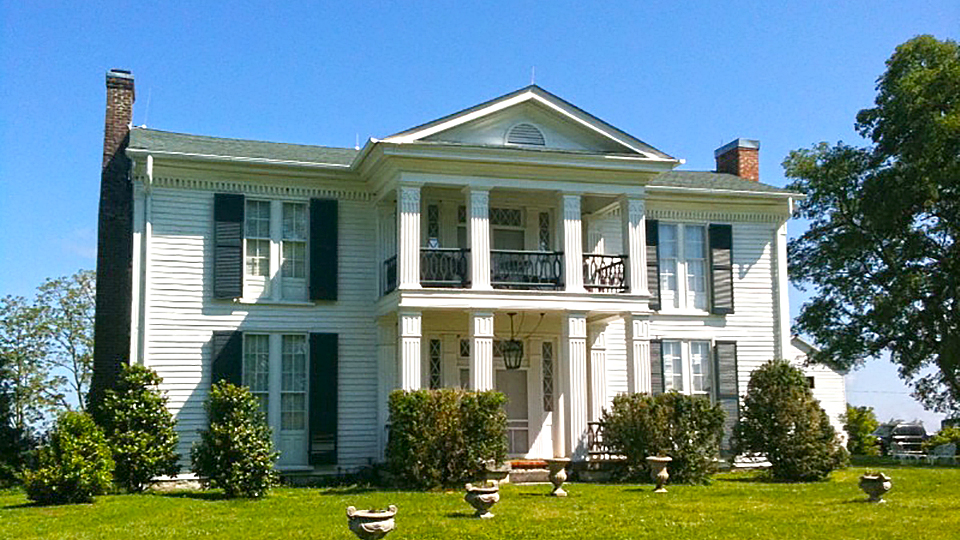 Photo: Grassland Farm, circa 1810, located 8 miles northwest of Shelbyville. Listed on the National Register of Historic Places in 1975. Photographed by user:EmeraldMonkey123 (own work), 2010, [cc-4.0] via Wikimedia Commons, accessed August, 2021.
---
TOWNS
Bedford County Courthouse is located at 1 Public Square, Shelbyville, TN 37160; phone: 931-684-1921.
Bedford County was formed in 1807 from a part of Rutherford County. It was named for Thomas Bedford, Jr., a Revolutionary War soldier who was prominent in the affairs of the State of Tennessee and the County of Rutherford.
Land grants to areas that would be part of Bedford County were given, beginning about 1785, to various soldiers for services during the Revolutionary War. Among the earliest grantees were: Amos Balch, George Martin, Richard Martin, Thomas Talbot, George Cathey, James Brandon and Richard Smith. [1]
The first grist mill built is believed to have been that of a Mr. Goge, on a creek named for him, about 1809.
A committee appointed to select a site for the county seat, fixed the location at Shelbyville in May, 1810.
The original land area of Bedford County was reduced with the formation of Coffee County in 1836 and Marshall County in 1837.
A History of Tennessee from the Earliest Times to the Present ... during 1886 and 1887, Goodspeed Publishing Company, Nashville, 1887.
HISTORIC SITES
Bell Buckle Historic District
Bivvins House
Brame-Reed House
Clark, Henry A., House
Cooper, Gov. Prentice, House
Eakin, Spencer, Farm
East Shelbyville Historic District
Evans, Winston, House
Farrar Homeplace
Frierson-Coble House
Gilliland, James, House
Grassland Farm
Heidt Tavern-Singleton House
Landis, Absalom Lowe, House
Maple Dean Farm
Martin House
Normandy Historic District
Palmetto Farm
River Side Farmhouse
Shofners' Lutheran Church and Cemetery
Sims, John Green, House
Valley Home
Wartrace Historic District
---