Bristol City
The Bristol Tennessee City Hall is located at 801 Anderson Street, Bristol, TN 37620.
Phone: 423‑764‑4171.
---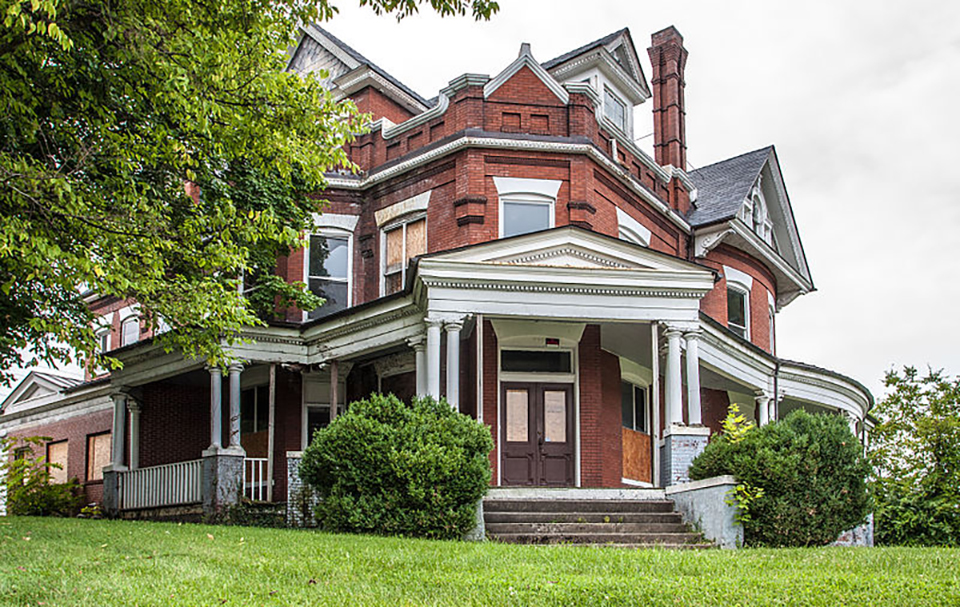 Photo: Edward Washington King House, circa 1903, located at 308 Seventh Street, Bristol. Listed on the National Register of Historic Places in 1999. Photographer: wikipedia username: Cecouchman, 2010, [cc-3.0]; accessed November, 2022.
---
Beginnings [1]
The City of Bristol, Tennessee-Virginia began as the dream of a merchant from nearby Blountville, Tennessee. This merchant, a young man named Joseph R. Anderson purchased 100 acres of land from his father-in-law, Rev. James A. King. Anderson believed that this land, which straddled the boundary between Virginia and Tennessee, was ideally situated for growth of a town. Shortly after purchasing the property in 1852, he had the town planned and surveyed. He distributed maps and began offering lots for sale. Believing, or hoping, that his town would become an industrial center, he named it for a city in England that was known at that time for developing new industries and commerce — Bristol.
One of the reasons for Anderson's optimism concerning growth of his town was the fact that it was on the proposed route of the railroad that would connect Richmond, Virginia with Knoxville and Chattanooga in Tennessee and Atlanta, Georgia. As he predicted, the railroad did play an important part in the growth and development of Bristol and Northeast Tennessee.
Anderson, however, was not the only person who could see the potential for a town located at the point at which the railroad would cross the state line between Virginia and Tennessee. At about the same time, or immediately afterward, Col. Samuel Goodson, cousin of Rev. James A. King, platted a town on land he owned immediately to the north of Anderson's Bristol. He called his development Goodsonville. Like Anderson, he anticipated growth and proceeded to construct rental property. In 1856, the Town of Goodson, Virginia was incorporated to include all of Goodsonville, plus that portion of Bristol on the Virginia side of the state line. At that point, these "twin cities" were Bristol, Tennessee and Goodson, Virginia. That same year, the railroad came into town, and the already rapid growth accelerated. Although it was officially called Goodson, the city north of the state line continued to be known unofficially as Bristol. By 1890, the unofficial was made official, and Goodson, Virginia became Bristol, Virginia. The border cities shared their name. To this day, the thriving downtown areas of both Bristol, Virginia and Bristol, Tennessee are joined together along State Street. Running east and west, much of State Street is also the state line. Also shared by the two states on East State Street is the Bristol Virginia-Tennessee Slogan Sign.
Gray Stothart, First Tennessee Development District, Holston Avenue Neighborhood Historic District, Sullivan County, TN, nomination document, 2012, National Park Service, National Register of Historic Places, Washington, D.C.
Neighborhoods
Akard Addition
Amity Heights
Apple Ridge
Apple Valley
Apple Valley Estates
Belle Brook
Belle Brook Estates
Belle Meadows
Bellehaven
Bentley Ridge
Booher Farm
Briarwood
Brighton Place
Bristol Commercial Historic District
Brookwood Estates
Buffalo Hills
Bungalow Addition
Candlewyck
Cedar Valley
Chadsworth
Cherry Hill Park
Chester Hills
Clear Creek
Cloverwood at Fairfield
Collingwood
Columbia Heights
Country Club Estates
Country Walk Estates
Cove Creek
Crestwood
Dail Farm
Deer Creek at Fairfield
Deer Trace
Delaney Addition
Eagle Ridge
Edgefield
Evergreen
Faifield Addition
Fair Acres
Fairfield Addition
Fairmont Neighborhood Historic District
Fairview
First Colony
Foran Addition
Forest Hills
Garland Lots
Grandview
Grandview Terrace
Graystone Estates
Greenbriar
Greenbriar Estates
Greystone
Greystone Estates
Grove Park
Gump Addition
Hassen Heights
Haynes Addition
Haynesfield Heights
Henrys Court
Heritage Commons
Hickory Knoll
High Meadows
Highland View
Hillcrest
Holston Hills
Holston View
Hunter Hills
Indian Hills
Kevin Grove
King College Additon
King College Park
Knob Hill
Lake View Estates
Larwood Acres
Lauren Anne Estates
Lee Heights
Little Switzerland
Livingston Creek
Lowery
Lowry Hills
Lynnwood Hills
Maple Hill Estates
McChesney Heights
McCrary
Meadowwood
Middlebrook
Miller Park
Monta Vista
Mount Area Estates
Osborne Addition
Park Bernard Estates
Park Place
Park Place Estates
Preston Woods
Redstone
Ridgedale
Ridgefield
Ridgewood
Rock Hill Park
Serenity Ridge
Sherwood Forest
Slaughter Addition
Solar Hill District
Spring Garden
Springdale
Steele Creek Colony
Stonebrook Estates
Stonegate
Sunnybrook
Sunnybrook Heights
Tara Hills
The Homes of Chadsworth
The Pines
The Reserve
The Virginian
Tween Hills Forest
Village Green
Virginia Heights
Virginia Hills
Walkers Mountain Acres
Wallace Meadows
Walmart
Walton Ridge
Washington Heights
Whitten Hills
Willow Oak Ridge
Woodlyn
Woodside
---