Fort Worth City
Fort Worth City Hall is located at 1000 Throckmorton Street, Fort Worth, TX 76102
---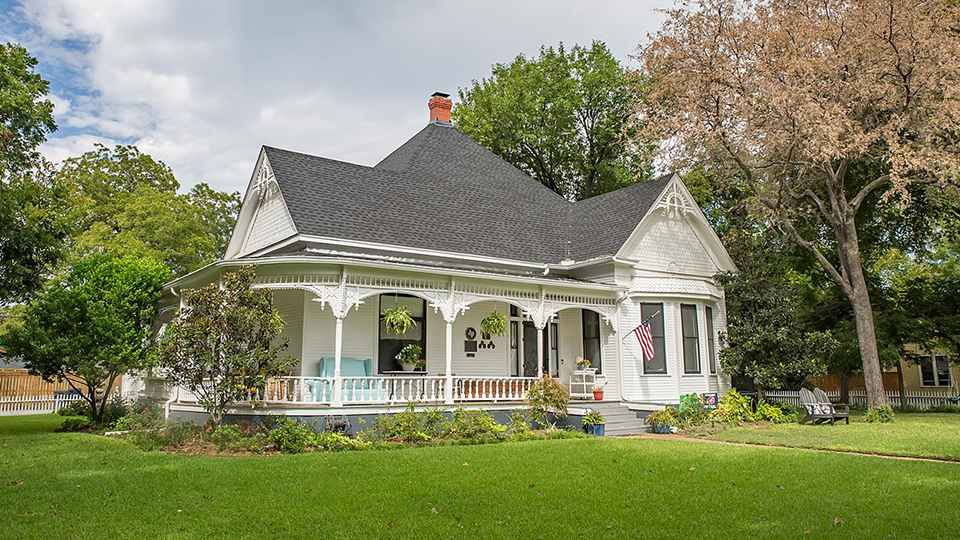 M.A. Benton House circa 1898. Located at 1730 6th Avenue, Fort Worth. Listed on the National Register of Historic Places in 1978, part of the Fairmount-Southside Historic District. Photographed by wikipedia username: Renelibrary, own work, 2022 [public domain], accessed via wikimedia commons, March, 2023.
---
Fort Worth as Described in 1940 [1]
Fort Worth is on the Trinity River in the north central part of Texas. It is as thoroughly representative of the Southwest as a long-horned street. Its metropolitan aspects — towering business buildings, noisy traffic — vividly exemplify the modern city; but its people typify the spirit and atmosphere of the Old West.
Neighborhoods
Academy at Waterchase
Acorn Ridge
Akers Park
Aledo Grove
Alexandra Meadows
Alexandra Meadows South
Allen Place
Allendale
Allison
Alta Mere
Alta Mesa
Amber Trails
Anderson Will
Anthem Estates
Arbor Hill
Arbor Mill Plantation
Arbor Park
Arcadia Park
Arline Place
Arlington Heights
Arlington Heights West
Arthouse Condos
Ash Cresent
Ash Meadows
Ashbriar
Aspen Woods
Astoria
Autumn Hills Estates
Autumn Park
Avalon Heights
Avondale Heights
Avondale Heights Estates
Baldwin
Ballard
Bankhead Estates
Bar C Ranch
Barnett
Basswood
Basswood Village
Beach Place
Beacon Hill
Bear Creek Vista
Beechwood Creeks
Bell Station
Bella Flora
Bellaire
Bellaire Estates
Bellaire Heights
Bellaire Park North
Bellaire Ridge
Bellaire Village
Belleve Hill
Bells
Bellvue Hill
Belmont
Belmont Park
Belmont Terrace
Belvedere Estates
Benbrook Hills
Benmar Grove
Bentley Village
Berkeley
Berry Castle
Bevans Place
Beverly Hills Estates
Big Bear Creek
Big Bear Creek Meadows
Billings
Blackburn Terrace
Blackerby
Blairbrook Fields
Blake Meadows
Blanchard
Blandford
Blantons
Bluebonnet Hills
Bluffs
Bonds Ranch
Bonita Oaks Estates
Boswell Meadows
Boswell Ranch
Brackeen
Bradford James A Surv
Brandingshire Place
Brandts
Bratcher Place
Brentmoor
Brentwood Hills
Briercliff Estates
Brittany Place
Broad Acres
Broadmoor
Brookside Acres
Brookwood Park
Bullard
Burchill
Burton Acres
Burton Place
Burton Place South
Byers Square Condos
Calloway Park
Calmar Court
Camden Park
Camelot
Cameron Place
Candleridge
Cantey Place
Cardinal
Carol Oaks
Carriage Hills
Carrington Court
Carter Park
Cartwright
Carver Heights
Carver Place
Castleberry Gardens
Cattlebaron Parc
Chadwick Farms
Chambers
Chapel Creek Ranch
Chapel Hill
Chapel Ridge
Chapel Springs
Chapin Court
Charleston Heights
Chart House Condos
Chase Place
Cheltenham
Cheyenne Ridge
Childs
Chisholm Ridge
Chisholm Villas
Churchill Gardens
Churchill Mobile Home Park
Cindy Court Estates
Clairemont Place
Cliffview
Club Villa Estates
Cobblestone Square
Cobbs Orchard
College Ave Condos
College Heights
Collinwood
Colonial Hills
Colonial Manor
Colonial Park
Columbus Heights
Cookes Meadow
Coronado Hills
Cottonwood Creek
Cottonwood Hills
Country Club Heights
Country Hills Estates
Country Living
Countryside
Court House View
Coventry
Coventry East
Coventry Hills
Covered Bridge
Covered Bridge Canyon
Crawford Farms
Creekside Estates
Creekwood
Crescent Place
Crest Point
Crestmont
Crestmont Terrace
Crestridge
Crestview
Crestwood
Crimson Ridge
Crossing at Fossil Creek
Dale
Davis John Surv
Deavers
Deer Creek
Deer Creek Acres
Deer Creek North
Deer Meadow
Deer Valley
Deer Wood Forest
Deerfield
Diamond Hill
Diamond Hill Highlands
Dixie Place
Dolan Valley
Dorado Ranch
Dosier Cove
Douglas Park
Draughon Heights
Drexel
Driscoll Acres
Eagle Mountain Lake Estates
Eagle Ranch
Eagle Vista Estates
East Green Hill
East Handley Heights
East Rosedale Heights
Eastbrook
Eastcrest
Eastern Hills
Eastern Meadows
Eastland
Eastover
Eastwood
Eastwood Terrace
Echo Heights
Ederville Park
Edgecliff
Edgecliff West
Edgepark
Edgewood
Edgewood Heights
Edgewood Park
Edgewood Place
Edgewood Terrace
Edmundson
Eighth Avenue Historic District
Elmwood
Elston
Emerald Park
Emory Place
Englewood Heights
Essex Place
Estancia
Everman Park South
Ewing
Factory Place
Fair Havens
Fair Lawn
Fair Meadows
Fairmount
Fairview Heights
Fairway Meadows
Fairways at Champions Circle
Fairways Of Fossil Creek
Falcon Ridge
Filing
Fishburn Place
Fleming Place
Forest Acres Gardens
Forest Highlands
Forest Park
Forest Park Place
Forty Oaks
Fossil Creek
Fossil Creek Estates
Fossil Hill
Fossil Hill Estates
Fossil Park
Fossil Park Estates
Fostepco Heights
Fox Run
Friars Square
Frisco
Frisco Heights
Gaither
Garden
Garden Meadows
Garden Springs
Gassoway
Giverny
Glen Garden
Glen Mills Village
Glen Park
Glencrest
Glencrest North
Glencrest South
Glencrest West
Gleneagles
Glenwood
Golden Gate
Golden Triangle Estates
Goldenrod
Golf Hill
Gradys
Graham Park
Grainger
Gramercy Condos
Grande Vista Heights
Green Hill
Green Meadow Park
Greenbriar
Greenfield Acres
Greenwood
Grove Hill
Hallmark
Hammond F M
Hampshire Heights
Hampton Place
Handley
Handley Heights
Hanna Ranch
Harbor East Estates
Harbour Point
Harbour View
Harbour View Estates
Harlem Gardens
Harlem Hills
Harmon
Harmon Ranch
Harriet Creek Ranch
Harston Woods Mobile Home Park
Harvest Ridge
Harwood Little Farms
Hassett Gardens
Havenwood Golf Villas
Hawthorne Park Estates
Haynes J W Surv
Heizman
Heritage
Heritage Bluffs
Heritage Glen
Heritage Hill
Heritage North
Heritage Oaks
Hi Mount
Hidden Hills
Hidden Meadows
High Crest
High Meadow Estates
Highland Hills
Highland Hills West
Highland Homes
Highland Lake
Highland Park
Highland Station
Highland Terrace
Highpoint Hill
Highpoint Terrace
Hightower
Hill Top Acres
Hillcraft
Hillcrest
Hillcrest Estates
Hills at Fossil Creek
Hills of Gilmore Creek
Hillsborough
Hilltop at Heritage
Hilltop Park
Hinton
Hinton Heights
Hoggard Heights
Hollis
Hollow Hills
Hollowbrook
Holly Ridge
Hollywood Hills
Home Acres
Homeland
Homestead
Homewood
Horse Shoe Hills
Houston Place Lofts
Hubbard Highlands
Hudson
Hulen Bend
Hulen Bend Estates
Hulen Meadow
Hulen Park
Hunters Field
Huntington Village
Hutcherson R J
Hyde Estates
Hyde Park
Imperial Terrace Condos
Indian Creek
Ingrams
Innisbrook Place
Isaacks
Jarvis Heights Apartments
Jennings South
Jennings West
Jersey Hill
Jinken Heights
Kaywood Heights
Kelco Acres
Kellis Park
Kennedale Acres
Kensington
Kilfoil
King Oaks
Kings Trail
Kingsbrook Estates
Kingspoint
Kingsridge
Krull Court
Kuykendalls
La Cantera
La Cantera West
La Valle Grande
Lacy
Lago Vista
Lake Country
Lake Country Estates
Lake Country Place
Lake Country Villas
Lake Crest Estates
Lake Oaks Estates
Lake Ridge
Lake Shores Acres
Lake Vista Estates
Lakepointe
Lakes Of River Trails
Lakeside Acres
Lakeview
Lakeview North
Lakewood
Lamplighter Village
Las Brisas
Lasater
Lawn Place
Lawn Terrace
Le Bijou
Lee Rays Place
Legacy Pointe
Legacy Square
Legacy Village
Legacy West
Lesters
Lexington Square
Liberty Crossing
Limbaugh
Lincoln Place
Lincolnshire
Linda Vista Estates
Linley
Linwood
Little Chapel Creek
Live Oak Creek
Llano Springs
Lone Star Estates
Looney
Lost Creek
Lost Creek Garden Homes
Lost Creek Hollow
Lost Creek Ranch North
Lost Creek Ranch West
Lost Spurs
Lower Monticello
Lowery Acres
Lowery Oaks
Lowery Park
Loyds
Luthers Creek
Lynnhaven
Magnolia Green
Mallard Cove
Manor Hill
Manors Of Chasewood
Marine Creek
Marine Creek Estates
Marine Creek Heights
Marine Creek Hills
Marine Creek Meadows
Marine Creek Ranch
Marks Henry
Markum Ranch Estates
Marquette Place
Martin Place
Martindale
Marys Creek Estates
Masonic Hill
Matador Ranch
Mattison
McClellans
McCowens Wm Surv
McDonnell
Mcpherson Ranch
Meadow Creek
Meadow Creek South
Meadow Glen Estates Mobile Home Park
Meadow Hills Estates
Meadow Lakes
Meadowbrook
Meadowbrook Acres
Meadowbrook East
Meadowbrook Estates
Meadowbrook Heights
Meadowbrook Hills
Meadowbrook Park
Meadowbrook Terrace
Meadowcourt Estates
Meadowmere
Meadowood Village
Meadows
Meadows West
Meadowview
Merwick
Mesa Grande
Midwest
Mira Vista
Miracle
Mission Ridge Estates
Mistletoe
Mistletoe Heights
Mistletoe Sangamo
Mitchell Heights
Mockingbird Lane
Monarch Hills
Monticello
Monticello Park
Montserrat
Morgan Creek
Morgan Heights
Morningside Park
Morningside Terrace
Morris Estates
Morrison Acres
Mountain Vista Estates
Murray Hill
Mustang Creek Estates
Mustang Pointe
Newark
Newport Village at Trinity
Noe
Norma Court
Normandy Place
North Beverly Hills Estates
North Fork Estates
North Fort Worth
North Glen
North Jarvis Heights
North Meadowbrook Estates
North Meadowbrook Village
North Mistletoe
North Riverside Estates
Northbrook
Northcrest
Northview
Norton Heights
Oak Creek Trails
Oak Forest
Oak Grove
Oak Hill Estates
Oak Lawn
Oak Place
Oakhurst
Oakland
Oakland Park Estates
Oakland Park Heights
Oakmont Meadows
Oakridge Terrace
Oakview
Oakwood Heights
Obrien
Oconnell
Omni Residences
One Montgomery Plaza Residences
One Museum Place
Orchards
Orta
Overton Crest
Overton Park
Overton South
Overton Terrace
Overton West
Overton Woods
Ozee Michael Surv
Pace Crossing
Painted Oaks
Palmilla Springs
Palmnold Meadows
Panther Heights
Park Bend
Park Bend Estates
Park Creek Estates
Park Glen
Park Meadow
Park Palisades
Park Place
Park View
Parkhill
Parks Of Deer Creek
Parkside
Parkside East
Parkview
Parkview Estates
Parkview Hills
Parkway at Park Glen
Parkway Hill
Parkwood East
Parkwood Estates
Parkwood Hill
Pasadena Heights
Pavelski
Peaceful Acres
Pearl Ranch
Pebble Creek Ridge
Pecan Place Condos
Pine Tree Mobile Home Estates
Pinion Park
Pleasant Glade
Plum Valley Place Condos
Pollard Estates
Polytechnic Heights
Polytechnic Heights
Porter Estates
Post Oak Village
Poynter Crossing
Prairie Ridge Estates
Presidio South
Presidio Village
Presidio West
Primrose Crossing
Prospect Heights
Provinia
Pyle Place
Pyramid Acres
Quail Grove
Quail Grove Estates
Quail Ridge Estates
Quarter Horse Estates
Queensboro Heights
Raef
Rainbow Ridge
Ramey Place
Ranch at Eagle Mountain
Ranch at Eagle Mountain Ph V
Ranches East
Ranchette Estates
Ranchoaks
Randol Mill Villas
Reata Meadows
Reata Ranch
Regency Place
Remington Point
Remuda Ranch
Remuda Ranch Estates
Resort at Eagle Mountain Lake
Ridge Acres
Ridgecrest
Ridgeivew Farms
Ridgeview Estates
Ridgeview Farms
Ridgewest
Ridgewood
Ridglea
Ridglea Country Club Estates
Ridglea Crest
Ridglea Estates Condo
Ridglea Hills
Ridglea North
Ridglea Park
Ridglea Place
Ridglea South
Ridglea West
Ridgmar
Ridgmar Crossroads
Ridgmar Estates
River Bend Estates
River Bend Villas
River Crest Condos
River Elm
River Gardens
River Hills
River Oaks
River Park
River Trails
Riverbend Estates
Rivercreek Ranch
Rivercrest
Riverhollow
Rivers Edge
Riverside
Riverside Estates
Riverview Estates
Riverwood
Rockwood Terrace
Rollie Estates
Rolling Hills
Rolling Meadows
Rolling Wood Homesites
Rollins Hills Estates
Rosedale
Rosedale Park
Roselane
Rosemary Ridge
Rosen Heights
Ross D S
Rowland Place
Royal Acres
Royal Crest
Royale Orleans East Condos
Royale Orleans North Condos
Royale Orleans South Condos
Ryan J C
Ryan Place
Ryan Southeast
Ryanwood
Ryanwood North
Sabine Place
Sabre
Saddle Creek
Samuels
San Roe
Sandshell Heights
Sandy Acres
Sandy Oaks
Sandy Ridge Estates
Sandybrrok
Sandywoods Estates
Sangamo Park
Sansom Park
Santa Fe Enclave
Saratoga
Savanna Estates
Scenery Hill
Scenery Hill Park
Scenic Village
Seidels
Seminary Hill
Sendera
Sendera Ranch
Sendera Ranch East
Senisa Hill
Settlement Plaza
Seventeen Lakes
Seville
Shadow Glen Estates
Shady Oaks
Shalon Acres
Shaw Clark
Shaw Heights
Shelmire
Shelton
Sierra Vista
Silver Lake
Silver Ridge
Sisk Heights
Skyline Ranch
Skyline Terrace
Slone
Smokey Hill
Somerset Estates
South Brook
South Creek
South Eastlawn
South Fork
South Fork Twnhs
South Hemphill Heights
South Hills
South Meadow
South Meadow
South Oak Grove Estates
South Ridge
South Seminary
South Side
South Summitt Heights
Southcrest
Southfield
Southgate
Southland
Southland Terrace
Southpark Station
Southport
Southwest Hills
Spanish Gardens Condos
Spring Ranch
Springdale
Springleaf
Steiner J M Surv
Sterling Creek
Stewart
Still Meadows
Stockdale
Stone Creek
Stone Creek Ranch
Stone Crossing
Stone Hollow
Stone Manor
Stone Meadow
Stone Wood
Stonegate
Stoneglen at Fossil Creek
Stonewood
Stouts
Stratford
Strawberry Creek Estates
Summer Creek
Summer Creek Meadows
Summer Creek Ranch
Summer Creek South
Summerfields
Summerfields East
Sun Valley
Sundance Springs
Sundown Park
Sunrise
Sunrise Park
Sunset Acres
Sunset Heights
Sunset Heights South
Sunset Hills
Sunset Oaks
Sunset Ridge
Sunset View
Sunshine Hill
Sutters Mill
Sutton Place
Sycamore Heights
Sycamore Pointe
Sylvan Heights
Sylvania Park
Sylvia Place
Tandyland
Tanglewood
Tanglewood North
Tanglewood Park
Tarrant Town
Teham Ridge
Tehama
Tehama Ridge
Tejas Trails
Ten Mile Bridge
Terrace Landing
Texas and Pacific Lofts
The Bluffs at Heritage
The Cliffs
The Creeks Of Aledo
The Greens at The Fairways
The Orchards
The Parks at Willow Ridge
The Tower
Thomas Crossing
Tiara Ranch
Tiara Ranch Estates
Tidballs
Tierney Heights
Tiffany Gardens
Timberland
Timberland Estates
Tipton Place
Tower Residential Condos
Trace Ridge
Trail Lake Estates
Trail Ridge Estates
Trails of Fossil Creek
Trails of Marine Creek
Trails of Willow Creek
Trailwood Estates
Tranquil Acres
Trentman
Triangle Estates
Trinity at Heritage
Trinity Bluff
Trinity Glen
Trinity Heights
Trinity Lakes
Trinity River
True Acres
Trueland
Turtle Creek Ranch
Tuscany Valley Estates
Twin Mills
Twin Mills Farms
Union Depot
University Hill
University Park Condos
University Place
Urban Meadows
Valley Brook
Valley Brook Estates
Valley Ridge
Valley Vista
Van Horn
Van Zandt Farms
Van Zandt Hillside
Vanriper John Surv
Ventana
Veraison Village
Vickery
Vickery Acres
Vickery Garden Tracts
Vickery Southeast
Victorian Oaks
Victory Heights
View Park
Village Garden
Village Meadows
Villages of Chisholm Ridge
Villages of Crawford Farms
Villages of Marine Creek
Villages of Parkwood Estates
Villages of Parkwood Hill
Villages of Stonegate
Villages of Sunset Pointe
Villages of Woodland Springs
Villages of Woodland Springs West
Villas at Fossil Creek
Villas at Waterchase
Vineyards at Heritage
Vista Greens
Vista Meadows
Vista Meadows North
Vista Ranch
Vista Ridge
Vista West
Walkers
Washington Heights
Waterchase Estates
Waterfront
Waterfront at Enchanted Bay
Waverly Park
Wayne Place
Weaver
Wedgewood
Weisenberger
Welborn View
Wellington Point
Wernet Place
Wesleyan Heights
Wesleyan Hills
West Bluff Condos
West Fork
West Highland
West Morningside
West Oak
West Oakhurst
West Point Village
West Ridge
West Vickery Heights
Westcliff
Western Hills
Western Meadows
Western Trails
Westhaven
Westland
Westland Acres
Westover Acres
Westover Hills
Westover Ridge
Westover Square
Westpoint
Westpoint Village
Westside Acres
Westview
Westwood
Wheat
White Lake Hills
White Lake Villas
Whitehall
Whitmore Courts
Whitney Meadows
Wilkes Estates
William J. Bailey
Willow Creek
Willow Lake
Willow Lake North
Willow Ridge
Willow Ridge Estates
Willow Springs Ranch
Willow Wood
Wilshire
Wilshire Valley
Winchester Park
Windsor Park
Windsor Place
Winston
Woodhaven
Woodhaven Country Club
Woodhaven Country Club Estates
Woodhaven East
Woodhaven Golf Villas
Woodhaven Hills Condos
Woodhaven Village
Woodland Acres
Woodlands of Bear Creek
Woodmont
Woodrose
Woodward
Worth Heights
Worth Hills
Yellow Rose
More than 80 percent of Fort Worth's population is native American. Many of them are descendants of the wiry pioneers of the plains country. Yet for all its speed and activity, Fort Worth is one of the State's most hospitable cities. There is still time for a cordial "Howdy stranger," and a nice disregard of the city's uproar in the easy pause for conversation that is definitely reminiscent of the top rail of a corral fence, with boot heels hooked for balance and plenty of time for talk.
Rather oddly, Fort Worth was never a fort. Originally it was a camp where, in 1849, Brevet Major R. A. Arnold and a troop of dragoons kept a watchful eye on the Indians. The camp was named Fort Worth in honor of General William Jenkins Worth, Mexican War hero. After the Civil War, when the cattle drives trailed up through the little community, it became an important trading and supply center. By 1866 educational facilities were urgently needed, so its citizens bought a wagonload of flour which they traded for lumber, to convert the Masonic Hall into a school building.
In 1870, when it became apparent that a railroad might soon reach the settlement, Fort Worth enjoyed rapid growth. It was incorporated in 1873. That same year, with the railroad as near as Eagle Ford, 26 miles distant, land values boomed and the population was more than 5,000. Then came the "Panic of '73," with the failure of Jay Cooke & Company, which held most of the liens against the new railroad, the Texas and Pacific, and also against much of the property in Fort Worth.
That blow immediately shifted the weak-hearted from the community. A majority of the new residents headed east and the population fell below 1,000. During the hegira a young lawyer wrote a letter to the Dallas Herald asserting that Fort Worth was so dead he had seen a panther lying asleep and unmolested in the main street.
The thousand stalwarts who remained greeted that calumny with hoots of derision. The fire department bought a panther cub for a mascot. Local clubs attached the name "panther" to their former titles, and the "Panther City" was born.
The Panthers sharpened their claws. They wanted a railroad, and a railroad they would have if, as a local resident declared, "every bank and peanut stand in the entire East failed." They offered to grade the remaining 26 miles of unfinished roadbed in exchange for a lien on the road. The Texas and Pacific agreed and the Panthers set out to help complete the moribund railway before the land grant subsidy given by the legislature should expire. In 1876 the situation developed into a race against time. The road had to be completed before the legislature adjourned—and adjournment day was near.
Meanwhile, Fort Worth scratched gravel. Every business house operated with the barest minimum of workers and sent the bulk of its men to the railroad right-of-way to wield pick and shovel. The women of the city worked in relays, preparing hot coffee and food, and feeding and watering the mules. The legislature remained in session until the road was completed, and on July 19, 1876, the first train into Fort Worth stopped at what is now Boaz Street and Lancaster Avenue, its whistle cord tied down and the editor of the local newspaper frantically shoving fuel into the firebox to keep the steam whistle going.
That was the beginning of the city's present network of nine trunk line railroads.
During the construction of its first rail line, and for some time thereafter, Fort Worth was a typical frontier town. Gamblers, cattlemen, and all types of characters familiar to the Old West thronged the city. A bit of unusual excitement was provided when the Comanche chiefs, Yellow Bear and Quanah Parker, the latter famous for his raids against the whites, visited town and went to bed after blowing out the gas. Yellow bear never awakened, but Quanah Parker recovered and lived to become a friend of his former enemies.
By 1875 citizens of Fort Worth had sensed the value of capitalizing the city's strategic location as the market place of a great southwestern empire of cattle and cattlemen. They organized a meat packing company and built the first stockyards in Fort Worth. A quarter century later, Swift & Company, Armour & Company, and Libby, McNeill & Libby entered the field, and by 1902 those companies had completed a group of packing houses in Niles City, then on the outskirts of Fort Worth. Their presence attracted allied industries, and during the decade that followed, the population jumped from 26,699 to 73,312.
The World War wrote a new chapter in the story of Fort Worth, with the establishment of Camp Bowie within the city and of several flying fields in its immediate vicinity. Little remains of any of the military camps and fields, the site of Camp Bowie now being virtually filled with residences.
Oil was discovered in 1912 at Burkburnett, 125 miles northward, and immediately after the World War, the Ranger field, 100 miles westward, was brought in.
Works Projects Administration, Federal Works Agency, Federal Writers' Program, Texas: A Guide to the Lone Star State, American Guide Series, Texas State Highway Commission, 1940.
---