Sanpete County, Utah
Sanpete County administrative offices are located at 160 North Main Street, Manti, UT 84642; phone: 435-835-2131.
---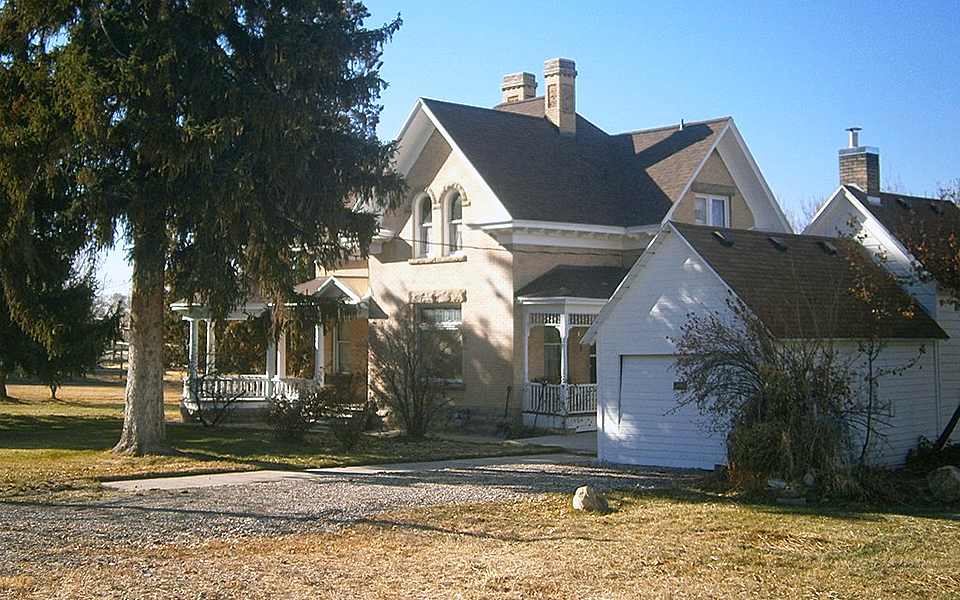 The W.D. Candland House, circa 1904, located at 123 North 100 West, Mount Pleasant. It was listed on the National Register of Historic Places in 2019. Photo by wikipedia username: Ntsimp, 2019, public domain; commons.wikimedia.org, accessed August, 2022.
---
TOWNS
Centerfield Town
Ephraim City
Fairview City
Fayette Town
Fountain Green City
Gunnison City
Mayfield Town
Mount Pleasant City
Sterling Town
Wales Town
Sanpete County [1] is located in the center of the state of Utah and is home to the majestic Wasatch Plateau and Sanpitch Mountains, the scenic Sanpete, Sanpitch, and Gunnison Valleys and the Manti‐LaSal National Forest. Each year, it attracts visitors and new residents who are drawn to its welcoming communities and open spaces. Residents express widespread satisfaction with Sanpete County as a place to live, and they want to manage growth and development to ensure that the qualities they value are not lost.
The first Mormon settlers arrived in the area in the fall of 1849. They chose the Manti site because of a nearby warm spring, the extensive limestone quarries and the fine farming and grazing lands nearby. Agriculture has long been an important part of Sanpete makeup and remains so today. Sanpete County remains one of the top ten turkey producing counties in the country.
County of Sanpete, UT, Sanpete County General Plan Update 2020, 2010, www.sanpete.com, accessed March, 2016.
HISTORIC SITES
Andersen, Claus P., House
Andersen, Lars S., House
Anderson, James, House
Anderson, Lewis and Clara, House
Anderson, Niels Ole, House
Arilsen, Ole, House
Barentsen, Andrew, House
Bessey, Anthonv W., House
Billings-Hougaard House
Bradley, George Washington, House
Cox-Shoemaker-Parry House
Crawforth, Charles, Farmstead
Dorius, John, Jr., House
Faux, Jabez, House And Barn
Fountain Green Hydroelectric Plant Historic District
Great Basin Research Station Historic District
Greaves-Deakin House
Hansen, Hans A., House
Hansen, Peter, House
Hjort, Niels P., House
Jacobsen--Jensen House
Jensen, Frederick C., House
Jensen, Hans C., House
Jensen, Rasmus, House
Johnson, Robert, House
Johnson-Nielson House
Jolley, Francis Marion, House
Larsen, Oluf, House
Larsen-Noyes House
Lewellyn, John T., House
Metcalf, James and Caroline M., House
Mortensen, Niels, House
Mortensen-Nelson House
Mount Pleasant Commercial Historic District
Nielsen, Jens, House
Nielson, John R., Cabin
Nielson, N. S., House
Oberg-Metcalf House
Olsen, Hans Peter, House
Ottesen, Hans, House
Patten, John, House
Peterson, Canute, House
Rasmussen, Morten, House
Sanpete County Courthouse
Seeley, William Stuart, House
Seely, John H., House
Snow Academy Building
Sorensen, Dykes, House
Sorensen, Fredrick Christian, House
Spring City Historic District
Staker, Alma, House
Staker, James B., House
Tuttle-Folsom House
Watkins-Tholman-Larsen Farmstead
Wheelock, Cyrus, House
---
Home
Whats New
Site Index
LivingPlaces.com © 1997‑2023
Search
Contact
Privacy
Disclaimer