Warning: include(/Library/kw/livingplaces.com/menu.html): failed to open stream: No such file or directory in /Library/WebServer/livingplaces.com/UT/Utah_County/Orem_City.html on line 34

Warning: include(): Failed opening '/Library/kw/livingplaces.com/menu.html' for inclusion (include_path='.:') in /Library/WebServer/livingplaces.com/UT/Utah_County/Orem_City.html on line 34

Orem City
Orem City Hall is located at 56 North State Street, Orem UT 84057.
Phone: 801‑229‑7999.
---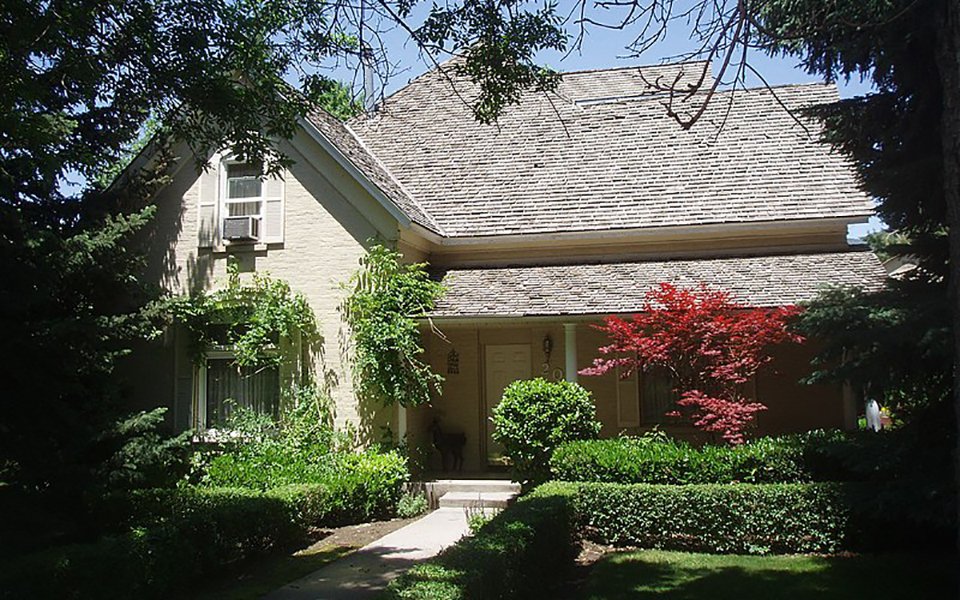 Photo: David and Drusilla Baxter House, circa 1895, located at 206 West 1600 North, Orem, UT. Listed on the National Register of Historic Places in 1998. Photographed by User:Ntsimp (own work), 2009, [cc-1.0, public domain], via Wikimedia Commons, accessed October, 2021.
---
Beginnings [1]
Orem, Utah, is located in the center of Utah County. The city extends from the eastern shore of Utah Lake, to Provo and the foothills of Mount Timpanogos. The community of Orem was originally called the "Provo Bench" area. Bypassed by the Provo River, the bench lands were barren and rocky, and considered uninhabitable, especially in winter. Beginning in 1858, small groups of settlers attempted to farm the area, but were mostly unsuccessful until the construction of the Provo Bench Canal in 1864. At this time, there were a few farms and orchards on the bench, but no full-time residents. As the canal construction expanded and irrigation improved during the last three decades of the nineteenth century, homesteaders began to build homes as well as plant fields and orchards.
Neighborhoods
Aikens Grove
Anjeanette Estates
Appleton Park
Aspen
Backus
Berkshires
Bonneville
Breton Woods
Bridget Cove
Bristol Park
Brookbury
Burning Tree Estates
Bussio
Cannery Cove
Canyon Breeze
Canyon Cove Estates
Carol Estates
Carrara Villas
Cascade
Cascade Acres
Centennial Acres
Champion Estates
Charleston Heights
Cherapple Canyon
Cherry Hill
Cherrywood
Cleon Acres
Cobblestone
College Heights
Colonies
Concord Heights
Country Creek
Country Estates
Country Woods
Countryside Square
Cove Estates
Davinci Place
Diamond Heights
Drage
Eastview Condos
Edgeview
Ercanbrack
Evelyn Court
Evergreen Court
Evergreen East
Evergreen Square
Family Village
Farnsworth
Fleetwood Square
Foxmoor
Garden Park
Geneal Heights
Geneva
Geneva Gardens
Geneva Heights
Glendell
Glennwood
Gold Creek
Goldwood
Granite Village
Grape Leaf
Green Hills
Green Ridge
Haleys Cove
Harris Acres
Hearthwood
Heather Ridge
Hidden Valley
Hillcrest
Inglewood Park
Ivy Hall
Jacobson Acres
Jasmine Estates
Kay
Kenwood
Key Ridge Heights
Kingsbury Square
Kingswood
Kirks Fruit Ranch
Knight
La Nalle Vue
Lake Ridge
Lake View Manor
Lakecrest
Lakeridge Heights
Lakeview
Lakeview Manor
Madison Estates
Maple Place
Maple Tree
Mckenzie Park
Memmo Gardens
Milestone
Mollner
Monte Vista
Mountain Green
Mountain Oaks
Mountain Rose
Mountain Shadows
Mountain View Meadow
Ninetta
Normandy
North Abby
North Hampton
North Meadows
North Park Manor
North Stone
Northridge
Oak Crest
ODell Estates
Old Orchard Estates
Orchard Creek
Orchard North
Orchard South
Orchard Village
Orem Boulevard Condos
Orem North
Orem South
Palisade Cove
Palisade Park
Park Lane Estates
Parkside Village
Peach Grove
Peterson
Pheasant Meadow
Pheasant Ridge
Raspberry Ridge
Ribbonwood
Ridgecrest
Ridgeview
Riverbreeze Haven
Rockland
Royal Oaks
Sandy Brooke
Scera Park North
Scera Park South
Shadow Ridge
Sharon
Shephard
Sierra Vista
Skyline Estates
Sleepy Ridge
South Rim
Southgate Park
Springwater
Stone Wood
Stonebrook
Summerfield
Sun Village
Suncrest
Sunridge
Sunset Heights
Sunset View
Sunset Vista
Tanglewood
Taylor
The Berkshires
The Hearthstone
Tiffany Park
Timpanogos Village
Timpview Village
Tuscan Villas
University Park Estates
Vale Manor
Valley View West
Verona Estates
Victory Heights
Village Green
Vineyard Meadows
Waterleaf
Western Manor
Westhill
Westlake
Westmore
Weston
Westview Terrace
Whispering Springs
Whistler Ridge
Willow Ridge
Windsor Court
Windsor North
Windsor Park Estates
Windsor South
Woodfield Cottages
Wynnewood
By the end of the nineteenth century, a population of 692 was living on the Provo Bench. Most early settlers were members of the Church of Jesus Christ of Latter-day Saints (LDS or Mormon Church). Unlike many early Utah settlements, Orem was not laid out in a grid pattern of city blocks, but as a string of homesteads along the territorial highway (now State Street) and other thoroughfares. Though these early farmers experimented with a variety of crops, fruit production proved to be the most lucrative cash crop. The first major peach crop, harvested in 1892, encouraged more settlement and agrarian expansion. In the 1890s, the small community had a sugar-molasses mill, two schoolhouses, an LDS Church meetinghouse, a blacksmith shop, a general store, and two recreational resorts. In 1910, with a population of just over a thousand, the community began to receive major improvements. Electricity reached the Provo Bench in 1912 from a power station in Provo Canyon. The construction of the Salt Lake and Utah Interurban Railroad, which stretched from Salt Lake City to Payson, gave the bench-area farmers access to a wider range of markets. In 1914 the Provo Bench Commercial Club was organized to promote better business conditions. The business leaders decided to change the area's name from Provo Bench to Orem, after Walter C. Orem the owner of the interurban railroad. The community was incorporated under the name of Orem in May 1919.
The first act of the new town was the passing of a bond election in the amount of $110,000 to pay for a new culinary water system. Orem grew slowly, adding an average of 500 people each decade. By 1930, the population was 1,915. Agriculture continued to be the primary occupation for the majority of Orem citizens, though the economy had already began to stagnate and decline even before the depression years. Nevertheless, the town made gradually improvements during this period. State Street was paved with concrete in 1921. The entire community had electricity by the end of the 1920s. The town was enlarged by a series of annexations in the late 1930s. In 1938, the James G. Stratton farm and residence at the corner of State Street and Center Street were acquired, giving Orem its first official city center and town hall. One of the greatest achievements of the community was the establishment of the Sharon Cooperative Educational and Recreational Association (SCERA) in 1933. Though still primarily an agricultural community, by 1940 Orem had a street numbering system, a thriving commercial district along State Street (necessitating the installation of semaphores at 800 North and 800 South), and a population of 2,914.
The impact of World War II on Orem's history was tremendous. The Geneva Steel Plant was built in 1942 and Orem's population increased by 186%. Six subdivisions were plated in 1943 for defense worker housing, and the city began to be transformed from an agricultural village to an industrial center. More subdivisions and a large shopping mall followed in the decades between the 1950s and the 1970s, and Orem City became the commercial center of Utah County. Beginning in the 1980s and continuing to the present, computer-related industries have generated even more suburban development. Today the vestiges of the early agricultural community are rapidly disappearing. Because of heavy commercial and residential development, very few examples of the historic architecture remain, making the few extant historic buildings even more important.
National Register nomination document, 1999, prepared by Korral Brochinsky, City of Orem Historic Preservation Commission, Adams, George and Temperance House, National Park Service, National Register of Historic Places, Washington, D.C.
Nearby Towns: American Fork City • Lindon City • Pleasant Grove City • Provo City • Vineyard Town •
---

Warning: include(/Library/kw/livingplaces.com/footer.html): failed to open stream: No such file or directory in /Library/WebServer/livingplaces.com/UT/Utah_County/Orem_City.html on line 278

Warning: include(): Failed opening '/Library/kw/livingplaces.com/footer.html' for inclusion (include_path='.:') in /Library/WebServer/livingplaces.com/UT/Utah_County/Orem_City.html on line 278