Warning: include(/Library/kw/livingplaces.com/menu.html): failed to open stream: No such file or directory in /Library/WebServer/livingplaces.com/WA/Benton_County/Kennewick_City.html on line 34

Warning: include(): Failed opening '/Library/kw/livingplaces.com/menu.html' for inclusion (include_path='.:') in /Library/WebServer/livingplaces.com/WA/Benton_County/Kennewick_City.html on line 34

Kennewick City
Kennewick City Hall is located at 201 West 6th Avenue, Kennewick, WA 99336.
Phone: 509‑585‑4273.
---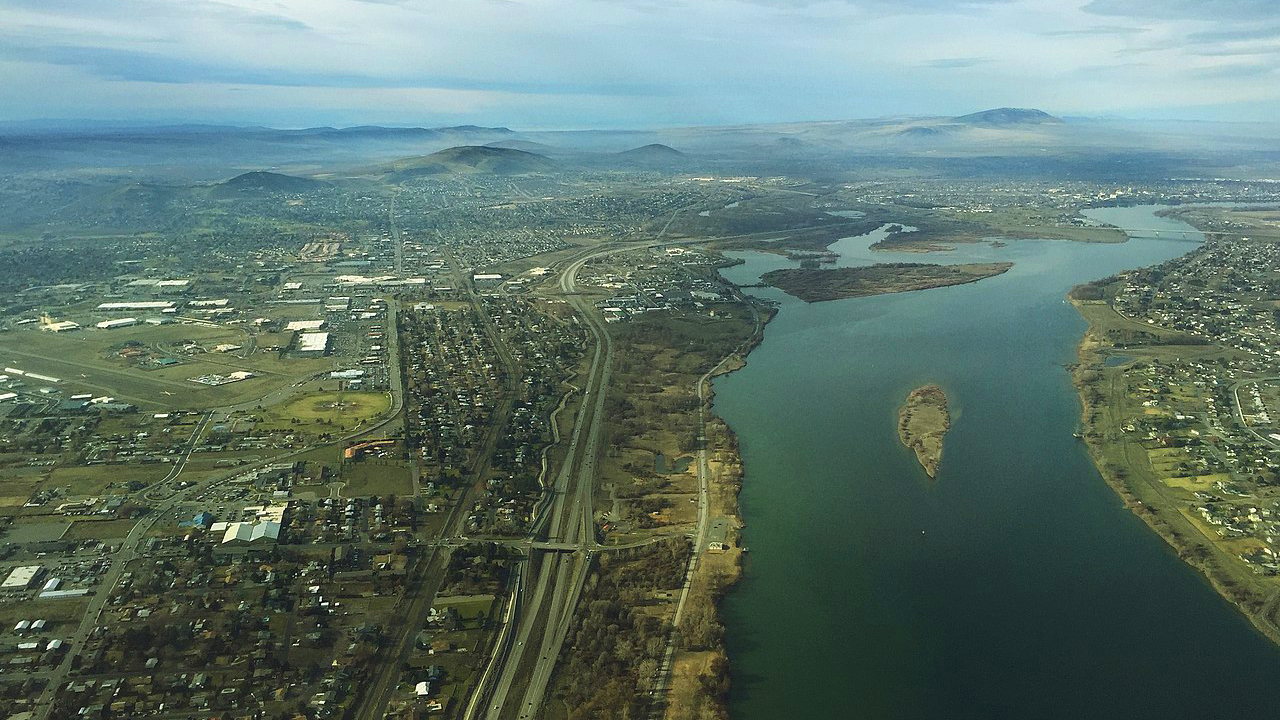 Photo: Aerial view of the City of Kennewick from above the Columbia River near the Blue BridgePhotographed by user:formulaone (own work), 2016, [cc-2.0], via Wikimedia Commons, accessed September, 2021.
---
Neighborhoods
Cherry Blossom Meadows
Cherry Creek Estates
Cottonwood Springs
Creekstone
Fountain Hills
Hansen Park
Havencourt Meadows
Heights at Canyon Lakes
Highlandview Heights
Inspiration Estates
Kingview Estates
Madison Park
Panoramic Heights
Royal Ann Estates
Sagecrest
Shadow Run
Summit View
The Heights at Red Mountain
Union West
West Vineyard
Willowbrook
Beginnings [1]
Kennewick was originally platted in 1883 by C. J. Beach. However, settlements in the area of Kennewick began as early as 1863. Major growth did not start until ample irrigation water was brought in by the Benton Land and Water Company in 1892. Completion of the Northern Pacific Railroad a decade earlier, in 1883, and a bridge across the Columbia River in 1888, helped bring farmers to the area and ship their agricultural products to market.
The city was incorporated in 1904 and named after the Native American word, ken-i-wak, or winter heaven, which was used to describe the area's particularly mild winters. Most of the early growth of the city occurred from 1904 to about 1920, when falling agricultural prices put a damper on growth. It was not until the U.S. Government formed the Hanford project north of Richland in 1943 that growth dramatically picked up, bringing a city of only 2000 people to 10 times that number in only a few short decades.
Unfortunately, many original pre-World War II downtown buildings were modernized or demolished because they were deemed unfashionable in an atomic age city.
Compared to the downtowns of other outlying towns of similar size, the Tri-Cities, in general, have few original standing structures. To help remedy this situation and to bring economic growth to the downtown area, the City of Kennewick is currently undertaking a revitalization project, starting with the restoration of building facades and the removal of a 1970s streetscape with elements more appropriate for a town that has stood for nearly a century. Current street names were adopted in 1925. This is a list of current street names with the historic version in parenthesis: First Avenue (Third Street), Kennewick Avenue (Second Street), Canal Drive (Front Street), Fruitland St. (Seventh Street), Everett Street (McKinley Street), Dayton St. (State St.), Cascade Street (Pacific Street), Benton Street (Tacoma Street), Auburn (Yakima Street).
Jeremy Wells, based on guide by Tom Mook, Walk Historic Kennewick, A walking tour of historic downtown Kennewick, Washington, www.owt.com, accessed July, 2007.
---

Warning: include(/Library/kw/livingplaces.com/footer.html): failed to open stream: No such file or directory in /Library/WebServer/livingplaces.com/WA/Benton_County/Kennewick_City.html on line 108

Warning: include(): Failed opening '/Library/kw/livingplaces.com/footer.html' for inclusion (include_path='.:') in /Library/WebServer/livingplaces.com/WA/Benton_County/Kennewick_City.html on line 108