---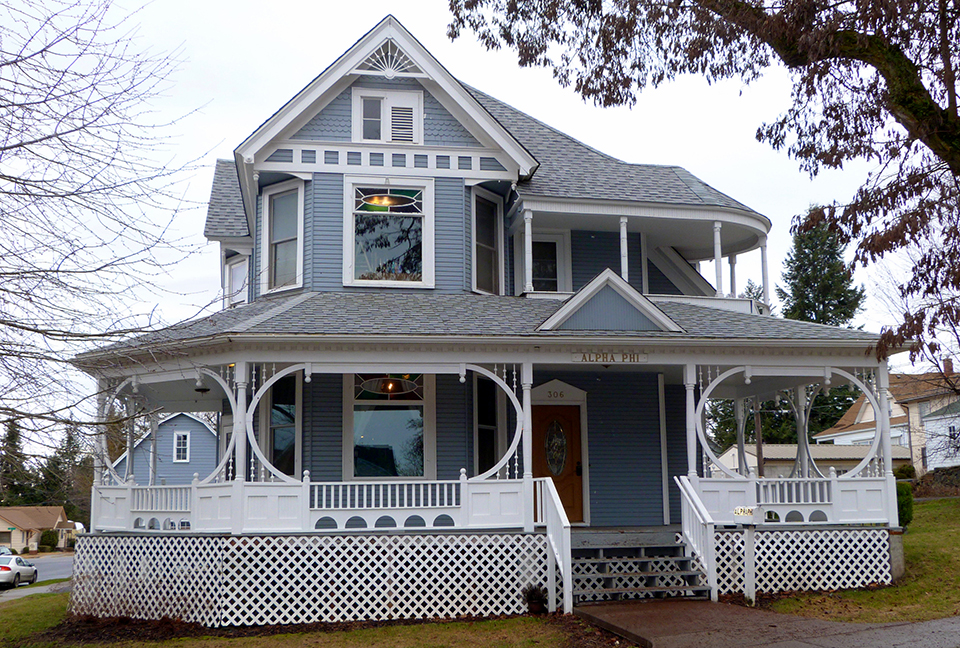 Photo: David Lowe House, circa. 1904, located at 306 F Street, Cheney, WA. Listed on the National Register of Historic Places in 1983. Photographed by User:Ian Poellet (own work), 2014, [cc-4.0 ], via Wikimedia Commons, accessed July, 2021.
---
TOWNS
Airway Heights City
Cheney City
Country Homes
Deer Park City
Dishman
Fairfield Town
Fairwood
Green Acres
Latah Town
Liberty Lake
Medical Lake City
Millwood Town
Opportunity
Rockford Farm
Spangle Town
Spokane Valley City
Town and Country
Trentwood
Veradale
Waverly
Spokane County administrative offices are located at 1116 West Broadway Avenue, Spokane, WA 99260; phone: 509-477-2211.
Established in 1858, Spokane was annexed by Stevens County in 1864. It was re-established as its own county in 1879. It is named for the Spokane tribe of Native Americans.
HISTORIC SITES
Amman
Barnett, Alonzo and Louise, House
Bell, Dr. Robert and Jessie, House
Binkley, J. W., House
Breslin
Brooks, Kenneth and Edna, House
Browne's Addition Historic District
Bump Block-Bellevue House-Hawthorne Hotel
California Ranch
Campbell House
City of Cheney Historic District
Clark Mansion
Commercial Block
Coolidge--Rising House
Corbet--Aspray House
Corbin Park Historic District
Corbin, Daniel C. and Anna, House
Desmet Avenue Warehouse Historic District
East Downtown Historic District
Felts Field Historic District
Finch House
Fort George Wright Historic District
Glover House
Hallett House
Ham-McEachern House
Hillyard Historic Business District
Hutton Settlement
Hutton, Levi and May Arkwright, House
Knickerbocker
Knight House
Koerner House
Littlebrook
Lowe, David, House
Marycliff-Cliff Park Historic District
Meese, Gustav, Building
Miller Block
Millwood Historic District
Mission Avenue Historic District
Montvale Block
Mount Saint Michael
Nettleton's Addition Historic District
Ninth Avenue Historic District
Peaceful Valley Historic District
Ralston, John and Mary, House
Riblet, Royal, House
Richardson--Jackson House
Riverside Avenue Historic District
Robinwood Aparments
Rockwood Historic District
Roosevelt Apartments
Rosebush House
San Marco
Smith, Edwin A., House
Spokane City Hall Building
Spokane County Courthouse
Strahorn Pines
Tuell, Frank and Maude, House
Turner, Luther P. and Jane Marie, House
US Post Office, Courthouse, and Custom House
Waikiki
Weaver, Lawrence and Lydia, House
West Downtown Historic Transportation Corridor
Whitten Block
Wilbur, Ralston and Sarah, House
Williams, James and Corinne, House
---