School Addition Historic District
Post Office: Batesville
Zip Code: 72501
---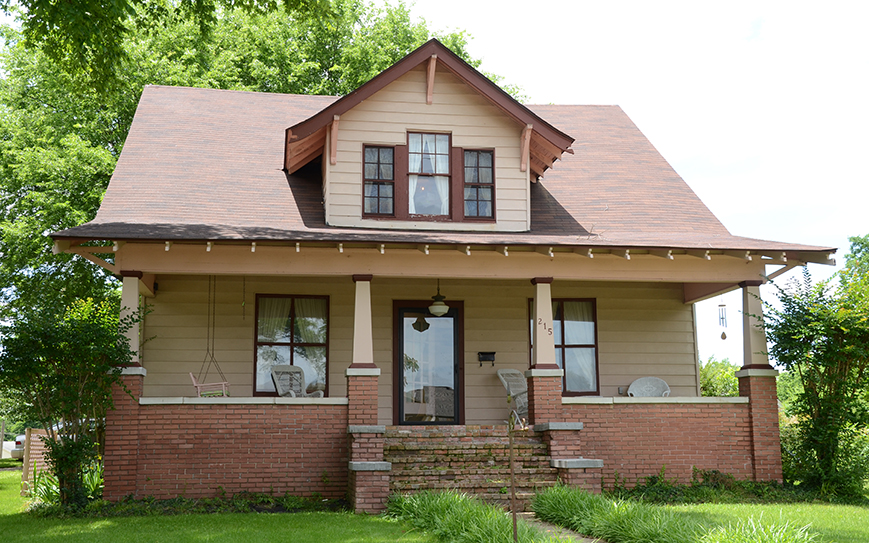 Photo: Home in the School Addition Historic District, circa 1850, Batesville. The Historic District was listed on the National Register of Historic Placesin 2007. Photographer: wikipedia username: Valis55, own work, 2016, [cc-3.0]; accessed November, 2022.
---
The School Addition Historic District [†] is a mid-19th to mid-20th century residential district located in the north central Arkansas city of Batesville. Sitting on the eastern edge of the Ozark Mountains region and in the second tier of counties below the Arkansas-Missouri line, Batesville owes its existence to early 19th century transportation, trade, and settlement patterns. The School Addition Historic District encompasses a neighborhood that developed as expanding trade and growth required the town to grow horn its original location beside the confluence of Poke Bayou and White River to fill the triangle of land between the two streams. The architectural significance of the District lies in its containing examples of typical residential structures ranging from a few substantial homes associated with leading citizens to numerous smaller homes exemplifying a range of architectural styles popular in the United States during the hundred-year time period. The neighborhood has a long association with education, and its proximity to different schools helps account for families' choosing to build or purchase homes in this area.
† Ralph S. Wilcox, National Register & Survey Coordinator / Dr. Diane O. Tebbetts, Arkamas Historic Presavation Program, School Addition Historic District, nomination document, 2006, National Park Servuce, National Register of Historic Places, Washington, D.C.
Street Names
6yh Street North • 7th Street North • 8th Street North • 9th Street North • Elm Street • Rock Street • Water Street
---