The Pulaski County Courthouse is located at 201 South Broadway, Little Rock AR 72201; phone: 501‑340‑8305.
---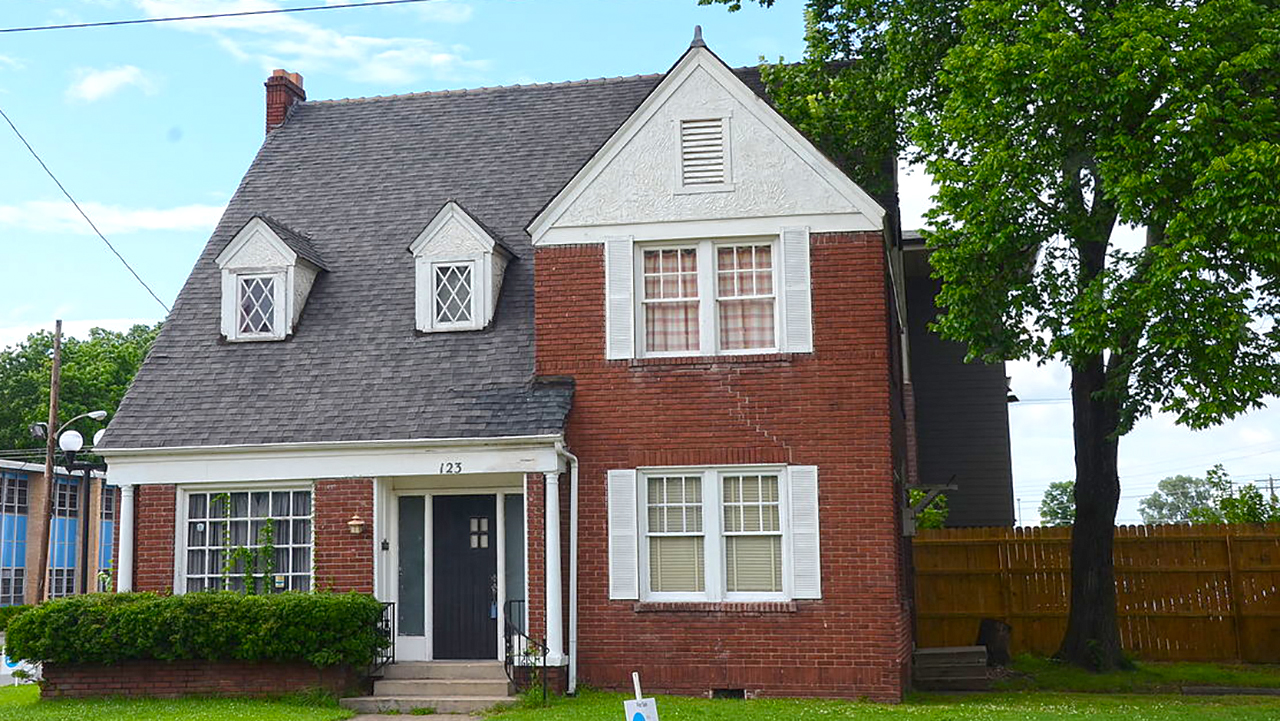 Photo: Rapillard House, circa 1927, located at 123 W. 7th Street, North Little Rock. Listed on the National Register of Historic Places in 1993. Photographed by User:Valis55 (own work), 2015, [cc-3.0], via Wikimedia Commons, accessed August, 2021.
---
TOWNS
Alexander City
Alexander Town
Cammack Vlg
Hensley
Jacksonville City
Mabelvale
Roland
Wrightsville City
The Spanish explorer Hernando DeSoto reached the area that would become Pulaski County as early as 1540 during his expedition through Arkansas. French explorer Bernard de La Harpe traversed the Lower Arkansas River about 1721. European settlers began coming into the area about 1807. Pulaski County was created in 1818 when the Arkansas Territory was established by congress. It was named for Count Casimir Pulaski who died in the Battle of Savannah during the Revolutionary War.
The Territorial Capital was moved to Little Rock in 1821. Arkansas became a state in 1836 and the new state government built a State Capitol Building on the bank of the Arkansas River beginning about 1833. It was replaced with a newer Capitol Building in 1915. County government operated from the Statehouse until 1883. The Pulaski County Courthouse was opened in 1889.
By the early 2000s the population of the county was 361,000. The 4-county metro area of which it is part had a population approaching 600,000.
According to the county (www.co.pulaski.ar.us) about 85% of the population lives within the incorporated limits of its 8 cities: Jacksonville, Little Rock, Maumell, North Little Rock, Sherwood, Alexander, Cammack Village, and Wrightsville.
HISTORIC SITES
Abrams House
Allinder, Bailey, House
Anderson, H.M., House
Argenta Historic District
Arkansas State Capitol
Back House
Baer House
Baker House
Barlow Apartments
Barth-Hempfling House
Bates, Daisy, House
Bechle Apartment Building
Bechle House
Beyerlein House
Boaz, Bishop Hiram A., House
Boone House
Bragg Guesthouse
Bragg, Richard, House
Bruner House
Buhler House
Bush House
Bush-Dubisson House
Capitol View Neighborhood Historic District
Central High School Neighborhood Historic District
Cherry House
Cherry-Luter Estate
Chisum House
Clayborn, John Henry, House
Compton-Wood House
Cook House
Cornish House
Croxson House
Darragh House
Deane House
Dunaway House
East Markham Street Historic District
Engelberger House
England House
England, Joseph E. Jr., House
Farrell House
Farrell House
Farrell House
Farrell House
Faucette, James Peter, House
Feild-Burcham House
First Hotze House
Fletcher House
Fones House
Fordyce House
Forrey-Smith Apartments
Forrey-Smith Apartments
Forrey-Smith Apartments
Fowler, Absalom, House
Frank, Joseph M., House
Frauenthal House
French-England House
Gans, Solomon, House
Garland, Augustus, House
George, Alexander, House
Geyer and Adams Company
Gibb-Watkins House
Governor's Mansion Historic District
Green House
Hall House
Halliburton Townhouses
Hanger, Frederick, House
Hardy House
Harris House
Harris House
Hemingway House
Henderson House
Hillcrest Historic District
Hodge-Cook House
Holcomb Court Apartments
Hopkins-Grace House
Hornibrook House
Hotze House
Howell-Garner-Monfee House
Ish House
Jeffries House
Johnson House
Johnson House
Johnson House
Johnswood
Jones, Arthur J., House
Jones, Scipio A., House
Kahn-Jennings House
Keith House
Kleiber House
Knoop, Werner, House
Lamb-McSwain House
Land's End Plantation
Leiper-Scott House
Little Rock, The
Luxor Apartments
MacArthur Park Historic District
Main Street Historic District
Manees, E. O., House
Marre, Angelo, House
Marshall House
Marshall Square Historic District
Matthews House
Matthews, Justin, Jr., House
Matthews-Bradshaw House
Matthews-Bryan House
Matthews-Dillon House
Matthews-Godt House
Matthews-MacFadyen House
Mayer, Maxwell F., House
McDonald-Wait-Newton House
McDonnell House
McGuire, Thomas R., House
McKenzie House
McLean House
Mehaffey House
Miller House
Mims-Breedlove-Priest-Weatherton House
Mitchell House
Moore House
Nash House
Old State House
Old Statehouse Square Historic District
Owings House
Park Hill Historic District
Pearson-Robinson House
Pettefer, Harry, House
Philander Smith College Historic District
Pike-Fletcher-Terry House
Prospect Terrace Apartments
Pruniski House
Ragland House
Railroad Call Historic District
Rapillard House
Reichardt House
Reid House
Remmel Apartments
Remmel Apartments
Remmel Apartments
Remmel Flats
Retan House
Retan, Albert, House
Riverfront Commercial Historic District
Robinson, Joseph Taylor, House
Rogers House
Runyan, J. P., House
Safferstone House
Sanders House
Schaer House
Skillern House
Snyder House
South Main Street Apartments Historic District
South Scott Street Historic District
Stewart House
Stifft Station Historic District
Ten Mile House
Terry, William L., House
Thornton House
Thurston House
Tuf Nut Historic Commericial District
Turner House
Turner-Ledbetter House
Van Frank Cottages
Vanetten House
Vaughan House
Vaughan, F. T., House
Vaughn House
Vinson House
Ward-Hays House
Wassell, Corydon, House
Waters, Charles Clary, House
White-Baucum House
Williamson House
Womack House
Woodruff, William, House
Wrightsville Log Cabin
Young House
---