The El Paso County Courthouse is located at 27 East Vermijo Avenue, Colorado Springs, CO 80903; phone: 719‑520‑7276.
---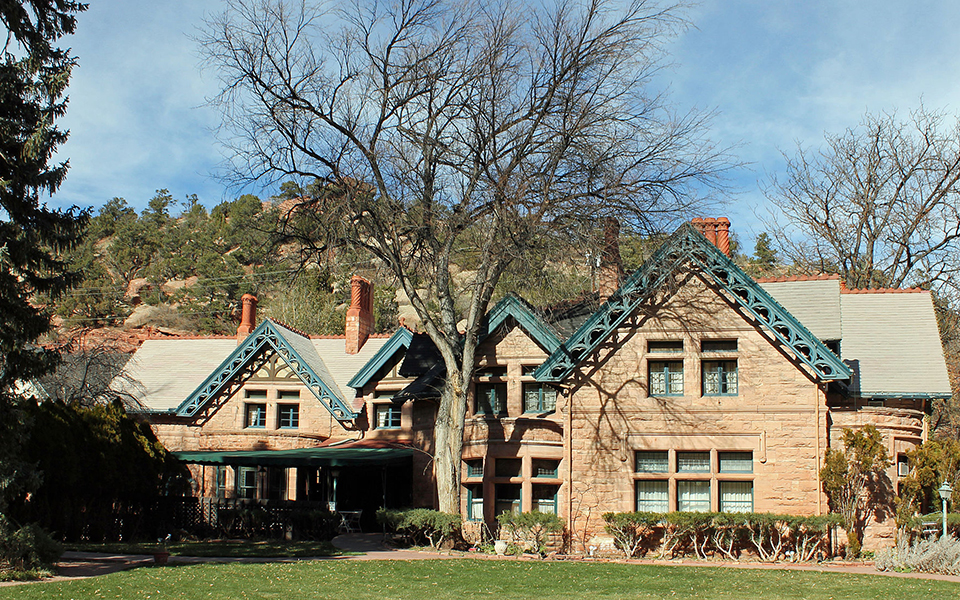 Photo: Briarhurst, (aka William Bell House), circa 1872, located at 404 Manitou Avenue in Manitou Springs. Listed on the National Register of Historic Places in 1973. Photographed by user:Jeffrey Beall (own work), 2011, [cc-by-3.0], via Wikimedia Commons, accessed May, 2021.
---
TOWNS
Calhan Town
Cascade
Ellicott
Falcon
Fountain City
Green Mountain Falls Town
Manitou Springs City
Palmer Lake Town
Peyton
Ramah Town
Rush
Yoder
Yuma
Beginnings [1]
El Paso County was one of the original 17 counties of Colorado Territory, defined in 1861. The name is Spanish, meaning The Pass, referring to Ute Pass north of Pike's Peak. The county is wooded in the western part. Being on the Divide, it is watered by creeks that are tributaries of both the Arkansas and the Platte. The largest of these streams is the Fontaine Qui Bouille or Fountain Creek, emptying into the Arkansas.
El Paso County is bounded on the south by Pueblo County, on the east by Lincoln and Elbert Counties, on the north by Elbert and Douglas Counties, and on the west by Teller and Fremont Counties. The surface consists of rolling plains in the eastern part and of mountains in the western part. The area is 2,134 square miles, of which 4 per cent., or 62,408 acres, were under cultivation in 1900; the cultivated area in 1909 was estimated to be 100,000 acres, mostly without irrigation. The mean annual rainfall is 15 inches, and the average temperature from 45° to 50°. The county had 31,602 inhabitants in 1900; the population in 1910 was 43,321.
Parsons, Eugene, A Guidebook to Colorado, Little, Brown, and Company, Boston, 1911
HISTORIC SITES
Barker House
Bemis, Judson Moss, House
Boulder Crescent Place Historic District
Briarhurst
Burgess House
Carlton House
Chambers Ranch
City Hall of Colorado City
Claremont
Cliff House
Eastholme
Edgeplain
El Paso County Courthouse
El Pomar Estate
Evans, J.G., Barn
Glen Eyrie
Gwynne-Love House
Hagerman Mansion
Keithley Log Cabin Development District
Lennox House
Manitou Springs Historic District
McAllister House
Miramont
North End Historic District
North Weber Street-Wahsatch Avenue Historic Residential District
Old Colorado City Historic Commercial District
Pioneer Cabin
Rice, Ida M., House
Stockbridge House
---